So many people are looking for ways to stay active and manage stress and anxiety while maintaining a healthy lifestyle. Yogis have known for centuries that a consistent yoga practice is key to a healthy lifestyle.
Yoga offers many health benefits such as decreased stress and anxiety, increased flexibility, reduced inflammation, increased muscle tone, increased blood flow, optimum heart rate, and a healthy nervous system, just to name a few. But did you know yoga can also support your immune system?
Many studies have shown that yoga can be a helpful way to boost your immune system and decrease inflammation in the body. (1)(2)
Practicing yoga can aid in lowering your stress hormones. (3) As we all know, chronic stress is a contributor to a weak immune system. The mind-body approach of yoga provides a calming effect on the body, which reduces the stress hormones.
The combination of breathwork, meditation, flowing poses, and a relaxing environment aids the body to unwind and the adrenals to lower the blood pressure so the body can become calmer overall.
Here are some yoga poses that boost or support the immune system:
1. Child's pose (balasana)
Don't underestimate the simplicity of this pose! Child's pose offers many health and immune benefits, such as:
Calms the brain
Relieve stress and anxiety
Eases lower back tension, tightness, and pain
Increases circulation
Opens the thighs and hips
How to do the pose: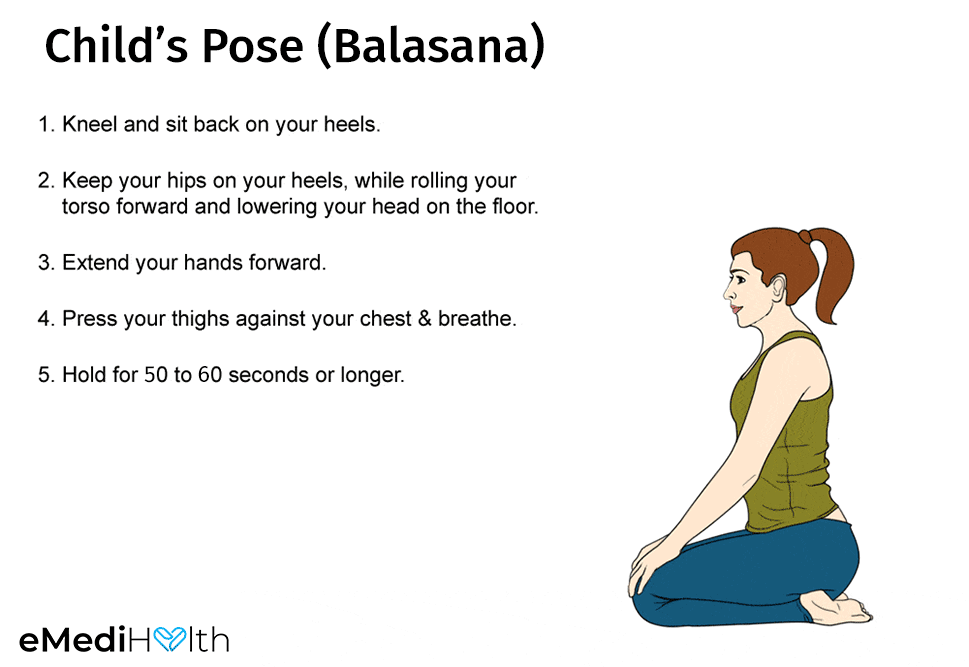 Sit on the mat with your legs tucked under your hips, knees spread as far wide as possible, and the big toe of each foot touching each other. Your buttocks should be placed on your heels. If you have very tight thighs, it's best not to part your knees so much as you can pull a muscle.
Sit with your spine erect.
With an exhale, slowly bring your belly between your knees and your forehead to the floor without bending your back. You can keep your arms extended in front, by the sides of your body, or underneath your forehead.
Breathe into your lower back while holding this position for about a minute.
To come out, exhale and come back to the starting position.
2. Camel pose (ustrasana)
Usually regarded for its benefits in strengthening and supporting a healthy spine, the camel pose has many immune-supporting benefits too, including:
Opens the abdominal region, aiding in digestion and toxin elimination
Opens the chest, improving respiration
Stimulates the endocrine system
How to do the pose:
Kneel with your lower legs parallel to the floor while your thighs and upper body are in a straightened posture perpendicular to the floor.
Place your hand on the sides of your rib cage with your thumb touching the back and the four fingers grasping the front and side of the rib cage. Your elbows should be pointing outward.
Inhale, and slowly lift your chest toward the ceiling while pushing your tailbone toward the pelvis to arch your back.
Extend your hands back to hold your heels such that your arms are straight. Don't strain your neck.
Move your buttocks forward so that they fall in line with your knees.
Stay in this position for a few breaths.
Slowly release with an exhale by bringing your chin toward your chest and hands back to your hips.
3. Bow pose (dhanurasana)
Typically, the bow pose is practiced to stretch the front part of the body, such as the ankles, thighs, groin, abdomen, and chest. It also strengthens the back and stimulates the organs of the abdomen and neck.
The bow pose offers several immune-boosting benefits as well, such as:
Improves blood circulation
Aids in the function of the liver, pancreas, and small and big intestines
Relieves stress
Aids in constipation
How to do the pose:
Lie down on your stomach with your chin touching the floor.
Keep your feet slightly apart, your arms parallel to the body, and your palms facing upward.
Gradually fold your knees up and bring your feet as close to your hips as possible.
Grab your ankles with your hands while keeping your toes pointed toward the ceiling.
Inhale and raise your trunk and thighs off the ground while simultaneously pulling your feet away from the hips. Keep holding your ankles while doing so.
Lower your tailbone into the ground to stretch out your back.
Hold this position for about 15 seconds.
Gradually lower your body to the original position.
4. Cobra pose (bhujangasana)
Regarded as an opener for the heart, chest, back, spine, shoulder, and arms, the cobra pose offers several immune-boosting attributes, including:
Improves circulation of blood and oxygen
Relieves stress and tension
Elevates mood
Opens the chest for improved breath and heart and lung function
How to do the pose:
Lie flat on your stomach with your toes and forehead touching the floor while your legs are joined together.
Tuck your hands palm down under the shoulder with your elbows bent and parallel to the upper body.
Taking a deep breath, press down your palms to lift your trunk and head while keeping the navel on the ground. Keep your elbows attached to the sides of the body, feet joined together, and exert equal pressure on both palms. Tilt back your neck to look upward, but only to the extent that you feel a light pull without getting too uncomfortable.
Take slow, steady breaths while staying in this position.
Gradually bring back your torso and head to the floor with an exhale.
5. Bridge pose (setu bandhasana)
The bridge pose is known to stretch the chest, neck, spine, and hips and strengthen the back, glutes, and hamstrings. There are several immune-boosting benefits of the bridge pose too, such as:
Improves blood circulation
Relieves stress and mild depression symptoms
Calms the brain and central nervous system
Improves digestion
Reduces fatigue, anxiety, and insomnia
Stimulates the lungs, thyroid glands, and abdominal organs
How to do the pose:
Lie down on the mat flat on your back.
Bend your knees upward with your soles grounded into the floor while keeping your arms beside the body with your palms facing one another.
With the support of your elbows and shoulders, lift your chest and squeeze your shoulder blades toward the spine.
Press your feet down to lift your pelvis off the ground. Extend your tailbone toward the knees in doing so to stretch out your spine.
Clasp your hands together underneath your raised pelvis.
Keep your feet apart and parallel such that your knees don't tilt toward each other. Distribute your body weight evenly on both your feet.
Stay in this position for a minute.
Unclasp your hands and keep your arms beside the body with palms on the floor.
With an exhale, slowly bring your torso back on the ground.
6. Supine Spinal Twist (Supta Matsyendrasana)
Twists are highly regarded in releasing tight back, glute, or shoulder muscles and in supporting spinal muscles. Twists also support the immune system through the following:
Aids in digestion
Relaxes the body
Relieves tension and stress in the body
Calms and quiets the mind
Opens the muscles of the chest to aid in pranayama
How to do the pose:
Lie down flat on your back with your arms extended horizontally in line with the shoulders and your legs stretched out in front to form a T-like position. Your palms should be facing upward.
On an exhale, bend your right knee and move it across the left knee to the other side of the floor while keeping your torso flat.
Move your head to the right to look directly at your right palm.
Take deep breaths in this position for several minutes.
Slowly return your head to the center and straighten your belly and legs.
Repeat the pose with your left leg.
7. Yoga breathing (pranayama)
Not necessarily a yoga pose but an important component to any yoga practice, pranayama is the bridge connecting mind and body.
Yoga breathing could be one of the most effective practices to boost your immune system as it provides the following benefits:
Decreases stress, calms the nervous system, and improves your stress response
Improves quality of sleep by calming the mind and body
Increases mindfulness, awareness, and focusing on the present moment
Improves lung function by increasing lung functionality
Increases cognitive performance
How to do the pose:
Sit in a comfortable seat with your back straight.
Inhale, and then sharply exhale through your nostrils. The exhalation should be short and quick, but very active, while the inhalation should be short and passive.
Final Word
The beauty of a yoga practice is that everyone can benefit from it! Regardless of your experience or health status, you can enjoy a yoga practice.
I encourage those that are new to yoga or need special guidance due to health or physical issues to seek out a yoga instructor. That way, you can learn how to support your body in a safe and controlled environment.
Supporting the immune system is an important part of our everyday lives. I encourage clients to actively incorporate yoga into their health and wellness protocol. The time of day you choose to engage in your yoga practice doesn't matter – morning, noon, or night – your practice will support your body and immune system's needs.
In addition to your yoga practice, getting quality sleep, consuming a healthy and balanced diet, drinking plenty of water, and moving your body every day can aid in boosting your immune system. Be gentle with yourself as you practice, listen to your body's cues, and enjoy the wonderful benefits of yoga.
Was this article helpful?