Some people are better at evading sickness than others. You may think they are blessed with superhuman genes or have some impossible tricks up their sleeve, but it is usually something very basic that keeps them protected from ill health.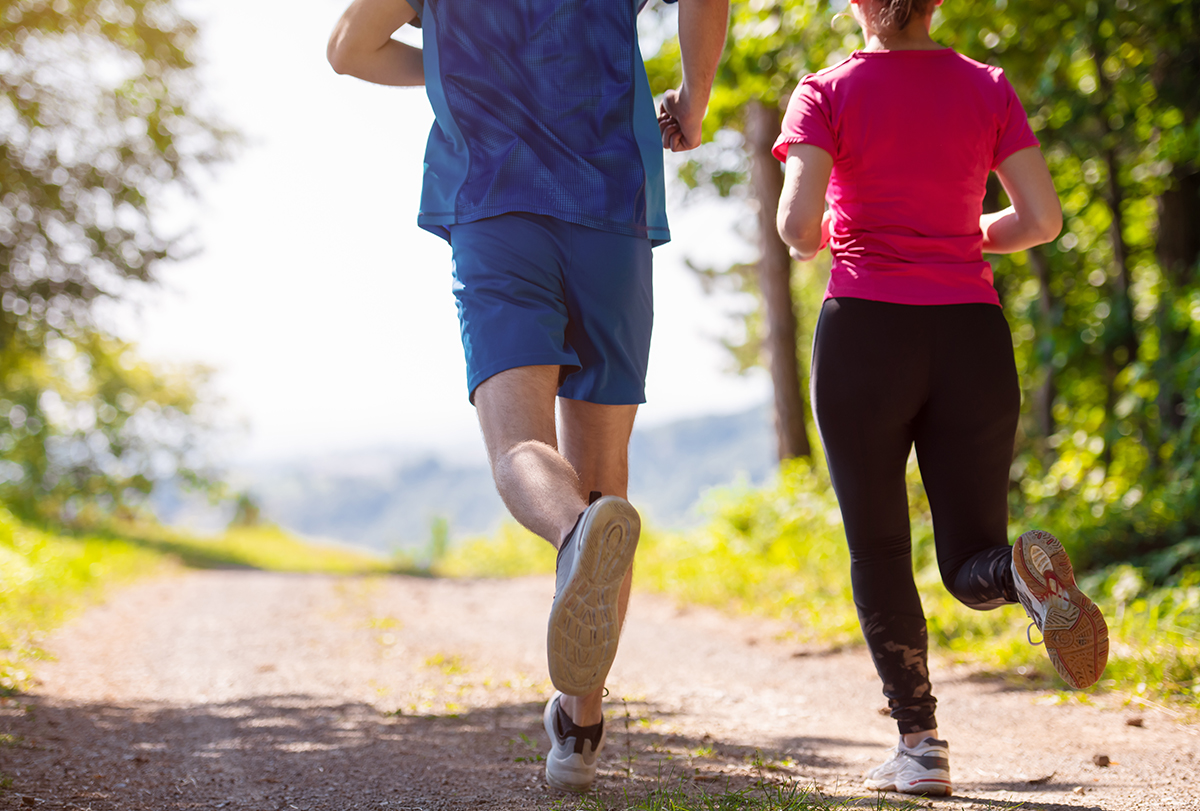 This article will give you key insights into how simple changes in your daily lifestyle can help you avoid a range of common ailments.
Tips to Stay Healthy
Follow these measures to be in the pink of health.
1. Exercise daily
Staying active is essential for good health. Here's why:
Weight gain happens when you consume more calories than you burn. The excess calories then get stored in the body as fat. Stringent dietary control alone will not result in sustainable weight loss and may even deprive you of proper nutrition. The best way to maintain a healthy body weight is to eat healthily and exercise regularly. Consume a well-balanced diet and work out to lose the extra pounds and keep them off. (1)
Regular exercise helps keep you physically fit and agile while also improving your overall stamina to perform daily tasks. Your body tends to heat up during and immediately after exercise. This brief rise in your core temperature may help destroy any pathogens inside the body and thereby prevent infections. (2)
Exercising is also a great stress buster. It releases certain hormones in the body that uplift your mood and give you a burst of energy. Thus, staying active has a positive impact not just on your physical health but also on your brain health.
Staying active is also important for your cardiovascular health. The heart pumps more blood during exercise, which is a good workout for your cardiac muscle. It also helps control hypertension and improves your cholesterol levels, both of which lower the risk of heart disease.
Regular physical activity helps work out your bones, joints, and muscles to make them stronger and more flexible. (3) This is especially useful for relieving pain and improving mobility in people with arthritis so that they can lead full, happy lives.
Exercise aids in diabetes management as well. It helps bring down high blood sugar and reduce the risk of complications such as heart disease and nerve damage that are routinely associated with type 2 diabetes. (4)
2. Maintain a healthy diet
Your diet plays a critical role in determining your overall health. Your body derives energy and nutrition from the foods you eat to perform all its life-sustaining functions, fight disease, and repair any kind of damage. (5)
But different people have different energy and nutritional needs depending upon their age, state of health, level of activity, etc. Thus, what constitutes a healthy diet may differ from person to person.
But here are some general dietary guidelines that work for most people:
Plan your diet in such a way that the number of calories you consume equals the number of calories you expend. Striking this balance is important to avoid any undue weight gain. The body uses calories to gain energy to stay active and facilitate its daily physiological functions. Exercising is the fastest way to burn excess calories. So, you need to manage your calorie intake according to how active you are, and vice versa. Consuming more calories than your body needs creates a surplus, which is stored as fat inside the body, leading to weight gain. Conversely, burning more calories than you consume creates a deficit, which means your body has to use the stored fat for energy, resulting in weight loss. Men are generally recommended to keep their daily calorie intake around 2,500 with regular exercise, whereas women should keep it around 2,000 with regular exercise. (6) However, caloric needs differ with age, level of physical activity, physiological conditions, and illness. A dietitian will help you figure out your caloric needs and plan a healthy diet for you.
Increase your intake of fresh vegetables and fruits that are full of fiber, nutrients, and antioxidants. Fiber helps facilitate proper digestion and bowel movement, both of which are quite important for your overall health. Meanwhile, nutrients and antioxidants can help boost your immunity, improve your skin and heart health, fight free radicals, reduce cancer risk, and facilitate faster healing. Getting a healthy, balanced diet is an important part of living a healthy life, but it can also help boost your immune system.
Eat foods rich in vitamin C such as oranges, broccoli, and strawberries. Also, make sure you get adequate amounts of vitamin D. Since not many foods contain it, you can consume tuna as well as milk and cereals fortified with vitamin D. Ask your doctor for a supplement if you fail to meet your required intake of vitamin D with diet alone.
Red, orange, and dark-green fruits and vegetables are also healthy additions to your diet. They get their pigment from a flavonoid called quercetin, which exhibits significant anti-inflammatory, immune-boosting, antioxidant, antidiabetic, cardioprotective, and cancer-fighting properties. Some good dietary sources of this compound are red apples, capers, red onions, green tea, berries, broccoli, kale, and spinach. (7)
Replace refined grains with whole grains and whole full-fat milk with fat-free or low-fat (1%) milk. (8)
Limit your carbohydrate intake to just over a third of your entire meal.  
Eat more fish that is replete with omega-3 fatty acids, vitamins, and minerals, such as salmon, mackerel, tuna, and haddock.
Fat is an essential component of a wholesome healthy diet, but only in recommended amounts. Plus, you need to watch the type of fat you are consuming. There are two main types of dietary fats: saturated and unsaturated. Saturated fat increases your cholesterol and cardiovascular risk when consumed in excess. Men should keep their daily intake of saturated fat below 30 g, whereas women should keep it below 20 g. (9) The goal is to reduce your overall consumption of saturated fat as much as possible and replace it with unsaturated fats instead. Fat options such as ghee, coconut oil, olive oil, and sesame oil are recommended.
Excessive consumption of sugary products can lead to obesity and tooth decay. Any food or drink that contains over 22.5 g of total sugars per 100 g is considered high in sugar, whereas a product that contains 5 g or less of total sugars per 100 g is low in sugar. (10) Cut down your intake of foods and drinks that are loaded with free sugars such as carbonated beverages, sweet breakfast cereals, confectioneries such as biscuits, cakes, pastries, and puddings, sweets and chocolate, and alcoholic drinks.
Too much salt in your daily diet can shoot up your blood pressure. Hypertension, in turn, increases the risk of heart disease and stroke. Thus, you need to monitor your sodium intake and keep it within the recommended limit – that is, no more than 6 g of salt (11) (about a teaspoonful) a day. Children below the age of 11 years should consume even less. Any food that contains more than 1.5 g of salt per 100 g is too salty and should be avoided.
Drink at least 6–8 glasses of healthy fluids every day to keep your body properly hydrated. Water is the best option to meet most of your fluid needs. You can diversify your fluid intake by having other nonalcoholic drinks as well, such as low-fat milk and low-sugar beverages such as tea. However, you need to steer clear of fizzy soft drinks that are loaded with calories and are bad for your teeth.
3. Manage stress
Stress triggers the release of a hormone called cortisol, which suppresses the immune system; this not only makes you more prone to illness but also hampers your ability to fight it.
In fact, stress is recognized as a major contributor to the onset and progression of various ailments. Thus, stress management is extremely important for ensuring good health.
Here are a few measures to keep stress under control:
Eat a well-balanced nutritious diet.
Regular exercise is a good way to vent your stressful energy.
Try yoga, deep breathing, and meditation to put your disturbed mind at ease.
Engage in activities that help you relax such as going for a walk in nature, (12) gardening, and listening to soothing music.
Take a break whenever you feel too overwhelmed.
Share your feelings with family and friends or seek professional counseling.
Stay away from drugs and alcohol, which may provide temporary relief from stress but only end up making it worse in the long run by creating new problems.
Try to get at least 7–8 hours of sleep regularly to relax your body and mind. A sleep-deprived, tired body won't be able to cope with stress as well as it should. However, this is a tricky situation since stress itself makes you lose sleep. The best way to resolve this is to address the root cause of your stress. But if that doesn't work, speak to your healthcare provider for helpful strategies, therapies, and medication if needed. Meditation before bedtime can also help calm your mind and prepare it for sleep. (13)
4. Follow proper hygiene habits
According to the Centers for Disease Control and Prevention, proper hand hygiene is the easiest way to prevent illness. (14)
Your hands pick up dirt and germs from all sorts of contaminated surfaces throughout the day. Using the same unclean hands to touch your nose, eyes, and mouth or eat your food can end up transferring dirt and germs into your body, thereby making you sick.
Thus, it is very important to frequently wash your hands with regular soap and warm water for at least 20 seconds, especially in the following circumstances:
Before and after handling, eating, and cooking food
Before and after touching someone who is sick
Before and after tending to a cut or wound
After going to the toilet
After changing diapers or cleaning up a child who has used the toilet
After blowing your nose, coughing, or sneezing
After coming in contact with an animal, animal feed, or animal waste
After touching pet food or pet treats
After handling your household trash
In addition to simple hand washing, you should bathe every day and properly clean all parts of your body to get rid of germs, sweat, dirt, and dead skin. Trim and clean your fingernails regularly.
Lastly, clean your home every few days to keep it free of clutter, dust, and germs. Encourage these sanitary habits in your loved ones as well.
Final Word
There is no formula for perfect health. Everyone is built differently and has different body needs. But there are some things that are foundational to your well-being, such as the ones mentioned in this article. Having them covered can significantly minimize your risk of falling sick.
Was this article helpful?