With the ongoing trend of getting a bigger butt, a lot of advancements have become available such as surgical procedures and cosmeceuticals that help people get their desired curves. (1)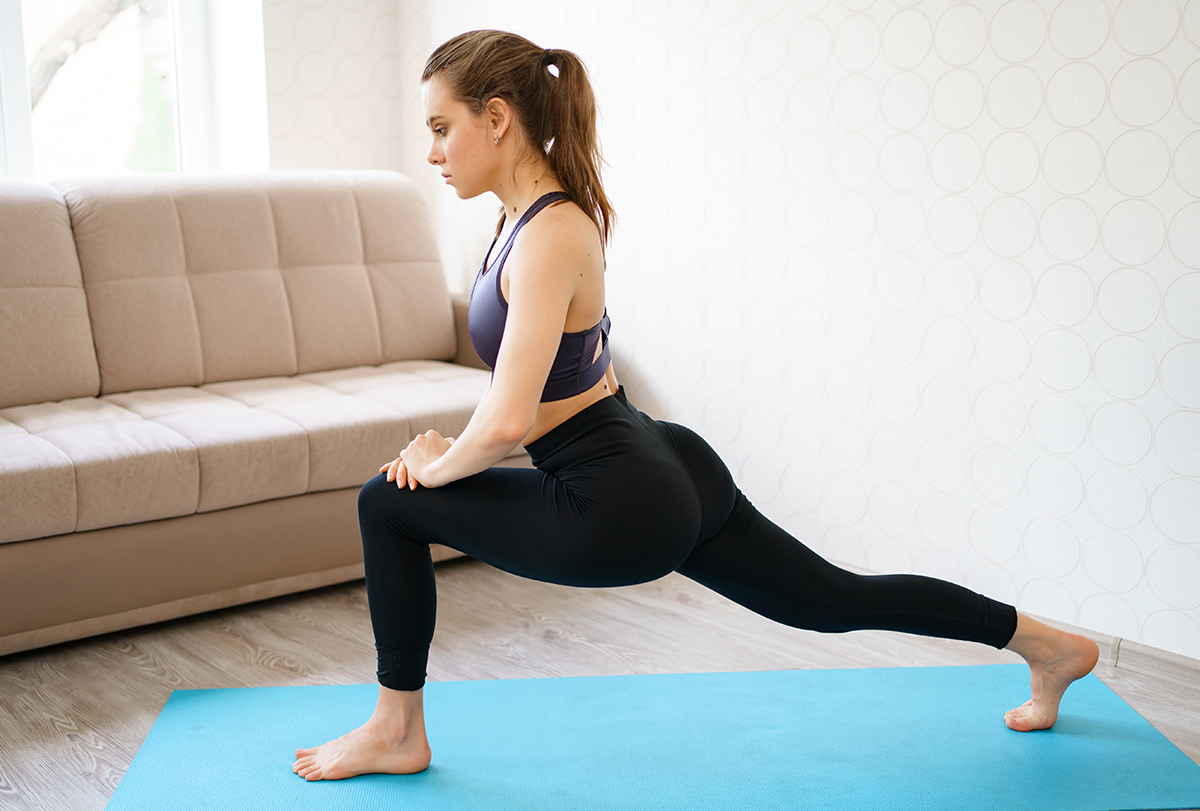 The problem is these options can be incredibly expensive and might come with side effects. For instance, getting surgery requires preparation and postsurgical care measures.
Getting the curvy body you want in a natural way is the better path. The key to getting a bigger butt and wider hips fast naturally is diet and physical activity. (2)
Diet is a non-negotiable part of building muscles and exercising is important for toning them.
Natural Ways to Get a Bigger Butt and Wider Hips
Here are some ways you can get a bigger butt naturally.
1. Perform exercises that target the hips and butt
Try these exercises to get a bigger butt and wider hips.
Note: Before you start these exercises or any exercise, make sure to talk to your doctor if you have diabetes as some exercises may induce hypoglycemia.
Also, if you have physical ailments such as hypertension, asthma, and other orthopedic problems, talk to your healthcare provider for a proper and safe way to exercise. Remember to breathe naturally as you hold the stretch; don't hold your breath.
a. Lunges
Lunges are very famous exercises and are very good for your butt and hips. They are effective in giving you a toned, curvy body because of the use of muscles of your hips when you perform lunges.
To do lunges, stand straight with your legs hip-width apart. As the name suggests, you will then take a step forward with one foot and slowly lunge on one side as you bend the knee of both legs till the back knee is just above the floor. You will come back to your standing position and repeat the same with the other side.
Doing sets of 10 lunges thrice every day is a good way to get natural curves. (3)
Precautions:
Always start with a static lunge and not walk.
Keep your body straight.
Do not take too long steps.
b. Step-ups
This exercise is as simple as its name – it literally means stepping up and down a slightly elevated surface.
Step-ups help develop the muscles in your butt, which is known as the gluteus maximus. Not only are step-ups good for your legs, but they are also great for your hips.
To perform this exercise, you need a raised platform in front of you, which can be a stool or anything else. Stand behind it with your feet about hip-width apart, and step up onto the center of the platform with the other leg behind for balance and with your torso upright. Do not keep the opposite leg on the platform. Step back down to complete the round, and do the same for both legs at least 10 times every day. (4)
After a few days of doing this, you can start carrying weights for increased effectiveness of the workout. (3)
Precautions:
There should be proper distance between both legs.
Choose a step box with the right height.
Do not strain your knees with an angle higher than 90 degrees to the floor.
Maintain an erect posture.
c. Butt lifts
Butt lifts are done to target your muscles in the lower back and butt and will give you a rounder butt.
All you have to do is lie down in a supine position with your back on the floor and your hands on your side.
Bend your knees and keep your feet flat on the floor. Slowly, raise your hips away from the floor while keeping your back straight. Hold this position for a few seconds and then lower your hips. Do these 5–10 times twice or thrice a week. (3)
d. Squats
Squats are one of the best exercises to do if you want wider hips. They promote the growth of muscles in your hip area.
To perform squats, stand straight with your feet a few inches apart. Push your hips backward and gently lower your body into a squat position. Hold this position for a few seconds and then get back up. Repeat this at least 10 times every day.
You can also carry some weights after a few weeks of doing them without weights for increased effectiveness. (3)
Precautions:
Your knees should never go beyond your toes.
e. Donkey kicks
Donkey kicks are a good exercise that will target your glutes unlike any other exercise. They are easy to perform.
All you have to do is be on all fours and keep your knees hip-width apart. Keep hands directly under your shoulder and keep your neck and back neutral. Slowly lift your right leg, keeping your knee bent, and use your glutes to press your foot toward the ceiling. Come back to the starting position, and do at least 10 repetitions for each leg. (5)
f. Side planks
Side planks are very good exercises to strengthen your hips.
To perform side planks, lie down on your left side and place your left arm under you to support your body. Put your other arm on your hips. Slowly lift your hips and knees sideways from the ground, keeping your torso straight. Hold this position for around a minute, and then change the side to repeat. (5)
Precautions:
Do not try to hold your plank for too long if you are doing it for the first time. It's okay if you are only able to hold it for a couple of seconds; you can later build enough strength to hold it for a minute.
When you are doing a plank for the first time, you may find it hard to balance your body, and you will find yourself rolling forward. If this happens, you can lower your knees a little and try again.
Do not do side planks if you have an injury to your shoulder or arm.
2. Dietary modifications
Exercise alone cannot be the only way to go if you want a bigger butt naturally. Along with exercise, a proper diet is also very important to support muscle growth and get the results you desire.
Here are some dietary measures you should follow.
a. Focus on protein-rich foods
Dietary protein is very important for building and also maintaining muscle mass. Consuming high-quality protein-rich foods is very important if you want to enhance your curves naturally and get a bigger butt.
Some options for protein-rich foods include: (6)
Salmon: Salmon is a good source of protein and is also very rich in omega-3 fatty acids, which have benefits and promote overall well-being. Not only this, but omega-3 fatty acids might also be helpful in growing the muscles and maintaining the muscle mass that you have gained after exercise. (7)
Eggs: It is well known how important eggs are in the diet as they are very nutritious. They are rich in vitamin B12, phosphorus, and riboflavin and are good sources of protein. They also contain amino acids that promote muscle synthesis and prevent muscle breakdown. Thus, they are a good food to consume to get a bigger butt. (8)
Legumes: Legumes are a good source of protein and promote muscle synthesis. At the same time, they are also abundant in micronutrients that are good for your health, including magnesium. Legumes include beans, peas, lentils, and peanuts. (9)
Avocados: Avocados are replete with protein and also good sources of vitamin C, magnesium, and antioxidants.
These compounds help ensure that your muscles are not damaged after working out. They also aid in muscle recovery post exercise and prevent exercise-induced inflammation. (10)
Other sources of protein include:
Yogurt
Milk
Chicken
Cottage cheese
Tuna
Potatoes
Tomatoes
Brown rice
Flaxseeds
Other than eating protein-rich foods, you can also consume a protein shake after your workout as it is a good way to repair your muscles and build them properly. (11)
b. Consume foods rich in minerals and vitamins
Ensuring the proper intake of minerals and vitamins through the diet is very important for your body to be able to digest the protein you are eating. Foods that are packed with minerals and vitamins include: (12)
Leafy green vegetables
Nuts
Sweet potatoes
Oatmeal
Berries
Quinoa
c. Maintain proper hydration
Keeping your body hydrated by drinking adequate amounts of water every day is a must. You should consume about 2 liters of water every day.
Hydration is important to promote overall health and wellness. It is also essential in keeping your body toned and achieving the curves you want. (13)
3. Get a massage
Massaging your butt with essential oils can be a good way to get a bigger butt. It increases blood flow to your butt, hence giving it a fuller look. However, its effects are only temporary.
Massaging your butt with coconut oil or fish oil for at least 10 minutes every day can be helpful. (14)
Most-Asked Questions
What are butt-enhancing creams?
Nowadays, creams and other product formulations are available to use for getting a bigger butt. These are called butt-lifting or butt-enhancing creams. They also improve the texture of your butt.
Although these creams can have possible side effects, some of them may be successful at giving you a fuller butt appearance. However, do remember to avoid products that are not regulatory approved and to consult a medical professional before using them. (15)
What are butt implants?
Butt implants are artificial implants made of silicone that a medical professional surgically places inside your butt tissue. This will increase the size of your butt. However, it is important to remember that this is a surgical procedure and there can be complications and side effects to it. (16)
Final Word
It's crucial to remember that you are born a certain way in your unique shape and size, so any gain in your butt or hips will be dependent on your genetic makeup, so don't worry too much if things take time for you.
So keep putting in a good amount of work and working towards your goal following the various methods provided above. Also, always remember that you're beautiful just the way you are!
Was this article helpful?