Your hips may be one of the most important areas of your body that you want to keep strong and flexible. The hip consists of the hip flexor muscles, the hip adductor muscles, and most importantly the glutes and hip abductor muscles.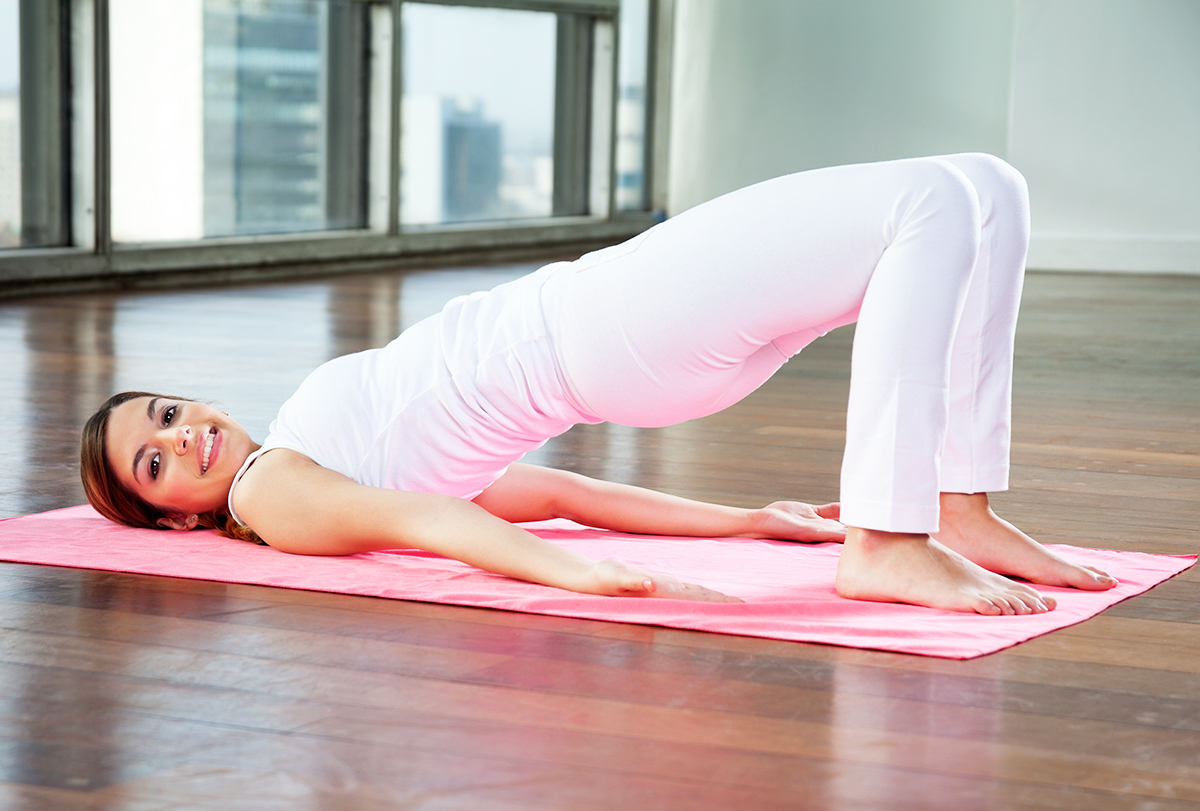 Usually, hip pain is radicular (radiating) pain from the lower back. Thus, it is important to maintain good posture to avoid this condition.
Exercises to Strengthen the Hip Muscles
Here are some helpful exercises to keep your hips strong and flexible!
1. Bridging
This exercise works on your hamstrings, hip flexors, quadriceps, lower back, and glutes to strengthen the muscles and reduce pain.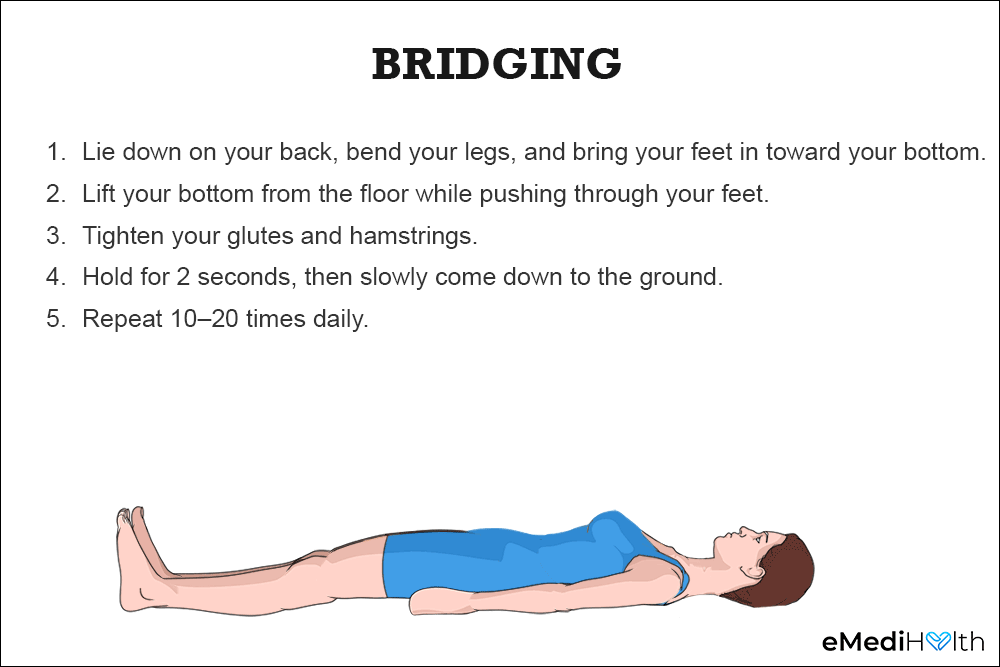 Lie down on your back.
Bend your legs and bring your feet in toward your bottom.
Slowly, pushing through your feet, lift your bottom.
Make sure your hips are in line with your shoulders and knees.
As you do this, tighten your glutes and hamstrings.
Hold for 2 seconds and slowly sink your bottom to the ground.
Repeat 10–20 times daily for effective results.
2. Lying Lateral Leg Raise
Lying lateral leg raises help to strengthen and develop your iliotibial bands, which are responsible for your side-to-side leg motions. This exercise works on your gluteus maximus, gluteus minimus, obliques, hamstrings, and quadriceps.
Lie on your right side.
Extend your right arm out for balance.
Lift your left leg up as far as you can, keeping it straight while you lift it.
Slowly, bring your leg back down so that it is in line with the right leg.
Complete 15 repetitions with that leg.
Roll over to the other side and repeat the exercise with your right leg.
Practice this every other day to get rid of hip pain.
3. Lying Leg Circles
Lying leg circles work on your gluteal muscles and hip flexors to promote flexibility, strength, and range of motion in all the muscles that make hip and leg rotation possible.
Lie down on your back.
Extend your legs straight out.
Elevate your left leg to about 3 inches off the ground.
Make small circles, keeping your whole leg straight and aligned.
Switch to the other leg and repeat the process.
Perform three sets of five rotations on each leg, for a total of 15 reps on each leg, daily.
As you perform the exercise daily, you may raise your leg higher.
4. Single-Leg Squat
Also known as pistol squats, single-leg squats are great exercises that work primarily on increasing the resilience in your legs. It targets your glutes, hips, and quad muscles to improve your balance and stability.
Extend both arms out in front of you and interlock your fingers.
Stand upright with your feet shoulder-width apart and firmly planted on the ground with your toes pointing forward.
Extend one leg out in front of you. (Make sure you do not bend the knee.) Do not let this leg or foot touch the ground.
Lower your body by sitting back and bending the knee of your other leg (as if sitting in a chair).
Squat down as low as you can.
Do not let your standing knee travel inward.
Hold this position for 20 seconds.
Press down on your foot and slowly stand up.
Repeat 15 reps on each leg daily.
You may increase the number of sets gradually as you acquire strength.
5. Seated Butterfly Stretch
The butterfly stretch primarily works on your hips, inner thighs, and lower back to increase flexibility and strengthen muscles.
Sit on the floor, knees bent to the sides, soles of your feet in front of you, back straight, and your hands on top of your feet.
Engage your abdominal muscles to stabilize your spine.
Exhale and gently pull your heels toward you.
Simultaneously relax your knees toward the floor, as far as you can.
Breathe deeply and hold for 20–30 seconds.
Finish with leaning forward from your upper body. (Make sure you keep your back straight.) Push your knees toward the floor as much as you can.
Initially, practice this 15–20 times every day.
As you acquire strength and flexibility, you may increase the number of sets performed.
6. The Clam
The clamshell exercise works on balancing the muscular effort between your pelvic floor and your inner and outer thighs, thus strengthening your hips and lower body. It primarily targets your gluteus medius, a muscle in your hip abductors.
Lie on your side.
Bend your knees at 90°.
Bring your heels together, in line with your bottom.
Without rotating your back or pelvis, lift your leg to open your knees as far as you can.
Hold for 15 seconds.
Return to the resting position.
Repeat 15 times on each side for stronger hips.
As the name suggests, think of a clamshell opening as you do the exercise. Your glutes should do all the work, so keep the rest of your body completely still as you lift and lower your leg.
7. Pigeon Pose
The pigeon pose is an effective exercise that helps reduce stress and tension in the hip region, thus improving flexibility. It works on your groin and hip flexor muscles and opens up your hip rotator muscles (gluteus medius and minimus).
Begin in a plank position.
Lift and sit with your right knee bent forward.
Inch your right foot away from your body.
Extend your left leg straight behind your body as far as you can.
Keeping your hips square, lower yourself to the floor, bringing your upper body as close to the floor as possible.
Hold the position for 5 breaths.
Repeat on the other side.
Practice 10 sets on each leg daily.
8. Marching Glute Bridge
Marching glute bridges help stabilize your pelvis while working on your glutes, hamstrings, and spinal muscles in the lower back.
Lie down on your back.
Bend your legs and bring your feet in close toward your bottom.
Slowly, pushing through your feet, lift your bottom. Make sure your hips are in line with your shoulders and knees.
As you do this, tighten your glutes and hamstrings.
Slowly lift one knee toward your chest until your hip is at 90°. Do not let your back sag or overarch.
Return your foot to the floor and lift the other knee.
Repeat 10 to 20 times every day.
As you gain perfection, you may increase the count as per your capacity.
9. The Hip Drop/Step-Up
The step-up is one of the best exercises for your hips and legs. If you do not have a stepper at home, you may perform this exercise by climbing up and down the stairs.
Place one foot on a sturdy box.
Step with your weight placed at the center of your foot.
Push your hips back and then stand straight up.
Hold this position while keeping your body tall and your hips and shoulders square.
Push your hips back again.
Slowly lower your trailing foot to the floor.
Repeat with the other leg.
Practice 10 reps on each leg every day.
Once you have perfected this exercise, you can perform it while holding a pair of dumbbells.
10. Lying Hip Extension
The lying hip extension, or reverse straight leg raise, is an effective exercise for strengthening your glutes and hamstring muscles.
Lie down on your stomach.
Keep your knees straight.
Slowly lift your leg with your bottom muscles.
Make sure your legs and knees are straight.
Hold for 2 seconds and release.
Repeat 10 times daily on each leg.
We thank Phoenix Rehab and Physiotec for the following images.
11. Hamstrings Stretch
Sets: 3 Reps: 3 Hold: 10 seconds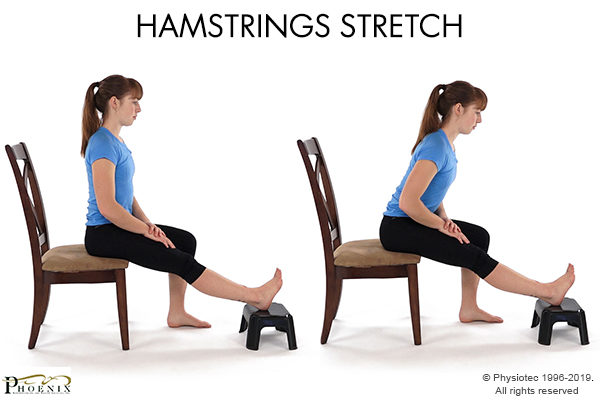 Sit up in a chair and place your foot on a stool and the other leg at 90°.
Place your hands on your knees and bend forward from the hip until you feel a stretch in the back of your outstretched leg.
Roll your hips back as to slightly arch your lower back to accentuate the stretch.
The toes of the stretched leg should not be pointing forward but lifted up and relax.
When you bend your body forward, do not bend your knee. Keep your leg straight.
12. Isometric Abduction
Sets: 3 Reps: 10 Hold: 10 seconds
Lie on a bed or a firm surface.
Loop a belt around your thighs above the knees, and push out against the belt.
Hold for the recommended time.
13. Resisted Hip Abduction/External Rotation
Sets: 3 Reps: 10
Lie on your back with your knees bent.
Tie an elastic around your knees.
Pull your knees apart as far as you can against the resistance of the band.
Bring your knees back together.
14. Quadruped Hip Abduction
Sets: 3 Reps: 10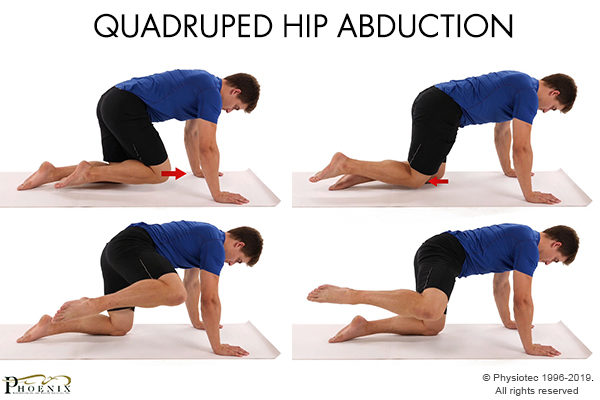 In a quadruped position, flex your hip by bringing your knee closer to your chest, lifting the knee and lower leg off the floor.
Then, open the leg to the side (abduction).
Slowly reverse the movement back to the starting position.
Extend the hip by pushing your foot backward and then open the leg to the side (abduction).
Slowly reverse the movement back to the starting position and repeat the exercise.
15. Seated Hip Abduction
Sets: 3 Reps: 10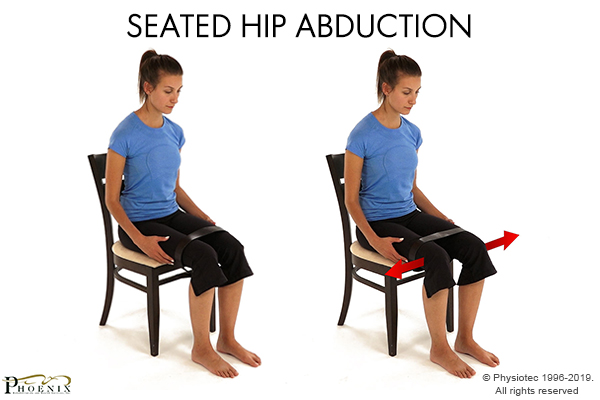 Sit down on a chair with a band tied around your knees. Make sure the band is taut before starting the exercise.
Pull your knees out to open your legs against the band with your feet planted on the floor.
16. Standing Hip Abduction
Sets: 3 Reps: 10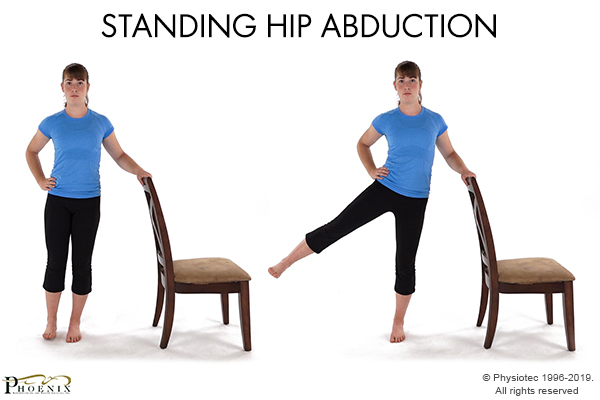 Stand straight holding a chair.
Move your leg toward the outside without lifting your pelvis.
Return to the starting position and repeat.
17. Mini-Band Side Steps
Sets: 3 Reps: 10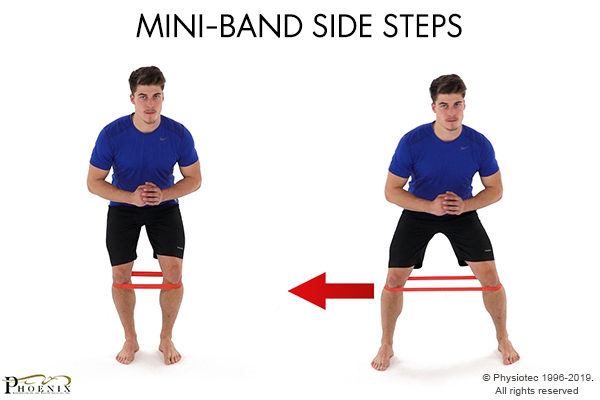 Place a mini-band around your thighs, just above the knee or around the lower leg near the ankle.
Take a step sideways using your abductors (gluteus medius), without rotating at the hips.
Keep the band taut throughout the duration of the movement.
Keep your back straight.
Keep your toes pointing forward at all times.
18. Hip Hike
Sets: 3 Reps: 10
Stand on a step with one foot off the side, holding a pole or chair.
Slowly lower your hip and leg toward the floor, keeping the knee standing on the step completely straight.
Slowly lift your hip toward the ceiling as high as possible without letting the other hip drop out.
Return to the starting position. Repeat as prescribed.
19. Hip Abduction
Sets: 3 Reps: 10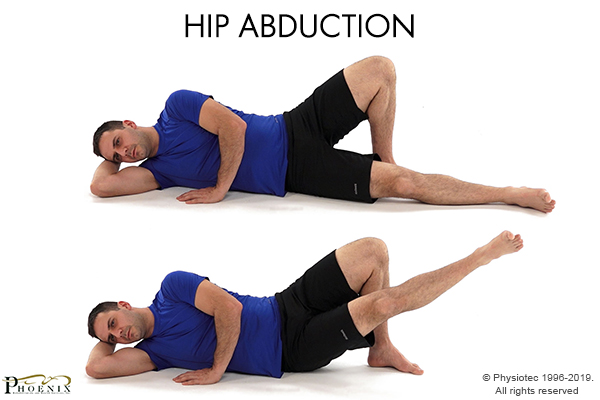 Lie on your affected side with your top knee bent to 90° and the affected leg straight in front of the other.
Lift up the straight leg, keeping your pelvis stable.
Return to the starting position and repeat.
20. Reverse Hyperextension on Table
Sets: 3 Reps: 10
Lie on your stomach on a table so that your hips and legs are hanging over the edge.
Hold the table to steady yourself.
Keeping your back straight and your head in line with the spine, squeeze your glutes and lift your legs, extending at the hips, until your torso and thighs are aligned.
Do not overextend your lower back or neck.
Lower your legs down toward the floor and repeat.
21. Isometric Correction for SI Joint
Sets: 3 Hold: 10
Bring your knee to your chest.
Hold your knee tightly to your chest with both arms and then push your knee out against the resistance of your arms.
Repeat the exercise on both sides several times.
Expert Answers (Q&A)
Answered by Dr. Kyle Hampton, DO
What are the first symptoms of hip problems?
Some of the first symptoms that make me think of hip problems in my patients are complaints of stiffness after lying down or sitting for a prolonged period.

Pain is also a common first complaint but tends to be a little vague when it comes to the location. Some patients think they have a groin issue as the pain tends to be anterior to (in front of) the hip.
What kinds of exercises are advised for people suffering from a labral tear?
If I know that a patient has a labral tear and is not going for surgery or is not a surgical candidate, I will usually recommend starting with gentle range-of-motion exercises without much resistance and gradually working into a more strengthening type of exercise.

It is also very important to involve physical therapy, as it can help make sure that the exercises being done are both beneficial and safe for the patient.

I also encourage my patients to get their hips, pelvis, and sacrum examined and adjusted to make sure that the structures are level, so that the joint is positioned to encourage natural range of motion.
What exercises should be avoided if one suffers from weak hips?
It depends on what causes the "weak hips." If the cause is osteoporosis, then focus should be on reducing the risk of falls and avoiding high-impact activities.

If the cause is weakness in the muscles around the hip and pelvis, then there is less concern about what exercises to avoid. In these cases, it is more about doing exercises that are tolerable without pain and continuing to build on those in order to improve the strength in the muscles around the hip.
Is it safe for people suffering from a hip injury to ride a bicycle?
Cycling can be a great low-impact exercise for someone who may have hip problems. Again, it comes down to what the patient can tolerate.

All joints can benefit from maintaining mobility. If there is no pain while cycling, then it is a great way to mobilize the affected joint without much weight bearing. I might be a little cautious with recommending aggressive mountain biking as the fall risk is higher.
Can a sedentary lifestyle give rise to hip pain?
Yes, being sedentary can lead to hip and joint pain in general. When it comes to joints, there is some truth to "use it or lose it." The joints are designed to move.

Standing upright and ambulating help align the spine, sacrum, and innominate bone. These bones are all important structures in how the hips align and go through the range of motion.
Can bruising around the hip cause leg pain?
Bruising around the hip and the swelling that goes along with the bruising can sometimes cause pain in the leg.

The hip and pelvis area have a lot of nerves and nerve plexuses that form larger nerves in the hip and buttocks area. The sciatic nerve is an important nerve in this area.

Swelling in this area can cause compression of both nerves and veins of the leg and radiating pain that may affect the whole leg.

With these types of symptoms, it is always a good idea to have the cause of the pain investigated by your physician.
Can wearing uneven shoes cause hip pain?
Absolutely. Footwear is one of the first things that I ask about when I am evaluating someone for hip pain.

The hips and pelvis are transition zones where the weight from the spine and upper body is transferred and distributed to the legs.

If the foundation of the legs is not balanced, then it can create unevenness that becomes most notable around the hips and sacrum.

Whenever I am examining someone and find they have a sacral shear or sacral unleveling, there might also be some imbalance through the legs. One of the most common causes of this is shoes that wear unevenly or even improperly supportive shoes.
Is hip pain associated with arthritis?
Hip pain is not always from arthritis. The hip, pelvis, and sacral structures are complex in the way they work together. Muscles and body mechanics have a lot of influence on these parts.

Hip pain does warrant an examination by a physician who is skilled in this area. Oftentimes, hip pain may be a sign of something other than just arthritis.
Final Word
Your hip muscles play a crucial role in maintaining a proper gait and postures, and they go through a lot of wear and tear over time due to overuse and injuries.
Several exercises specifically work out these muscles to make them stronger and more flexible. The more limber your hip muscles, the less likely they are to get injured.
While the right kind of exercise can improve your muscle strength, the wrong exercise can exacerbate muscle damage and strain them further.
So, it is important that you consult your physician, physical trainer, or physiotherapist before incorporating any exercise into your daily workout.
They will help you come up with an eclectic but safe training program that is customized to your individual needs.
Was this article helpful?