A bulging belly not only makes you look out of shape, but it is associated with an increased risk of mortality, diabetes, high blood pressure, and cancer. (1)(2) Abdominal fat is usually very stubborn and can only be reduced through a combination of proper diet and consistent exercise.
Below are some simple exercises you can do at home to flatten your belly with only your bodyweight. All of these exercises can be done with similar frequency, so it is recommended to pick 3–4 movements and perform them 2–3 times a week for 3 sets of 10–12 repetitions.
1. Plank
The plank is a full-body exercise that strengthens your abdominal muscles, lower back, glutes, and arms. It helps create whole-body stability while also burning calories quickly.
Another benefit of this exercise is that it can be done anywhere, so no gym is necessary. With this exercise, you are counting seconds instead of reps, so instead of aiming for 10–12 repetitions, aim for 20–30 seconds.
To perform the plank:
Start on the ground with your stomach facing the floor.
Place forearms on the floor, with elbows, lined up with the shoulders and body in a straight line.
Tense the glutes and abs, and hold the position for the time desired. Do not let the lower back sag or protrude in the air.
2. Goblet Squat
The squat is typically recommended for burning fat and sculpting the legs, but did you know it is great at working the core as well?
The goblet squat is considered to be the most effective in this regard. It requires holding a weight in front of you, thus placing more load on the abdominal muscles.
To perform the goblet squat: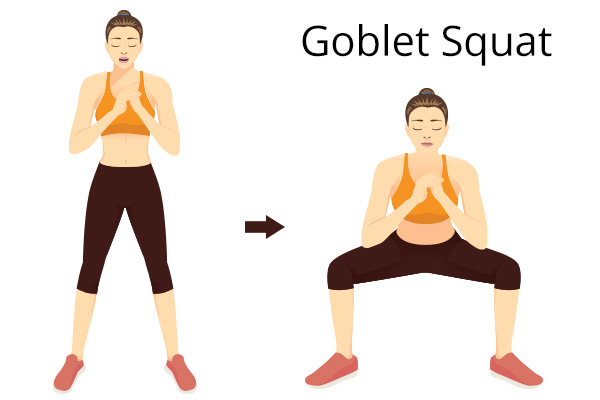 Start standing with a tall posture.
Hold a dumbbell close to your chest, right around the sternum area.
Squat down with the chest up, keeping an erect spine.
Return to standing.
The movement is challenging because the weight forces your core to work to keep yourself from rounding over. So, not only do you work the legs, but you are also getting a nice tummy workout!
3. Leg Raises/Hip Lift
A great core movement that you can perform is leg raises. This exercise targets your ab muscles, especially the lower abdominal muscles.
To perform leg raises: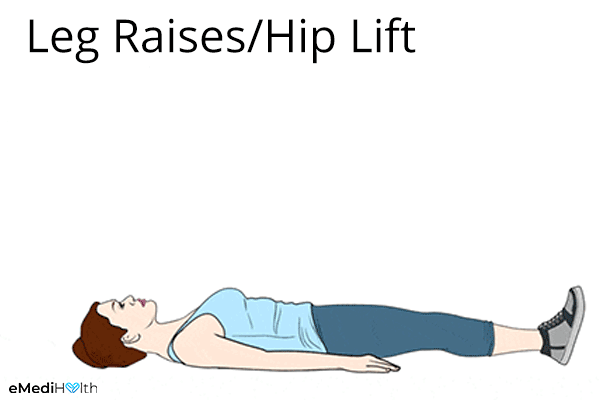 Lie on your back, hands on the sides of your body, or slightly under your butt.
Raise your legs straight into the air, and for an extra challenge, try to raise the hips off the floor.
Lower the legs back down, but try to keep them off the floor (you can touch the floor to make the movement easier).
4. Glute Bridge
The glute bridge largely targets your bum but helps work out your belly as well by engaging both your glutes and abdominal muscles at the same time, so as to keep your spine in a safe position.
To perform the glute bridge: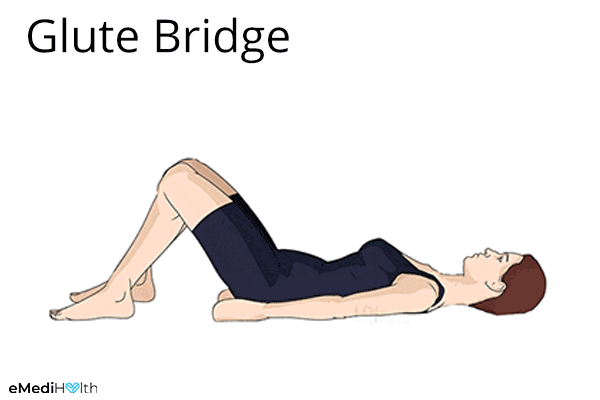 Start by lying on your back with legs bent and feet on the floor.
Pushing through your heels, raise the glutes towards the ceiling, but not so far that you are creating an arch in the lower back. At this point, you should be engaging your core, as if you were trying to suck in your belly button.
After holding for just a few seconds, lower your butt back to the floor.
5. Bicycle Crunch
Another move to target the stomach area is bicycle crunches. This exercise works the abdominal muscles and obliques. It is a relatively easy exercise that anyone can do regardless of ability.
To perform the bicycle crunch: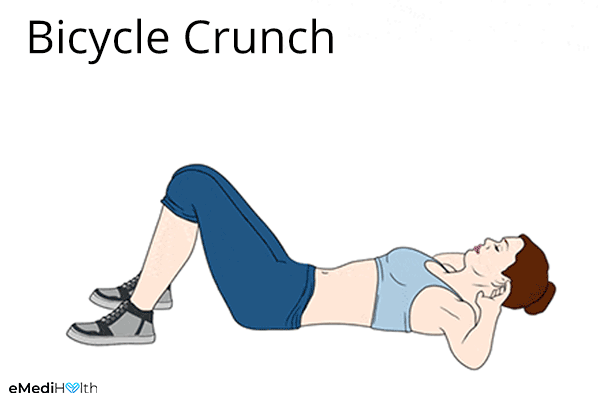 Lie with your back on the floor, hands behind the head and legs off the floor, bent.
With your elbows wide, try to bring the opposing knee and elbow together, and repeat on both sides.
Make sure your elbows stay out, not closing in on your face.
As you bring one knee in close to your chest, straighten the opposing leg without touching the floor.
Do the same amount of repetitions on each side.
6. Hollow Hold
The hollow hold is a whole-body exercise that requires whole body tension and works your core to maintain good positioning. The movement helps create stability and strength in the core musculature while also flattening your belly.
To perform the hollow hold:
Lie flat on your back, with your arms and legs straight out.
Crunch your abdominal muscles inward, as if you were trying to suck your belly button to the floor.
Raise your arms, legs, and upper back off the floor, creating a "smiley face" with your body.
If the movement is too difficult or you start to feel it in your lower back, bend the legs to make it easier.
As with the plank, this movement is done for time and not repetitions. Aim for 3 sets of a 20-30-second hold.
7. Side Plank
The side plank targets the obliques in the same way as the regular plank targets the abdominal muscles, by focusing on stability, it really hammers out the side torso area.
To perform the side plank:
Start in the same position as a regular plank.
Turn your body to one side, resting on one arm and the side of the feet.
Without letting your hips sag, stay in a straight line from toes to shoulder, you should begin to feel it on the sides of your torso.
If doing a full side plank is too challenging, make it easier by just bending the legs and doing a side plank from the knees up.
Just like the plank or hollow hold, this is an exercise where you hold for time instead of doing repetitions. Try this exercise out 2–3 times a week for 3 sets of 20–30 seconds each side.
Final Word
If you are trying to lose belly fat, make sure that diet is the number one thing you focus on. Eating more vegetables, fruits, and lean protein and less junk will help you lose body fat overall.
Beyond a proper diet, there are exercises that can help tone and shape up the stomach area to make the belly tighter and flatter while burning fat. Exercise, in general, has been shown to boost metabolism, burn fat, and build muscle, all of which give you a good-looking body.
Was this article helpful?