In addition to conventional medications, a majority of cases of kidney stones can be treated with the help of natural ingredients. Many of them also help prevent stones from developing in the future.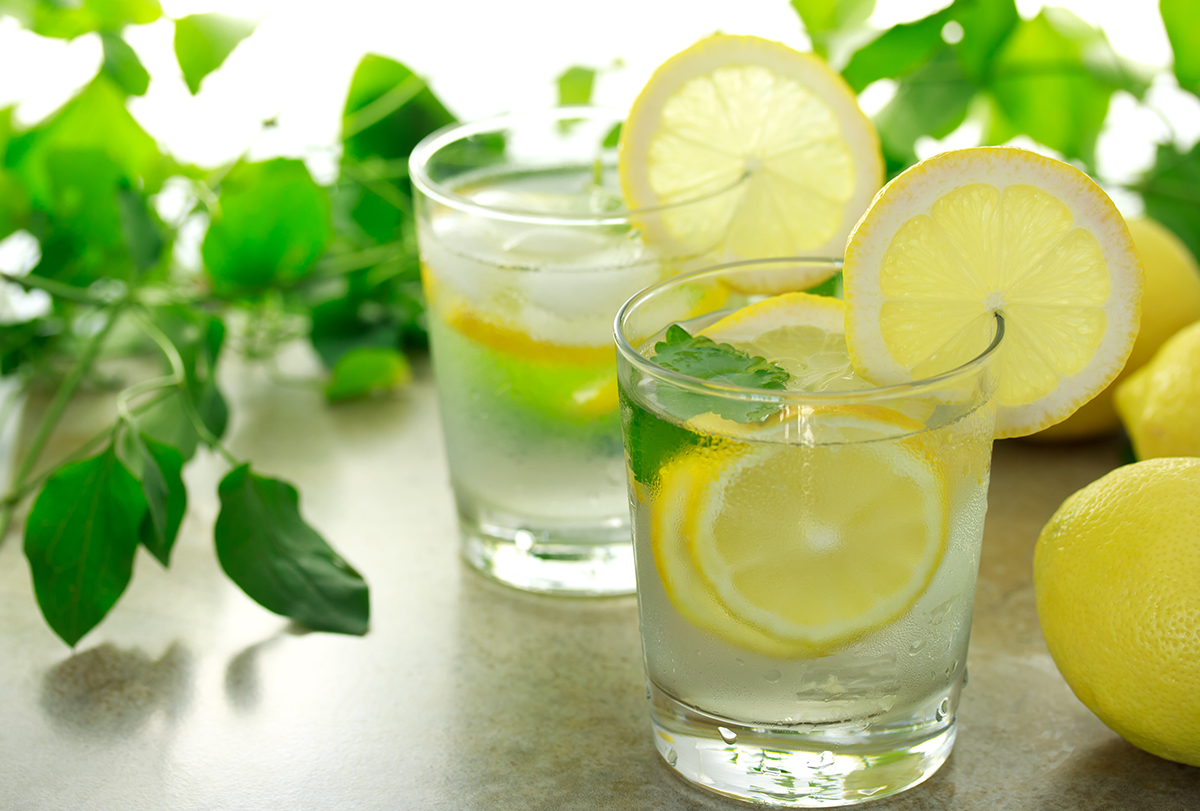 Moreover, make sure to drink plenty of water. If you drink 6 to 8 glasses of water along with other kinds of fluids daily, the color of your urine will become clear, which is a good sign.
Home Remedies for Kidney Stones
Try any of these natural remedies for symptomatic relief. If there is no improvement in your condition, consult your doctor.
1. Drink a concoction of lemon juice and olive oil
The combination of lemon juice and olive oil is traditionally used as a home remedy to expel gallbladder stones, but it can also be used to treat kidney stones. The citric acid present in lemon helps break down calcium-based kidney stones and stops further growth of a stone. (1)(2)
A preliminary study published in the Journal of Urology found that patients who were treated with lemonade therapy for a mean of 44.4 months demonstrated increased urinary citrate levels and their stone formation rate decreased from 1.00 to 0.13 stones per patient per year. (3)
How to use:
Take 4 tablespoons or ¼ cup of fresh lemon juice.
Add an equal amount of olive oil.
Drink this mixture followed by plenty of water.
Do this two to three times a day, for up to three days. You need not continue this remedy if you pass the stones in a single dose.
Caution: This remedy may not be suitable for passing large kidney stones. Make sure you consult your doctor before taking this remedy.
2. Brew a nettle leaf tea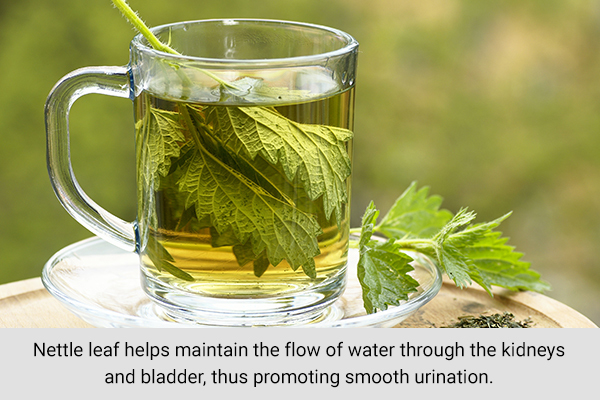 Nettle leaf helps maintain the flow of water through the kidneys and bladder, thus promoting smooth urination. Nettle leaf also helps keep crystals from forming into stones and keeps bacteria away. Nettle tea will also enhance the benefits of water by acting as a natural diuretic. (4)
A study published in Molecular Medicine Reports found that the methanol extract of Urtica dioica efficiently dissolves calcium oxalate renal stones in male Sprague-Dawley rats. The extract showed a dose-dependent curative effect on urinary and renal parameters, including calcium oxalate renal stone formation. This study was not duplicated in humans. (5)
How to use:
Add 2 teaspoons of dried nettle leaf to 1 cup of hot water.
Let the dried nettle leaf steep for 10 minutes and then strain the liquid.
Drink 2 to 3 cups of nettle tea daily for several weeks.
Note: Avoid stinging nettle if you are pregnant or breastfeeding. Use nettle with precaution if you are diabetic, suffering from hypertension, or taking lithium, blood-thinning, or sedative medications.
3. Dandelion root extract promotes recovery
Dandelions can come in handy for bolstering the excretory system. Not only does it promote urine output, but this taproot perennial is also known to replenish the potassium that is flushed out with the urine.
Dandelion root juice has earned the reputation of a detox drink for its ability to stimulate the production of both bile and urine. This cleansing property can be attributed to a certain compound present in dandelion root that helps rid the body of waste. (6)(7)
You can purchase dandelion tea that is readily available in supermarkets and drink 3–4 cups of this tea every day. Alternatively, you can extract fresh dandelion juice and supplement it with a bit of orange peel, apple, or ginger to make it more palatable. Drink 3–4 cups of this tea throughout the course of your day.
You can even take dandelion extract in pill or capsule form. The recommended dosage of dried dandelion extract to ease the symptoms of kidney stones or prevent their formation is 500 mg. However, check with your doctor first to avoid any undue side effects.
Note: If you have allergies with ragweed and related plants (daisies, chrysanthemums, marigolds), then you are also likely to be allergic to dandelion. Be sure to check with your healthcare provider before taking dandelion. Use dandelion with caution if you are taking antibiotics, lithium, or medications changed by the liver.
4. Consume pomegranate for healthy healing
Both the seeds and juice of pomegranate can help in the treatment of kidney stones. (8)(9)
How to use:
Try to eat one whole pomegranate or drink 1 glass of freshly squeezed pomegranate juice daily. You can also mix pomegranate in your fruit salad.
Another option is to grind 1 tablespoon of pomegranate seeds into a fine paste. Eat this paste along with a cup of horse gram soup once daily. This remedy helps dissolve the stones. You can find horse gram in Indian markets.
5. Watermelon is a kidney-friendly treat
Watermelon is a great way to treat kidney stones composed of calcium, magnesium, phosphates, and carbonates. The potassium present in watermelon is an essential ingredient for healthy kidneys. It helps regulate and maintain the acid level in the urine.
A study published in Biomedicine and Pharmacotherapy found that an in vivo rat model of urolithiasis showed reduced calcium oxalate (CaOX) crystal count in both the kidney and urine after administering the pulp extract of watermelon.
Also, the serum analysis showed elevation in creatinine clearance and reduction in urea and creatinine levels. This study has not been reproduced in human studies. (10)
Along with potassium, watermelon also contains a high concentration of water, which helps in flushing out stones from the kidneys. Eating watermelon regularly can help greatly in the treatment and prevention of kidney stones. You can also consume watermelon seed tea.
6. Fix yourself a steaming bowl of kidney beans broth
Being high in fiber and magnesium, kidney beans can be effective in the treatment of any kind of kidney or bladder problem, including kidney stones.
A 2017 study published in the International Journal of Green Pharmacy demonstrated the antiurolithiatic activity of the ethanolic extract of P. vulgaris (kidney bean) seeds against ethylene glycol-induced renal calculi in Wistar rats. (11)
How to use:
Remove the beans from inside the pods, and then put the beans in hot water. Simmer the water on low flame for hours until the beans become soft and tender. Strain the liquid and allow it to cool. Strain the liquid again. Drink this bean broth several times throughout the day to relieve kidney stone pain. This broth should not be kept for more than 24 hours, as it will lose its therapeutic properties.
You can also eat kidney beans in a soup or salad.
7. Wheatgrass juice makes for a renal tonic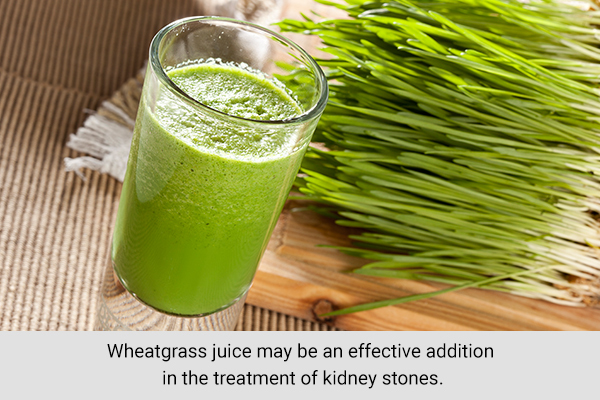 Wheatgrass juice may be an effective addition in the treatment of kidney stones. You can also have a glass of wheatgrass juice mixed with 1 teaspoon each of lemon juice and juice extracted from basil leaves. (12)(13)
Take this juice two to three times a day.
Wheatgrass juice is a good source of magnesium, potassium, iron, amino acids, chlorophyll, and B vitamins.
Note: Use wheatgrass with precaution if you are diabetic. Stop taking wheatgrass as medicine at least 2 weeks before a scheduled surgery.
8. Basil inhibits stone formation
Basil can help renal function in more ways than one. It contains acetic acid, a chemical that helps break down kidney stones into smaller bits, which are easier to excrete.
Moreover, basil contains certain compounds that may prevent the formation of kidney stones (uric acid). What's more is that basil juice is generously supplied with antioxidants and anti-inflammatory agents, both of which are beneficial. (12)
How to use:
Mix 1 teaspoon each of basil juice and honey. Take this mixture daily in the morning for 5 to 6 months. If you do not like the taste of honey, you can take pure basil juice or chew two to three basil leaves daily.
Another option is to drink basil tea. Steep five to six basil leaves in boiling water for about 10 minutes. Add 1 teaspoon of honey and drink this tea after it cools.
9. The fibrous goodness of bran flakes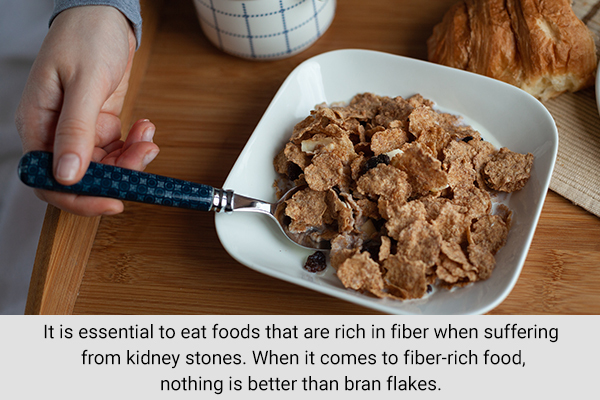 The insoluble fiber found in wheat helps reduce calcium in the urine as it combines with calcium in the intestines, thereby eliminating it through the stool.
Thus, it is essential to eat foods that are rich in fiber when suffering from kidney stones. When it comes to fiber-rich food, nothing is better than bran flakes. One bowl of bran flakes can provide 8 mg of fiber. So, to cut the risk of kidney stones, eat bran flakes daily without fail. (14)
Whole-grain foods such as bread can also help greatly lower your risk for kidney stones. Whole-grain bread is a rich source of nutrients, fiber, and protein along with magnesium. (15)
Magnesium especially can help prevent the coalescing of crystals in the kidney to form larger stones. So, those suffering from kidney stones should eat two to three slices of whole wheat bread daily to reduce the stones.
Along with bread, eat whole-grain cereals, pasta, and so on to increase your intake of fiber and other nutrients to ward off kidney stones in the future.
10. Use celery to increase the urine output
A glass of raw celery juice can help relieve pain from kidney stones due to its antispasmodic properties. Celery juice helps clear out toxins that contribute to the formation of kidney stones.
Raw celery juice is also a diuretic, which means it increases the volume of urine and helps flush out the stones. (16)
How to use:
Drink a glass of celery juice daily in order to prevent more stones from forming.
You can also use celery seed to treat kidney stones. Drinking herbal tea made with celery seeds can help treat kidney stones resulting from uric acid accumulation.
Prevention Against Kidney Stones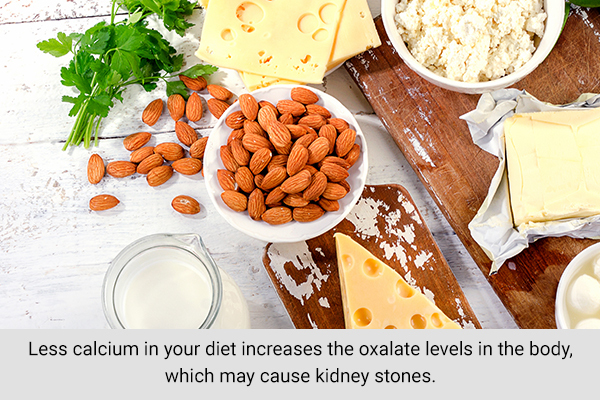 You can easily prevent kidney stones by eliminating the conditions that support their formation.
1. Drink enough water to keep the urine diluted
Insufficient water intake can put you at a higher risk of developing kidney stones.
Dark-colored urine that persists throughout the day indicates concentrated urine and lack of adequate water intake. A healthy adult must try to drink at least 6 to 8 glasses of water daily. Do not forget the loss of water through your skin (evaporation) via heavy exercise (sweating), saunas, and hot yoga. (17)
2. Eat calcium-rich foods to reduce oxalate levels
Less calcium in your diet increases the oxalate levels in the body, which may cause kidney stones. Dietary calcium binds with oxalates in your intestine, which prevents both from being absorbed into your blood and subsequently getting transferred to your kidneys.
So, include calcium-rich foods such as dairy products, calcium-fortified nondairy milk, and kefir in your diet. (18)
3. Limit oxalate-rich foods
Eating oxalate-rich foods in high amounts can increase your risk of kidney stones.
4. Limit salt intake to reduce sodium level
Sodium-rich foods can support the formation of kidney stones by increasing the calcium content in your urine. Eat a low-sodium diet to reduce your risk of kidney stones.
The recommended amount of salt is no more than 5 grams a day.
5. Limit sugar and artificial sweetener intake
A high sugar intake (such as high-fructose corn syrup drinks) creates an imbalance in the mineral relationship of calcium and magnesium absorption. (19)
6. Limit red meat consumption
Red meat is high in purines, which can lead to a higher production of uric acid in your body. It lowers your overall urine pH, making it more acidic. A high acid concentration in urine leads to uric acid kidney stones. (20)
7. Exercise daily to maintain a healthy body weight
Being overweight increases your risk of developing kidney stones, so include exercise in your daily routine to drop some pounds and maintain a healthy weight. (21)
8. Avoid soda and carbonated drinks
While water is good for your kidney health, drinking soda and carbonated drinks in excess is associated with stones. Sodas contain phosphoric acid that acidifies your urine, which may lead to stone formation. (19)
9. Avoid the use of fluorinated water
Drinking fluorinated water may also increase your risk of developing kidney stones.
There is controversy regarding fluorinated water and stone formation. To avoid these problematic situations, you can drink bottled water or have a reverse-osmosis system installed in your home to remove fluoride from your water. (22)
10. Eat plenty of fruits and vegetables
Magnesium is very important for your body's absorption and assimilation of calcium. It also helps prevent calcium from combining with oxalate, which is a key factor in kidney stones.
If you are prone to kidney stones, eat at least five servings of fruits and vegetables every day. Avoid red beets and spinach. Limes and lemons (limeade and lemonade) are high in citrate. Citrate is involved in the prevention of crystallization and stone formation.
Final Word
Try the above-listed remedies to assist in the passage of smaller kidney stones, ease the discomfort caused by them, and reduce the formation of new ones. However, these are not a standalone treatment for a potentially serious condition like this, especially if the stone is large or there is some other risk involved.
So, it is important that you consult a doctor for proper diagnosis and treatment while using these remedies only as a complementary measure to ease symptoms and speed up recovery.

Continue ReadingKidney Stones: Causes, Symptoms, Diagnosis, and Treatment
Was this article helpful?