Frequent urination is considered a symptom of an underlying disease and not a disorder in itself. So, its treatment depends on the management of the underlying disease causing it.
The good news is you can employ some self-care measures and home remedies to help manage the issue of frequent urination. Moreover, many easy lifestyle interventions can help relieve this problem irrespective of the underlying issue.
Home Remedies for Frequent Urination
Here are some home remedies for frequent urination.
1. Try the Japanese hit gosha-jinki-gan
Gosha-jinki-gan is a time-honored medicinal agent from Japan that is formulated using 10 classic Japanese medicinal herbs. It has been discovered to be effective and useful in the case of overactive bladder and is quite famous and widely available in pharmacies and grocery stores.
There have been investigations to ascertain the use of this herb in frequent urination including nocturia. Most of these clinical studies utilized a dose of 4.5–7.5 g per day. (1) These studies deduced that gosha-jinki-gan might just be an upcoming medicinal agent for the treatment of an overactive bladder.
Research also implied a few mild possible adverse effects of this herbal therapy, which include diarrhea and nausea, but other than that, gosha-jinki-gan is ready to be your friend if you suffer from frequent urination. (2)
2. Get on the floor for some pelvic floor exercises
Pelvic floor exercises are floor muscle exercises. They are performed to boost the strength of your abdominal muscles, which can end up helping you control your urination in a better way.
Performing these exercises is pretty easy. All you have to do is pull in your pelvic muscle and hold the position for at least 3 seconds. After which, you can relax and repeat the steps for at least 10–15 sets. Doing the same thrice a day can improve frequent urination.
According to studies, pelvic floor therapy was statistically more significant to the reduction in incontinence episodes in patients with an overactive bladder when compared to the standard treatment with oxybutynin or placebo. This can be explained by the fact that a strong pelvic floor can improve urge incontinence induced by involuntary bladder contractions. (3)
3. Don't hide from fluids
The advised fluid intake for those who have an overactive bladder is roughly 1.5–2 liters every day. So, even with frequent urination, you have to consume 6–8 glasses of water.
It is only a myth that reducing fluid consumption is required to control frequent urination. Cutting back on fluid intake can cause chronic dehydration and concentrate your urine, which can be irritating to the bladder lining, thereby only heightening your symptoms. (3)
Note: Staying away from certain fluids such as caffeine, alcohol, and carbonated beverages is important. (3)
4. Train your bladder to listen to you
Symptoms such as frequent urination can be controlled with bladder retraining. Bladder training aims at understanding how to plan your bathroom trips and hold the urge to urinate.
Bladder training is developed to improve the time gap between your bathroom trips. This is done to instill a normal frequency of urination. Research and studies have showcased its usefulness in decreasing incontinence episodes. So, learning to train your bladder just may be the key!
The good news is that it's pretty easy. To train your bladder, gradually limit your toilet trips to once every 2–4 hours. Make sure that the next time you go to the washroom is on your clock and not your bladder. (4)(3)
5. Don't be wary of cranberry
You may have heard about the role of cranberries in treating urinary tract infections (UTIs), which are the primary cause of frequent urination. They work by discouraging the UTI-causing bacteria from clinging to the urinary tract walls.
Many preparations of cranberries are available nowadays that include whole berries, gelatinized creations, juices, and capsules. You can consume them in any form you prefer, but it is suggested to devour cranberries just before or two hours after food.
The best way to get the benefits of cranberry is to consume it as a drink with roughly 25% real cranberry juice, which has been the conventional choice of most people aiming to stop UTIs. (5)
6. Try some pumpkin seed oil
An overactive bladder is a commonly known urinary disorder. The International Continence Society defines it as a syndrome that includes urgency, increased urinary frequency, and nocturia. Symptoms associated with an overactive bladder are generally seen in patients with problems of the lower urinary tract.
Studies have shown that pumpkin seed oil extracted from Cucurbita pepo was valuable in the treatment of increased urination at night in patients with renal disorders in various nations.
In another study, the effect of pumpkin seed oil was assessed on urinary dysfunction in overactive bladder syndrome. Pumpkin seed oil extract with a dose of 10 g of oil per day was orally given to the test subjects, and there was a significant decrease in the degree of overactive bladder symptoms at the end of 12 weeks.
To conclude, pumpkin seed oil can be a simple and easy remedy for frequent urination. (6)
7. Drink green tea
Green tea, particularly its main constituent polyphenol epigallocatechin gallate (EGCG), has strong anti-inflammatory and antioxidant properties.
In one study, treatment with EGCG significantly helped with urinary control in a dose-dependent manner in rat models with an overactive bladder.
Thus, green tea, particularly EGCG, could be a potential remedy for frequent urination caused by an overactive bladder, especially in postmenopausal women. (7)
To use green tea to potentially alleviate frequent urination:
Purchase a high-quality green tea product or extract.
Brew a cup of green tea according to the instructions on the package or prepare the extract as directed.
Consume green tea once or twice a day, preferably between meals.
Monitor the frequency of urination and any changes in symptoms over time.
8. Try horsetail
Horsetail, a plant-based medicine, has been shown in a trial to be effective in reducing symptoms of an overactive bladder and urinary incontinence when used with other herbs.
The study found that after 8 weeks of treatment, urinary day frequency, episodes of nocturia, symptoms of urgency, and total incontinence were significantly lower in the treatment group than in the placebo group.
The results of this study suggested that horsetail may be an effective treatment for an overactive bladder and urinary incontinence with minimal side effects, and further research is warranted to evaluate its long-term efficacy. (8)
To use horsetail:
Horsetail can be purchased in a variety of forms, including dried herb, capsules, and tea bags. Choose a reputable source and follow the manufacturer's instructions for use.
To prepare horsetail tea, steep 1–2 teaspoons of dried herb in 1 cup of boiling water for 10–15 minutes.
Strain the tea and drink it up to three times a day.
9. Make some lifestyle changes
Here are some important lifestyle interventions and additional tips for managing your problem of frequent urination: (3)
Eat a fiber-rich diet.
Stay hydrated and drink a sufficient amount of fluids every day.
Maintain a healthy weight.
Exercise every day.
Quit smoking.
Avoid drinking alcohol and caffeine.
10. Manage your medicines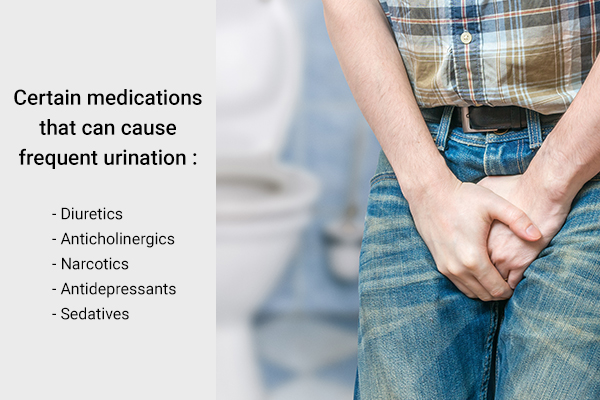 Polypharmacy, or the use of multiple medications, which is very common in the elderly, can be attributed to urinary symptoms or the worsening of an underlying bladder disorder.
This means those who have to take numerous medications may be prone to frequent urination or other issues such as urinary retention. Medicines that can be responsible for the same are:
Diuretics
Anticholinergics
Narcotics
Antidepressants
Sedatives
Therefore, the simultaneous intake of various medications needs to be managed by modifying the medication type, terminating the medication used, or adjusting the dosage.
However, this should be done only after talking to your doctor. No changes in the medication plan should be implemented unless advised by a healthcare professional. (3)
Most-Asked Questions About Frequent Urination
Should I be worried if I suffer from frequent urination?
In some circumstances such as pregnancy, frequent urination is entirely expected and not something you have to be worried about.
However, in other cases, you may need to discuss your symptoms with your doctor, who will devise a treatment plan for you depending on the severity and cause of frequent urination.
Should I drink lower amounts of fluids to avoid frequent urination?
No! Reducing your fluid intake in an attempt to manage your symptom of frequent urination is a bad idea as it will only cause problems such as chronic dehydration and irritation of the bladder lining. (3)
What is enuresis?
Enuresis is the problem of bedwetting in children older than 3–4 years old and may be a symptom of various conditions.
What medicines are taken for frequent urination?
Antimuscarinic medication is presently the drug of choice in the management of overactive bladder.
What can cause complications for someone with frequent urination?
Complicating factors for frequent urination include:
Neurologic disease
Recent genitourinary surgery
Recurrent urinary tract infections
Pelvic pain
What is a bladder diary?
A bladder diary is an easy noninvasive way of overseeing frequent urination. It is used to evaluate the patient's current condition.
To maintain a bladder diary, you have to simply record your fluid intake with the time and volume of every urination for 3–5 days. The bladder diary has diagnostic and medicinal applicability. (3)
Final Word
Urinating frequently can be bothersome. This symptom occurs from common circumstances or underlying health conditions such as kidney stones, diabetes, and bladder issues. Thus, overseeing and treating the root cause of your problem will decrease urine frequency.
At the same time, home remedies can deliver some relief till the time the issue is resolved.
Nonetheless, you should know that talking to your healthcare provider about your symptoms of frequent urination is nothing to be ashamed of. It can, in fact, be the much-required effort toward adequate management of your condition.

Continue ReadingWhat Are the Causes of Frequent Urination and How to Stop It
Was this article helpful?