Key Points
Vertigo can be of either central or peripheral type, depending on the vestibular symptoms. However, a peripheral form, benign paroxysmal positional vertigo is the most prevalent.
Proper diagnosis of vertigo requires a detailed medical history, physical examination, and various other tests.
While treatment aims at alleviating the symptoms, proper medications and care can aid relief.
Self-care measures play a key role in preventing and subsiding vertigo.
The sensation of moving, tilting, or spinning surroundings or the feeling that you are in motion or falling despite being still is known as vertigo.
Vertigo may lead to dizziness, imbalance, and abnormal movement. All of these symptoms are common and require proper detailed evaluation as they may indicate a serious disease.
The distinction between true vertigo or mere dizziness or light-headedness is critical in solving the problem.
True vertigo often has a sudden onset, and its duration can vary anywhere between a few seconds and several minutes. It usually causes only mild trouble. However, severe vertigo may last for much longer and impede your ability to perform daily activities.
True vertigo is accompanied by a feeling of spinning and differs from light-headedness or nonspecific dizziness.
It may result from various problems that disturb the balance, vision, proprioception (the sense of body positioning in the surrounding environment), and oculomotor control system (part of the brain that controls eye position and eye movements).
What Goes Wrong?
The vestibular system, composed of the semicircular canals in the inner ear, vestibular nerve, brainstem, and cerebellum, plays a crucial role in maintaining the posture and balance of the body.
The semicircular canals send signals via the vestibular nerve to the central nervous system (CNS), where they are compiled to generate a response. Therefore, any problem in these parts can cause imbalance.
The information from your inner ears, in combination with the information from your eyes, skin, and muscles, helps recognize self-movement in space and time and also the movement of your surroundings.
However, if these numerous signals received by the CNS are contradictory, a state of confusion may occur, leading to nausea, dizziness, and the feeling of movement.
Also, if the information sent to the brain from the inner ears, eyes, and body is normal but is misinterpreted by the brain, similar feelings of movement can occur.
Types of Vertigo
Vertigo is classified into the following two types:
Peripheral vertigo: It is a common form of vertigo that results from problems in the inner ear or vestibular nerve. The inner ear has three semicircular canals on each side, known as the vestibular labyrinth.

The semicircular canals are connected to the brainstem by the vestibular nerve, which transmits information from the semicircular canals to the brain.

Benign paroxysmal positional vertigo (BPPV) is the most common cause of true vertigo that arises from a malfunction in the inner ear.

BPPV occurs due to problems in the heavy calcium particles (otoliths) present in the vestibular labyrinth. It is more commonly seen in older adults. BPPV usually causes a brief but severe episode and causes dizziness on moving the head when lying down or rolling over in bed.

While the symptoms usually last for only a minute, they may easily recur on provocative movement (sudden head movement). Typically, BPPV resolves on its own within 6 weeks.
Central vertigo: This form of vertigo generally occurs after head trauma, brain injury, or disease. Any problem in the central vestibular structures, such as the brainstem, vestibular nuclei, and cerebellum, can interfere with the proprioception and sensory perception of vision.

Central vertigo usually happens due to a compromised or restricted blood supply (ischemia) to these structures, especially in older adults with vascular problems. Individuals with central vertigo may lose the ability to stand or walk during an episode.
The incidence of different forms of vertigo depends on the affected individual's age, health problems, and medications taken. Inner ear inflammation, usually after a viral illness, can also cause vertigo, dizziness, and imbalance. Many central pathologies only cause ataxia (clumsiness) or disequilibrium rather than true vertigo. (1)
Causes of Vertigo
The causes of central and peripheral vertigo vary since they affect different areas of the balance system.
Peripheral vertigo may be due to the following reasons:
Labyrinthitis: An infection in the inner year may involve the semicircular canals.
Vestibular neuritis: The vestibular nerve may be inflamed due to a viral infection. This condition leads to the rapid development of severe vertigo, nausea, vomiting, and instability in walking (gait instability).
Ear injury: An injury to the eardrum or small bones in the middle ear may cause a hole or fistula between the middle ear and inner ear.
Medications: Certain medicines, including cisplatin, salicylates, diuretics, and aminoglycoside antibiotics, may be harmful to the inner ear. Many other medications have vertigo listed as one of the possible side-effects.
Anxiety and stress: Stress or anxiety may not induce vertigo, but they can aggravate the problem. Disorders like panic attacks and generalized anxiety disorder are often associated with it. Depression and vertigo may also be connected.
Meniere's disease: This rare condition of the inner ear can lead to vertigo, tinnitus, hearing loss, and aural fullness (pressure in the ear).
Abnormal growth: A tumor such as a vestibular schwannoma (acoustic neuroma) or an abnormal blood vessel can put pressure on the vestibular nerve.
Trauma: Head or neck trauma, skull fractures, or damage to the peripheral vestibular system often leads to vestibular complaints. Vertigo is, therefore, a common problem experienced by trauma patients. (1)
The following factors may contribute to central vertigo:
Stroke: Hemorrhagic or ischemic infarcts in the brain (stroke), especially those affecting the vertebrobasilar system (arteries supplying blood and oxygen to parts of the brain that maintain balance) or the cerebellum, may lead to vertigo.
Multiple sclerosis (MS): While MS can cause both kinds of vertigo, the central type occurs due to the formation of demyelinating plaques in the vestibular pathways. These plaques lead to the loss of the myelin sheath, the insulating layer on nerve cells, that helps in efficient signal transmission.
Disorders: Atrial fibrillation, narrowing/obstruction of the carotid artery, diabetes, sleep apnea, and many other medical problems that affect the blood vessels or blood flow to the brain increase the risk of central vertigo.
Migraine: One of the common causes of central vertigo is a vestibular migraine that results in one-sided headaches, vomiting, phonophobia, nausea, and photophobia.
Medications: The use of aspirin, nonsteroidal anti-inflammatory medications, anticonvulsants (such as carbamazepine, phenobarbital, and phenytoin), intravenous aminoglycoside antibiotics, certain chemotherapy medications, and many others can cause damage to hearing and balance.
Alcohol: Excessive consumption of alcohol may also contribute to vertigo.
Tumor: Both malignant and benign brain tumors can cause central vertigo.
Blood pressure: A very high or very low blood pressure may lead to vertigo.
Psychological disorders: Anxiety, stress, somatization, and mood can also lead to vertigo.
Head injury: The most common reason for central vertigo is an injury to the brain.
Symptoms of Vertigo
Vertigo is a symptom, not a specific medical disease. It is associated with many medical problems and medications. Vertigo must be distinguished from other symptoms such as light-headedness and simple dizziness.
Vertigo is chiefly recognized by the misapprehension of movement and body imbalance. It may also be accompanied by the following symptoms:
Nausea and vomiting
Tinnitus, or ringing sound in the ear
Slurred speech
Nystagmus, or involuntary movement of the eye
Disturbed or blurred vision
Difficulty walking
Dizziness and fatigue
Fullness in the ear
Temporary hearing loss
Light-headedness
Weakness, feeling faint, and numbness
Sweating or diaphoresis
A feeling of being pulled toward one side
A sensation of internal or external spinning
Diagnosing Vertigo
The symptoms and a detailed medical history will help the doctor with the diagnosis. He/she may inquire about personal or family history of migraines and also assess the possibility of cerebrovascular, cardiac, and neurologic diseases.
For confirmation, you may need to undergo tests such as:
MRI scan
Blood tests
Video nystagmography (VNG) to evaluate the brain control of eye position and movement
Balance tests/posturography
Vision tests
Electro encephalogram(EEG)
Audiological (ear function) tests
CT scan
Rotary chair tests
Head maneuvers such as Dix-Hallpikemaneuver
Brainstem auditory evoked potential studies to evaluate nerve conduction
Otoacoustic emission tests
Electrocochleography
Clinical Treatment for Vertigo
Vertigo treatment chiefly focuses on making an accurate diagnosis and alleviating the symptoms. However, symptomatic treatment should be brief, as it can delay the body's natural recovery processes that will help overcome the imbalance caused by changes in the balance system.
The following methods may be used for treatment:
Balance therapy: The exercises included under this method aid recovery from inner ear or CNS problems by helping the brain recover normal balance functions. The exercises may be performed initially under the supervision of a physiotherapist or doctor, followed by continued exercises at home.
Vestibular rehabilitation therapy (VRT): This treatment is a special form of balance therapy that involves head movements and other exercises that stimulate the brain and aid in gait (body movement) and visual stabilization.
Canalith repositioning: This procedure is helpful for the treatment of BPPV. The procedure used depends upon which of the three semicircular canals is affected.

It is done to relocate the otoliths from the semicircular canal to the vestibule in the inner ear, where they remain until they spontaneously dissolve.

This method involves a series of repositioning movements of the head, neck, and body that must be performed in the correct order to be effective. Results are observed after 1 to 2 days of treatment.
Medications: Multiple over-the-counter medicines are available for alleviating mild vertigo. For severe vertigo, many medications are also available to reduce the symptoms, however, they only give short-term relief.

Other medications help reduce nausea and vomiting associated with vertigo. These medications should be taken for limited periods as long-term use may delay the readjustment and adaptation in the central balance pathways after an episode of vertigo.

In addition, many of these medications have side effects, such as sleepiness and constipation.
Surgery: Some cases may require surgical procedures, such as microvascular decompression, semicircular canal procedures, singular neurectomy, endolymphatic shunt, repair of inner ear fistula, and permanent destruction of the semicircular canals.
Preventive Self-Care Tips
The following self-care measures can help in alleviating the symptoms of vertigo or preventing a vertigo episode:
Elevate your head with the help of extra pillows while sleeping.
Avoid straining your neck and try to keep it relaxed.
Upon waking up in the morning, avoid getting out of bed quickly. Instead, gently sit up slowly and then sit on the bedside for a couple of minutes before standing.
Refrain from bending over repetitively. For example, if you need to pick something up from the floor, bend your hips and knees rather than bending from your waist.
Avoid standing for long periods, and carry a chair or stool when going outdoors.
A cane can be used to help maintain body balance.
Train your brain by performing the exercises provided by your doctor or balance therapist.
Drink ginger tea for relief as it may improve blood circulation and may also help alleviate nausea. (2)
Ginkgo biloba extracts can also be used for the symptoms of vertigo or dizziness. Ginkgo biloba is widely used in eastern medicine due to its antioxidant properties. (3)
Sit still or lie down during an acute episode.
Avoid loud music, crowded places, and bright lights, as these can easily trigger symptoms, especially if you have vestibular migraine and anxiety disorders.
Refrain from straining your eyes by limiting reading and screen time. Do not try to read while experiencing vertigo symptoms.
Consume more water throughout the day, especially when dizzy, to prevent dehydration.
Refrain from consuming caffeine, tobacco, and alcohol, as these can worsen the symptoms and are also harmful to general health.
Be cautious about driving if you had vertigo episodes in the recent past, as an attack during driving is possible and could lead to an accident.
Discuss your symptoms with your employer, especially if the job involves climbing ladders or operating heavy machinery.
Practice yoga to improve your balance, movement, focus, and coordination. This exercise can also help in reducing dizziness. Yoga should be performed under expert supervision initially.
Control dizziness by practicing breathing techniques and other relaxation exercises. Try to use medications sparingly and for the shortest period of time possible.
Ensure plenty of sleep as it is important for healing. Severe fatigue worsens the symptoms.
Methods to Reduce Vertigo
Coupling medical treatment with natural remedies and physical maneuvers can facilitate quick relief from the symptoms of vertigo. However, consult your doctor before adopting these remedies, as their effects vary among cases.
1. Maneuvers
● Epley maneuver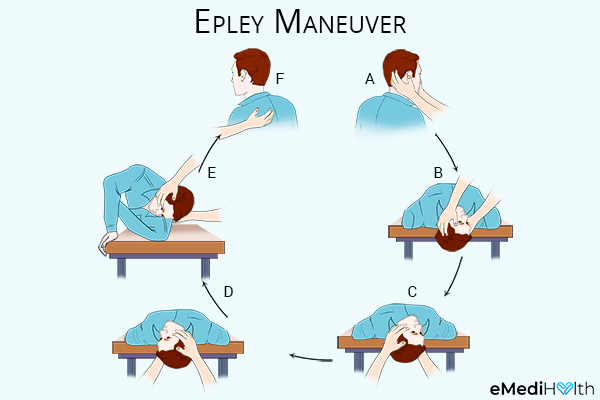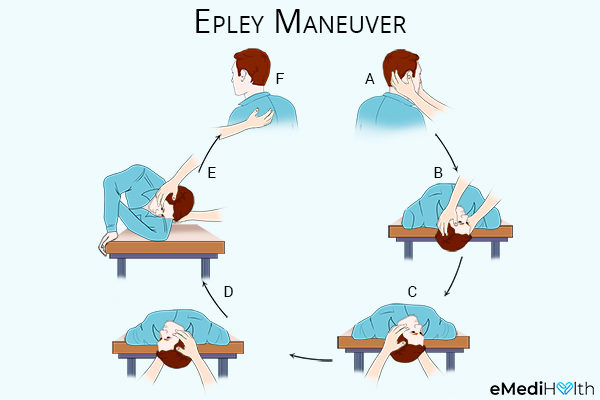 The Epley maneuver is generally used to treat vertigo caused by BPPV involving the posterior semicircular canal, the most common type of BPPV.
A study published in 2015 compared the response of patients with posterior canal BPPV to treatment with the Epley maneuver and medications with the response to treatment with medications alone without the Epley maneuver. The combination treatment was found to be more successful; it provided relief in a single session and also helped prevent recurrences. (4)
By contrast, patients given medications alone required multiple visits. Therefore, the Epley maneuver showed to be a safe and effective method for the treatment of BPPV. (4)
Another review demonstrated that the Epley maneuver was comparatively more efficient in alleviating vertigo than sham maneuver and did not have any severe adverse effects. (5)(6)
You should expect that the exercises in the Epley maneuver may briefly cause a feeling of dizziness, but this problem will resolve with repeated performance.
How to perform:
While sitting on the bed, put a pillow behind you.
Turn your head to the side of the affected ear by 45°.
Lie down while holding your head in the same position, resting your shoulders on the pillow. Your head should recline onto the bed for 30 seconds.
Move your head 90° toward the opposite ear (without raising your head).
Hold for 30 seconds, and then roll your whole body 90° to the side of the ear that is now down.
After 30 seconds, slowly sit up, keeping your head in a neutral position.
Repeat the procedure three to four times daily.
● Half Somersault Maneuver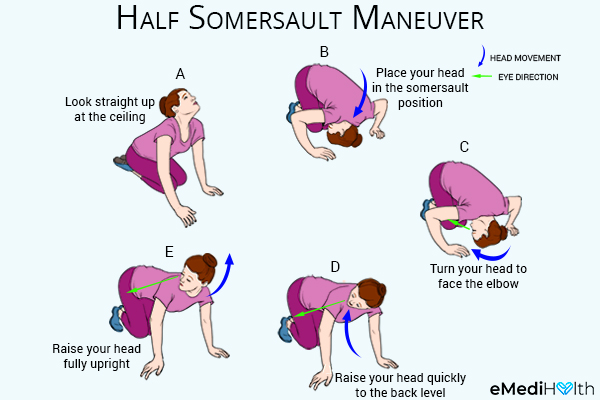 The half somersault maneuver is an alternative maneuver that helps in the removal of particles from the posterior semicircular canal in individuals with posterior canal BPPV.
For some individuals, this maneuver is more effective than the Epley maneuver in reducing dizziness. However, a higher number of half somersaults are needed for relief from BPPV, in comparison with the number of Epley maneuver required.
Similar to the Epley maneuver, the half somersault maneuver may induce mild dizziness and, therefore, should be performed in a safe environment. (7)
● Brandt-Daroff Exercise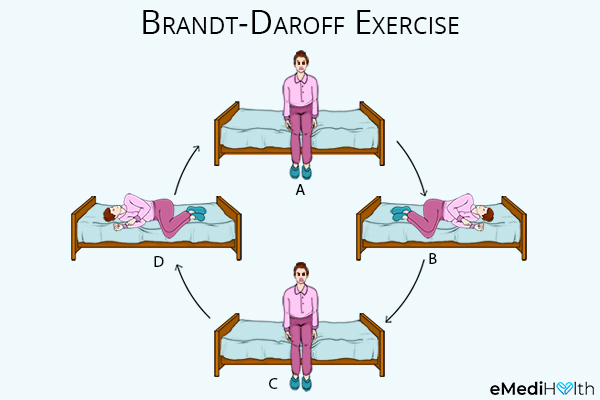 Vertigo symptoms caused by labyrinthitis or BPPV can be alleviated with the help of the Brandt-Daroff habituation exercises.
These exercises are highly efficient, especially for those who are sensitive to repositioning maneuvers or who have had no positive effect with the other maneuvers. (8) These exercises have no adverse repercussions and, therefore, can be performed until results are obtained.
Note: Contact a doctor if these maneuvers are not working or if you are unable to perform them.
2. Acupuncture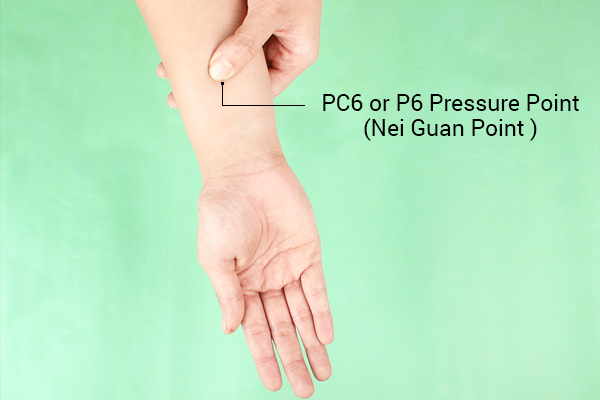 Acupuncture is a common treatment for vertigo caused by Meniere's disease. To alleviate vertigo, acupuncture needles are applied to the P6 pressure point (PC6), also known as the Nei Guan point.
The pressure is generally applied to this acupoint to reduce motion sickness, dizziness, headaches, nausea, upset stomach, and carpal tunnel syndrome.
A study that included 204 patients with acute vertigo concluded that a device that applies pressure on the P6 Nei Guan point helped in improving all symptoms. The significant results obtained after 30 minutes of therapy, combined with the low cost of the P6 device, showed that acupuncture was a safe and effective treatment option. This treatment modality can be used daily for persistent symptoms of dizziness or vertigo. (9)(10)
3. Vitamin D Intake
Vitamin D is required for the absorption of calcium in the body. Therefore, low vitamin D levels may lead to poor formation of otoliths and, eventually, to the development of BPPV. A few individuals with idiopathic BPPV are known to have problems with calcium metabolism.
A pilot study assessed the levels of 25-hydroxy vitamin D in patients diagnosed with BPPV and also checked the recurrence rates after treatment of low vitamin D levels. Results showed that giving vitamin D supplements to BPPV patients may be useful. However, studies are required to establish the efficacy of correcting vitamin D deficiency in preventing the recurrence of vertigo and how this treatment can be implemented in clinical practice. (11)(13)
In one study, a vitamin D imbalance was found in some patients with BPPV, no significant relationship was established between vitamin D levels and recurrence of BPPV. (12)
Additionally, it has been observed that nausea and vomiting caused by vertigo may have a negative impact on vitamin D absorption in the body. Therefore, it is advised to ask your medical practitioner for advice about suitable supplements.
Conclusion:
Some studies have suggested an association between vertigo and low vitamin D levels and that using supplements may help alleviate symptoms. However, large scale studies are needed to establish the efficacy of these treatments.
Vertigo During Pregnancy
Feeling dizzy or faint is extremely common in the first trimester of pregnancy. However, it may continue throughout the whole gestational period.
These symptoms are generally due to the hormonal changes that cause dilation of the blood vessels to increase blood flow to the baby. As a result, blood flow to the mother's body and the brain is slowed down, causing low blood pressure that leads to dizziness.
Studies have shown an association between hormonal fluctuations and vestibular and cochlear disorders during pregnancy. (14)
However, hormonal changes have not been established as a factor for BPPV. (15)
Vertigo in Children
Rarely, children may experience vertigo in some cases of ear infections or the common cold. This symptom is due to the congestion that generates pressure on the inner ear, causing an imbalance.
When the condition is prolonged, it can be indicative of an underlying illness. Children with vertigo are also more likely to be diagnosed with migraine.
Complications Associated with Vertigo
The sudden onset of vertigo episodes may affect your lifestyle, especially your day-to-day activities such as school, work, and travel. The unexpected sensation of movement can throw you off balance, making you fall.
Vertigo may also lead to injuries, fractures (of the hip), and accidents.
Risk Factors for Vertigo
The chances of developing vertigo increase with the following factors:
Head injury
Seizure
Migraine
Diabetes
Hypertension/hypotension
Irregular/slow heart rhythm
Use of certain medications
Health problems affecting the vestibular system
Older age (above 50 years)
Vertigo, central or peripheral, can be symptomatic of various medical issues and is associated with many medications. BPPV, the most frequent form of peripheral vertigo, is more common in women.
General Queries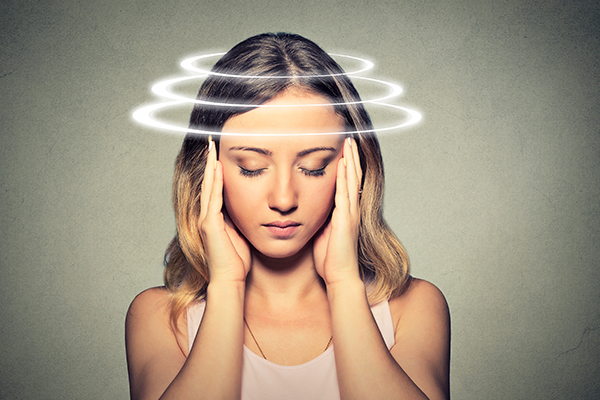 Are there foods to avoid in vertigo?
Vertigo, hearing loss, and tinnitus are commonly experienced by the elderly. This can be due to the loss of appetite and low energy levels occurring with the physiological changes in old age.
The lean body mass decreases, and hormonal and cytokine levels get disturbed with time. Therefore, food readjustment, along with other therapies, can help maintain the life quality of elderly patients with BPPV. (16)
In general, avoiding certain medications, nicotine, and high-sugar or salt-containing foods and beverages may help.
It is essential to stay well hydrated, regulate your fluid intake, and maintain consistency in the diet. Consume food having complex sugars rather than simple sugars.
Additionally, consult your physician on the amount of sodium required to maintain optimum body fluid levels.
Is the fear of heights the same as vertigo?
A dizzy feeling when looking down from a high place is known as a fear of heights or acrophobia. While it is often confused with vertigo, they are not the same conditions.
What is mal de debarquement?
Mal de debarquement loosely translates to "sickness of disembarkment." It is an illusion of movement felt after traveling on the water by boat or ship and happens in around 75% of professional sailors.
However, people may also feel this effect after traveling by airplane, train, or automobile or even after using a waterbed. This sensation typically subsides in a few days and is rarely accompanied by the actual spinning sensation of vertigo.
Can the common cold lead to vertigo?
There is no direct association between vertigo and the common cold. However, if a virus spreads from the respiratory tract into the inner ear, inflammation of the inner ear (labyrinthitis) may ensue, which is a prevalent cause of vertigo.
Are light-headedness and vertigo the same?
Light-headedness is the sensation of fainting and dizziness and does not involve any of the feelings of true vertigo such as tilting, falling, whirling, or spinning. However, both conditions may be experienced at the same time.
Light-headedness generally results from sickness, medications, anxiety, allergies, etc.
Is vertigo a lifelong condition?
Vertigo is rarely prolonged and can be alleviated with the help of self-care measures and medical intervention. Unfortunately, patients who experience vertigo during their lifetime are more likely to experience vertigo again at a later time in their life.
Can vertigo occur during sleep?
Sleeping in an incorrect position may induce vertigo. Additionally, a lack of sleep might increase the severity and frequency of the episodes, while regular restful sleep provides relief. Dizziness and vertigo are also more common in individuals with sleep apnea. You can seek help from a doctor if you are unable to sleep properly.
When to See a Doctor
If vertigo is severe, persists for more than a few days, interferes with your daily activities, or is associated with other worrisome symptoms, it is recommended to seek medical help.
You are more likely to get quick relief if you consult an otolaryngologist or neurologist, who are medical specialists in problems of balance.
Get urgent medical care if you experience any of the following symptoms:
Severe headache
Shivering and chills
Sickness and vomiting
Difficulty walking
Imbalance and loss of coordination
High body temperature
Blurry vision
Slurred speech
Recent history of head trauma, especially if there has been bleeding from the ear
What you may ask your doctor:
Is my problem hereditary?
Will I benefit from balance exercises? Do I need to contact an expert for supervision during the exercises?
Will air travel be problematic if I have vertigo?
What measures can I take to control the dizziness?
What your doctor may ask you:
Since when did you have the symptoms?
Are you using any prescription medications or OTCs?
How frequent are the episodes?
Do you have an ongoing health problem?
Many cases of true vertigo resolve with no treatment. However, if vertigo is severe, lasts for more than a few days, disrupts your activities, or is associated with other worrisome symptoms, it is recommended to seek medical help.