Key Points
Blemish is an umbrella term that refers to any kind of off-colored flaw which hampers the overall appearance of your skin.
Excessive sun exposure, hormonal changes, certain infections, and stress are some of the primary contributing factors in the development of blemishes.
Depending upon the condition causing them, some blemishes fade on their own while others need medical treatments.
Preventing blemishes is much easier than treating them, so you must maintain proper skin hygiene, avoid acne triggers, and use sun protection to keep your face blemish-free.
A blemish is a skin defect that appears in the form of a mark, spot, discoloration, patch, or other types of superficial flaw. Even though most blemishes are largely harmless, they can be particularly distressing if they develop on your face.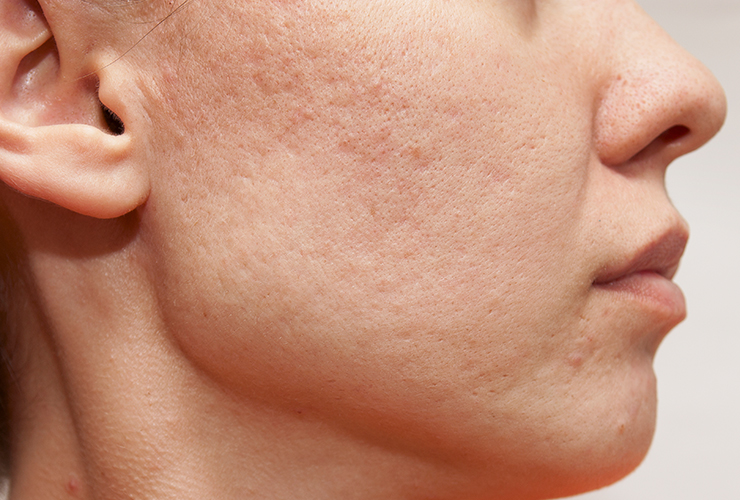 People without a daily skin care routine and those who do not use sunscreen are prone to skin damage. However, even the most stringent routine is not a guarantee against blemishes.
Common Causes of Blemishes
A number of common causes are responsible for different types of blemishes.
1. Sun exposure
Prolonged, long-term, or frequent exposure to direct sunlight can cause considerable skin damage. When the ultraviolet (UV) rays of the sun fall on your skin, they trigger the melanin-producing cells (melanocytes) into overactivity.
Subsequently, the increased melanin in the epidermal layer absorbs the UV rays and prevents them from reaching the healthy skin cells. Thus, melanin is your skin's first line of defense against UV-induced skin damage.
Fair-skinned people are therefore more vulnerable to the harmful effects of the sun's UV rays due to the lack of melanin in their skin.
As melanin is also responsible for giving your skin its color, excessive production of this pigment in response to sun exposure can make your skin turn a darker shade.
When some of these pigmented cells bind together to form a clump, they appear as discolored blotches on the skin. The scattered clusters of melanin take the form of freckles, moles, melasma, and age spots.
A uniform darkening of the exposed skin is referred to as tanning. The increased melanin that settles in scattered clumps can give rise to hyperpigmented patches.
If you frequently spend time outdoors without wearing proper sun protection, the UV rays can hamper your skin's elasticity over time resulting in signs of premature skin aging.
2. Hormonal changes
The scars left behind by acne lesions are one of the most common types of facial blemishes. There are several types of acne, which can differ in terms of their severity and cause.  
Acne breakouts are often associated with certain hormonal fluctuations that trigger an increased production of sebum. According to dermatological experts, hormonal acne is largely the result of an abnormally high level of androgens in the body.
Androgens or male sex hormones are found in both genders. When these hormones are produced in excess amounts, more frequent and potentially severe acne can result.
Hormonal acne mostly affects the female population as they typically experience a spike in their androgen levels first during puberty and later during their monthly menstrual periods.
Because of this periodic rise in androgen activity, acne breakouts are more common during the teenage years and the premenstrual phase in a woman's life. 
Due to the increase in androgens, their sebaceous glands tend to grow in size and secrete higher amounts of sebum, which often takes the shape of nodulocystic acne.  
Women may also undergo certain hormonal changes during pregnancy and menopause that may improve or worsen their acne.
It is generally reported that the use of oral contraceptives may alter female hormonal levels in a way that helps in acne clearance.
Conversely, going off the pill may adversely impact the hormonal levels and lead to the aggravation of acne.
3. Viral and bacterial infections
Certain viral infections such as cold sores and chickenpox can lead to the development of skin blisters on the skin, which often leave behind blemishes.
In cold sores, the fluid-filled lesions are limited to the area on and around the lips, but chickenpox tends to affect the entire skin and not just the face.
Bacterial infections such as impetigo can result in scarring, which can take time to fade.
4. Genetics
Some people scar more easily than others due to their inherited tendencies.
According to one 2009 systematic review published in the British Journal of Dermatology, people with a family history of excessive scarring or those who belong to certain ethnic populations possess some genetic factors that predispose them to keloids and hypertrophic scars. (1)
Both keloids and hypertrophic scars are results of abnormal skin healing, which leads to the production and deposition of excessive collagen at the site of injury.
5. Improper diet
Your dietary choices can also have a bearing on your skin, particularly with regard to specific types of blemishes. Excessive consumption of oily and dairy foods is commonly suspected to trigger or worsen acne flare-ups.
The findings of one meta-analysis showed that the intake of certain dairy products such as whole milk and low-fat skim milk is linked to an increased incidence of acne breakouts whereas other products such as cheese and yogurt are unlikely to increase your acne risk. (2)(3)
6. Stress
Heightened stress levels can undermine your skin health and your overall well-being. People who lead stressful lives or are generally in the habit of taking too much stress are susceptible to various dermatological ailments, acne in particular.
A 2018 cross-sectional study conducted on 1435 medical students highlighted the significant role of psychological stress in triggering the onset or exacerbation of various common skin conditions. (4)
This is further corroborated by yet another 2017 review that identified emotional stress as a prime contributor to the development and aggravation of acne by causing certain neurogenic changes in the skin. (5)
Types and Causes of Visible Blemishes
"Blemishes" is a broad term and has many types.
1. Acne
Your skin has several pores through which it breathes and expels dead cells as well as sweat and toxins. These tiny openings that cover the entire expanse of your skin are called pores.
A pore leads into a tubular cavity that is connected to an oil-producing gland at the other end. It typically has a hair growing within it. Hence, pores are also called hair follicles.
The subcutaneous oil glands produce a sticky substance called sebum, which carries the dead skin cells from the deeper dermal layers to the surface of the skin.
When the oil glands become overactive, they start to produce excess sebum. Excessive secretion of sebum can end up clogging the hollow passage between the pore and the sebaceous gland and can give rise to acne. This is made worse by the increased shedding of dead skin cells that further crowd the follicle cavity.
Both the oil and the skin cells along with the hair inside the follicle form a clumped mass that plugs the pore. This leads to bacterial overgrowth in the follicle, which triggers an inflammatory response by the body.
The swelling causes the plugged mass blocking the pore to break out in the form of painful bumps, pimples, and cysts.
Acne can affect any area of the skin that has hair follicles in it. The severity and appearance of acne can however vary, but the following are some of the most common types:
Blackheads and Whiteheads
Blackheads and whiteheads are the mildest forms of noninflammatory acne that appear as small discolored bumps on the skin.
The buildup of sebum, dead cells, and bacteria inside a hair follicle pushes the pore wide open. Thus, a plugged pore that does not form a head, such as inflammatory acne, tends to appear larger than usual.
There are essentially two types of plugged pores or comedones:
Blackheads: When the blocked pore remains open or uncovered at the surface of the skin, its sebaceous content comes in contact with air and undergoes oxidization to turn a darker color.

These open comedones usually appear as a cluster of small black blemishes or speckles on the skin.
Whiteheads: When the plugged pore closes up at the surface of the skin such that its contents remain unexposed to the air, it takes the form of a small hard bump on the skin with a white-colored center.
Inflammatory or Acneiform Papules
Acne papules are small, raised, solid bumps on the skin that develop when the excess sebum, debris, and bacteria inside a congested pore push deep into the skin and cause redness and swelling.
These cystic skin lesions are manifestations of inflammatory acne and are usually less than 1 centimeter in diameter.
Papules tend to have a hard texture, and if they appear in groups, the affected skin can feel extremely rough.
Pustules
Pustules are another form of inflammatory acne lesions that are largely akin to papules, except that they are filled with a yellowish fluid or pus. They can appear as bulging blister-like sores that are painfully tender to the touch.
Pustules can be red bumps with a white or yellow center or white bumps with redness and swelling around it. Thus, essentially, pustules are like any other pus-filled pimple, but they can grow considerably large over time.
Cystic Nodules
Cystic nodules are firm, fibrous red pimples that do not contain any pus and are rooted deep within the skin. They usually develop as a collection of multiple red, inflamed, solid bumps on the surface of the skin and are categorized as a severe form of acne.
These inflammatory acne lesions are extremely stubborn. Hence, they may take several weeks or even months to clear without treatment.
Moreover, nodules cause intensive skin damage and often leave behind permanent marks. Picking at the nodule or popping it further damages the skin tissue and increases the risk of scarring and infection.
Nodules are relatively large-sized acne that can grow over 5 mm wide and can be extremely painful, especially when touched.
Cysts
Like nodules, cystic acne is also a severe form of acne that usually appears on the forehead, back, neck, and chest, as the skin in these areas is lined with relatively large sebaceous glands.
They are similar to nodules in terms of their size, pain, and redness but have one key distinguishing feature: nodules are filled with pus. When you touch a cyst, you can feel its fluid content move under the skin, whereas a nodule feels like a firm, consolidated mass.
Cystic acne lesions can range from 7 to 15 millimeters in diameter, which makes them quite noticeable.
2. Hyperpigmentation
Hyperpigmentation, as the name suggests, is the increased pigmentation of the skin that occurs in an uneven manner. This is a common dermatological complaint that affects people of all races.
Hyperpigmentation is characterized by the development of discolored spots or patches on your body, typically on your face. The hyperpigmented areas stand out as blemishes as they are darker than the natural color of the surrounding skin.
When there is a deposition of excess melanin under a patch of skin, it will be more pigmented than the normal skin around it.  
From sun damage to hormonal changes, a number of factors can lead to the clumping of melanocytes or melanin-producing cells. Eventually, the clumping results in the occurrence of hyperpigmented or intensely pigmented patches of skin.
Hyperpigmentation is essentially a post-inflammatory skin reaction. This means it is a result of skin inflammation due to injury, burns, acne, or other causes.
3. Age Spots
Age spots are also known as liver spots, but their occurrence has nothing to do with your liver function.
But in keeping with their name, age spots are indeed a common occurrence in older skin. With advancing age, your skin tends to become thinner and its ability to repair or regenerate itself progressively slows down.
As you get older, your skin becomes more vulnerable to the damage caused by the sun's UV radiation. These harmful rays penetrate deep into the skin and stimulate the melanocytes to produce increased amounts of skin pigment.
As your skin regeneration process becomes less efficient with increasing age, there will come a time when your skin will not be able to outgrow the sun damage, leading to the development of age spots.
Age spots are basically tiny, flat blotches on the skin that may be brown or black. These spots typically form in areas of the skin that remain exposed to the sun and are common in people over the age of 40 years.
4. Melasma Spots
Melasma is a non-threatening, yet cosmetically distressing skin condition that is characterized by the development of dark spots on the skin. It develops primarily due to certain hormonal changes that trigger melanin overproduction.
The discolored blotches resemble age spots but are larger in size.
Women are the most affected by this skin condition, particularly during pregnancy. In fact, melasma is colloquially referred to as "the mask of pregnancy" as it is so common among childbearing women.
Women who are on oral contraceptives or hormone replacement medicine are also frequent sufferers of melasma.
Melasma tends to be more noticeable during the summer due to increased sun exposure.
The UV radiation from the sun sends the melanocytes into overdrive. This can lead to the re-emergence of the melasma spots and they can appear more pigmented than before.
On the other hand, the melasma spots become less visible during the winter months as you do not get as much sun exposure.   
Keep in mind: Melasma spots are not contagious because they do not stem from an infection, nor do they pose a risk of skin cancer. The darkened melasma spots are the result of excessive melanin accumulation under patches of skin, which is brought on by hormonal triggers, and not allergic ones.
5. Birthmarks
Birthmarks can be of different shapes, sizes, and colors but are broadly classified into two types: pigmented and vascular.
Pigmented birthmarks: As the name suggests, pigmented birthmarks are caused by an overgrowth of melanin-producing cells in a specific area of the skin.
These birthmarks are typically black or brown in color. The intensity of their pigmentation depends upon the extent of melanin overabundance underneath the skin.
Vascular birthmarks: On the other hand, vascular birthmarks develop when there is an abnormal growth or malformation of blood vessels underneath the skin. These birthmarks can appear purple, pink, or red.
Most people get birthmarks on their face and neck, but they can develop anywhere on the body.
6. Scars
When your skin gets damaged, torn, or scraped off, it forms a protective film of scar tissue over the wound.
This overlying patch of fibrous tissue safeguards the damaged skin from further injury or irritation. Thus, scar formation is an essential part of the natural skin healing process.
Scars usually develop on the parts of the skin that incurred a cut, burn, or laceration.
This fibrous tissue growth is your body's way to repair the lost or damaged skin in the wake of injuries, surgeries, infections, tissue inflammation, and any skin ailment that causes blister formation.
The texture and appearance of scars can vary. They usually develop as discolored patches that may be pale pink, brown, or silvery and can feel flat, lumpy, or sunken. Some scars may hurt or itch; others present virtually no pain or discomfort at all.
Once your skin gets wounded, it is important to treat it properly and promptly to minimize the risk of scarring.
7. Cold Sores
Cold sores are tiny, red, fluid-filled blisters that typically appear on the lips and around the mouth. Less commonly, these painful raised lesions may develop on the chin, cheeks, and nose as well.  
Contrary to what their name suggests, cold sores are not associated with the common cold but are caused by the herpes simplex virus.
Because cold sore is viral in nature, they are highly contagious. In most cases, cold sores clear on their own within a week or two. They start to give off a discharge after a few days of forming and then crust over.
Medical Treatments for Blemishes
1. Over-the-counter medicines or prescribed topical creams
People with relatively mild acne can try some preliminary topical treatments that are easily available at most pharmacies without a prescription. These acne products may be in cream or gel form and usually contain the following ingredients:
Adapalene
Retinol
Benzoyl peroxide
Salicylic acid
The topical ointments usually come with their own directions for use. Stick to the guidelines to avoid any undue skin irritation.
Most of these treatments are photosensitive and have to be applied once at night before you go to bed.
2. Prescription medications
If over-the-counter products fail to clear or control your acne, your dermatologist may prescribe something stronger to address the skin problem.
For acne that is not too aggressive, your doctor may recommend relatively mild topical treatments such as a prescription gel or a skin cream. However, stronger medicine such as isotretinoin may be needed for nodulocystic acne.
For women, the oral administration of certain contraceptive pills may help reduce the severity and frequency of their acne breakouts. These pills trigger certain hormonal changes in the body that may help improve their skin condition.
Consult your doctor for the appropriate dosage. Moreover, it is important to inform yourself about the probable side effects of using birth control pills. 
3. Vitamin C topical creams
Vitamin C is a potent antioxidant that offers a variety of skin benefits, which explains why it is a common ingredient in a wide range of skin care products.
Your doctor may recommend vitamin C-based creams and ointments that are designed to treat dermatological conditions such as hyperpigmentation, premature skin aging, and other types of blemishes.
The efficacy of topical vitamin C for fading scars and blemishes has been highlighted by multiple studies, but further research is needed to conclusively establish this dermatological claim.
The application of vitamin C-containing creams causes certain oxidative changes in the skin, which can cause the following side effects:
Lightening of the skin hair
Slight yellowing of the skin
Staining of clothes
Apart from these minor adverse reactions, these topical treatments can be safely used on a daily basis for extended periods.
For best results, it is preferable to use topical vitamin C in conjunction with other common topical products such as sunscreens, tretinoin, and other antioxidants.
Given that the skin around the eyes is thinner than your normal skin, extra precaution is recommended when applying vitamin C or any cream in such delicate areas. (7)
Medical Treatment for Acne Scars
A number of clinical procedures can be done to minimize the appearance of acne scars, which include:
Laser resurfacing and light therapies
Chemical peels
Cryotherapy
Dermal filler injections
Injections
Dermabrasion
Your healthcare provider will take into account the following factors to determine the best treatment to reduce your acne scars:
Your age
Your medical history
Your general health
The severity of scar
Type of scar
Prevention and Self-Care Tips
1. Effective prevention begins with sunscreen
Sun exposure is one of the primary causes of skin damage, one that you face on almost a daily basis. While it is impossible to completely avoid the sun, the least you can do is wear proper skin protection, not just when you are stepping out but indoors as well.
You may be surprised to know that the UV rays of the sun can find their way to your skin even when you are not directly under the sun. This is particularly true during the hot summer months when the sun is at its scorching best.
Hence, you need to wear sunscreen even when you are in the confines of your home.
Another misconception is that sunscreen is only needed when it is sunny outside and it can be skipped during cloudy, rainy, or snowy weather. Your daily skincare regimen must include proper sun protection, regardless of the weather conditions.
Whether it is for the prevention of dark spots, tanning, hyperpigmentation, melasma, or other blemishes, sunscreen is the starting point of your skin treatment.
Start your day by applying a good amount of sunscreen on all the exposed areas of the skin, not just your face. Make sure to wash or clean your skin before you put it on.
Your sunscreen will wear off rather quickly if you sweat a lot. Therefore, it has to be reapplied every 1 ½ to 2 hours even if it says waterproof. Similarly, people who go swimming should apply a fresh layer of sunscreen once they are out of the water.
If you must stay outdoors for long stretches during the day, take breaks to step indoors from time to time. Also, make sure to reapply sunscreen frequently.
It is preferable to step out during that time of the day when you cast a shadow that is longer than your actual height. This is one way to tell that the sun's intensity is relatively mild and it is safer for you to go outdoors but not without sunscreen.
Keep in mind: Wearing sunscreen is one of the most fundamental measures in achieving flawless skin. It forms a shield over your skin that blocks the UV rays from the sun, but you cannot overestimate its protective effects. Stay out of the sun as much as you can, particularly between 10 a.m. and 4 p.m. when it is at its zenith.
Things to look for in a sunscreen:
It should have a sun protection factor (SPF) of 15 or greater.
It offers "broad-spectrum protection," which means that it blocks both UVA and UVB rays. 
The label should carry the term "non-acnegenic" or "noncomedogenic," which means that the product does not clog your pores.
2. Following a hygienic facial care regimen is key
Do not over-cleanse your face: Frequently washing or scrubbing your face in an attempt to keep it dirt-free only dries out and irritates your skin.

This kind of excessive facial cleansing is strictly ill-advised, particularly for those who are acne-prone or have problematic/sensitive skin.

Skin experts say that you do not need to wash your face more than two times a day. Ask your dermatologist to recommend a suitable facewash for your particular skin type or condition.

Instead of vigorously scrubbing your face, use gentle circular motions and then rinse off the lather with lukewarm water.
Keep your face away from contaminated surfaces: Try not to touch your face at all, but if you must, always make sure that you clean your hands first.

Your nails and fingers are hosts to a lot of dirt, bacteria, and other impurities that can get transferred to your face and trigger an acne breakout.

Wipe clean your phone screen from time to time as it comes in regular contact with your facial skin. It tends to collect a lot of grime, which includes the sebum and skin residue on your face.

When you sleep, your skin can pick up the dust, debris, and germs that settle on your pillow covers.

Therefore, you must change your bed linen regularly and wash the used ones thoroughly before reusing them.
Do not pick at your blemishes: Squeezing or scratching a facial lesion further damages the skin tissue and increases the risk of permanent scarring.

You must fight the urge to pop a pimple as it can aggravate your condition. The application of pressure can push the infected contents of the pimple deep into the skin and thereby can worsen the swelling and redness associated with it.

Also, squeezing your skin with your nails or any sharp object can rupture the skin tissue and leave a mark on your skin even after the pimple clears.

Additionally, touching the infected lesion can contaminate your fingers, which can spread the acne-causing bacteria to other areas of your skin.

Conversely, you may transfer the germs and grime from your fingers to your face if your hands are not properly clean. It is precisely for this reason that you must wash your hands before and after applying any topical treatment for acne.
Use sun-protective gear: Sunscreen may not be enough in protecting your skin from sun damage. It is recommended to cover up the bare areas of your skin with sun-protective clothing such as a face mask, gloves, and socks.

You can also wear a broad-brimmed hat and UV-blocking sunglasses to minimize sun exposure.
Keep stress in check: Stress management is important in keeping inflammatory skin conditions such as eczema under control. High levels of stress hormone (cortisol) in the body can trigger a flare-up of atopic dermatitis and excess oil production.

Thus, if you are prone to stress, make concerted efforts to calm your mind. To that end, you can try meditative techniques such as yoga, deep breathing, and listening to soothing music.

You can also engage in any hobby or activity that gives you pleasure. Go for a tranquil walk in the park after a long day. Also, make sure to get enough rest and sleep, which may help rejuvenate your skin cells.
Be mindful of your makeup: Look for makeup products that do not contain skin irritants such as dyes and fragrances that can aggravate eczema and other dermatological problems.

Acne-prone people must use lightweight, water-based, noncomedogenic makeup to prevent clogged pores.

People with infectious skin conditions such as cold sores or acne should keep their makeup for personal use only.

This is because your cosmetics and brushes collect germs, sebum, and dead skin cells over time.
Water is the key: Water is a panacea for skin health. Drink at least 7-8 glasses of water throughout the day to keep your skin hydrated from within.

A well-hydrated body is better equipped to fight inflammation, which is at the root of several skin conditions. Moreover, maintaining optimum fluid intake is necessary for proper blood circulation.
Apply a cold compress: If you really must do something about your pimple beyond washing your face and spot treating, ice or a cold compress can help.

This gentle cold therapy helps reduce the pain, redness, and swelling associated with inflammatory acne. Wrap an ice cube in a soft tissue or cloth and place it on your acne for 20-30 seconds at a stretch, a few times a day.

The cold application numbs the affected area and helps calm down your angry zits. However, one must never apply the ice cube directly on the skin.
Apply a warm compress:  You can use a warm compress to draw out the pus from a pimple so that it heals quickly. When you apply mild heat onto the deep-seated zit, the pus travels upward and it forms a head.

Simply dip a clean washcloth in moderately warm water and then wring out the excess fluid. Ensure that the damp cloth isn't too hot for your skin before applying it to your face.
Blemishes: Home Remedies and Dietary Modification
There are several things you can do at home to help manage blemishes.
1. Steaming
Steaming is a gentle heat therapy that is commonly used to open up plugged pores to facilitate the expulsion of their trapped content. This age-old technique can easily be performed at home and can help deeply cleanse your congested skin pores.
The warmth of the steam helps to draw out the dirt, impurities, bacteria, dead skin cells, and sebum to the surface of the skin from within the hair follicle.
There are certain pore-cleaning tools available as well that can be used to extract the contents of the blocked pore after steaming.
2. Exfoliation
The accumulation of dead skin cells is a major contributing factor to the development of acne, which is why it is crucial to exfoliate your skin from time to time.
The dead epithelial cells tend to settle in your pores and clog them, which gives rise to blackheads, whiteheads, and other more serious forms of acne.
Skin exfoliation is a fundamental step in a skin care routine. This deep-cleaning method can be done through mechanical means or chemical ones.
Mechanical exfoliation usually entails the use of liquid scrubs with granules or cloths that gently remove the dead skin cells.
Chemical exfoliants include salicylic acid and glycolic acid, which accelerate the shedding of the topmost layer of dead, damaged skin to reveal fresh, new layers of spotless skin.
Regular exfoliation helps keep your skin pores squeaky clean while enhancing blood flow in the face.
Ask your dermatologist to recommend the safest and most appropriate exfoliating agent for your skin type and condition.
Note: You must test the exfoliant on the underside of your arm before applying it to your face. This patch test helps you rule out the risk of skin irritation.
Conclusion:
Both these skin cleaning techniques can be safely performed at home to fade the existing blemishes while preventing new ones from forming. These skin care therapies are mostly effective against blemishes that are caused by the buildup of dead cells, dirt, or oil on your skin such as blackheads and whiteheads.
However, they may not produce the same results for other types of skin flaws. Excessive steaming or exfoliation can further irritate or damage your skin and must be avoided.
3. Use of kitchen ingredients
The following products may help reduce blemishes but further research is still required to establish their efficacy: 
Aloe Vera
The skin benefits of aloe vera gel have been widely acknowledged but need further scientific validation. This naturally occurring emollient may help moisturize the skin and protect it from sun-induced UV damage.
Aloe vera is credited with significant skin-healing potential. Not only does it hydrate the skin, but this viscous gel also works as a humectant that seals the moisture within the epidermis and prevents it from getting dry.
By keeping the skin hydrated, aloe vera helps to preserve the structural integrity of the skin. Moreover, aloe vera can work as a cost-effective alternative to the currently available treatments for speedy wound healing. (8)
Honey
Honey may help fade scars. However, there isn't enough scientific evidence to substantiate this claim. Broad-based studies are required to establish the efficacy of honey for the treatment of scars. (9)      
Lemon
Lemon is a rich reserve of vitamin c and may help diminish the appearance of blemishes with repeated application.
In fact, lemon juice has been part of many topical home treatments for fading spots and blemishes and enjoys a great deal of anecdotal success regarding the same.  
However, the skin healing potential of lemon or lemon juice still needs to be explored scientifically for further medical legitimacy.  
Patch test: Before trying any of these topical remedies on your face, do a patch test by applying a small amount on the underside of your arm to rule out the risk of potential skin irritation or any other side effect.
4. Diet modification
You cannot expect to have healthy-looking, flawless skin unless you follow a healthy, nutritionally wholesome diet. Be mindful of what you put in your mouth, as it will eventually have a bearing on the condition of your skin as well as your overall health.
The following food choices may help keep your skin free of blemishes:
Increase your consumption of green and yellow vegetables as they are replete with carotenoids, plant pigments that exhibit significant antioxidant potential.

Thus, eating more of carotenoid-rich foods may help combat free radical activity, which is largely responsible for premature skin aging.

Free radicals are unstable molecules that damage healthy skin cells and pave the way for wrinkles, fine lines, and other signs of skin aging.   
Include unprocessed, whole foods in your daily intake as much as you can to diminish the appearance of cellulite, prevent acne, and improve the appearance of your skin in general.
Stick to a primarily plant-based diet to lower your intake of methionine. This may help in the treatment and prevention of some common forms of skin cancer.
If you have particularly sensitive skin, flax seeds may help your skin fare better against blemishes, provided they are eaten in appropriate amounts. 
Eat a wholesome diet that is rich in various skin-friendly nutrients, primarily vitamin A, E, D and zinc to keep blemishes at bay.
Myths About Blemishes and Breakouts
Myth: Washing your face often prevents breakouts.
Fact: Frequent washing may seem like a good idea to keep your skin clean, but it only strips the moisture away from your skin and leaves it dry and irritated. Besides, acne does not stem from inadequate skin hygiene.
Hence, you do not have to go overboard with your facial cleansing routine.
Washing your face twice a day is more than enough to remove the dead skin cells, excess oil, and surface dirt that build up on your face during the day.
Use gentle massaging circular hand motions when cleaning your face instead of forceful scrubbing, which can worsen your acne.
Myth: Popping pimples makes them go away faster.
Fact: Popping a pimple with your nails or an acne-extracting device may subdue the zit temporarily but will do more damage to your skin in the long run.
When you squeeze a pimple, the bacteria within it are pushed deeper into the skin, causing the area around your zit to become even more red and swollen.
Moreover, after you pop the pimple with your fingers, you risk spreading the bacteria to other parts by touching them with the same contaminated hands.
Picking at the pimple can also rupture your skin tissue and leave permanent scars.
Myth: Acne is best controlled without moisturizer.
Fact: Some people with acne-prone skin skip using a moisturizer in their daily skin care, thinking that it will make their skin extra oily and trigger future breakouts.
However, not applying a moisturizer can leave your skin utterly dry. This stimulates your oil glands to produce extra sebum to compensate for the lack of moisture and may pave the way for acne.
Thus, in order to maintain the right oil balance in your skin without inviting more pimples, use an oil-free moisturizer that contains acne-fighting ingredients such as glycolic or salicylic acid.
Check the label of the moisturizer to ensure that it is noncomedogenic before buying.   
When to See a Doctor
Any odd-looking discoloration, growth, or blemish on the skin needs to be medically evaluated to rule out the risk of melanoma, which is a severe type of skin cancer.
Consult a skin specialist if you develop a pigmented patch or spot that is:
Rapidly growing in size
Irregularly shaped
Accompanied by redness, itching, or tenderness
Oozing out discharge or blood
Your dermatologist will physically examine the spot. If it seems suspicious, he/she may conduct a biopsy to determine the underlying cause.
What your doctor may ask you:
What is your skin type?
When did you develop these blemishes?
Have you tried any oral or topical medication for these blemishes?
Do you have any allergies?
Have you noticed a pattern in the appearance of these blemishes or are they random?
For how long have you had these blemishes?
What you may ask your doctor:
Are these blemishes a sign of something serious?
Are there any precautions for me to follow?
How long would it take for these blemishes to disappear?
Do these medications have any side effects?
Should I stop wearing makeup completely or change my cosmetics?
What should I do if the blemish suddenly worsens?
Expert Answers (Q&A)
Answered by Dr. Yolanda Holmes, MD (Dermatology)
What is the most effective way to get rid of blemishes?
Blemishes are acne lesions and scars. The most effective way to get rid of them is to use prescription acne meds. Over-the-counter treatments such as benzoyl peroxide and salicylic acid are also very helpful.
Does touching blemishes worsen them?
Picking at the skin such as squeezing does make blemishes worse. Gentle touch will not hurt them.
Does applying a little toothpaste and banana peel help reduce the appearance of blemishes?
Toothpaste and banana peel do not reduce blemishes or help them heal.
Do dairy products cause more blemishes?
Dairy products, particularly whole milk, does cause more breakouts (blemishes).
How to prevent blemishes?
Using a gentle cleanser both in the morning and at night is a good start to help prevent blemishes. A noncomedogenic sunscreen is a must. Eating a diet with more fruits and vegetables is also necessary.
Blemishes can develop from hormonal changes, so being healthy, reducing stress, and getting enough rest are important.
About Dr. Yolanda Holmes, MD: Dr. Holmes is a board-certified and fellowship-trained dermatologist with hands-on clinical experience in private, hospital, and residential long-term care environments. She completed her MD in dermatology at the Medical College of Pennsylvania.