Key Points
A tooth abscess is a bacterial infection that commonly occurs due to cracked tooth, gum infection, or tooth decay.
It can cause moderate to extreme pain, which may extend to your ear or neck.
The standard treatment for tooth abscess includes draining the abscess, removing the infected tooth, and taking antibiotics and pain killers.
Maintaining proper oral hygiene and taking self-care measures can help prevent a tooth abscess.
A tooth abscess is a collection of pus formed around an infected tooth or teeth as a result of bacterial infection. It is mostly associated with swelling and inflammation. If left untreated, a tooth abscess can spread and result in serious conditions.
The innermost layer of the tooth is pulp tissue, which compromises of blood vessels, nerves, and connective tissue. A deep cavity into the pulp can cause the death of the pulp tissue called necrosis.
Yellowish-green pus builds up and forms a pus pocket, also knowns as an abscess. When not appropriately treated, the abscess can result in a severe infection in the teeth, jawbone, and surrounding tissue. (1)
Generally, the abscess leads to a painful sensation ranging from mild toothache to severe pain that radiates over the side of your face. However, in some cases, it may not cause any pain at all.
Individuals who have poor dental health, uncontrolled systemic conditions, poor hygiene, or a sugar-rich diet are at a higher risk of infection.
Types of Dental Abscess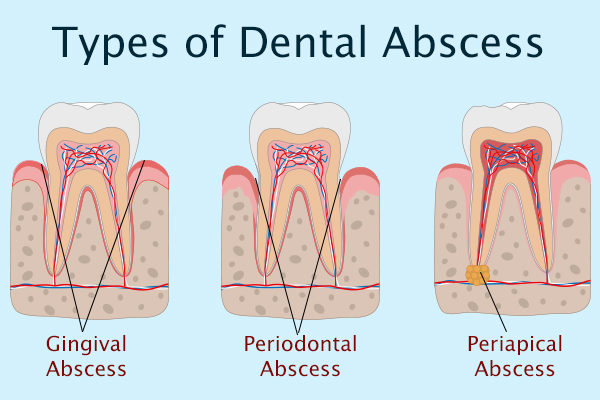 Dental abscesses are categorized into the following three types, based on the location they form:
Gingival abscess: This type of abscess is also known as a gum abscess as it forms on the surface, at the lining of the gum tissue or gingiva.
Periodontal abscess: This type of abscess occurs in the deeper layers of the gum tissue.
Periapical abscess: This kind of abscess is found around and beyond the root apex of the infected tooth and results from severe tooth decay. A common periapical abscess is wisdom tooth abscess.

A periapical abscess can be further divided into two types:

Acute: This occurs due to the rapid onset of pulpal necrosis or death of pulp tissue and is associated with spontaneous pain and abscess formation.
Chronic: This forms as a result of a gradual onset of pulpal necrosis or death of pulp tissue and is associated with an intermittent discharge of pus and little or no pain.
Causes of a Tooth Abscess
A tooth abscess is typically a result of bacterial infections. Multiple conditions can increase the risk of the entry of bacteria into the tooth, including: (2)
Infection of the gum flap called an operculum, which covers a partially erupted wisdom tooth (the condition is called a pericoronal abscess)
Advanced periodontitis
Improper root canal treatment
Tooth decay, which causes pulpal necrosis
Gum disease or gingivitis
Cracked enamel
The following factors can predispose you to tooth abscess:
Uncontrolled systemic conditions, such as uncontrolled diabetes
Poor dental hygiene
Diet rich in sugar and carbohydrates
Consumption of sticky food
Previous dental surgeries
Tooth trauma
Symptoms of a Tooth Abscess
The chief sign of a tooth abscess is a throbbing pain, which may range from anywhere between a mild toothache to a severe pain extending to the ears and neck. Occasionally, the pain may subside as the infection prevails. The reason is you lose sensation as the tooth pulp dies.
However, decreased pain does not indicate that the infection is better. On the contrary, the bacteria may spread and destroy other tissues.
Some other common symptoms associated with tooth abscess include:
Dental cavity
Uneasiness or discomfort
Altered sense of taste
Pain while chewing
Sensitivity toward cold and hot food or drinks
Swelling or redness in the face
Difficulty in opening the mouth
Sore, red gums
Difficulty swallowing food
Swollen neck glands
Swollen upper or lower jaw
Diagnosing an Abscessed Tooth
To diagnose a tooth abscess, the dentist will carefully examine your teeth, gums, and mouth. They may also tap the tooth to test if the pain is felt while doing so.
Swollen or red gums and draining of pus are indicative of a tooth abscess. A cold test or other vitality tests may be performed to evaluate the vitality of the tooth.
The dentist may further suggest x-rays and other tests to determine the source of infection.
Standard Medical Treatment for Tooth Abscess
The treatment for a tooth abscess aims at controlling the infection and managing the pain. The treatment options include:
1. Painkillers
You may take ibuprofen to help control the pain until receiving proper treatment. However, if you cannot take ibuprofen due to medical reasons, substitute it with paracetamol.
It is vital to visit a dentist at the earliest and refrain from taking painkillers for a long time.
2. Antibiotics
The severity of the abscess determines whether you need to be put on an antibiotics course.
If the infection is localized, you will not be prescribed antibiotics. However, if the infection has spread to nearby teeth and gum tissues, antibiotics are used to prevent further spread. You may also need antibiotics if you have a weak immune system.
3. Draining the abscess
The dentist makes a small cut on the abscess to drain the pus. The area is then cleaned with saline water. In some cases, the cut may be kept open, and a small rubber drain is placed to allow gradual drainage of the pus while the swelling decreases.
4. Root canal
This procedure allows the dentist to remove the infection without extracting your tooth. It involves the use of a local anesthetic to numb the mouth. The tooth is then drilled into, and the diseased tissue, or central pulp, is removed. The abscess is also drained.
Then, tooth filling is done, sealing the root canal and pulp chamber. The tooth, especially a back tooth, is capped with a crown for added strength. This treatment can last for a lifetime if the tooth is properly looked after.
5. Tooth extraction
In cases where a root canal is not possible, the dentist might need to remove your tooth altogether to prevent the spread of infection.
Self-Care Tips to Aid Relief
The following measures can help relieve and limit the pain and pressure on an abscessed tooth:
Refrain from consuming extremely hot or cold foods and drinks.
Avoid tobacco usage and smoking.
Consume a well-balanced, healthy diet.
Include cool and soft foods in your meals.
Chew your food on the opposite side of the tooth abscess.
Avoid flossing near your abscess, and use a soft toothbrush when brushing your teeth.
Avoid caffeine consumption.
Refrain from chewing gum.
Apply a cold or warm compress to the cheek near the source of toothache for a few minutes to help reduce the inflammation and numb the pain.
Rinse your mouth with salt water to help relieve the pain.
Purported Home Remedies
The following home remedies are believed to help improve dental infections. However, due to the lack of supporting studies, these remedies are not widely used.
Garlic: Garlic is known to act as an anti-inflammatory agent and has an antiviral effect against periodontal pathogens. However, these properties have not been tested in human clinical trials and, therefore, are not yet reliable. (3)
Clove: Similar to garlic, clove is also considered an anti-inflammatory and antiviral agent. (4) However, there are not enough scientific studies to back this claim.
The use of turmeric, apple cider vinegar, and oregano oil are some other purported home remedies for dental problems. But many more in-depth studies and large-scale clinical trials are required to establish the use and efficacy of such remedies.
It is essential to seek medical care for a tooth abscess.
Tips to Prevent Tooth Abscess
Practicing proper dental care measures is important in preventing tooth abscess. These measures include the following:
Brush your teeth twice a day using fluoride-containing toothpaste. Use low-fluoride toothpaste for children below 5 years.
Avoid consuming a sugary diet, especially sugary snacks.
Floss your teeth or use an interdental brush for cleaning between your teeth daily.
Change your toothbrush as soon as the bristles fray. Replace your toothbrush every two months.
Refrain from drinking carbonated beverages when possible and rinse your mouth thoroughly after consuming them.
Consume plenty of water, preferably fluoridated tap water.
Avoid frequent snacking between meals.
Schedule regular dental checkups and visit your dentist immediately if you have a cracked or loose tooth.
Tooth Abscess in Children
A tooth abscess in children can cause extreme discomfort and may even lead to potentially severe complications. Generally, the abscess starts as a cavity and further expands through the gum.
While there may be no noticeable swelling or pain, the abscess near the lower teeth can affect the airway, making it difficult for the child to breathe.
An abscess near the upper teeth can cause inflammation in the brain, which can be fatal if not treated timely.
Therefore, it is important to get the abscess treated immediately. The problem can be identified through observation of warning signs such as facial swelling and oral pain.
Complications Associated with a Tooth Abscess
If not treated properly, a tooth abscess may spread through the mouth and lead to complications, such as:
Dental cysts: When left untreated, a tooth abscess may develop into a fluid-filled cavity at the root.
Ludwig's angina: If an abscess is left untreated, it may cause swelling of the floor of the mouth, which may obstruct the airway in severe cases.
Osteomyelitis: The bacteria in the abscess can spread to the bloodstream and eventually infect the bone.
Sepsis: If the infection is not treated, the bacteria can infect other parts of the body, such as the jaw, neck, and head, and eventually spread to the whole body. Such a severe infection, or sepsis, can be fatal.
Endocarditis: If the bacteria reach the bloodstream, it may infect the inner lining of the heart (endocardium). This is a rare condition known as endocarditis and can be life-threatening. Having a weak immune system puts you at risk of endocarditis from a tooth abscess.
When to See a Doctor
It is recommended to visit a dentist at the earliest signs of a tooth abscess. Treating the abscess is necessary, as the problem does not resolve on its own and can even lead to fatal complications if untreated.
What you may ask your doctor:
What can be the reason behind my symptoms?
What tests do I need to undergo?
What are the different treatments available?
Do I need to take preventive measures?
What your doctor may ask you:
What symptoms are you experiencing?
Have you had any dental work or tooth trauma recently?
Are your symptoms intermittent or continuous?
Does anything aggravate the pain?
Final Word
An abscess refers to a pus-filled pocket that forms near the root of an infected tooth. This condition can occur in individuals of all ages, with the most common causative factor being tooth decay. However, maintaining oral hygiene and taking good care of your teeth play a significant role in preventing and alleviating a tooth abscess.
Expert Answers (Q&A)
Answered by Dr. Anirudha Agnihotry, DDS (Dentist)
Is tooth abscess a fatal condition?
Yes, a tooth abscess can be fatal if not taken care of. The infected purulent discharge, or pus, will find the least resistant path and reach the muscles and soft tissue. Eventually, the bacteria may get into the blood, causing infection of the blood and possibly death due to complications.
What are the side effects of an untreated tooth abscess?
If a tooth abscess is untreated, it is most likely to cause swelling, discomfort, and pain. The abscess could or could not find its way into the mouth as pus containing dead bacteria and dead cells. This purulent discharge tastes and smells bad. The infection may get worse and turn fatal if left untreated.
Is it advisable to pop a tooth abscess?
It is advisable to pop a tooth abscess by a health care provider in proper septic conditions if the swelling is too big, and the tooth cannot be treated at once. Sometimes, the pressure mounting from the pus makes the abscess burst by itself.
How long does it usually take for a tooth abscess to heal completely?
A tooth abscess never heals by itself. The offending tooth has to be treated, and the infection removed. A root canal therapy or tooth extraction must be performed as indicated. After the intervention to remove the infection, the body heals in the natural capacity. Healing time could vary from a day to a week.
Is salt water rinse effective in treating tooth abscess?
No, salt water will not help in treating the tooth abscess. It will just help relieve the discomfort from the inflammation caused by the infection. It surely helps but does not take the infection away.
What are the signs that a tooth infection has spread?
An abscess starts with a toothache. The pain gets worse, and you may get a little bump, which may grow bigger and cause more pain if not addressed. Sometimes, the swelling quickly gets big, and sometimes it progresses slowly. After a while, the swelling may burst by itself, and you get a bad taste and odor in the mouth.

It is advised to go to your dental appointments regularly and maintain good oral hygiene to catch any cavities before they get big and become an abscess.
About Dr. Anirudha Agnihotry, DDS: Dr. Agnihotry graduated from Manipal College of Dental Sciences with a bachelor's degree in dental surgery (BDS) in 2012. He joined as a faculty in the Operative Dentistry and Endodontics Department at the Mahatma Gandhi Dental College, where he also maintained a faculty practice.
In 2014, Dr. Agnihotry moved to the United States and completed his postgraduate certificate training in restorative dentistry and worked as a researcher in the same department following that at UCLA. He then enrolled for the doctor of dental surgery (DDS) degree Dr. Agnihotry has published 15 international scientific research papers and has presented in international conferences. He is also a referee for five international scientific journals and is on the Editorial Board of the Brazilian Dental Journal.