Walnuts are one of nature's most nutrient-dense foods. They are filled with antioxidants, vitamin E, healthy fats, etc., (1) that help boost your immune system, brainpower, and skin health.
The healthy fats, namely, omega-3 fatty acids, give you smoother skin, (2) and vitamin E supports skin repair and fights wrinkles.
Read on to learn the various health benefits of walnuts for your skin.
Benefits of Walnuts for the Skin
Disclaimer: Consumption or use of excessive walnuts or walnut oil can have detrimental side effects in the body, such as kidney stone formation. Always practice moderation when consuming any product.
Walnuts can be extremely beneficial for your skin. They contain an abundant amount of antioxidants, anti-inflammatory agents, B complex vitamins, vitamin E, riboflavin, niacin, and protein. All these nutrients are essential for the health of skin cells.
Walnut oil is an age-old remedy for skin issues and is a form of natural skin care. It soothes skin inflammation, treats acne, reduces wrinkles, boosts collagen production, etc. (3)
1. Fights wrinkles, dark circles, and acne 
Walnut oil is an excellent skin-enhancing substance that can help fight major skin issues such as acne, wrinkles, and dark spots. The high amounts of antioxidants and vitamins in walnuts help tighten skin pores, remove hyperpigmentation, and reduce acne.
Massage a few drops of walnut oil under your eyes regularly to get rid of dark circles. Apply 3–4 drops of walnut face oil to your skin before bed to keep it hydrated and to treat acne or wrinkles. (4)(5)
2. Exfoliates skin
Walnuts can be an effective skin exfoliant due to their texture and vitamin E (antioxidant) content.
Use walnut face scrubs to cleanse your pores and get rid of excess debris, dead skin cells, and dirt from the skin's surface. (6)
3. Brightens complexion
Vitamin E and B6 are essential skin vitamins that help clear dirt and debris from your skin pores. They can reduce dark spots, suntan, and acne scars and hydrate your skin, giving you naturally radiant and soft skin. (7)
4. Moisturizes the skin
Walnut oil improves blood circulation and is very hydrating as it contains essential fatty acids that help seal moisture in the skin.
5. Works as an antioxidant
Walnuts are an excellent source of antioxidants. They contain a large amount of polyphenols, which are compounds known for their antioxidant properties that fight free radical damage in your skin and prevent aging.
Applying walnut oil to the skin regularly helps reduce hyperpigmentation, acne scars, and skin tan. (8) The essential fatty acids in walnuts also boost the health of your skin by giving it a soft texture and natural glow.
6. Reduces signs of aging
Excessive sun exposure may lead to accelerated aging due to the harmful effect of the UV rays on the skin cells. Walnut oil contains vitamins, minerals, and antioxidants, all of which helps your skin fight aging by boosting collagen production and blood circulation. (9)
7. Prevents skin damage
The antioxidants found in walnuts fight free radical damage in your skin (10) that causes wrinkles, dark spots, and sagging. They also help protect your skin from the harmful side effects of sun exposure, pollution, etc.
8. Maintains healthy circulation
Walnuts are a good source of fiber and antioxidants that boost blood circulation in the body. (11) This helps nourish your skin cells and keep them moisturized from the inside out.
9. Improves dryness and itchiness
Walnut oil contains hydrating and anti-inflammatory properties that help get rid of itching and irritation, thereby soothing the skin.
10. Repairs the skin barrier
Walnuts are loaded with essential fatty acids such as omega-3 fatty acids and oleic acid, which act as emollients, thus improving the moisture content of your skin and softening it. (12)
Nutritional Content of Walnut
California is one of the major producers of walnuts in the United States. They are a major export product as they contain extraordinarily high amounts of antioxidants and healthy fats. (13)
The nutritional content of 100 g of walnuts is as follows: (14)
Omega-3 fatty acids, 95%
Manganese, 43%
Copper, 20%
Tryptophan, 13%
Magnesium, 10%
Phosphorus, 9%
Folate, 6%
Fat content, 25g
Sodium, 2 mg
Potassium, 441 mg
Carbohydrate, 14 g (7 g of which is dietary fiber)
Sugar, 2.6 g
Protein, 15 g
Cholesterol, 0 mg
Calories, 654 g
One hundred grams of walnuts can provide a significant portion of your daily nutrient intake. Following an average 2,000 calorie per day diet, 100 g walnuts can contribute the following:
Vitamin C – 2% of the recommended daily intake
Magnesium – 40% of the recommended daily intake
Calcium – 9% of the recommended daily intake
Iron – 16% of the recommended daily intake
Vitamin B6 – 25% of the recommended daily intake
DIY Walnut Remedies for the Skin
Walnuts and walnut oil can be used to make a number of face masks and face packs to give your skin a moisturized, glowing look.
1. Walnut and gram flour face mask
Walnuts are hydrating in nature, and the honey in this face mask helps seal moisture in the skin. Gram flour acts as a cleanser and mild exfoliant to remove dirt and debris from the skin's surface.
How to use:
Soak a couple of walnuts in a little water overnight.
Blend the walnuts in the morning using a teaspoon of honey and gram flour.
Add a little water to form a thick paste.
Apply this paste to your face and let it rest for 10 minutes.
2. Turmeric and walnut face mask
Turmeric and walnuts are both known as skin-brightening ingredients. Turmeric contains powerful antibiotic properties that can help treat and prevent acne.
How to use:
Add 2 tablespoons of walnut paste, a pinch of turmeric powder, and 1 teaspoon of honey to a bowl.
Mix the ingredients to form a paste.
Apply this face mask to your face and let it dry for half an hour.
Wash it off with water and dry your face.
3. Walnut face scrub
Walnuts have a slightly rough texture that can make for an excellent exfoliant without being too harsh on the skin. It helps remove dead skin cells and debris from the skin's surface.
How to use:
Crush 2–3 walnuts into tiny pieces.
Rub them gently on your face for 10 minutes.
Wash your face with water.
4. Walnut and yogurt face pack
Walnuts contain antioxidants and nutrients that nourish your skin. Yogurt moisturizes and provides beneficial bacteria to your skin.
How to use:
Mix 2 tablespoons of yogurt and 1 teaspoon of walnut oil in a bowl.
Apply this mixture to your face.
After 15–20 minutes, wash it off with water.
5. Walnut face oil
Walnut face oil is a good source of antioxidants, vitamin E, and vitamin B6. All of these nutrients help rejuvenate your skin by providing hydration and fighting wrinkles.
How to use:
Mix a few drops of walnut oil into your moisturizer.
Massage the mixture all over your face and neck before going to bed.
6. Walnut and rose water face mask
This walnut and rose water mask will hydrate your skin and give it a young-looking appearance. Walnuts help increase blood flow to your face and nourish your skin, giving it a fresh look.
How to use:
Mix 1 teaspoon of walnut powder, a few drops of coconut oil, and 1 tablespoon of rose water in a bowl.
Apply this paste to your face and neck.
Leave it to rest for half an hour before washing it off.
Repeat the application once a week for best results.
Uses of Walnut Oil for the Skin
Walnut oil contains antioxidants and anti-inflammatory properties that make it an excellent carrier oil for massages and cosmetics.
Side Effects of Walnut Oil
Walnut oil is a relatively safe ingredient and usually does not contain side effects. However, some people may experience the following unpleasant effects of walnut oil:
Walnuts have a high fat and oleic acid content that may cause acne in people with oily skin.
Walnut oil may cause allergic reactions in people who are allergic to nuts. Different types of allergic reactions in people include contact dermatitis (itching and rashes), difficulty breathing, throat irritation, and anaphylactic shock (in severe cases). (15)
Some people experience bloating when they use walnuts or walnut oil.
Benefits of Walnuts for the Body
Walnuts are filled with antioxidants and can be extremely beneficial for many body organs:
Good for the heart: Walnuts contain large amounts of oleic acid, omega-3 fatty acids, alpha-linolenic acid (ALA), etc., which help prevent heart diseases by 38%–40% in most people. (16)
Supports bone health: Walnuts contain calcium and fatty acids that can help strengthen your bones. (17)
Improves metabolism: Walnuts help regulate your basal metabolism and boost sperm levels, (18) digestive health, and cellular functions in the body.
Beneficial for people with diabetes: Walnuts contain healthy fats that help you lose weight and lower your blood sugar levels when eaten in moderation. Omega-3 fatty acids are helpful in preventing type 2 diabetes. (19)
Good for patients with cancer: Walnuts are nutrient dense and packed with antioxidants that help reduce free radical damage to your cells and prevent many types of cancers. The omega-3 fatty acids and phytosterols found in walnuts have been shown to prevent breast cancer and prostate cancer by nearly 40%. (20)
Provides anti-inflammatory effects: Walnuts are rich in polyphenolic compounds that help reduce inflammation and swelling in the body.
Improves brain function: Walnuts contain large amounts of DHA, which helps increase brain power and cognitive function. It also acts as an anti-inflammatory agent. (21)
Improves your memory: Walnuts are known to increase your memory power due to their rich content of essential fatty acids such as omega-3 and omega-6 fatty acids.
General Queries
How many walnuts should you eat in a day?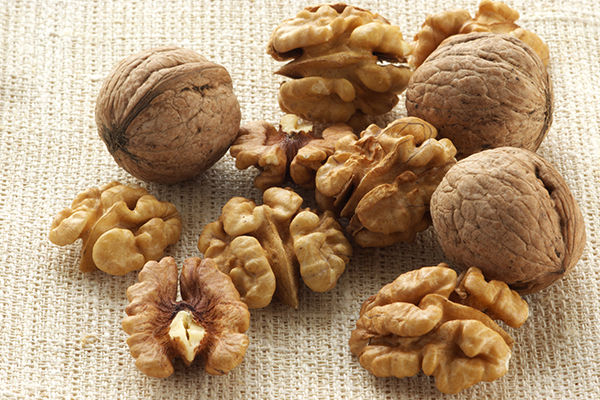 Walnuts should be consumed regularly in moderate amounts, and 7 walnuts a day is recommended.
What are the benefits of eating walnuts?
Walnuts are rich in vitamin E and B6, both of which help in brightening your complexion and removing dark spots and suntan.
What is the effect of eating a lot of walnuts in a day?
Walnuts contain a large number of nutrients and are rich in healthy fats. They can be heavy on the stomach if eaten in very large amounts. Excessive consumption can lead to kidney stones (due to oxalates), diarrhea, or weight gain.
Can walnuts cause acne?
Walnuts have several anti-inflammatory and antioxidant qualities that make them an ideal solution for chronic acne. They also contain antibiotic properties that can help get rid of bacterial skin infections.
Are walnuts safe for everyone?
Nut allergies are very common in the United States. Always make sure you are not allergic to any tree nuts before using walnuts or walnut oil.
Final Word
Walnuts are nutrient-rich superfoods that can be extremely beneficial for the skin. The high amounts of antioxidants and nutrients in them are extremely beneficial for skin health.
However, always make sure you are not allergic to walnuts before consuming or using them in topical solutions. Perform a patch test before using them on a larger surface area. Contact a doctor immediately if you feel you are having an allergic reaction such as wheezing, coughing, and swelling.
Was this article helpful?