Aloe vera is a very common plant that grows in hot and dry places around the world. It is well known for its health benefits including its use for treating various skin conditions.
Therapeutically, it is both a topical and oral agent. Topically, it can be used to treat skin issues, burns, and rashes, and orally, it is used for weight loss, diabetes, and irritable bowel syndrome (IBS). (1)
Aloe vera is one of the most widely used remedies for skin conditions. For minor ailments and other problems, people apply aloe vera in the form of gel, which is easily available commercially.
Aloe vera gel is derived from the Aloe vera plant. There are several species of this plant, and the species commonly used for making aloe gel that is suitable for your skin is Aloe barbadensis. (2) The gel is obtained from the plant's leaves by breaking them apart and gently pressing out the gel.
Should I use aloe vera gel daily on my face?
Yes, aloe vera gel is safe and effective for the treatment of various skin issues. Using it on your skin every day can be an excellent way to maintain good skin health.
Note: Applying aloe vera topically is very well tolerated by many people. But there have been reports of burning, itching, or eczema upon using aloe gel topically. So, if you suffer from skin hypersensitivity, you may want to first do a patch test before using aloe vera gel on your face. (1)
Benefits of Applying Aloe Vera on Your Face Every Day
It is a very common practice for many people to have aloe vera gel in their skin care routine because of the numerous benefits it has. Here are some of the benefits you can get if you apply aloe vera gel to your face every day.
1. Prevents dry skin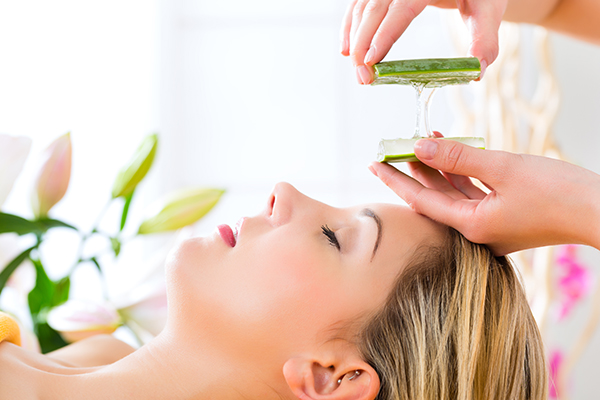 One study showed how aloe gel can be positively used for improving skin integrity by decreasing the appearance of fine lines and wrinkles, which is exceptionally important when it comes to the management of dry skin and also in cases of contact dermatitis. (3)
2. Aids in treating acne
Aloe vera gel is known to treat and improve acne problems. The topical application of aloe vera gel twice a day along with the use of medicated soap and tretinoin gel has been observed to benefit those who suffer from acne. (4)
3. Relieves psoriasis
Psoriasis is a skin disease that is characterized by the presence of red patches on the skin. These patches cause itchiness and soreness, which can be improved by the use of aloe vera gel.
Studies have shown that aloe gel can reduce the redness and scaling associated with psoriasis as it soothes your skin. (5)
4. Speeds burn healing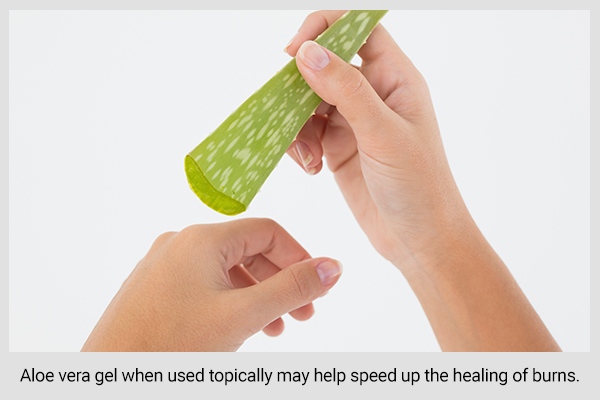 Aloe vera gel when used topically may help speed up the healing of burns. Evidence obtained from clinical research also shows that treatment with aloe vera causes a reduction in pain that arises from burns. (6)
5. Aids wound healing
Several studies report the useful effects of aloe vera gel on wounds by promoting healing.
There may be times that you get a small cut on your face. Applying aloe vera gel to the affected area will minimize the scarring and help the wound heal quickly. (7)
6. Improves frostbite
Aloe vera is a very potent antiprostaglandin agent, which is why it is known to decrease the negative effects that arise from prostaglandins release in frostbitten areas. Using aloe vera gel on frostbitten areas is a common practice and a well-known remedy for the same. (8)
Most-Asked Questions
Can I use aloe vera gel in place of sunscreen?
A study has shown that the topical application of aloe vera gel is not very effective in the prevention of sunburn or protection from suntan. For this reason, do not replace your sunscreen with aloe vera gel, and always wear sun protection. (9)
Can I use aloe gel on surgical wounds?
Although there have been several studies that show that aloe vera gel can help heal burns and abrasions, there is also a study that shows how the use of aloe vera gel inhibits the healing of deep surgical wounds. Thus, avoid using aloe vera gel for surgical wounds. (10)
Final Word
Aloe vera is a very famous natural way of treating skin conditions. It has a lot of benefits for your skin and has been used for hundreds of years.
Aloe vera gel application may not do wonders in a few days, but using it every day will help you to reap its benefits. It will make your skin tight, healthy, and strong.
If after using aloe vera for a continued duration of time you don't see any improvement, you can talk to your doctor to check if you have major issues or if any other treatment is required.
Was this article helpful?