The skin is not only the largest body organ, but it also plays an important role in keeping your internal organs safe. Therefore, for the various roles the skin plays, it is vital to keep it healthy.
However, due to the constant exposure to the environment, the skin is susceptible to problems and damage. Pollution, sun rays, chemicals, and microbes are some factors that can harm your skin. Aside from these factors, the products you use on your skin highly affect your health, as 60% of the product is absorbed into the body.
This is why you need to be very mindful of the skin care products you use. This becomes all the more important when you realize that most skin care products are not FDA regulated and, therefore, may contain substances that are harmful to your skin or overall health.
In fact, some ingredients used commonly in the production of lotions, face washes, and other skin care products can trigger eczema, hormonal imbalance, allergies, reproductive issues, and even cancer. (1)
To combat this problem, it is suggested to choose natural products over synthetic ones. However, broad product labels can also be misleading, such as a product labeled "made with organic ingredients" could contain 70% organic ingredients and the remaining 30% could be toxic to your skin.
Thus, it is essential to take a look at the product ingredient list and have knowledge of the common toxic constituents to help you exclude a harmful product. This article lists 14 such ingredients that you should avoid putting on your skin.
Toxic Ingredients to Avoid in Cosmetic Products
Skin care products are often made from a mix of various natural, synthetic, and chemical ingredients. However, you should avoid products that contain toxic constituents such as:
1. Phthalates
Phthalates are a class of chemicals that are generally employed to increase the softness and flexibility of plastics. (2) In the cosmetic industry, phthalates are used as solubilizers.
Common products
You can find phthalates in scented products such as body sprays, nail polishes, perfumes, cleansers, hair sprays, and lotions. The most commonly used phthalate is dibutyl phthalate.
Problems they may cause
Phthalates are often a source of allergies. They can disrupt the endocrine system and cause hormonal problems. They also increase the risk of breast cancer and congenital reproductive disabilities. (3)
Phthalates can also have a negative impact on the cardiovascular system and can trigger asthma. (2)
Due to their various side effects, phthalates are banned in Asia and Europe, but not still in the United States. Since they are commonly added as a source of fragrance, phthalates may not be mentioned on the ingredient label.
2. Parabens
Parabens are preservatives used in cosmetic products to increase their shelf life. It is common for water-based products to contain parabens to prevent bacterial growth.
Common products
Parabens are a constituent of a large number of products, ranging from soaps and moisturizers to makeup. (4) Although the FDA and the Cosmetic Ingredient Review (CIR) claim that parabens are safe for use, (5)(6) this only holds true for very minimal quantities.
You can find parabens such as methylparaben, propylparaben, isopropylparaben, and isobutylparaben in the ingredient list of your skin products. (7)
Problems they may cause
Parabens can be absorbed into the deeper layers of the skin, eventually entering the body. (8) Once inside, parabens can accumulate in body fluids and tissues to cause health problems.
It is suspected that parabens lower the production of estrogen hormone by mimicking the hormone, signaling the body with false hormonal levels. This, in turn, can affect the reproductive health of both men and women. (9)
In addition to this, parabens have been found in breast tumors. However, there is no conclusive study to signify that parabens increase the risk of cancer. (10)(11)
3. Sulfates
Sulfates refer to salts derived from sulfuric acid or petroleum, palm oil, and coconut oil. These substances are used as surfactants that help mix oil and dirt with water so that the impurities can be washed away easily. Moreover, sulfates are the chemicals that help produce lather.
Common products
Since sulfates help produce foam, they can be found in facial cleansers, shower gels, shampoos, and other similar products. The most common sulfates are sodium lauryl sulfate and sodium laureth sulfate.
Problems they may cause
Sulfates help cleanse the skin and scalp, but they can also cause irritation and dryness as they remove the natural protective hydrolipidic film on the skin surface. (12) 
Moreover, sulfates can lighten hair dyes quickly and also increase the absorption of foreign irritants. Moreover, the use of sulfate-containing products can lead to cystic acne, itchiness, eczema, and dermatitis.
4. Fragrance
While giving an olfactory soothing effect, fragrances, especially artificial ones, can be harmful to the skin, often causing irritation and allergies.
Common products
It is common for people to choose fragrant products, believing that they are better for the skin. This includes deodorants, soaps, perfumes, shampoos, and conditioners.
Problems it may cause
Natural and artificial fragrances are both a common part of different skin care products. These substances can cause irritation and contact dermatitis.
Out of the two, artificial fragrances are more harmful as they are made up of different chemicals such as preservatives and solvents. These ingredients may cause headache, allergies, (13) rashes, pigmentation, dizziness, cough, and hyperactivity.
Products such as soaps and cleansers that are rinsed off may be tolerated by the skin, but for wearable products such as lotions and creams, choose those that contain little to no fragrance.
5. Triclosan
Triclosan is an aromatic compound with chlorine that acts as an antibacterial, antifungal, antiperspirant, and preservative chemical.
Common products
You can find triclosan in antiperspirants, antibacterial soaps, toothpaste, deodorants, and hand sanitizers. The FDA has banned the use of triclosan in soaps. 
Problems it may cause
Triclosan can have a negative impact on your hormonal balance and disrupt your reproductive health. It can interfere with the action of some antibiotics, cause allergies, lead to skin and eye irritation, and affect the gut microbiome.
Moreover, women exposed to triclosan are at a greater risk of developing osteoporosis. (14) Triclosan can also cause liver damage in extreme cases.
6. Synthetic colors
Synthetic colors and dyes are generally made from petroleum by-products or coal tar, which is harmful to health. The darker the pigment on the cosmetic, the higher the percentage of coal tar products.
Common products
Products that contain artificial colors include blushes, lipsticks, eye shadows, and other similar makeup products. These synthetic colors may be depicted by the D&C label.
Problems they may cause
Synthetic colors, when absorbed into the skin, can cause pore blockage, irritation, inflammation, and sensitivity. Moreover, they increase the risk of acne by altering the natural oil and microbiome on the skin.
Additionally, these dyes are loaded with toxic chemicals that may be carcinogenic. (15)(16) These toxins can also affect the neurons or cause allergies.
7. Toluene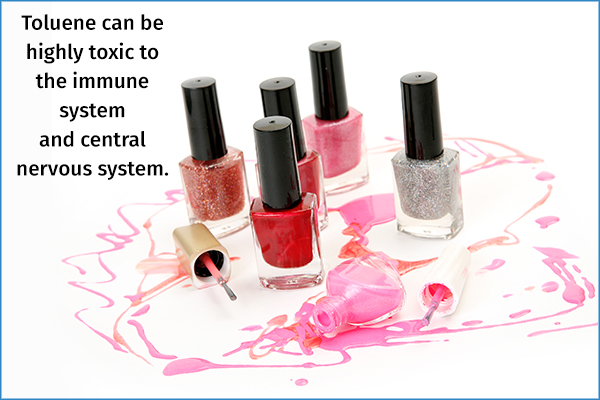 Toluene is a volatile petrochemical compound used as a solvent in many cosmetic products. Generally, toluene is used to dissolve substances such as plasticizers and resins.
Common products
You can find toluene in nail products as nail polishes, nail polish removers, hair dyes, and lacquers. It may be labeled as benzene, phenylmethane, toluol, and methylbenzene in cosmetic products.
Problems it may cause
Toluene can be highly toxic to the immune system and central nervous system. (17) It can cause birth defects, headache, fatigue, drowsiness, and nausea and can increase the risk of blood cancer. (18)
8. Lead
Lead is a heavy metal commonly found in the earth's crust and, therefore in food, water, and air. Since it can be highly toxic, the US FDA regulates lead concentration in cosmetic products to be 0–20 ppm. (19)
Common products
You can find lead in foundation, eyeliners, whitening toothpastes, and lipsticks.
Problems it may cause
Lead, once absorbed into the body, is circulated in the blood, bones, and soft tissues. Increased concentration of lead can lead to hypertension and coronary heart disease. (20)
Lead is a potent neurotoxin that can affect brain development, reproductive health, and hormonal balance, even in small concentrations.
9. PEG
Polyethylene glycol (PEG) is a thick viscous liquid made by combining glycol and polyethylene. It has a creamy, sticky texture and is generally used to thicken cosmetic products.
Common products
PEG can be found in lotions, shampoos, sunscreens, lip scrubs, and exfoliators. Products with numbers such as 100, 120, 30, 40, 32, 75, and 14M contain PEGs.
Problems it may cause
The chemicals in PEG are respiratory irritants and carcinogenic. Moreover, PEG can be harsh on your skin, stripping its natural oils and therefore increasing oil production, making it greasy.
Avoid the use of PEG on damaged skin as it can be a potential irritant.
10. Formaldehyde
Formaldehyde, a flammable and colorless gas, is often used in its solution form known as formalin. This chemical plays a primary role in preservation and is released slowly, protecting the cosmetic from bacterial infections during use and storage.
Common products
Formaldehyde is commonly present in nail hardeners, eyelash glue, nail polishes, soaps, hair gels, shampoos, deodorants, lotions, and makeup products. These are also used in hair-straightening chemicals.
The most common formaldehyde releasers used in the cosmetics industry include quaternium 15, glyoxal, bronopol, methylene glycol, and DMD hydantoin.
Problems it may cause
Formaldehyde is an irritant to the skin, throat, nose, and eye. It can also cause hair loss, scalp burns, and hormonal problems. In addition, formaldehyde may be a potential carcinogen.
11. Talc
Talc, made of magnesium, oxygen, and silicon, is a naturally occurring mineral that is generally safe for use. However, it is often mixed with asbestos and used for its moisture-absorbing properties.
Common products
Talc is commonly found in body and shower products, baby powder, feminine hygiene products, lotions, foundation, eyeshadow, face masks, and deodorants.
Problems it may cause
Talc-containing baby powder can be harmful to babies and can cause respiratory distress upon inhalation. (21) The use of talc near the genitals can increase the risk of ovarian cancer. (22)
12. Alcohol
Alcohol is often used in skin products as a preservative, to help dry the products quickly, to lighten the products, or to facilitate the penetration of ingredients into the skin. It is also used as an astringent to tighten skin pores.
Common products
Alcohols can be commonly found in shaving products, makeup, lotion, oral care, fragrance, hair products, toners, and cleansers. Different alcohols, such as isopropyl alcohol, alcohol denat, and methanol are used in skin products.  
Problems it may cause
High concentrations of alcohol can damage the skin barrier, therefore contributing to skin dryness. This, in turn, stimulates sebum release, making the skin oily and prone to acne breakouts. In addition, these alcohols are irritating and harsh on the skin. (23)
While alcohol concentrations less than 5% are tolerable as they completely evaporate, higher concentrations can dry out the skin.
13. Hydroquinone
Hydroquinone, scientifically known as benzene-1,4-diol or quinol, is a type of phenol that is commonly used as a whitening agent in creams.
The European Union has banned the use of hydroquinone, but the US FDA allows a 2% limit of hydroquinone in prescribed products. However, it has been labeled as a potential carcinogen.
Common products
Hydroquinone is largely found in skin-lightening products such as moisturizers, creams, cleansers, and bleaches. It is also found in some hair conditioners and nail-coating products. 
Problem it may cause
Hydroquinone can harm the skin by damaging the top layer of the skin, making it more susceptible to UV rays and environmental toxins. (24) As a result, the skin becomes highly prone to cancer. Moreover, the use of hydroquinone can cause irritation in the throat, nose, and upper respiratory tract.
14. Mineral oil
Mineral oil is an odorless and colorless by-product of petroleum distillation. While highly refined forms of mineral oil are safer for use, the untreated products can be carcinogenic.
Common products
Mineral oil is commonly used in the production of moisturizers, baby oil, lip balms, lotions, creams, and styling gels.
Problems it may cause
Mineral oil forms an outer coat on the skin, damaging the immune barrier and therefore preventing the skin from breathing or releasing toxins. This can cause premature aging of the skin by reducing skin function and cell development.
How to Identify if a Product Contains Harmful Chemicals?
The following tips can help you identify the harmful ingredients in a skin product and which product may be harmful to your skin:
Carefully read the ingredient label of the skin product before buying them.
Avoid buying products that contain DEA (diethanolamine), benzene, paraffin wax, and other compounds that end in -eth.
Prefer beauty brands that are transparent with their ingredient list.
Make sure that the products labeled as natural, organic, or plant-derived are what they depict.
Avoid products that contain ingredients you may be allergic to.
Final Word
Your skin health is highly vital to your general health and is highly impacted by the products your use. Therefore, you must be mindful of the products you use on your skin as they are also absorbed into the body.
Read into the ingredient list carefully to make sure that they do not contain any harmful products. Generally, products with the least number of ingredients are the safest.
Be aware of the toxic ingredients that may be present in your products and have the potential to irritate your skin or cause hormonal imbalance, allergies, cancer, and other problems. It is best to select products with plant-based skin-friendly ingredients.
Was this article helpful?