Rice is a staple ingredient in the majority of households. It is also popularly used in the production of liquor, fertilizers, and cosmetics. With rice being part of many cuisines, many households cook rice frequently.
A common method of cooking rice involves boiling rice with water and then discarding the excess water. However, it is less known that this residual starchy water, known as rice water, has various uses and is highly beneficial to your skin.
Dermatological Benefits of Rice Water
The starch-laden residual rice water is rich in nutrients such as vitamins B, C, and E. This nutrient profile of rice can benefit your skin in the following ways:
1. Sun protection
Fermented rice water or rice wine has antioxidant properties that can help prevent sun-induced photodamage and is therefore often used in sunscreens. (1)(2) Rice bran also possesses photoprotective properties. (3)
2. Antiaging
Fermented rice water has antiaging properties (1) that can help prevent wrinkling. The antioxidants in rice bran, including phytic acid and ferulic acid, help keep the skin fresh and young. (4)
3. Skin repair
Rice water helps improve skin damage and is thus useful in the treatment of atopic dermatitis. (5)
4. Hair growth
The topical use of rice bran promotes hair growth and prevents hair loss when applied topically. (6) Additionally, rice water helps increase hair elasticity and decrease hair friction. (7)
5. Vitiligo treatment
Rice bran can also boost melanin production and can therefore be used in treating hypopigmentation, such as vitiligo. (8)
Besides the above-mentioned uses, rice water also possesses the following benefits. However, these benefits are not highly researched and are chiefly based on anecdotal evidence.
Anti-inflammatory. Compounds such as allantoin impart anti-inflammatory properties to rice water. This can be useful in the treatment of inflammatory disorders of the skin such as blemishes and eczema.
Hair repair. Rice water is seen to contain inositol that may help improve hair damage.
Astringent. Rice water may help tighten pores due to its astringent properties.
How to Prepare Rice Water
The following methods can be used for preparing skin-friendly rice water at home.
Note: You can use any type of rice, including, white, jasmine, brown, organic, or glutinous. Make sure that you are not allergic to any of the ingredients.
Method 1 – Soaking the rice
Rinse a cup of rice grains thoroughly.
Add 2 cups of water to the rice and allow to sit.
Stir the mixture after 1 hour and filter.
Store the filtered water in a spray bottle and refrigerate.
Method 2 – Boiling the rice
Thoroughly rinse one cup of rice and transfer to a pan.
Add 3 cups of water to the pan of rice and cook.
Once cooked, strain out the water into a clean container.
Allow the rice water to cool and store in the refrigerator once cool.
Method 3 – Fermenting the rice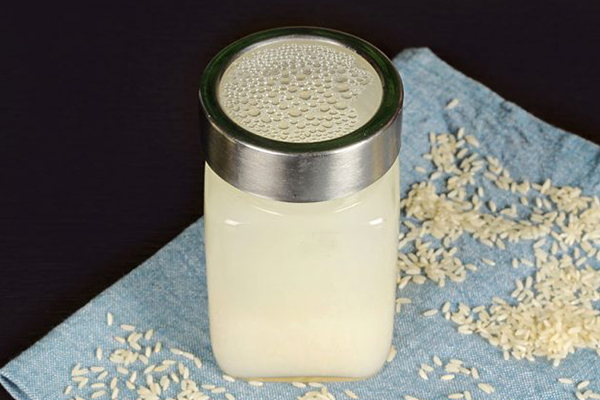 Add hot water to 2 cups of glutinous rice and allow it to soak.
Boil some water in a pan.
Sieve the soaked rice and place it over the pan on a sieve.
Let the rice steam for 30–40 minutes.
Cool the rice and add yeast to it.
Add ½ cup of sugar water to the rice-yeast mix and transfer it to a clean, airtight container.
Store the container in a warm place and allow to ferment for a month.
Collect the fermented liquid in a bottle and store it in the refrigerator.
Note: While all three methods are suitable for obtaining beneficial rice water, fermented rice water has added efficacy as it is full of vitamins B and E, minerals, and antioxidants.
Uses of Rice Water
Rice water has several dermatological uses.
Rice water is highly beneficial as a face cleanser, which helps smoothen and soften the skin:
Dilute one part rice water with 2 parts cold water.
Soak a clean washcloth in the diluted rice water.
Place the cloth on your face and allow it to sit for 15 minutes.
Use the leftover rice water to gently wash your face.
Rinse your face with plain water and pat it dry.
You can also make a rice water sheet mask that imparts glow to your skin:
Soak a clean cotton or muslin sheet mask with rice water.
Wring out the excess water.
Place the sheet mask on your face.
Remove once dry.
Additionally, you can use rice water to condition your hair:
Dilute rice water with water in a 1:2 ratio.
Shampoo your hair and pour the diluted rice water on your hair.
Massage the rice water on your scalp and hair for 10–15 minutes.
Rinse your hair with cold water.
Note: Avoid using undiluted rice water on your hair as it can clump and appear as residues.
Aside from these uses, rice water can also be used as:
Hair rinse
Skin whitening facial toner
Bathwater
Base for face packs with honey, aloe vera, and ground oats
Final Word
Rice water is rich in nutrients, antioxidants, vitamins, and enzymes that are highly beneficial to your skin and general health. It can help protect the skin from sun-induced photodamage, delay aging, promote skin repair, and induce hair growth.
You can easily prepare rice water at home through various methods and enjoy the benefits of this easy-to-use ingredient.
Was this article helpful?