Orange is a citrus fruit that packs a lot of nutritional value, but this nutritional goodness is not limited to the pulp alone.
Orange peels also contain a good amount of flavonoids, phytochemicals, and antioxidants along with an array of nutrients such as calcium, magnesium, and vitamins A, B, and C. (1)
You will be surprised to learn that the outer skin of this fruit contains a higher concentration of flavonoids and phytonutrients than its inner flesh. For this reason, orange peels are credited with a number of useful properties that can help address some common beauty, health, and housekeeping issues.
Benefits of Orange Peel
Orange peel can be useful in the following ways:
1. Removes suntan
The rind of oranges is replete with antioxidants that protect the skin from the harmful UV rays of the sun. (2) These rays trigger melanin (skin pigment) overproduction within the skin, which leads to tanning. One such powerful antioxidant is vitamin C, which is also credited with skin-lightening properties. 
Plus, the slightly abrasive nature of orange peel makes it a gentle scrub for your skin. Massaging it onto your sun-damaged skin can help remove the dead cells settled on the surface to reveal fresh new skin underneath.
Thus, orange peel helps prevent tanning and lighten the skin. It can be mixed with other skin-lightening ingredients such as milk or curd to get faster results.
To make an orange peel powder scrub:
Put 2 tsp of orange peel powder, 1 tbsp of chickpea/Bengal gram flour (besan), 1 tsp of honey, and 1 tsp of milk in a bowl, and mix all the ingredients to make a thick paste.
Apply this scrub all over your tanned skin, and gently massage it in circular motions for a few minutes.
Let it sit for 15 minutes before washing it off.
Moisturize your skin after scrubbing.
2. Exfoliates dead skin
Orange peel makes for a gentle but effective scrub due to its leather-like texture. Plus, it contains calcium that gives it a granular feel and certain enzymes that help dissolve the dead epithelial cells accumulated on top of your skin for their easy removal.
When you rub ground orange peel on your skin, the tiny granules scoop out the cellular debris, excess sebum, and other impurities settled inside your pores. Plus, the massaging action helps increase blood circulation in the targeted area, which brings more nutrients and oxygen to the skin tissue.
The vitamin C from the orange peel is also absorbed into the skin to stimulate collagen synthesis. Collagen is a structural protein that forms new skin cells. Thus, this exfoliation process leads to faster cell renewal to form new healthy skin. The damaged skin gets removed and replaced by healthy new skin that forms underneath.
In sum, orange peel when used as a scrub can help remove blackheads, whiteheads, and dead skin as well as stimulate skin regeneration to fade scars and other blemishes.   
To make an orange peel powder face wash or scrub:
Method 1:
Mix well ½ tbsp of orange peel powder, 1 tbsp of honey, and 2–3 tbsp of brewed green tea.
Apply this mixture to your face and neck.
You can wait for it to dry before scrubbing it off, or you can scrub it right away. Massage your skin gently with your fingers for a few minutes to remove the scrub.
Wash the skin properly and let it air-dry. If you are in a hurry, pat your skin dry with a soft cloth.
Apply a moisturizer.
Method 2:
Mix 1 tbsp of orange peel powder, 2 tbsp of Castile soap, and 6 tbsp of brewed chamomile tea.
Apply this mixture to your face and neck.
Let it dry before scrubbing it off or scrub it right away if you are short on time.
Wash your skin properly, and let it air-dry or dab it with a soft cloth.
Moisturize.
3. Improves skin tone
The high vitamin C content of orange peels gives them bleaching properties that can help lighten blemishes and dark spots for a more even and bright complexion. Plus, vitamin C also helps increase collagen production inside the skin to make it more elastic and firmer.
The rich reserve of nutrients and antioxidants in orange peel (3) nourishes your skin to add a youthful, healthy glow. Orange peel also removes excess sebum from the skin to keep it from getting too oily. At the same time, it provides some much-need hydration to keep it from getting dry, rough, and patchy.
This ingredient also works as a mild exfoliant that removes dead skin from the surface and cleanses your pores. It also exhibits some astringent properties that may help tighten your pores.  
To make a serum:
Mix 1 tbsp of orange peel powder with 2 tbsp of organic aloe vera gel until all the ingredients are dissolved and form a smooth liquid.
Pour in 1 tsp of pure glycerin and 2–3 drops of vitamin E oil, and mix them thoroughly.
Apply this serum after cleansing your skin.
Store the remaining amount in a dark bottle for future use.
To make a scrub:
Mix 1 tbsp of orange peel powder, 1 tbsp of fuller's earth (multani mitti), and 1 tbsp of rose water to make a homogenous paste.
Apply this paste to the targeted skin and wait for it to dry.
Wet your hands and gently massage the paste like a scrub for a few minutes.
Wash your skin with plain water.
Moisturize.
4. Fights premature skin aging
Exposure to solar radiation releases free radicals (unstable reactive molecules) inside the skin that break down the collagen in the skin to make it loose and wrinkly. Orange peel is full of antioxidants that help neutralize these free radicals, reducing collagen loss and thereby preventing premature skin aging. (4)
Plus, orange peel is enriched with vitamin C, which helps stimulate collagen synthesis in the body. This new collagen is used to produce new skin cells that add volume to the skin to make it tight and supple.  
To make an orange peel antiaging mask:
Method 1:
Mix 1 tbsp of orange peel powder, 2 tbsp of rose water, 1 tsp of coconut oil, and ½ tsp of matcha green tea powder to make a paste.
Apply this mask evenly to a clean face and neck.
Leave it on for about 15 minutes.
Rinse the mask off using lukewarm water and a mild cleanser.
Apply a moisturizer while your skin is still damp to seal in the hydration.
Method 2:
Mix 1 tbsp each of orange peel powder and oatmeal powder with 2 tsp of honey to make a paste.
Apply this paste to your face and neck area.
Let it sit for about 30 minutes, and rinse it off with cold water.
Apply once a week for best results.
5. Helps with dandruff control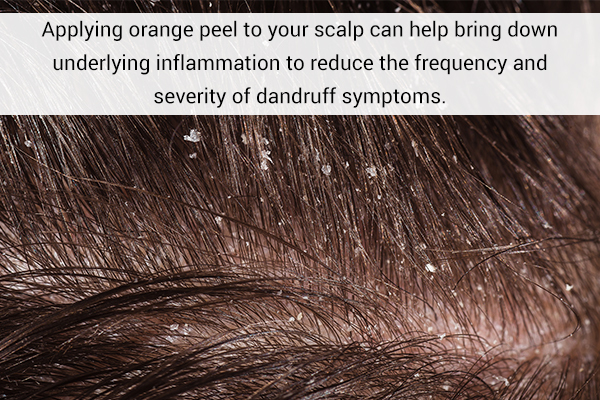 Scalp inflammation is often the root cause of dandruff. It makes your scalp dry, itchy, and flaky, which are the characteristic symptoms of dandruff. It is usually a chronic problem that flares up time and again, but orange peel can help manage it. 
Orange peel is credited with strong anti-inflammatory properties that can be traced back to its rich antioxidant content. Thus, applying orange peel to your scalp can help bring down the underlying inflammation and thereby reduce the frequency and severity of dandruff symptoms.
Plus, the granular quality of orange peel powder helps exfoliate the dead skin flakes settled on the scalp. Thus, it soothes and cleanses your scalp simultaneously.
To use orange peel to manage dandruff:
Add 1 tbsp of freshly ground orange peel to your hair oil (coconut/olive) and mix them well.
Massage the mixture gently all over your scalp.
Leave it on for 1–2 hours before rinsing it off with a gentle shampoo and regular water.
6. Nourishes and hydrates your hair and scalp
Orange peel is loaded with antioxidants that help protect your hair from free radical damage and relieve scalp inflammation to facilitate proper hair follicle function. A healthy scalp is the foundation for healthy hair.
The anti-inflammatory properties of orange peel help with dandruff control as well. It also makes for an excellent natural hair conditioner that leaves your tresses smooth, shiny, and bouncy. (5)
Orange peel supplies a generous amount of vitamin C to the hair follicles, which supports healthy hair growth. Plus, it adds a pleasant, refreshing fragrance to your tresses.  
7. Whitens teeth
Orange peel contains a compound called d-limonene (6) which helps lighten teeth stains, even the ones caused by smoking. (7)
8. Aids in weight loss
Oral intake of orange peel in recommended amounts is known to accelerate your metabolism rate, which essentially means the speed at which your body burns fat for energy. This has become quite a popular weight loss remedy, which has the approval of several medical experts.
9. Lowers bad cholesterol
The rind of oranges contains several compounds that can reduce the levels of low-density lipoproteins (LDL) or "bad" cholesterol. Bad cholesterol comes from unhealthy fat that sticks to the walls of your arteries in the form of plaque.
The plaque builds up over time, causing blockages and clots within the arteries, thereby restricting blood flow. Blocked arteries pave the way for very serious heart ailments.
Triglycerides are also unhealthy lipids found in the blood that increase cardiovascular risk. Research has shown that the consumption of orange peel can help dissolve both cholesterol and triglycerides and thus improve cardiovascular health.
 According to a 2004 study, orange peel contains polymethoxylated flavones that help lower cholesterol levels without the side effects of regular cholesterol medication. (8)
10. Household uses of orange peels
Orange peel can be used for a variety of household purposes such as:
Limescale remover
Odor neutralizer such as removing smells in the oven
Natural air freshener
Fabric softener
Homemade all-purpose cleaner
Mosquito and ant repellent
Compost for gardening
Orange Peel Side Effects
Orange peel is beneficial so long as it is used properly, or else it can lead to the following side effects:   
Side effects related to topical use
Excessive application of orange peel can lead to redness, irritation, and dryness, especially if you have sensitive skin. So, it's best to use it in moderation and to conduct a patch test before using it to rule out any adverse reactions or allergies.
Side effects related to oral use
Citrus fruits such as oranges are usually sprayed with pesticides during the cultivation period, and these chemicals stick to their rind.
If you don't wash the peel thoroughly before drying them, you will end up consuming the pesticide residue along with it. These toxins can cause adverse health effects.
Plus, orange peel is also hard to digest due to its high fiber content and thick, coarse texture. It takes a lot of effort to chew it into smaller bits so that the stomach can digest it easily. Some people consume large chunks, which can give rise to digestive distress in the form of bloating, diarrhea, and stomach cramps.
Preparing and Storing Orange Peels
Preparing and storing orange peels is easy and simple. Just follow these steps and tips:
Use a sharp knife or vegetable peeler to carefully peel the colored part of the orange rind, leaving out the bitter white pith. It's highly recommended to use organically grown oranges for this purpose as they are usually not treated with chemicals and pesticides that can strip away the beneficial properties of the peel.
Properly rinse the peels with cold water to remove dirt, pesticides, and other impurities settled on their surface.
Proceed to drying them. You can use either of the following drying methods:

No-cook method: Spread the strips inside out on a plate or tray, and place it in a warm, sunny, properly ventilated spot at room temperature for 2–3 days. The strips will shrivel and turn dry, stiff, and crisp over this period.
Speed method: A faster way to dry out orange peels is to bake them in the oven at 200°F for 25–30 minutes. If you notice the peel turning brown, switch off the oven for a couple of minutes, and rotate the pan. One way to know that the peels are sufficiently dry is that they will shrivel and become stiff. Wait for the dried peels to cool down before storing.

Put the dried peels in a clean, airtight container and store it in a cool, dry place. You can also grind the peels into a fine powder before storing them. Proper storage will allow the orange peels to remain usable for a good month.
Final Word
Orange peel is usually discarded as waste, but it is actually very useful.
This cheap and easily available ingredient is a skin care favorite, mainly due to its high vitamin C and antioxidant content. Plus, it's good for your hair, teeth, and cardiovascular health. Orange peel can also be used as a fix for some common household problems.
So, the next time you are devouring an orange, remember to make good use of the peel as well.
Was this article helpful?