Psoriasis is an immune system condition that triggers an increase in the production of skin cells, often causing thickening of the skin. This can occur in any part of the body but is more common in the fingers and toes.
People affected by psoriasis vulgaris (skin psoriasis) are at a high risk of developing nail lesions as well. (1) However, anyone can be affected by nail psoriasis without any preexisting condition.
Nail psoriasis mostly occurs in the fingernails, making them thick, pitted, and unshapely. This may be a cosmetic concern for most people. The good news is there are various treatments that can help improve nail psoriasis, which will be discussed in this article.  
Symptoms of Nail Psoriasis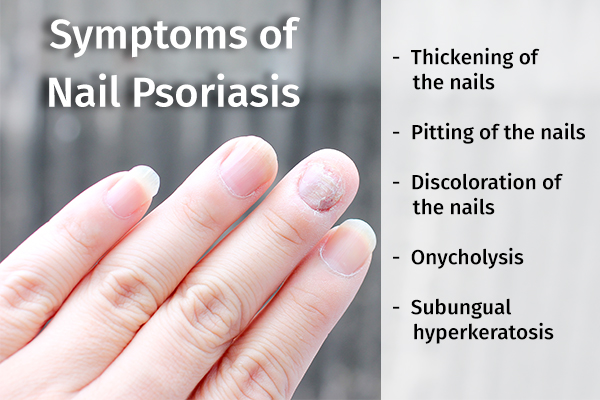 Nail psoriasis is characterized by the following signs and symptoms:
1. Thickening of the nails
The rapid production of skin cells in psoriasis can cause the nails to grow longer and thicker quickly, as the building protein for skin and nails is the same.
2. Pitting of the nails
The nail surface may develop a few to several pits, resembling a thimble surface.
3. Discoloration of the nails
Nail discoloration is a common symptom of psoriasis, including the development of red or yellow spots on the nail bed. The nails may turn yellowish brown, or they can become completely white, at which stage they are prone to crumbling.
4. Onycholysis
This refers to the detachment of the nail from the nail bed, which is generally painless. This may occur due to injury, infection, or trauma to long nails, especially in nails affected by psoriasis. (2)
5. Subungual hyperkeratosis
Psoriasis can also cause scales to develop below the nail. In some cases, the scales may be accompanied by warts or rarely a squamous cell carcinoma.
Treatment for Nail Psoriasis
Nail psoriasis can be medically treated with topical, oral, and in-office procedures, depending on the severity of the condition. You may consult your doctor on the following treatment modalities:
Topical treatment
The topical treatment for nail psoriasis includes medicated ointments that help control the growth of the skin cells:
Corticosteroid ointments: Ointments containing corticosteroids are commonly used in the treatment of nail psoriasis. These ointments are to be applied to the nail bed, the base of the nail, and beneath the cuticle every day at bedtime. You may cover the nail with plastic wrap to prevent rubbing the cream off when sleeping.
Vitamin D analogue cream or ointments: These creams contain vitamin D3 analogues such as calcitriol, calcipotriol, and tacalcitol. Vitamin D analogues work by controlling keratinocyte production and cytokine production, while suppressing T cell activity. (3) When massaged in the cuticle two times a day, these creams can effectively treat nail psoriasis. You can also use calcipotriol solution for the treatment of onycholysis.
Oral drugs
Oral medications are used in the treatment of moderate to severe psoriasis for all parts of the body.
Biologics are widely used to manage plaque psoriasis, psoriatic arthritis, and nail bed psoriasis. These target antitumor necrosis-α (TNF-α) and T-cells to treat the condition.
Adalimumab, etanercept, infliximab, and ustekinumab have shown to be effective in the treatment of nail psoriasis. (4)
In-Office treatments
For severe nail psoriasis, you may need to undergo in-office treatments, which include:
Corticosteroid injections: Corticosteroids may be directly injected beneath the nail surface every few months to treat the condition. Since the procedure can be painful, your doctor may use a numbing cream or a nerve block. Corticosteroid injections may have a few side effects such as atrophy, inclusion cysts, secondary infection, depigmentation, and tendon rupture. (3)
Phototherapy: If topical and oral treatments fail to work, the psoriasis affects multiple parts of the body, or the psoriasis flares up frequently, your doctor may suggest UVA and UVB phototherapy.
Photodynamic therapy: This treatment uses light, photosensitizing agents (topical, oral, or intravenous), and oxygen to initiate a photochemical reaction that destroys the psoriatic cells.
Diagnosing Nail Psoriasis
Nail psoriasis is diagnosed through a physical exam and lab tests on nail samples, which include nail clippings and scrapings from the nail bed. The samples are checked for fungal infections, which can produce the same symptoms as nail psoriasis.
In a few cases, a proximal nail matrix biopsy may be performed to confirm the diagnosis.
Final Word
Thick, pitted, discolored nails can indicate nail psoriasis, an autoimmune condition that causes discomfort and even embarrassment. If not managed properly, nail psoriasis can lead to complications such as infections and falling off of the nails.
Therefore, it is vital to take proper care of your nails and consult your doctor for the appropriate treatment. You may be given topical or oral medications to treat the condition.

Continue ReadingHow to Treat and Prevent Nail Psoriasis at Home
Was this article helpful?