Psoriasis is an autoimmune condition that boosts the generation of skin cells, causing their accumulation. As a result, skin thickening and deformation occur.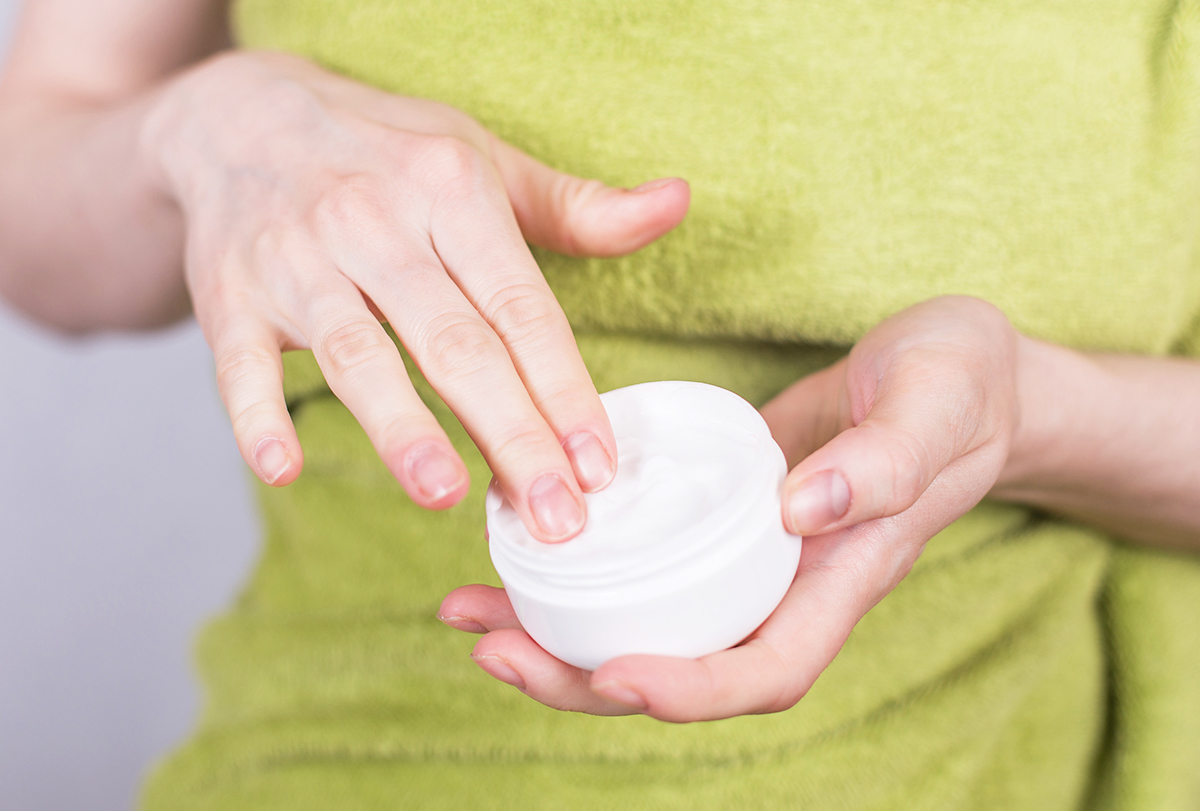 Since the protein of skin cells and nails is the same, psoriasis can also affect the nails by increasing cell production and accumulation in the nail bed or nail matrix.
Nail psoriasis is characterized by thickening, pitting, and discoloration of the nails. It can cause tenderness and pain in the nails, often interfering with daily activities. It is vital to treat nail psoriasis to prevent complications.
Most cases can be managed with proper care and home remedies, which will be discussed in this article.
Home Remedies for Nail Psoriasis
The following at-home treatments can help manage the signs and symptoms of nail psoriasis and prevent the condition from worsening:
1. Dab some tea tree oil
Tea tree essential oil has antibacterial, antifungal, and antiseptic properties that can fight fungal and bacterial infections of the nails. This essential oil is also rich in terpinen-4-ol, which is an anti-inflammatory agent (1) and helps reduce the pain.
How to use:
Add 5–6 drops of tea tree oil in a small bowl of lukewarm water.
Soak your nails in the water for 15 minutes and then pat them dry.
Repeat this remedy two times daily until you see improvement.
2. Apply aloe vera gel
Aloe vera gel can help strengthen and moisturize the dry, brittle nails associated with nail psoriasis. It helps prevent nail reddening and cracking by moisturizing and nourishing the skin and nail bed.
In addition, aloe vera possesses anti-inflammatory properties that help control swelling and boost the immune system. (2)
How to use:
Extract some fresh aloe vera gel.
Apply the gel to the nails and nail bed.
Leave it on overnight to be completely absorbed.
3. Use glycerin
Glycerin is an excellent hydrating agent that can help maintain optimum moisture levels in the skin for several hours. (3) This effect is beneficial in preventing nail brittleness and cracking.
How to use:
Mix water and glycerin.
Apply the mixture to the nails and surrounding skin.
Leave it on for an hour, and then rinse it off with lukewarm water.
4. Massage with coconut oil
Coconut oil is another effective moisturizing agent that can be useful in managing nail psoriasis. It contains medium-chain fatty acids that act as antifungal agents, helping prevent fungal nail infections. (4)
How to use:
Apply coconut oil to your nails and cuticles, and massage it in for a few minutes. Do this multiple times a day.
Alternatively, you can mix melted coconut oil with a few drops of oregano oil. Use this oil blend to massage your nails. Wash off the oil after 10 minutes of application, and pat your nails dry.
5. Moisturize with shea butter
Shea butter is a natural moisturizer that helps improve damaged, brittle nails. It contains fatty acids and vitamins A and E that strengthen, hydrate, and nourish the nail bed and surrounding skin.
How to use:
Apply raw shea butter to your nails before bedtime.
Wash it off in the morning.
Lifestyle Changes to Manage Nail Psoriasis
Implement these changes to better manage nail psoriasis and promote faster recovery:
Moisturize daily: Make sure to apply a moisturizer to your hands and nails after washing your hands. Tube-squeezed ointments are more effective than lotion bottles.
Dry your nails properly: Pat your nails dry every time you wash your hands. Avoid rubbing them or leaving them wet as the latter can increase the risk of infections.
Use gloves: Wear gloves when you are doing any household chore that involves putting your hands in the water, such as washing the dishes. It is recommended to wear a cotton glove and layer it with a vinyl or nitrile glove rather than using a latex glove.
Get some sunlight: Daily sun exposure for 15–20 minutes can boost your immunity, prevent infection, and stimulate vitamin D production. Thus, it is suggested to expose your nails to the morning sun every day. However, avoid the sun during the afternoon as there is a risk of sunburn and skin cancer during the peak hours.
Improve your diet: It is seen that fatty acid consumption can help prevent fungal infections. Hence, consuming flaxseeds, walnuts, sardines, salmon, and mackerel may be helpful in managing nail infections. In addition, increase your intake of foods high in zinc, such as oysters, pumpkin seeds, and liver.
Apply nail polish: While nail polishes cannot aid in the treatment of nail psoriasis, they can cover up any discoloration and roughness and can make your nails look smoother, especially if you use clear polish. This simple trick may help in reducing cosmetic concerns.
Turn on the humidifier: Using an indoor humidifier helps maintain optimum moisture levels in your surroundings and therefore prevents dryness in the skin and nails.
Measures to Prevent Nail Psoriasis
It is vital to take good care of your nails to prevent nail psoriasis from developing or worsening. Prevention is also important to avoid the complications associated with nail psoriasis until treatment is complete.
Here's what you can do:
Trim your nails: Keep your nails short; long nails are prone to breakage. This is more so important if you have nail psoriasis as the nails are already weak and any uneven cracking can result in excessive pain.
Avoid biting your nails: Never pick or bite your nails and the surrounding skin. These habits can compromise the protective skin barrier by causing skin injury, which then acts as an entry point for infections that can trigger or worsen nail psoriasis.
Refrain from using nail tools: Using harsh tools such as a nail brush to clean the nails can increase the risk of nail separation and therefore infection. Thus, avoid putting any pressure on your nails. Instead, get your monthly manicures and pedicures from professionals who are trained to take care of the nails. Just make sure they are using clean, sterile equipment to avoid the risk of infections.
Do not push back the cuticles: Pushing back your cuticles or cutting them can expose the nail bed to infections – refrain from these practices.
Avoid artificial nails: The glue used for artificial nails can be a potential irritant and may harm the nail bed in the long run. Avoid using these products.
Protect your nails: It is a must to protect your nails from any trauma or injury as this can trigger or worsen nail psoriasis.
Final Word
Nail psoriasis is a discomforting condition that makes your nails weak, brittle, and prone to damage and infections. It can often change the appearance of the nails, causing cosmetic problems.
However, the condition can be managed with proper treatment. You may try home remedies and self-care to manage the symptoms. If the condition doesn't improve, make sure to consult your doctor for medical treatment to avoid complications.

Continue ReadingNail Psoriasis: Symptoms, Diagnosis, and Treatment
Was this article helpful?