The skin is the largest organ in the human body and serves as a protective barrier against external irritants and pathogens. It comprises multiple layers but is broadly divided into the epidermis (outermost), dermis (middle), and hypodermis (deepest).
Skin tissue is essentially made up of two structural proteins, namely, collagen and elastin. Collagen is the most abundant component that gives the skin volume and strength, while elastin makes the skin tight but flexible so that it doesn't break or tear when stretched during movement.
But being the most exposed part of the body, the skin is bound to undergo some degree of wear and tear daily, plus the occasional injuries.
This article will focus on a superficial skin injury called abrasion, scrape, or graze and how to make it heal better.
What Is an Abrasion?
An abrasion is a superficial wound caused by the rupturing of the epidermis, usually when the skin forcefully rubs against a rough or hard surface when you skid, fall, run into something, and other such accidents. (1)
In some cases, it could be the result of an insect bite or an allergic reaction.
Signs and Symptoms Associated With Skin Abrasions
Abrasions are superficial tears in the topmost layer of the skin and are characterized by the following:
Redness and swelling
Pain and tenderness
Burning sensation
Scrapes can occur anywhere on the body but usually affect bony and exposed areas, such as the hands, forearms, elbows, knees, or shins. They are much more common in children than in adults. Mild skin abrasions do not leave behind a mark, but deeper ones might result in scar tissue formation.
First-Line Treatment for Skin Abrasions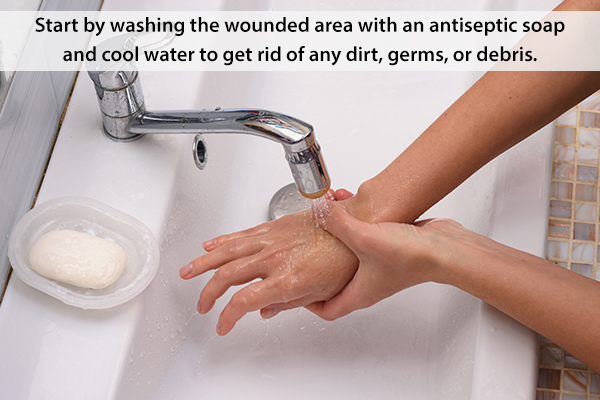 Here's what you need to do immediately when you get skin abrasions:
Start by washing the wounded area with an antiseptic soap and cool water to get rid of any dirt, germs, or debris.
Using a clean cloth, gently pat the area dry.
Apply an antiseptic ointment or cream over the wound.
After 24 hours, cover the wound with a sterile bandage or dressing to protect it from external irritants, germs, and further injury.
Change the dressing and bandage every day; change it more frequently if it gets dirty.
Note: Avoid blowing on the abrasion, as this can encourage microbial growth.
Self-Care Measures for Fast Wound Healing
Abrasions usually heal within 5–10 days depending on the severity of the skin damage. Here are a few useful tips that can facilitate the healing process:
1. Consume vitamin C-rich foods
Vitamin C plays a critical role in the production, maturation, and secretion of collagen, which is the main building block of your skin. Without this nutrient, your body cannot manufacture enough collagen to make new skin cells and scar tissue needed for wound healing. (2)
Another reason to up your vitamin C intake is the strong antioxidant properties of this vitamin can help bring down the inflammation, pain, and redness associated with skin abrasions.
Oranges, tomatoes, strawberries, broccoli, and red peppers are all high in vitamin C. If you are unable to meet your recommended intake through diet alone, ask your doctor to start you on a vitamin C supplement.
2. Stay hydrated
Drink at least 7–8 glasses of water per day to lubricate your skin from within. Dry skin is more prone to tearing and takes longer to heal.
3. Avoid sugar, refined grains, and processed foods
These foods trigger inflammation and slow down wound healing.
4. Ice the wound
If there is bruising or swelling around the wound, make sure to wrap the ice in a soft clean towel before application. Directly applying ice to the skin can lead to frostbite.
5. Protect the wounded skin from the sun
Refrain from exposing your wound to the UV rays of the sun to avoid hyperpigmentation.
6. Try not to exert yourself
Excessive pressure on the wound site can make it bleed.
7. Wear skin-protective gear while playing sports
Always wear proper protective sports gear, such as kneepads, skin guards, gloves, and elbow pads, to avoid undue injuries.
8. Do not pick or scratch at scabs
Scab formation is a natural part of skin healing. It is essentially scar tissue that forms over the wound to protect it from dirt and germs. It is also an indication that new skin is forming beneath the surface.
Picking or scratching the scabs will further damage and contaminate your wounded skin, increasing the risk of scars or infection.
9. Quit smoking and limit your alcohol intake
Smoking and drinking alcohol delay the healing process and compromise your body's ability to ward off infections.
Complications Associated With Untreated Abrasions
For skin abrasions, the tissue damage can range from mild to severe depending upon the extent of physical trauma, but it doesn't go beyond the topmost layer.
However, the breach in the skin barrier does provide easy entry to microbes, which can trigger an infection in the absence of proper care and hygiene. So, it is important not to ignore such wounds and to treat them quickly.
Here are a few signs that indicate that your wound may have become infected, in which case you must seek prompt medical treatment:
Fever and chills
Increasingly red or dark skin around the wound
Pain, tenderness, and warmth around the wound
Nausea
Body aches
When to See a Doctor
Skin abrasions can usually be treated at home without any need for medical assistance, but you must consult your doctor if:
Your wound bleeds profusely or persistently even after pressing it for 10–15 minutes.
The redness and pain around the wound worsen despite proper preliminary treatment and care.
Drainage (pus) oozes from the wound.
You get a deep puncture wound.
Final Word
Your skin is a self-regenerating organ that is fully capable of mending itself.
Dead skin cells collect on the surface and are gradually shed in the environment, and new cells produced in the deeper layers rise to the top to form new skin. It takes almost a month for the entire upper layer of skin to resurface this way.
By this logic, skin injuries can take some time to heal completely. But as discussed in this article, there are several things you can do to speed up and promote wound healing.
Was this article helpful?