Your fingers are in constant use, coming in contact with various things throughout the day during activities such as cleaning, writing, typing, and cooking. This also exposes the skin on your fingers to different factors that can have damaging effects on it.
This can often lead to peeling skin on fingers, especially if you have flaky skin. Peeling fingertips may first appear as flaky skin on the fingertips and around the nails, sometimes accompanied by dryness, itching, or a rash.
Peeling fingertips and the associated symptoms not only affect the appearance of your hands but can also cause pain and discomfort, which may interfere with daily activities.
Causes of Peeling Fingertips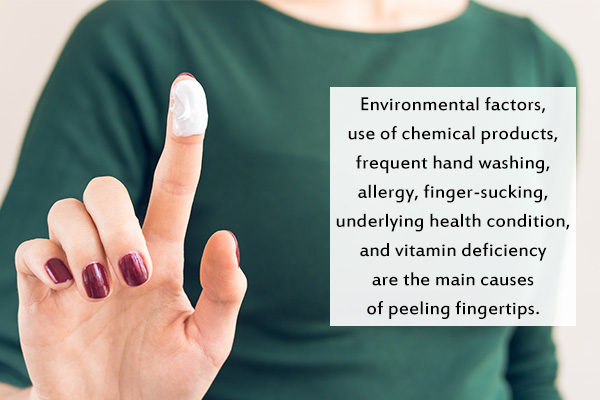 You may notice the skin around your fingertips beginning to flake or peel due to the following reasons:
Environmental factors. It is common to experience skin dryness in a cold, dry winter, which can further lead to fingertip peeling. In addition, excessive sunlight exposure, especially to the point of sunburn, can cause the fingertips to peel. Fingertip peeling can also occur due to excessive sweating during the summer.
Cosmetic causes. The use of nail extensions, nail glue, and nail colors and dermatitis due to acetone overuse can all lead to skin peeling in the fingertips.
Use of chemical products. Your skin may start to peel when it comes in contact with harsh chemicals, such as sanitizers, that can damage the skin's lipid barrier. This problem may be magnified if you have sensitive skin that is prone to irritation and itchiness on chemical exposure.
Frequent hand washing. Repetitively washing your hands with harsh soaps and hot water can compromise the skin barrier, often leading to skin peeling. It is best to use mild soaps and lukewarm or cold water to wash your hands, whenever necessary. Always pat your skin dry instead of rubbing it with a towel, and apply a moisturizer afterward. (1)
Allergy. Your fingertips may start to peel as a part of an allergic reaction. Using items such as harsh chemicals, jewelry, or latex gloves, which you may be allergic to, can cause skin irritation and peeling.
Finger-sucking. Some children, or even people, may have a habit of sucking their thumbs or fingers, which leads to skin dryness and peeling. Some adults chew their nails and fingers under stress, which can result in peeling fingertips as well.
Underlying health conditions. Peeling fingertips are a common symptom of some skin conditions, including autoimmune psoriasis, eczema, (2) atopic dermatitis, and pompholyx. Peeling fingertips may also be associated with exfoliative keratolysis or Kawasaki disease. (3)
Vitamin deficiency. Several vitamins are essential to maintain the skin's health and integrity, and a lack of these vitamins may result in skin peeling. One such vitamin is vitamin B3 (niacin), which plays an important role in maintaining skin health, (4)(5) improving skin hydration, and strengthening skin barrier functions. Similarly, a lack of vitamin B7 (biotin) and vitamin A can contribute to skin peeling and irritation.
Natural Treatment for Peeling Fingertips
You can try the following home remedies to address peeling skin on fingers:
1. Apply honey
Applying honey to your skin can help absorb moisture from the environment and bind it to the skin surface, acting as a humectant. (6) This hydrating and nourishing nature of honey can help treat peeling skin around the fingertips.
How to use:
Dab some honey on the affected areas using a cotton ball.
Rinse it off after 30 minutes using cold water.
Repeat this remedy three times a day for best results.
2. Soak your fingers in milk
Milk contains high amounts of micronutrients that can help soften your skin and make it healthy, thereby preventing skin peeling.
How to use:
Take some warm milk in a bowl and mix in some honey if you desire. Dip your hands in the bowl for 10–15 minutes. Wash your hands with water, pat them dry, and apply a moisturizer. Repeat this remedy daily.
Consume one glass of warm milk with nuts every day to keep your skin moisturized from within.
3. Scrub your hands with oats
Gently scrubbing your skin with oats can help remove the flaky skin, which if not taken care of, can further develop into skin peeling. Adding milk to make the scrub provides added moisturization. (7)
How to use:
Add oats in warm water or milk and allow them to soften.
Dip your hands in the oats for 10–15 minutes.
Scrub your hands gently and wash.
Pat your skin dry and apply a moisturizer.
Repeat this remedy daily.
4. Apply petroleum jelly
Petroleum jelly is popularly used to moisturize and heal dry and flaky skin. You can also use shea butter or cocoa butter to moisturize dry fingers.
How to use:
Apply petroleum jelly on your fingertips at night and wear gloves, allowing the jelly to moisturize and soften the skin overnight.
5. Soak the fingers in warm water
Soaking your fingers in warm water helps soften the skin and also enables the dry, flaky skin to fall off.
How to use:
Pour some water into a large bowl, and dip your hands in it for 10 minutes.
Pat your hands dry.
Apply a moisturizer, vitamin E oil, or olive oil to hydrate your skin.
6. Apply aloe vera
Aloe vera is a hydrating and moisturizing agent that helps improve skin dryness. Moreover, the soothing and cooling properties of aloe vera can help manage the irritation, pain, and discomfort associated with peeling fingertips. (8) Aloe vera also acts as a humectant and antimicrobial agent.
How to use:
Apply fresh or store-bought pure aloe vera gel to the affected areas.
Repeat this remedy several times a day.
7. Use cucumber
Using cucumber can help make your skin soft and can aid in the treatment of peeling fingertips.
How to use:
Cut a fresh cucumber into thick slices.
Rub your fingers with these slices, and then allow your skin to absorb the juice for up to 15 minutes.
Rinse your hands with lukewarm water.
Massaging your skin with vitamin E oil.
8. Use natural oils
Coconut oil is rich in fatty acids that provide deep moisturization to the skin. (9) Therefore, regular use of coconut oil can help improve skin hydration levels and the lipid levels that make up the skin barrier.
You can also use other natural oils such as olive oil, sunflower seed oil, (10)(11) almond oil, and castor oil to moisturize your skin.
9. Try mashed bananas
The abundant potassium and vitamin A in bananas help in moisturizing dry and damaged skin cells. Moreover, its vitamin E content helps prevent free radical damage.
How to use:
Mash a ripe banana and mix it with sour cream. You can also add olive oil or crushed sugar to the paste for added moisturizing benefits.
Apply the paste to your fingertips and wash it off after 15–20 minutes.
Repeat this remedy daily for best results.
In-Office Treatments for Peeling Skin on Fingers
You can consult your doctor for a suitable treatment for your peeling fingertips. These may include:
1. Topical steroids
These topical creams contain anti-inflammatory, immunosuppressive, blood vessel-constricting, and antiproliferative compounds and generally used for dermatitis and eczema treatment. Topical steroids may also contain antibacterial and antifungal agents to help reduce the risk of infections.
Use these creams for up to a week upon your doctor's recommendation.
2. Hand creams
It is essential to keep your skin moisturized by applying creams that contain emollients, occlusives, and humectants. Regular use of moisturizers can help manage skin dryness and itchiness, thus preventing peeling of the fingertips.
You can ask your doctor for creams containing ceramides and filaggrin-building compounds that lock in skin moisture.
3. Antihistamines
Antihistamines are useful in cases of peeling fingertips caused by allergies. They help control histamine production during an allergic reaction and are commonly used in the treatment of eczema.
Some commonly prescribed antihistamines include Allegra (fexofenadine) and Benadryl (diphenhydramine).
4. Paraffin wax treatment
This treatment involves applying paraffin wax on the hand and then peeling it off to reveal softened hands and cuticles. Paraffin wax works by locking in moisture on the skin while giving it a soothing, relaxing feeling.
Paraffin wax treatments are widely used for improving skin roughness and preventing fingertip peeling.
Some Preventive Tips
Peeling fingertips are a common problem, but it can be easily prevented with a few self-care measures.
Stay hydrated. It is essential to drink plenty of water to prevent skin dryness, which is a common reason behind peeling fingertips.
Use moisturizers. Moisturizing your skin is an essential part of any skin care routine, and it prevents a number of problems. You can carry a small bottle of moisturizer with you and apply it whenever needed. It is also advised to wear gloves before stepping out if you are living in extremely cold areas.
Avoid hot water baths. Bathing or showering with hot water can cause excessive skin dryness. Instead, use cool or lukewarm water to shower. Moreover, you should always pat your skin dry with a soft towel instead of rubbing it with a towel. Additionally, avoid taking multiple baths in a day or washing your hands too often.
Consume a healthy diet. Eat a well-balanced diet consisting of all minerals and vitamins, especially vitamins A, C, and E, to help maintain your skin hydration levels and health.
Use emollients. Topical skin emollients can work wonders in relieving skin dryness, itchiness, and thereby preventing peeling fingertips.
Avoid chemicals. Refrain from using skin products that contain harsh or drying chemicals.
Final Word
Skin peeling, especially around the fingertips, is a common problem. In some cases, it may be accompanied by pain and irritation, often interfering with daily activities.
You can use multiple home remedies to help resolve the problem. Timely treatment is essential to prevent further skin damage. If the condition doesn't improve despite proper care, it is best to consult a doctor for proper diagnosis and treatment.
Was this article helpful?