An itchy foot is an unpleasant sensation on your feet that urges you to scratch. A number of reasons can make your feet itch.
Figuring out the source of your skin irritation will lead you to the path of treatment and relief. It can also tell you how to prevent it from reoccurring in the future.
Causes of Itchy Feet
Itchy feet can result from the following.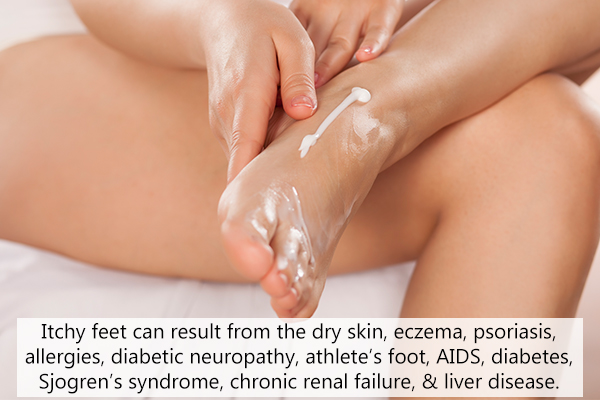 1. Dry skin
As you age, the capacity of the outer layer of your skin to hold water decreases. Walking and running lead to the development of thick and dry skin on your feet, which is prone to itching.
Daily proper fluid intake is crucial for maintaining the health and texture of your skin, especially as you grow older. (1)
2. Allergies
If you come into contact with something in the environment that you are allergic to, your skin may develop a reaction, causing itching and redness.
3. Adverse effects of medications
Itchy feet can be a side effect of medications and therapeutic agents. Cancer, psychiatric/psychogenic causes, and blood disorders can also cause itchy feet.
Medical Conditions That Cause Itchy Feet
Itchy feet can be a symptom of the following conditions.
1. Eczema and psoriasis
Psoriasis is a chronic inflammatory disease that can affect the skin, nails, and joints. It usually manifests as red, scaling plaques. Eczema is a common inflammatory skin condition that manifests as an itchy red rash. It usually involves the skin creases.
2. Athlete's foot
Athlete's foot is a fungal infection of the skin of your feet. It usually occurs between your toes and the soles of your feet and manifests as scaling, dry, itchy skin.
Sometimes, an athlete's foot shows as a moist white skin in between your toes. This fungal infection can spread to the toenails and other parts of the body.
3. Acquired immunodeficiency syndrome (AIDS)
Some people infected with AIDS develop peripheral neuropathy. Peripheral neuropathy is a condition of the nerves that causes loss of feeling, numbness, tingling, and itchiness.
Skin disorders in people with AIDS that can cause itchy skin include dry skin, seborrheic dermatitis, eczema, psoriasis, pruritic papular eruption, staphylococcal folliculitis, and prurigo nodularis. (2)
4. Diabetes
Uncontrolled diabetes can cause damage in the nerves in your extremities, known as diabetic neuropathy. This often leads to numbness or discomforting sensations in your feet such as itching, pins and needles, and tingling.
5. Sjogren's syndrome
Sjogren's syndrome is an autoimmune disorder wherein the immune system attacks the healthy tissue and causes inflammation that manifests as dry, itchy skin, and rashes.
Around 10% of patients with Sjogren's syndrome have cutaneous lesions. Other less common skin phenomena may occur, such as annular erythema, urticarial vasculitis, and hypergammaglobulinemic purpura. (3)
6. Chronic renal failure
The kidneys are responsible for filtering waste and toxins from the bloodstream to keep your body healthy. If your kidneys don't work properly, the unwanted toxins will accumulate in the blood and give rise to a whole range of ailments, including itchy skin. (4)
7. Liver disease
Cholestasis is a liver disease wherein the flow of bile from your liver is reduced. Bile is the fluid produced by your liver that aids digestion. When bile flow is blocked, bilirubin accumulation occurs, which may cause itching.
Other Symptoms of Itchy Feet
Other skin changes may accompany the itchy feeling, which include:
Scaling
Blistering
Dry elevated superficial skin lesions
Rash
Redness
Swelling
Flaking of skin
Bumps
Raised welts
Inflamed patches of the skin
Pustules or small pimples on the skin containing pus or fluid
Clusters of thickened skin
Excessively moist skin
White skin
Discolored patches of skin
Medical Treatments for Itchy Feet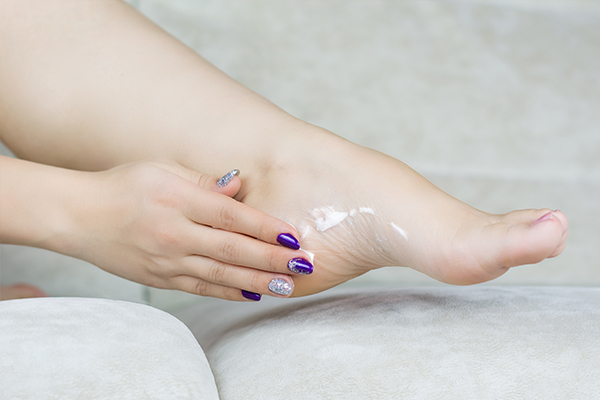 Itchy feet can be managed in several ways, depending upon the cause and skin condition:
To treat itchiness due to diabetic neuropathy, your blood sugar levels need to be under control. The management of diabetic neuropathy includes improving glycemic control as preventative therapy and using medications to alleviate the pain. Analgesics and capsaicin can treat diabetic neuropathy. (5)
If itchy feet are due to an underlying condition such as kidney, liver, and blood diseases, the condition must be treated.
Dry skin is treated with creams, lotions, or emollients. These products retain water in the skin where it is needed.
Antihistamine medications alter the immune reaction, treating the "itch" feeling.
Topical steroids decrease inflammation of the skin and the "itch" sensation. However, they do not relieve dry skin.
Antifungal creams, sprays, powder, or oral medications can be used to treat athlete's foot.
Itchiness caused by kidney and liver disease is treated with narcotic and non-narcotic analgesics.
Phototherapy or light therapy is used to treat inflammatory skin diseases. Phototherapy is effective against chronic pruritus in systemic diseases such as end-stage renal disease and liver disease. (6)
Intramuscular administration of corticosteroids decreases inflammation.
Antidepressants may be helpful in easing some types of chronic itch.
Diagnosing Itchy Feet
If you have itchy feet, it is important to get proper treatment by consulting a foot doctor or podiatrist.
Your foot doctor will do a workup, which includes an evaluation of your medical history, allergies, and family history and a physical exam. The doctor will ask you many questions to arrive at a diagnosis. The most important part of the physical exam is the dermatological exam.
Your doctor will evaluate your skin and nails. If skin lesions or wounds are present, they will be examined as well. Further testing may include a skin biopsy, blood tests, allergy tests, and nerve testing.
Possible Complications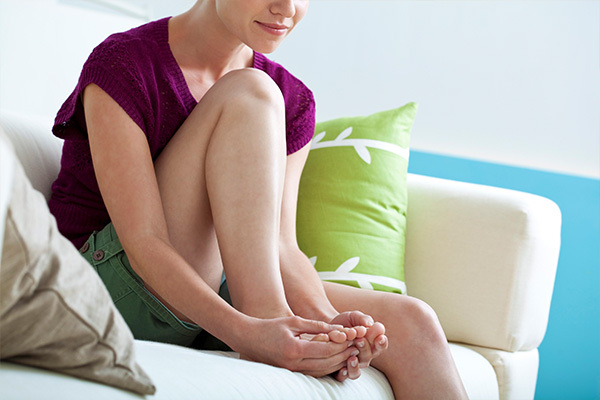 Itchy feet can prompt you to scratch the area. Scratching can cause complications such as wounds, irritations, abrasions, and bruises.
When there is a break in the skin, an infection to the open lesion can occur. At this point, antibiotics and topical treatment of the wound might be necessary. Sometimes, wounds on the feet take a long time to heal.
In the case of itchy skin due to athlete's foot, the fungus on the skin of the foot can spread to the nails, to other parts of the body, or to others. If itchy skin due to diabetic neuropathy is not managed due to uncontrolled blood glucose level, numbness and loss of feeling can occur.
When to See a Doctor
Seek medical care if:
Over-the-counter medications or home remedies do not relieve itchy feet or the itch worsens.
You are unsure of the cause of your itch.
You notice that you have an infection in your feet in correlation with your itch.
Final Word
An itchy foot is a dermatological condition. It can be caused by anything from dry skin to cancer. It is important to find out the cause and to act fast.
As with other conditions, itchy feet may require a combination of different management techniques, which include proper foot hygiene, home remedies, over-the-counter medications, prescription antibiotics or antifungals, and other treatments to address the root cause of the problem.
However, if your condition persists or worsens despite the appropriate care, call your doctor for a thorough checkup and revised treatment plan.

Continue ReadingHow to Soothe Itchy Feet at Night
Was this article helpful?