Facial skin is one of the most well-looked-after parts of the body, and rightly so, being highly sensitive and prone to different problems. One such common skin problem that people experience is redness on the face.
Facial redness may last for a few minutes, days, weeks, or months in some cases. In most instances, facial redness is just a cosmetic issue that can be resolved with simple care and treatments.
However, when the problem is persistent, it may be indicative of an underlying condition that warrants medical treatment. This article talks about the different aspects of facial redness, such as causes, symptoms, and at-home care.
Causes of Facial Redness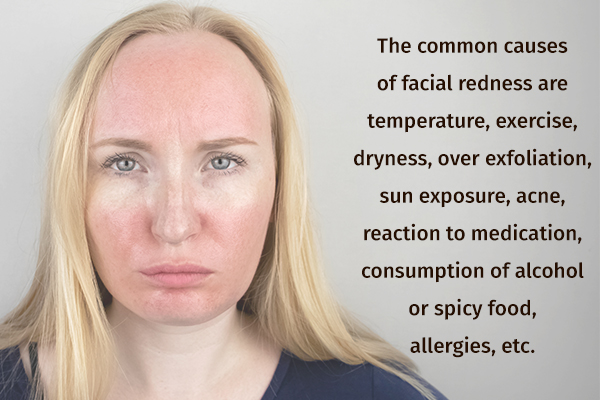 Knowing the various possible causes of facial redness can help you identify the underlying problem and further seek appropriate treatment. The most common causes of facial redness include:
Temperature: It is common to experience temporary redness on the face due to temperature changes, be it extreme cold or hot weather.
Exercise: Exercising naturally elevates your body temperature and boosts blood flow to the skin surface. This may be noticed as flushing of the skin and a red face, especially if you have a lighter skin color.
Dryness: A lack of moisturization can lead to skin dryness, which is often accompanied by skin redness.
Overexfoliation: Washing your face repetitively, especially scrubbing or rubbing it, can irritate the skin and result in redness. The same goes for harsh or frequent massage of facial skin.
Sun exposure: Prolonged exposure to the harsh ultraviolet rays of the sun can also cause facial skin redness and sunburns.
Acne: Acne, pimples, or blackheads are common skin problems affecting people of all ages and genders. Facial redness is a common symptom associated with acne breakouts.
Reaction to medication: Certain medications and medicated creams can cause redness of the face due to allergy, increased sensitivity, and photosensitization that can occur due to sun exposure. Acne medications and exfoliants can be drying and can also cause irritation and redness. Overuse of medications such as potent steroids can lead to skin atrophy and redness of the skin.
Consumption of alcohol or spicy food: Consuming hot food with a high amount of spices can turn your face red for a few minutes. Similarly, some people may experience facial redness on alcohol consumption.
Allergies: Facial redness can be a symptom of an allergic reaction. Medically known as contact dermatitis, your skin may become red on exposure to irritants such as soap, chemicals, detergent, or foods you are allergic to.
Seborrheic dermatitis: A noncontagious inflammatory skin condition, seborrheic dermatitis manifests symptoms such as itchy skin, rash, and redness on the face. (1)
Rosacea: A chronic skin disorder, rosacea is characterized by redness, pimples, and broken blood vessels. It is commonly seen to develop in 30–60 years olds. (2)
Eczema: Also known as atopic dermatitis, eczema is characterized by itchy skin, dryness, inflammation, and skin redness. (3)
Lupus: Lupus is an autoimmune inflammatory disorder that causes inflammation in the organs and skin, often presenting as redness on the skin surface. (4)
Symptoms Associated With Facial Redness
Facial redness may be accompanied by different symptoms, which vary between people and according to the cause of the redness. These symptoms include:
Flushing of the chin, cheeks, nose, forehead, and neck (5)
Warmth
Bumps or pimples on the affected area, at times along with a stinging or burning sensation
Visible blood vessels
Inflammation
Treatment for Facial Redness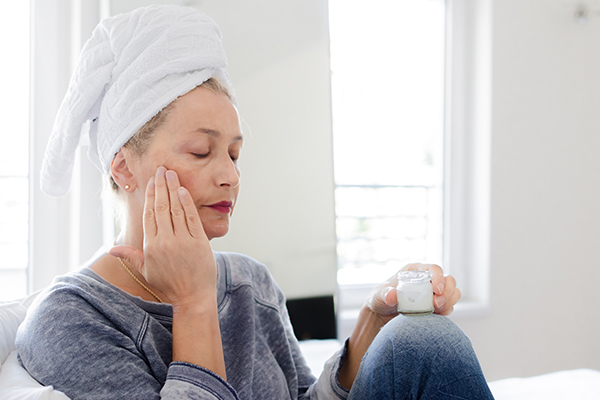 The treatment for skin redness depends on the causative factors. Upon diagnosing the cause behind your facial redness, the doctor will suggest condition-specific treatment, depending on your age and the severity of the disease.
The different treatments used for managing facial redness include:
1. Sunscreens
Prolonged exposure to the UV rays of the sun can cause skin inflammation, often appearing as redness. Therefore, the use of sunscreens with SPF 30 and above and that contain zinc oxide and titanium oxide can help prevent and manage sun-induced redness.
It is advised to apply sunscreen at least 15 minutes before stepping out and reapply it every hour if you are under direct sunlight.
2. After-sun balms
If your skin is red from a sunburn, applying after-sun balms may aid healing. These balms are devoid of minerals and parabens and contain skin-soothing ingredients that help bring down the redness and inflammation associated with a sunburn.
3. Calamine lotion
Containing ferric oxide and zinc oxide, calamine lotion can help treat the facial redness and itching associated with different skin conditions.
4. Anti-redness creams and moisturizers
Anti-redness special creams and moisturizers contain skin hydrating, soothing, and anti-inflammatory agents that can help control facial redness. They can also strengthen the skin barrier.
It is advised to select creams and moisturizers containing vitamin B12, hyaluronic acid, ceramides, niacinamide, sulfur, colloidal oatmeal, vitamin E, and licorice extracts.
5. Alpha-adrenergic agonist drugs
Alpha-adrenergic agonist drugs are generally used for the treatment of rosacea and therefore can help reduce facial redness as well.
6. Dicarboxylic acids
Facial redness caused by inflammatory conditions such as rosacea, eczema, and acne can be controlled with dicarboxylic acid gels and creams, which help manage the concentration of reactive oxygen species and thus control inflammation.
7. Laser treatment
If your facial redness is severe, your doctor may suggest the following laser treatments to help treat the problem and prevent exacerbation.
Laser genesis: This quick procedure uses a 1064-nm-wavelength laser to warm up the dermis, thereby treating skin redness. It is used like a skin facial and is highly useful for people with rosacea.
Pulsed dye laser: If your skin redness is caused by broken blood vessels or capillaries, you may be treated with pulsed dye lasers. These yellow light lasers target and dissolve the broken vessels, leaving the surrounding skin unaffected.
8. LED light therapy
A nonthermal LED light is used as a facial procedure to boost skin rejuvenation and repair. This form of noninvasive therapy can be useful in the treatment of various causes of facial redness such as acne, sun damage, and rosacea.
Diagnosing the Cause
While facial redness is generally not a source of concern, in some cases it may be persistent, indicating an underlying medical condition. Therefore, it is best to consult a physician or a dermatologist and get a proper diagnosis.
To diagnose the cause behind your facial redness, the doctor may ask about your medical history and conduct a physical examination to assess the associated signs and symptoms. (6) The doctor may order blood tests if he suspects systemic lupus erythematosus.
Home Remedies for Facial Redness
Mild cases of facial redness can generally be treated with home remedies that use natural ingredients to soothe the skin.
Caution: Always conduct a patch test before applying any ingredient to your face to rule out allergies and sensitivity reactions.
1. Apply oatmeal
Oatmeal is rich in avenanthramides, which inhibit the production of inflammatory compounds in the skin, therefore helping control and reduce facial redness.
Moreover, oatmeal acts as an anti-inflammatory and antioxidant agent and is often used for the treatment of inflammatory skin conditions such as atopic dermatitis, pruritus, acneiform eruptions, and viral infections. (7)
How to use:
Mix uncooked oatmeal with water to form a paste.
Apply the paste to the affected area.
2. Use aloe vera
Aloe vera is a popular skin care ingredient that is often used to control facial redness and swelling. (8) Its high vitamin and mineral content soothes the skin and aids healing.
How to use:
Apply fresh aloe vera gel to clean skin and allow to it dry.
Alternatively, you can make natural face packs using aloe vera gel.
3. Dab some coconut oil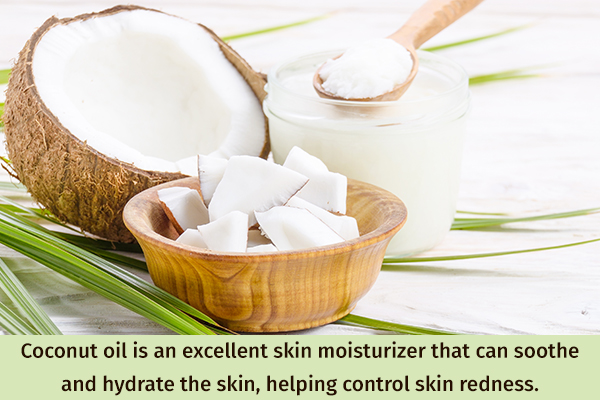 Coconut oil contains lauric acid, which possesses antifungal effects, thus helping in the treatment of infection-caused facial redness. Moreover, coconut oil is an excellent skin moisturizer that can soothe and hydrate the skin, helping control skin redness. (9)
How to use:
Slightly warm some virgin coconut oil.
Apply the oil to the affected areas using a cotton ball.
Wash your face after an hour of application.
4. Apply honey
Honey is known for its humectant nature that can combat skin dryness and soothe the skin. It also contains antibiotic properties that control infection and aid skin healing.
The sticky nature of honey also helps cleanse the skin of dirt and impurities. Moreover, several in vitro studies suggested that honey helps moderate the skin's immune system. (10)
How to use:
Wash your face with lukewarm water.
Apply raw, organic, or medical-grade honey to the affected area.
Wash it off after 30 minutes.
5. Rinse your face with chamomile tea
Chamomile tea possesses anti-inflammatory properties that can control skin redness. It also exhibits antimicrobial and wound healing effects.
The anti-inflammatory properties of chamomile tea are chiefly attributed to its active ingredients, including sesquiterpene alcohols, α-bisabolol, chamazulene, and flavonoids. (11)
How to use:
Steep 2 chamomile tea bags in a few cups of boiled water.
Let the tea cool, use it to wash your face.
Pat your skin dry.
6. Apply a cucumber mask
Cucumbers are highly hydrating and can improve facial redness associated with dryness. Moreover, its antioxidant nature may help control skin inflammation.
How to use:
Puree a cucumber and apply it to a cleansed face.
Wash the mask off after a few minutes.
Apply a cream or oil to seal in the moisture.
Lifestyle Changes
In addition to the treatments for facial redness, it is vital to incorporate lifestyle changes and skin care habits into your daily routine to aid healing and prevent worsening of the condition. These include the following:
Use sun-protective gear. As mentioned above, the application of sunscreen is vital for protecting your skin from sun damage and facial redness. In addition, you can protect your facial skin from the harsh UV rays by wearing protective sunglasses and a wide-brimmed hat.
Moisturize daily. To keep your skin hydrated and prevent dryness-caused facial redness, it is essential to moisturize your skin daily. Use moisturizers that strengthen the skin barrier. If you have generally dry skin, buy moisturizing creams containing hydrating agents made specifically for dry skin.
Avoid overexfoliation. Do not exfoliate your skin more than twice a week as it can cause skin dryness and can compromise your protective skin barrier.
Manage stress. Stress can trigger facial redness through hormonal and chemical changes. Thus, it is advised to follow stress management techniques such as mediation and therapy to help lower your stress levels.
When to See a Doctor
As mentioned above, prolonged cases of facial redness may indicate an underlying condition and warrant medical treatment. Moreover, always consult a doctor if facial redness is accompanied by the following signs or symptoms:
Increased heart rate
Sweating
Diarrhea
Pimples or bumps on the face, indicative of rosacea
Burning or irritation around the eyes
Swelling around the mouth, lips, and eyes or throat tightness
Oozing or crusting skin
Greasy scales around the nose
Final Word
Facial redness is a common skin problem that can arise due to a number of reasons. While it is usually mild and improves on its own, in some cases, the redness may last for a long period, indicating a medical condition requiring treatment.
It is best to consult your doctor on the cause and treatment of your facial redness. You can also ask your dermatologist for skin care tips to help manage your condition better. In addition, it is recommended to make the necessary lifestyle changes to prevent skin redness.
Was this article helpful?