Scabies is a skin infestation by mites and is characterized by severe itching. It is highly contagious and can affect people of all ages, from infants to the elderly.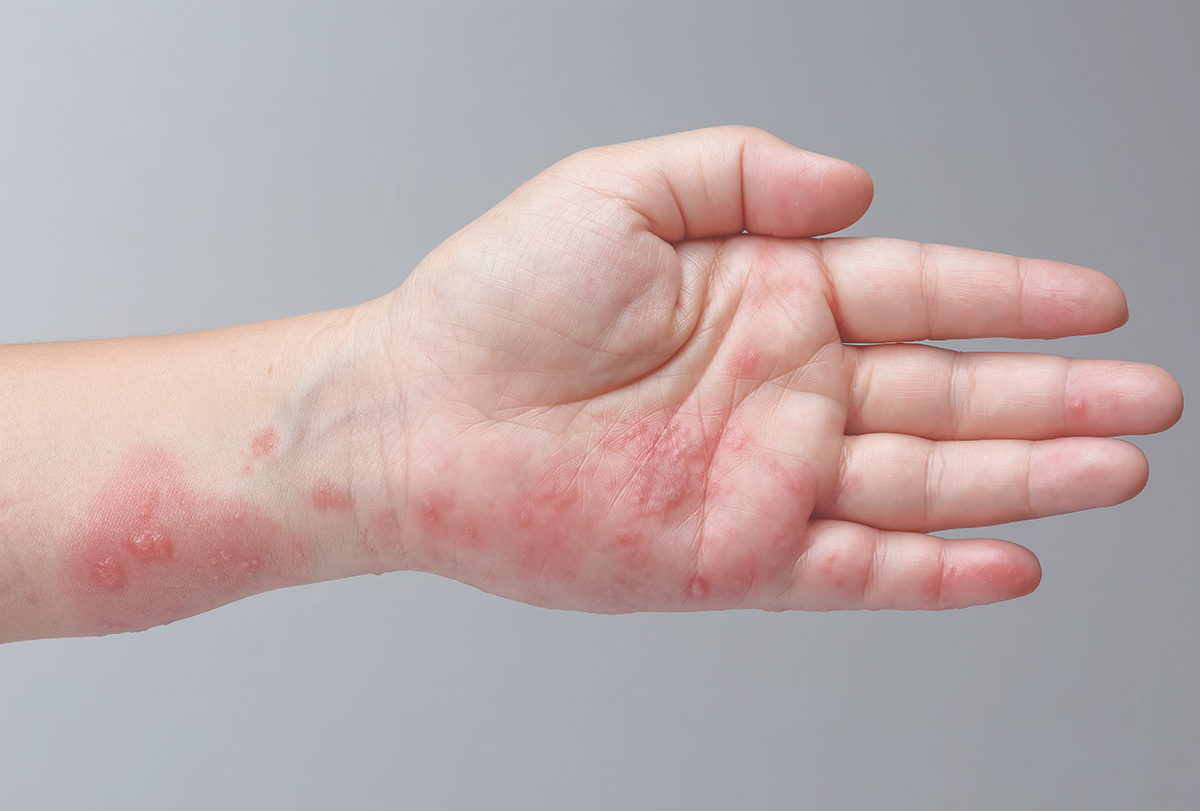 These mites can easily burrow into the folded skin between your fingers, under your breasts, around the genitals, and on the elbows, knees, wrists, and upper back.
Causes Behind Scabies
People get scabies when their skin gets infested by the human itch mites called Sarcoptes scabiei, (1) which burrow under the epidermis to lay eggs.
The immune system reacts to the mites' saliva, eggs, and feces by releasing inflammatory substances to the site of infestation. This underlying inflammation makes the affected skin intensely itchy, which is the main symptom of scabies.
Mode of Transmission
People with scabies can easily spread the mites to a healthy individual through prolonged skin-to-skin contact, such as while sleeping together. This high transmissibility is the reason scabies is a major scare in close-knit environments such as nurseries, schools, university residences, and old-age homes.
Scabies mites can also transfer to the surfaces that the patient comes in contact with, most notably their bedding, clothes, and towels and virtually anything they touch during the infestation period.
These mites can live without feeding on human skin for 2–3 days, during which they can easily be picked up by anyone who touches the contaminated surface. This indirect transmission, however, is more of a concern in the case of crusted scabies.
The mites that cause scabies in humans don't spread to animals, but your four-legged friends can attract a different species of parasitic mites that give them an itchy skin condition called "mange." Like human scabies can't survive on animal skin, these animal-borne mites can't survive on human skin.
Symptoms Associated With Scabies
Scabies is associated with the following symptoms:
Red rashes on different parts of the body covered with bumps or blisters
Short, crooked, elevated lines along the path that the mites burrow into the skin
Burrow lines that may be the same color as the skin or have a greyish-white hue
Intense itch on the rash that gets worse at night
Scaly or crusty skin in severe cases
Very itchy bumps on the scrotum or labia
Discharge from the open sores, which could be a sign of secondary infection
Treatment Modalities for Scabies
Here are the commonly used medical treatments for scabies:
Topical treatment
Permethrin cream (5%) is the most widely used treatment for scabies. A single application was found to be more effective than ivermectin. (2) This ointment is considered safe for children (aged 2 months and above) and pregnant women.
Crotamiton lotion and cream (10%) works by killing scabies-causing mites while also relieving the itch associated with this condition. It is particularly useful for treating scabies in children, who exercise little control when it comes to scratching the sores and therefore run a higher risk of contracting secondary bacterial infections. (3)
Lindane is another topical treatment for scabies, but a risky one at that. It is known to cause serious side effects, which is why it is only prescribed in special cases where other medications fail to deliver results. (4)
Topical antibiotics are prescribed when the sores become infected with bacteria.
Oral medications
Oral antibiotics are prescribed if the sores develop a severe secondary bacterial infection that does not respond to topical antibiotics alone. (5) You must complete the entire course of medication for the infection to go away completely. A lot of people make the mistake of stopping the antibiotics the minute their condition improves, which only leads to a remission.
Ivermectin is the latest scabies treatment to be developed, a well-known oral option that has been shown helpful in crusted scabies, institutional infestations, bed-ridden patients, and those who cannot tolerate or keep up with topical therapy. (6)
Oral sedative antihistamines are used to curb the inflammatory response inside the body to relieve itching and improve sleep quality. (7)
Diagnosing Scabies
Scabies can usually be diagnosed through a simple visual examination of the patient's skin.
If there's any doubt, the doctor will order additional tests to confirm the diagnosis. This may involve extracting a mite from the end of its burrow with the tip of a needle and studying it under a microscope to identify its type.
Another option is to get a scraping of the itchy skin to examine it under a microscope for the suspected parasites, their eggs, and fecal matter. In rare cases, your doctor may conduct a skin biopsy.
Complications Associated With Unresolved Scabies
Severe, poorly treated, or untreated scabies can give rise to the following problems:
Scratching can rupture the sores and provide entry to various strains of bacteria that naturally reside on the skin, leading to secondary bacterial infections. (8)
Scabies can aggravate skin diseases including eczema and psoriasis.
Crusted scabies, often known as Norwegian scabies, is a severe infestation. Crusted scabies almost always affects persons with a weakened immune system, and it's most common in the elderly and mentally or physically challenged people, among other conditions. Insecticide creams or a new-age antiviral drug called ivermectin, which is swallowed as a pill, can be used to treat crusted scabies.
When to See a Doctor
Consult your doctor if you develop any of the following symptoms after starting the prescribed treatment:
Your skin continues to itch even after weeks of treatment.
You develop new rashes or bumps.
Your rash starts to form a crust.
Your skin sores show signs of infection such as fluid discharge, swelling, pain, or redness.
Final Word
Early treatment for scabies is the best way to minimize the symptoms, complications, and duration of the disease. The longer you carry this infestation, the more likely you are to spread it to others.
So, it's best to consult your doctor as soon as you notice any signs of infestation and readily start the prescribed treatment along with the necessary safety and self-care measures. In mild cases, the doctor may only recommend OTC topical therapies. If you don't see any progress, talk to your doctor about using a prescription treatment instead.

Continue Reading5 Ways to Prevent Scabies at Home
Was this article helpful?