Everyone suffers from minor cuts and injuries now and then. Most of these are harmless, (albeit annoying) and usually heal on their own.
Yet, it is still necessary to provide primary care to any wound, cut, or scrape on your body as these injuries can get infected by bacteria, giving rise to secondary infections. (1)(2)
Not sure how to care for that finger you cut while slicing onions? Don't worry, we have you covered. Here is a brief guide to minor wound care at home.
First-Line Treatment for Minor Wounds
Here is the recommended first-line treatment for minor cuts and wounds:
Wash your hands thoroughly with soap to avoid transferring bacteria from your fingers to the wound. (3)
Clean the wound using soap and water. Wash gently to get rid of any dirt on or near it.
Apply a clean cloth or gauze to a cut that is bleeding. A little pressure should help stop the bleeding soon.
Bandage the cut using a sterile Band-Aid.
Take a mild painkiller such as paracetamol or acetaminophen if the wound hurts a lot. (4)
Take a tetanus vaccine shot if you haven't in the last five years (especially if you cut yourself with a dirty object such as a rusty nail.)
This first aid care should be enough to help most minor cuts heal fast.
However, if your cut appears longer than an inch, is deeper than normal, or won't stop bleeding, you should consult a primary care physician immediately. When cared for properly, most minor cuts should heal completely in 7–8 days.
Home Remedies to Treat Minor Wounds
These are effective at-home treatments you can try to help heal minor cuts and wounds fast.
Note: Always consult your doctor before applying herbs to open wounds.
1. Apply honey
Honey contains potent antimicrobial, anti-inflammatory, and antioxidant properties. It is also highly viscous and provides a soothing, moist environment for wound healing. It has been used as an antiseptic for cuts and wounds for ages. (5)
How to use:
According to research, you can dress your wound using pure unadulterated honey, a mixture of honey and ghee, or honey and tea tree oil to prevent infections and promote wound healing. (6)(7)
2. Use turmeric topically
Turmeric, or Curcuma longa, is another powerful natural antiseptic that can help prevent wound infections. It has anti-inflammatory properties that help reduce swelling and irritation. (8)
Turmeric also contains an antioxidant compound known as curcumin, which can help increase collagen production and thus help build skin tissue faster. (9)
How to use:
You can dust turmeric powder directly on the wound to promote healing.
Alternatively, you can mix half a tablespoon of turmeric with some flaxseed oil or tea tree oil to make a paste. Apply this paste to the wound a couple of times a day.
Note: Turmeric can increase the risk of bleeding in some cases. Do not use it if you are at risk of bleeding. (10)
3. Use calendula flowers
Calendula officinalis, or pot marigold, is a medicinal herb used in a number of natural antiseptic formulations. (11) In fact, calendula cream was used as an antibacterial wound dressing for soldiers in the First World War.
Calendula contains anti-inflammatory properties that help soothe burns, and it is also used to treat inflammatory skin conditions such as eczema. (12) It is an effective antibacterial agent that prevents wound infections.
How to use:
Calendula flowers can be crushed and mixed with a carrier oil to be applied topically to the wound.
You can also make a tincture of calendula flowers by boiling them in some water. Use this water to wash the wound once a day. (12)
4. Apply aloe vera gel
Aloe vera was known as "the plant of immortality" in ancient Egypt due to its many beneficial properties for the body – particularly the skin. (13) Aloe vera is filled with antioxidants, essential amino acids, minerals, and vitamins including vitamins C, E, and B.
Aloe vera gel, extracted from its leaves, has soothing properties and can help provide relief from wound irritation and burning. It has potent antimicrobial properties and helps clean the wound when applied topically. (14)
5. Soothe the wound area with chamomile tea bags
Chamomile has recently gained traction in markets worldwide as a "soothing and calming agent." (15) Chamomile tea is a popular drink used to relieve stress.
Chamomile contains natural oils that help heal the skin and body tissues.
How to use:
Dip chamomile tea bags in cold water, and apply the tea bags topically to the wounds to absorb the natural oils and aid in the healing process. (16)
6. Use plantain leaves for wound healing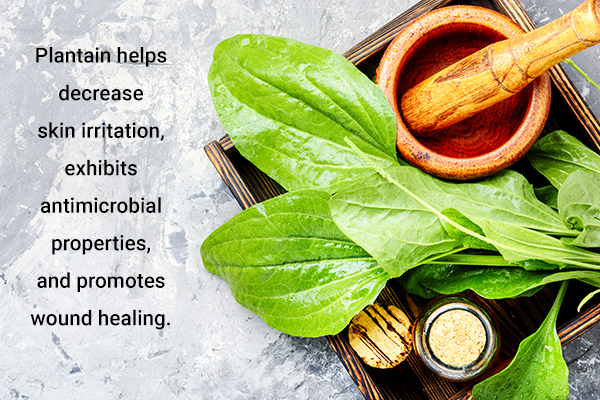 Plantain contains powerful plant chemicals including aucubin and allantoin, both of which help decrease skin irritation, exhibit antimicrobial properties, and promote wound healing. Plantain is a traditional natural remedy for wounds.
How to use:
Crush some plantain leaves, and apply them directly to the wound to help heal it. (17)
7. Using tea tree oil can help soothe the wound
Tea tree oil is widely available in the form of oils or creams. It contains anti-inflammatory properties that may help heal cuts, insect bites, and minor scrapes.
However, tea tree oil should not be used on burns as it can cause further irritation. (18)
8. Give cinnamon a try
Cinnamon tree oil contains antimicrobial, anti-inflammatory, and antioxidant properties that can promote wound healing. Cinnamon-based ointments and creams are sometimes used as wound dressings.
Cinnamon can be a strong compound and should be used sparingly. (19)
9. Apply lavender oil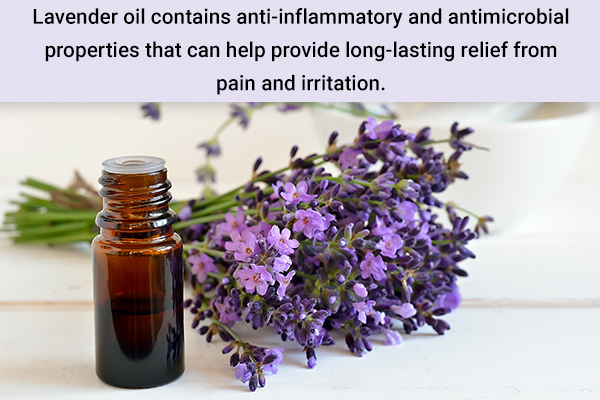 Lavender oil has been used to treat insect bites for centuries. It contains anti-inflammatory and antimicrobial properties that can help provide long-lasting relief from pain and irritation.
Recent studies have shown that lavender may also help increase collagen production to help heal wounds faster. (20)
How to use:
Mix lavender oil with a carrier oil (such as coconut or olive oil) and apply the oil mixture to the wound.
10. Dab on some cayenne pepper
Cayenne pepper is a medicinal and culinary plant used widely in Asian countries. Cayenne pepper powder is filled with antimicrobial properties and can be dusted on wounds to prevent any skin infections. It may also help reduce bleeding in fresh wounds.
Causes of Minor Wounds
A wound technically refers to any injury to the skin or deeper body tissues. Minor wounds include cuts, scrapes, sores, scratches, or burns.
Some possible causes of small injuries you or your child may incur are:
Cuts by handling sharp objects such as knives or scissors
Burns from the stove, oven, hot objects, cigarette lighters, etc.
Scrapes and scratches from a fall
Signs and Symptoms of Minor Wounds
Symptoms that may accompany minor wounds include:
Light bleeding
Redness or irritation
Pain and burning sensation
Inflammation (21)
Dietary Interventions That Can Assist in Wound Healing
Eating foods rich in antioxidants and anti-inflammatory practices can increase wound healing significantly.
1. Add foods that support fast healing
Consume the following nutrients to facilitate wound healing:
Vitamins: Vitamins A, C, K, and E help promote wound healing and blood clotting.
Zinc: Zinc helps regrow skin tissues faster.
Clean, lean protein: Protein is essential to help increase collagen production in the body. Collagen helps heal wounds and scars.
Consuming nutritious foods such as oranges, papayas, lentils, green leafy vegetables, milk and milk products, seafood, and organic chicken and meat should provide you with all of the above-mentioned nutrients.
2. Avoid foods that slow healing
You may want to avoid consuming a few types of foods that can delay the healing process. These include:
Alcohol: Alcohol can increase inflammation in the body and slow down the healing process.
Processed foods: Processed foods contain preservatives, chemicals, excess sugar, and other ingredients that may delay the wound healing process.
Sugar: It is best to lower your sugar consumption while waiting for a wound to heal as it can cause swelling and slow down the process (especially if you are diabetic). (22)
Factors Preventing Wound Healing
The following factors can prevent or slow wounds from healing:
Medical conditions such as diabetes or hypertension
Alcohol consumption or smoking
Reduced blood circulation
Stress
Poor dietary habits
Certain medications such as NSAIDs (nonsteroidal anti-inflammatory drugs) and chemotherapy drugs
When to See a Doctor
Seek immediate medical attention if:
Your wound hurts a lot even after a couple of days.
You develop a sudden fever.
You notice pus or unusual discharge from the wound.
Your wound doesn't stop bleeding.
You notice swelling near the wound.
You smell a foul odor from the wound.
You are diabetic and notice any of these symptoms on your wound. (23)
Most of these are signs of wound infections. These infections can be serious at times and should be treated by a doctor.
Most-Asked Questions About Cuts and Wounds
Can Vaseline heal cuts?
Vaseline is just a formulation of petroleum jelly and does not help heal scars or cuts.
When will the wound start to heal?
The wound will start to scab as it heals. Make sure to not pick at the scab to avoid secondary infections. You can use natural moisturizers such as coconut or olive oil to help heal wounds.
Should water or an antiseptic be used to clean a wound?
Yes. You can use clean water or mild antiseptics to clean a wound. (24)
Why are antiseptic lotions and creams not recommended for use on wounds?
Strong antiseptic solutions such as hydrogen peroxide or povidone-iodine solution can damage the body tissues and delay healing in an open wound. Thus, it is best to avoid them unless specified by your doctor.
Final Word
The main stages of wound healing are:
Controlling the bleed and allowing it to clot
Cleaning and sanitizing the wound
Preventing infections with bandages, antiseptic ointments, etc.
Allowing the skin tissue to heal
When proper attention is paid to these simple practices, the wound heals easily. If a wound does not seem to heal even after following all the above practices, it is highly recommended to consult a doctor as early as possible.
Was this article helpful?