Herpes broadly refers to a collection of more than 100 different viruses, but this article will focus on herpes simplex virus types (HSV). This strain is further divided into HSV type 1 and HSV type 2, both of which are highly contagious and routinely infect humans but in different parts of the body. (1)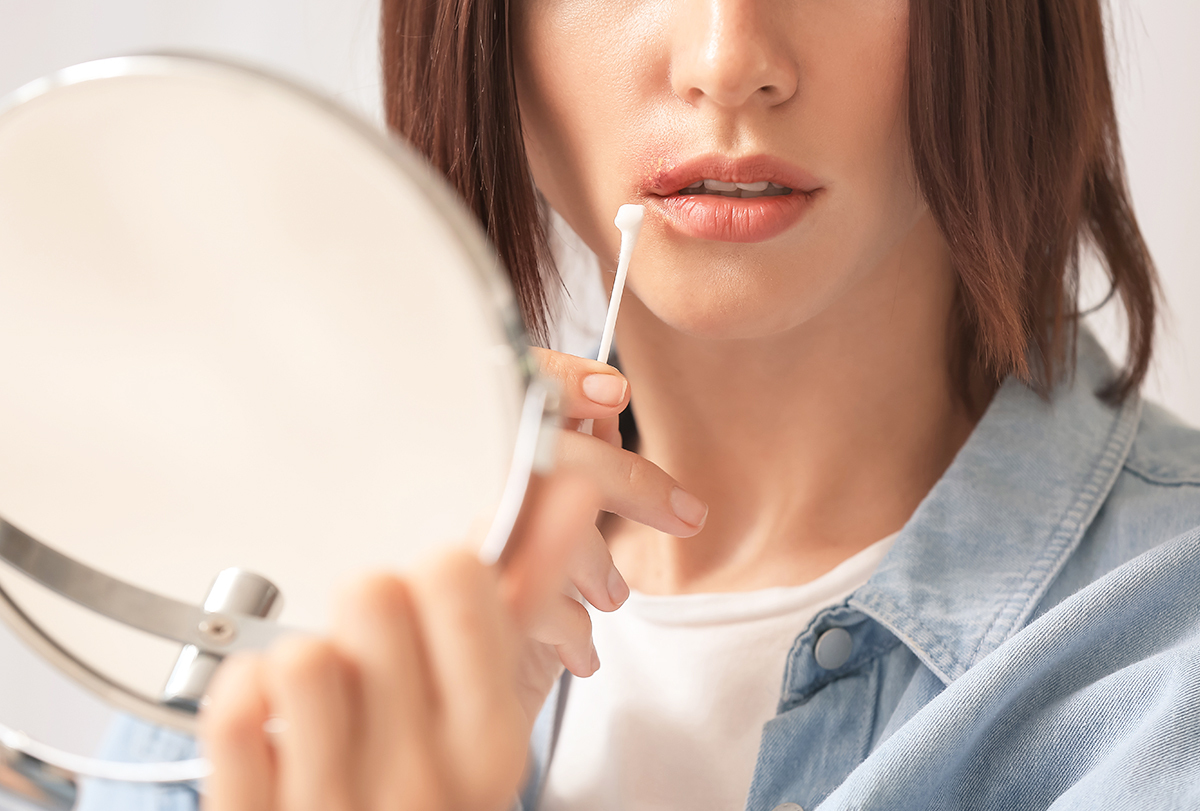 Read on to learn about some useful tips and remedies that can help ease the symptomatic discomfort caused by herpes and reduce its recurrence. (2)
Home Remedies for Herpes
Here are a few natural ways to manage herpes:
1. Apply hot and cold treatment
The application of warm and cool temperature on the painful blisters can help provide relief. The gentle heat stimulates blood circulation in the area, reducing inflammation and promoting healing.
Meanwhile, topical cold helps numb the underlying nerve endings to make you feel less pain, but this only lasts a short while. It also helps bring down swelling.
How to use:
Take warm showers or soak your body in a warm bath like a sitz bath.
Apply a cold compress over the affected skin for 10 minutes, every few hours. The simplest way to make your own cold compress is by wrapping a few ice cubes in a soft, clean tea towel. (3)
Note: Don't bathe in hot water as that can be too harsh and drying for your skin. Similarly, don't apply ice directly to your skin as it can cause further damage and even lead to frostbite.
2. Use herbal applications
According to one review analysis, over 50 medicinal plants have shown the potential to fight HSV infections. (4) Of these, the most common herbs that can easily be used in home remedies include echinacea, goldenseal, chebulic myrobalan (Terminalia chebula), aloe vera, tulsi (Ocimum basilicum), neem, and algae.
The beneficial oils include oils from lemon balm (Melissa officinalis), tea tree, chamomile, ginger, and thyme. (4)
Propolis, also known as "bee glue," a wax-like substance that is collected from local flora by honeybees, is yet another botanical agent that has shown efficacy against oral and genital herpes. (5)
How to use:
Pour some hot water into a mixture of goldenseal, Indian lilac, echinacea, holy basil, and chebulic myrobalan to make a paste. Apply this paste to the sores every day.
Extract some fresh aloe vera gel and apply it directly to the blisters, 3 times a day.
Soak echinacea tea bags in hot water for a few minutes, let them cool a little, and then place them on the blisters.
A douche is a small piped equipment used for vaginal irrigation. It squirts a stream of water into the vaginal opening to clean and wash it from the inside. Instead of using plain water, you can fill the douche with a therapeutic infusion of medicinal herbs in water. This will work both as an antiseptic and a pain reliever. Here's how:

Steep 2 teaspoons of goldenseal in 1 pint of water for 20 minutes, and douche with this mixture 2–3 times a day.
Steep 2 teaspoons of chebulic myrobalan in 1-pint water for 20 minutes, and douche with this mixture 2–3 times a day.
3. Try essential oils at genital/mouth sores
Essential oils are extracted from medicinal plants, where they get their healing properties from.
However, these are potent liquids that can be too harsh on the skin if applied directly. So, you will have to dilute them in a carrier oil such as olive oil or coconut oil before application.
Some of the most recommended essential oils for healing genital and oral herpes are tea tree oil, thyme oil, and ginger oil.
How to use:
You can either use them all together or individually, but make sure to add olive oil/coconut oil to the mix as well. Apply the oil blend to the infected area.
4. Apply lemon balm tincture
Mix a few drops of the lemon balm tincture in water or olive oil and then use a clean cotton pad to apply this liquid to the affected area.
Symptoms of Herpes
The infection caused by HSV-1 produces no symptoms in most cases, but it can sometimes cause lesions in and around the mouth, which are generally referred to as cold sores or fever blisters.
These ulcers can be itchy, painful, and recurrent, but the severity varies from patient to patient. Plus, the skin around or inside your mouth may sting, itch, or tingle before the appearance of these lesions.
The infection caused by HSV-2 may be asymptomatic or mild, and sores on the genitals and anus are its prime symptoms. For this reason, it is commonly known as genital herpes. Moreover, you may experience painful urination and vaginal discharge during the course of the infection.
In addition to the characteristic symptoms of oral and genital herpes, people often develop flu-like symptoms such as a high temperature, body ache, and swollen lymph nodes in the groin area during their first bout with this infection.
Herpes Transmission
HSV-1 largely spreads through contact with the saliva or sores of an infected person. It can even get transferred to the skin around the person's mouth, and touching it can pass the infection onto you. Thus, kissing an infected person or sharing their food, utensils, lipstick or lip balm, cigarette, razor, or toothbrush can give you oral herpes.
HSV-2 is mainly transmitted through sex and is categorized as a sexually transmitted infection (STI). The virus is present in the genital sores or on the infected skin of the genital and anal area, and touching these contaminated surfaces can spread the infection to you.
Moreover, HSV-1 can be transferred to the genital area during oral sex and trigger genital herpes. However, many a time herpes may be completely asymptomatic.
In fact, most people contract this virus from asymptomatic patients since there are no warning signs to avoid contact and take precautions. This is often referred to as asymptomatic viral shedding. (6) Thus, you don't need to have active sores in order to be contagious. 
Recurrence of Herpes
For the herpes simplex virus to cause an infection, it needs to gain entry into your body via the mouth, penis, vagina, or anus.
The resultant infection lasts a lifetime and may trigger repeated outbreaks over several years. However, the frequency and severity of these recurrent episodes diminish over time.
A few factors that can trigger a recurrence include:
Taking a lot of stress
Contracting another illness
Fatigue
Too much sun exposure
Menstrual period
Treatment for Herpes
Herpes simplex is incurable, but there are treatments that can help reduce the severity and frequency of its outbreaks.
The doctor may write you a prescription for a topical and oral antiviral medication such as acyclovir, famciclovir, and valacyclovir. These medications weaken the virus to render it less contagious, thus reducing the risk of transmission.
Diagnosing Herpes
The doctor can usually diagnose symptomatic cases of herpes by simply looking at the active sores. This may be followed by a swab test, wherein a swab sample is taken from the sore and sent to the lab for closer analysis.
The report will confirm the initial diagnosis. Asymptomatic cases are harder to detect for obvious reasons and are usually caught accidentally on other blood tests.
Dietary Changes to Manage Herpes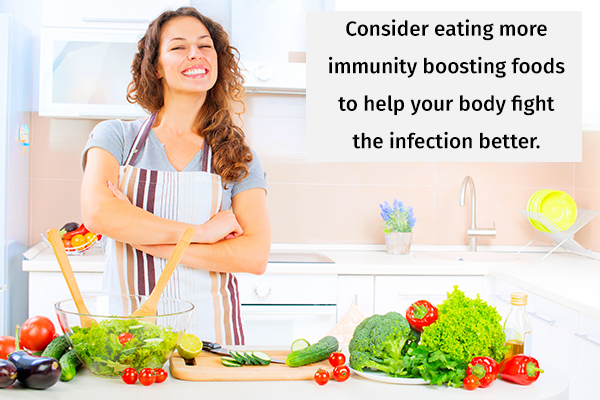 Consume more immunity-boosting foods to help your body fight the infection better. This will not only shorten the duration of the outbreak but will also potentially reduce the risk of recurrence.
A few nutrients that you should include in your diet are:
Vitamin C
Zinc
B vitamins
Natural probiotics
Treatment with greater than 3 g of lysine per day has shown some beneficial effects in managing HSV infections, but the research results are modest and inconsistent. (4)
How to Prevent Herpes?
Here are a few measures to avoid contracting and spreading herpes:
If you have cold sores, avoid all kinds of oral contact with others, which includes kissing and oral sex. Moreover, don't share your food and personal items with others, which include utensils, razors, or any other object that may have your saliva on it.
Don't have sex during an active episode of genital herpes.
Safe sex using a condom is the best way to avoid genital herpes.
Who Gets Herpes Infections?
Most cases of HSV-1 (herpes simplex type 1) are detected in infants and young children, while HSV-2 is mainly prevalent among sexually active adults.
Also, you have an increased risk of contracting genital herpes if you are:
Female
Having multiple sex partners
Low in immunity due to an illness or immunosuppressant medication
Becoming sexually active at a relatively young age
Contracting another STD or having had one in the past (6)
Final Word
There is no permanent treatment for herpes yet, and it tends to flare up time and again after the first outbreak. The good thing is it becomes less severe and frequent over time.
In symptomatic cases, the sores can be quite painful, ugly, and discomforting, but there are many home-based interventions and over-the-counter medications that can provide relief and facilitate a quick recovery.
Herpes does not qualify as a medical emergency, but it can take a turn for the worse in certain cases, which are better handled by a medical professional. This mainly applies to severely immunocompromised patients who may be suffering from cancer or HIV/AIDS or those who have had an organ transplant.
Was this article helpful?