Blotchy skin refers to patches of discoloration or redness on your body. Uneven skin tone can be caused by a variety of factors and can be very distressing for people suffering from it.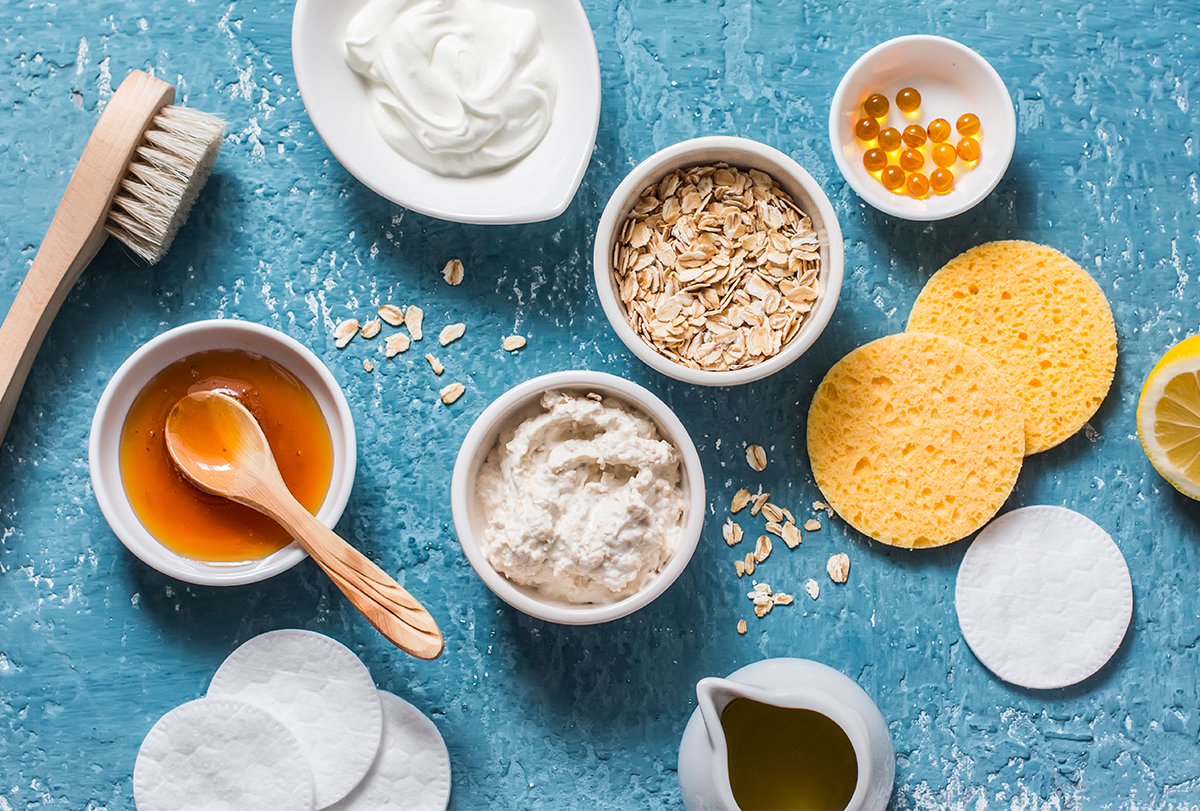 However, most cases of patchy skin are temporary and can be cured with the right treatment.
Home Remedies to Fix Blotchy and Uneven Skin
Here are a few home remedies that may help reduce blotchy and uneven skin.
Note: It is advised to do a patch test first before applying any of these home remedies. Also, avoid these home remedies if you have diseases such as dermatitis and rosacea.
1. Use orange peel powder
Oranges are high in vitamin C and folic acid, (1) both of which help to improve skin tone. Homemade face packs made with orange peel powder help to cleanse the skin and give it a healthy glow.
Orange peel powder contains enough calcium to help the skin renew and rejuvenate. It is also abundant in polymethoxyflavonoids (PMFs), which have anti-inflammatory activity and offer protection against or alleviation of UV damage. (2)
How to use:
Mix 1 tablespoon of yogurt, 1½ tablespoons of orange peel powder, and a few drops of rosewater in a mixing bowl.
Apply the paste to your skin.
Allow for 15–20 minutes of resting time before rinsing it off with cool water.
2. Apply aloe vera gel
Aloe vera gel contains several antioxidant and anti-inflammatory properties that can help cure redness and inflammation. (3) It is also a natural moisturizer that helps keep your skin soft and supple. (4)
How to use:
Squeeze the gel out of an aloe vera leaf into a bowl.
Add 2 tablespoons of vitamin E oil into this gel and mix properly.
Apply this paste all over your skin using your fingers, and leave it to rest for around 20 minutes.
Rinse it off with water.
3. Use Himalayan wild honey
Himalayan honey is a natural product of wild honeybees found in the Himalayan mountains of Nepal. (5) It is one of the oldest and most effective natural remedies for skin issues.
Himalayan honey contains powerful antioxidant, anti-inflammatory, (5) and antiseptic properties that can help rejuvenate the skin and get rid of pigmentation. It is also being recently touted as a natural remedy for eczema.
Honey is a humectant, which means it draws moisture from the air into your skin to keep it hydrated. (6) Honey is also a rich source of vitamins and minerals vital for healthy skin. (7)
How to use:
Evenly massage 1–2 tablespoons of Himalayan honey all over your face using your fingers.
Leave it to rest for 15 minutes.
Rinse off with water.
4. Use yogurt-based face packs
Yogurt contains lactic acid, which is a natural exfoliant. Lactic acid can help cure skin redness by getting rid of dead skin cells and dirt from the skin's surface. (8)
Yogurt can also be an excellent remedy for sunburns due to its cooling nature.
How to use:
Mix 1 tbsp plain yogurt, ½ tsp sandalwood powder, and ½ tsp turmeric powder in a bowl to form a paste.
Apply this mixture to areas affected by redness, sunburn, or discoloration.
Leave it to dry for half an hour.
Rinse it off with lukewarm water.
5. Apply green tea
Green tea is widely used as treatment for swelling and inflammation. (9) It contains antioxidants that help get rid of redness and blotchy skin. (10)
How to use:
Soak a green tea bag in 1 cup of warm water for 10 minutes and then remove the tea bag.
Mix 1–2 tablespoons of rice flour and ½ tablespoon of aloe vera gel into this tea to form a paste.
Apply this paste to areas affected by blotchy skin.
Leave it to dry for 20 minutes.
Wash it off with lukewarm water.
6. Dab on some oatmeal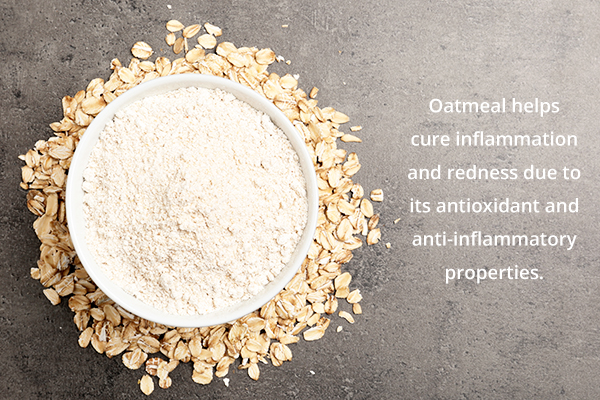 Oatmeal helps cure inflammation and redness due to its antioxidant and anti-inflammatory properties. (11) It also helps moisturize dry skin, which can cure scaly, red patches caused by excessive dryness. (12)
How to use:
Heat 1 cup of goat milk on a stove and add 3–4 tablespoons of oatmeal powder.
Cook this mixture until the oatmeal dissolves.
Add 2 tablespoons of coconut oil and mix.
After cooling, apply this paste evenly to your skin.
Leave it to rest for 15–20 minutes.
Rinse it off with water.
Tips to Manage Blotchy and Uneven Skin
These small changes to your daily routine can greatly help in preventing and managing blotchy and uneven skin:
1. Use sunscreen
Sunscreen is an essential part of skin care. Make sure to apply a sunscreen with an SPF of 30 or higher at least 15–20 minutes before stepping out into the sun.
2. Exfoliate your skin once a week
Skin exfoliation helps get rid of dead skin, grime, and older skin cells from the surface of the skin. Exfoliate your skin once or twice a week for best results.
3. Diet
Your diet plays a significant role in the overall health of your body, and the skin is no exception. Consume a diet of fruits and vegetables rich in water and foods rich in omega-3 fatty acids such as fish, olive oil, and walnuts for a smooth and bright skin tone.
4. Stay hydrated
It is no secret that drinking a healthy amount of water is vital for youthful skin. Drink at least 7–8 glasses of water per day to reduce dark spots and discoloration.
5. Use mild skin care products
Harsh skin care products can take a toll on your skin's health. Always use products free of harsh chemicals and artificial fragrances to prevent acne, dryness, and rashes.
6. Use pH-balanced products
The skin tends to maintain a natural pH of 5.5. Imbalances in the pH could lead to acne breakouts, redness, and irritation. Use neutral or mildly acidic skin care products to preserve your skin's natural oils and pH levels.
7. Prevent flare-ups of rosacea
Rosacea is a well-known factor for redness and blotchy skin. The best-known treatment for rosacea to date is avoiding things that trigger it such as environmental pollutants, hormone imbalances, and dietary factors.
Final Word
Blotchy and uneven skin can affect your confidence and social activities. However, try to keep in mind that the appearance of your skin should not determine your self-esteem.
Follow these above-mentioned home remedies and lifestyle changes to treat your hyperpigmentation and dark spots. Contact your doctor if your condition worsens or does not improve.

Continue ReadingWhat Causes Blotchy Skin and How to Treat It
Was this article helpful?