People commonly want a healthy-looking, evenly toned, glowing skin. However, skin health is impacted by various factors, including pollution, sun exposure, weather, and skin products used. These factors can easily replace a fresh-looking face with dull-looking skin.
Since skin dullness is generally caused by external factors, you can use different home remedies and observe self-care measures to help rejuvenate your skin, making it appear more youthful.
Home Remedies for Skin Rejuvenation
The following home remedies, using natural or easily available ingredients, can bring back the fresh and even tone to your dull skin and improve its appearance.
Disclaimer: Since the skin, especially facial skin, is thin and delicate, it can get easily irritated by any new topical ingredient. So to avoid adverse skin reactions such as burns and rashes, first perform a patch test of the remedies on the underside of your arm. If irritation occurs, avoid their use.
Needless to say, people who are allergic to any of the ingredients in the remedy should not use it. Those with sensitive skin are advised to take special precautions before trying out any topical remedy.
1. Apply honey
Honey contains high amounts of minerals, vitamins, and sugars such as fructose and sucrose that moisturize the skin. Honey also possesses anti-inflammatory, antioxidant, and antimicrobial polyphenols that contribute to skin health.
Additionally, the topical use of honey can help lighten and gently exfoliate the skin. (1)
How to use:
Put a few drops of medical-grade, raw, or organic honey on half a lemon.
Rub the lemon on your face in upward strokes.
Rinse your face after 10 minutes.
Repeat this remedy once or twice a week for best results.
2. Dab some lemon
Lemon is rich in vitamin C, which works as an antioxidant. Moreover, it helps lighten and brighten the skin by acting as a natural bleaching agent. (2)
How to use:
Mix 1–2 tbsp of lemon juice with water. You can also add vitamin E oil for added benefits. (3)
Using a clean cotton ball, apply this solution to your face and other affected areas.
Rinse after 15 minutes.
Moisturize your face after washing and apply sunscreen.
Caution: Discontinue use immediately if you feel a tingling sensation, as lemon juice is acidic and corrosive.
3. Use aloe vera gel
Aloe vera gel is popularly used for its various dermatological benefits. The active compound present in aloe vera gel, known as aloin, helps lighten the skin. (4)
Additionally, the mucopolysaccharides in aloe vera gel help bind moisture to the skin, while the polyphenols act as antioxidants to help manage oxidative damage. Aloe vera also contains anti-inflammatory properties that help manage skin inflammation.
How to use:
Extract aloe vera gel from a freshly cut leaf, and gently massage it on the skin. Wash after 15 minutes.
Mix about 2 tbsp of the gel with 1 tsp of lemon juice, 1 tsp of vitamin E or olive oil, and 1 tbsp of honey to prepare a mask. Apply the mask to your skin, and wash after 15–20 minutes.
4. Exfoliate using alpha hydroxy acids
Alpha hydroxy acids, including glycolic acid, lactic acid, and malic acid, are highly efficient in exfoliating the skin. These are commonly used in the clinical setting for chemical peels.
Alpha hydroxy acids help remove dead skin cells and brighten the skin. Moreover, the use of these acids can help rebalance skin pH, therefore preventing infections and blemishes. (5)(6)
The most commonly used natural alpha hydroxy acid sources include milk and yogurt. These contain lactic acid and can be safely used at home.
How to use:
Mix 1–2 tbsp of Greek yogurt with 1–2 tbsp of honey and add ½ tsp of turmeric powder.
Apply the paste to your skin. Make sure to exfoliate the skin all over your body instead of focusing on the face only.
Rinse after the mask dries.
Pat your skin dry and moisturize as usual.
Repeat this remedy once or twice a week.
5. Make a cucumber facial mask
Cucumber extracts contain vitamins A and C, antioxidants, and water. This rich composition can help moisturize, brighten, and soothe irritated skin and also help inhibit sebum secretion. Cucumber also exhibits anti-inflammatory properties. (7)(8)
How to use:
Grate half a cucumber and mix it in ½ a cup of yogurt.
Apply the mask to your face and neck.
Rinse using lukewarm water after 20 minutes.
Note: If you are out of cucumbers, use potato juice instead as it is known to have similar effects.
6. Apply turmeric
Turmeric is a readily available ingredient that is commonly used as a spice in many cuisines. It possesses various medicinal properties, including anti-inflammatory effects.
The use of turmeric powder in facial masks can impart a radiant glow to the skin. It is especially useful in treating acne.
How to use:
Mix turmeric with fuller's earth or sandalwood to make a facial mask. You can also add vitamin E oil or plant oil if the paste is dry.
Apply a thin layer of the paste to your face.
Rinse after 15 minutes.
7. Use a papaya mask
Papaya contains plenty of antioxidant vitamins such as vitamins A, C, and E, (9) which can help repair and rejuvenate the skin. (10) It also contains alpha hydroxy acids that exfoliate the skin.
Moreover, the topical application of papaya moisturizes the skin, making it softer and smoother.
How to use:
Mash 2 tbsp of ripe papaya and mix it with ½ tsp of lemon juice and 1 tbsp of honey.
Apply the paste to your face.
Wash after 15 minutes.
8. Exfoliate and moisturize with oatmeal
Colloidal oat extracts provide anti-inflammatory and antioxidant effects that can help improve the appearance of dull skin. (11)(12)
How to use:
Mix 2 tbsp of ground oatmeal with 1 tsp of honey. Add rose water or plain water to the mixture to form a paste. Massage this paste gently on your skin, and rinse with warm water after 10 minutes.
Add oatmeal to your bathwater, and soak your body in it for about 20 minutes.
Self-Care Measures for Dull Skin
In addition to using home remedies to rejuvenate your skin, it is vital to take proper care of your skin every day. Following some simple skin care measures can aid skin recovery and prevent skin dullness.
1. Improve your diet
It is essential to consume a well-balanced diet and include antioxidant-rich foods in your meals to help manage dull skin. These include:
Omega-3 fatty acid sources, such as freshwater fishes, diet nuts, flaxseeds, chia seeds, canola oil, soybean oil, and bone broth. (13)
Vitamin-D rich foods, such as eggs and milk, since skin dullness can be a result of vitamin D deficiency.
Protein and amino acids from leek, tomatoes, avocados, green peppers, fenugreek seeds, dried apricots, sardines, eggs, and cods.
Vitamin C sources, including citrus fruits for collagen synthesis. (14)
Genistein isoflavones found in soy products, such as soy flour, soy milk, tempeh, soy protein, and miso, to increase collagen synthesis. (15)
β-carotene sources, such as carrot juice, spinach, pumpkin, sweet potato, turnip, greens, squash, and cantaloupe. This carotenoid acts as a natural sunscreen and helps prevent photoaging. (16)
Probiotic foods, including Greek yogurt and kimchi, to help balance your gut microflora. (17)
2. Take supplements
Consider the use of supplements to help increase your intake of the above-mentioned nutrients. However, you must always consult a doctor before taking any supplements.
You may also consider the use of hyaluronic acid supplements that can help reduce the appearance of wrinkles, skin sagging, and fine lines by stimulating collagen synthesis. (16)
3. Moisturize your skin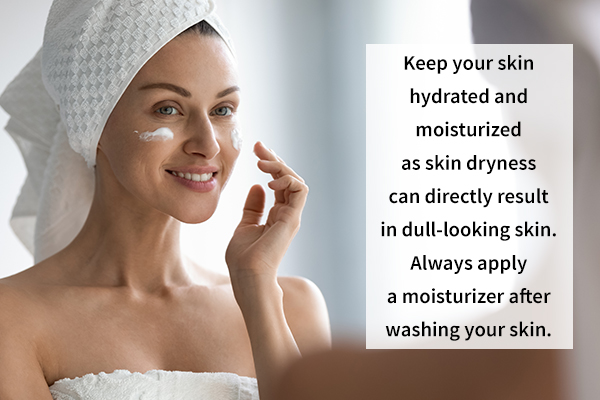 It is vital to keep your skin hydrated and moisturized as skin dryness can directly result in dull-looking skin. Always apply a moisturizer after washing your skin.
Prefer using moisturizing creams over lotions. Choose moisturizers that contain ceramide, jojoba oil, hyaluronic acid, corn husk, dimethicone, glycerin, or salicylic acid. You can also apply petrolatum jellies, such as Vaseline or beeswax-based creams, over the moisturizer to help lock in the moisture.
4. Massage your skin
Massaging your skin with oils can help increase blood circulation, besides moisturizing the skin, thus helping improve your skin health. You can use plant oils such as olive oil, coconut oil, almond oil, or jojoba oil for the same. For excessively dry skin, you can try using castor oil.
Take a few drops of oil on your palms and massage it on the skin at bedtime or after a bath. (18)
5. Protect your skin from the sun
Always apply sunscreen, with an SPF of 30 or higher, 15 minutes before stepping out of the house to prevent photodamage caused by UV rays. Reapply every 2 hours or after exercising.
Moreover, avoid stepping out between 10 am and 3 pm, when the sun is at its strongest. If you have to venture outdoors, seek shade whenever possible. Wear full-sleeved clothing, sunglasses, and large-brimmed hats to protect your skin from the sun.
6. Stay hydrated
Consume at least 8 glasses of water every day to keep yourself and your skin hydrated. You can also drink fresh fruit juices to increase your intake of micronutrients while hydrating the body.
7. Avoid harsh chemicals
Do not use harsh soaps and detergents to wash your face. Moreover, avoid buying cosmetics that contain parabens, sulfates, and alcohol as they can irritate the skin. Instead, look for hypoallergenic and noncomedogenic products.
8. Keep your skin clean
Wash your face using a mild, pH-balancing cleanser at least twice a day. Avoid foaming cleansers as they are generally highly alkaline. You can consult your dermatologist on the facial cleanser that is best suited for you. It is also vital to remove your makeup before bedtime.
9. Exfoliate
Gentle exfoliation with a mild scrub at least once a week helps remove the impurities, oil, and dead cells settled inside your pores for a deep cleaning effect.
The damaged upper layer of the skin is sloughed off to be replaced by fresh skin that is brighter, smoother, and softer. The topical stimulation also enhances blood circulation, which delivers more nutrients and oxygen to the skin.
You can make your own scrub at home with natural ingredients such as sugar, salt, walnut, or slightly ground uncooked rice grains. Simply add any of these to honey or yogurt and massage the paste on your skin with gentle, circular motions.
10. Relax
Your skin needs proper rest to stay healthy. A sound sleep of 7 hours every night aids in skin repair and rejuvenation.
It is also important to manage stress as it can directly impact skin health. You can try performing yoga, meditation, and aromatherapy to manage your stress levels. Additionally, you can contact specialists for biofeedback and acupuncture therapy to relieve stress that is causing visible skin symptoms such as acne.
11. Refrain from using harsh cloths
Avoid the use of harsh fibers that can irritate the skin. Moreover, do not rub your skin dry with a towel; pat it dry using a soft cloth instead. Also, refrain from using scrub brushes, bath sponges, and wash clothes to avoid trauma to the skin.
12. Take short baths
Do not stay in the shower for more than 10 minutes daily. It is also essential to avoid the use of hot water while bathing as it can dry out the skin.
13. Use home-based devices
Devices such as jade rollers and radiofrequency devices can help tighten the skin, stimulate collagen synthesis, destroy fat cells, and aid in skin rejuvenation. (19)
14. Avoid tobacco and alcohol
The use of tobacco or cigarettes and intake of alcohol can increase oxidative stress in the body and cause skin dullness. (20)
15. Exercise regularly
Daily exercising contributes greatly to overall health by speeding up metabolism and eliminating toxins, among other benefits. It is suggested to include cardio exercises and resistance training in your exercise regimen.
16. Use OTC products
OTC products containing vitamin C or E, niacinamide, ferulic acid, resveratrol, green tea extracts, (21) and licorice extracts (22) can help brighten the skin.
17. Turn on your humidifier
Using an indoor humidifier during the dry weather seasons can help prevent skin dryness.
Most-Asked Questions About Skin Rejuvenation
Can a banana facial mask help in skin rejuvenation?
The use of a banana mask to have glowing skin is a popular anecdotal remedy. It is believed that banana contains antioxidant vitamins that may be beneficial for some. However, there is no scientific study that supports its use.
Does the use of tomato juice impart a glow to the skin?
Tomato juice is often suggested to help reduce the appearance of age spots on the skin. However, there is limited evidence to support its use.
A study suggested that the lycopene content of tomatoes can help clear radiation damage. (23) Since the remedy is generally safe, it can be tried to check its efficacy on the user.
Simply rub a slice of tomato on the age spots and rinse after 10 minutes. You can also extract some tomato juice and use it to prepare any mask mentioned above.
Is rose water useful for skin rejuvenation?
Rose water has been popularly used to treat various skin problems. Many users claim it helps brighten and lighten the skin. It may also help make the skin supple and smooth.
You can make fresh rose water at home and apply it directly to the skin or use it in place of water to prepare a mask. Alternatively, you can buy and use rose water-based serums, body washes, and creams.
Final Word
People often complain of having dull-looking skin, which lowers their confidence. In some cases, dull skin stems from underlying medical issues, but most often, it is only a result of environmental exposure or improper care.
The above-mentioned home remedies and self-care measures can help rejuvenate your skin. If such measures don't work, it is best to consult a doctor and get a proper diagnosis.

Continue ReadingDull Skin: Causes, Symptoms, Treatment, and Complications
Was this article helpful?