Whenever the sebaceous or oil glands in your skin produce excessive oil, you develop oily skin. This is largely influenced by your hormones and genetic makeup.
It is best to regularly clean your skin with soap and warm water or a cleanser to manage oily skin. Moreover, use only oil-free products on your skin.
Home Remedies for Oily Skin
Caution: Do a patch test to make sure that you are not allergic to any ingredient before applying a mask or scrub to your face.
Several natural ingredients can help remove excess oil from the skin and unclog the pores.
1. Make a fuller's earth face mask
Fuller's earth is derived from clay and is widely used for brightening, lightening, and treating marks and spots. The absorbent properties of fuller's earth help in oil reduction.
How to use:
Make a paste by mixing 2 tablespoons of fuller's earth with water.
Apply the paste to your face and allow it to dry for 15 minutes.
Wash your face with water.
2. Use turmeric and sandalwood
A turmeric-based face mask with orange juice is beneficial for oily skin. The high vitamin C content of citrus fruits, such as oranges, helps in brightening and rejuvenating the skin as well as treating acne. (1)(2)
How to use:
Mix ¼ teaspoon of turmeric powder with 2 tablespoons of sandalwood powder.
Add 2–3 tablespoons of orange juice, and combine to form a smooth paste.
Apply the mask to your face, and rinse it off after drying.
3. Apply an oatmeal and egg white mask
Oatmeal is a natural moisturizer that aids in reducing skin oiliness. It also has anti-inflammatory properties that can prevent acne formation. (3) The vitamin A in egg white can help in unclogging pores and removing oil as the mask penetrates the skin.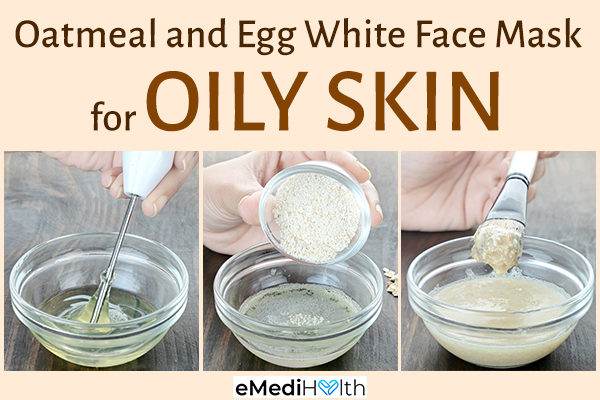 How to use:
Break open an egg and separate the egg white from the yolk. Beat the egg white using a whisk.
Add ¼ cup of ground oatmeal, and mix them well.
Spread the mixture on your face, and let it dry for 15 minutes.
Wash your face with warm water.
4. Scrub with coffee grounds and honey
Coffee is rich in antioxidants and stimulates elastin and collagen synthesis, thus providing firmness to the skin. (4)
Honey moisturizes the skin and gets rid of excess oil. (5) It can also help in preventing wrinkles and clearing pores. Honey also has antibacterial properties and aids in the prevention of acne.
How to use:
Form a thick paste using equal portions of honey and used coffee grounds.
Gently massage the paste on your face in circular motions, like a scrub.
Rinse your face with warm water.
5. Use aloe vera gel
Aloe vera possesses antimicrobial and oil absorbent properties. Moreover, it can help even out your skin tone. (6)
How to use:
Apply fresh aloe vera gel to your face and neck. Allow the gel to dry for 15–20 minutes, and wash with water.
You can also boil the aloe vera leaf in water, grind it, and mix in one tbsp of honey. Apply this mixture as you would use fresh aloe vera gel.
You can also use aloe vera-based cleansers and moisturizers.
6. Apply tomatoes
The high vitamin C content of tomatoes helps brighten your skin and control oil production. (1)(7)
How to use:
Cut a tomato in half, and rub it on your face in a circular motion.
Allow it to dry for 15 minutes, and rinse with cold water.
7. Use green tea
Green tea is loaded with antioxidants and polyphenols that help remove toxins, control oil production, and reduce inflammation. (8)
How to use:
Boil green tea leaves in a cup of water. Strain and pour the tea into a spray bottle. Spray the solution on your face regularly.
Alternately, you can refrigerate used cold tea bags and place them on your face for 15–20 minutes.
8. Apply lemon to your face
Lemon contains citric acid that helps shrink the pores and thus control oil production.
How to use:
Mix 2 teaspoons of lemon juice in 2 teaspoons of water.
Add 1 teaspoon of glycerine to the mixture.
Using a cotton ball, apply the mixture to your face.
Rinse after 20–30 minutes.
Use this mask two times a week.
9. Use almonds for exfoliation
Ground almonds are excellent natural exfoliators that also absorb excessive oil.
How to use:
Mix 3 teaspoons of ground almond with 2 teaspoons of honey to form a paste.
Apply the mixture to your face, and gently massage in a circular motion.
Wash off the mask with warm water after 15 minutes.
Preventive Self-Care Measures for Oily Skin
While all skin types need care, oily skin needs more attention to prevent acne breakouts. Here are some tips to prevent oily skin:
1. Use oil-free, non-comedogenic products
Skincare products such as moisturizers, cleansers, and makeup that are labeled as oil-free prevent clogging of pores and acne.
2. Apply sunscreen
Daily use of sunscreen is important for the prevention of skin damage as sun exposure can lead to the formation of age spots, wrinkles, and even cancer.
3. Use a moisturizer
Keep your skin well hydrated during the day by applying an oil-free moisturizer to decrease the production of sebum.
4. Clean your face regularly
Use a non-oily and mild cleanser to clean your skin. Wash your face in the morning and evening and after performing heavy exercises.
5. Exfoliate your skin
Exfoliating your skin weekly to get rid of dirt and dead skin cells is essential. You may use facial cleansing brushes that allow gentle exfoliation of the skin.
6. Use blotting papers
To remove excess oil, press blotting papers against your face and allow absorption. Do not rub the paper on your skin to avoid spreading the oil to other areas of your face.
7. Use a toner
A toner may help remove dirt and oil from the face. Select a toner that does not dry out your face, as dryness can stimulate oil production. Ingredients to look for in a toner include salicylic acid, lactic acid, glycolic acid, and/or witch hazel.
8. Do not touch your face
Touching your face repetitively can transfer oil, dirt, and bacteria from your hand to your face. Touching or pressure (leaning on your hand) can also increase oil production, leading to acne.
9. Pat your skin dry
When drying your skin, gently tap your skin with a soft cloth instead of rubbing it with a towel or rough cloth.
10. Eat a well-balanced diet and maintain hydration
Consuming foods high in omega-3 fatty acids, fiber, vitamin C, and zinc can help in controlling oil production.
11. Remove your makeup before sleeping
Make sure to remove your makeup at the end of the day, as leaving it on overnight may clog your skin pores and cause problems. Seek medical help if you experience excessive oil secretion that is causing skin problems, as delaying treatment can worsen the condition.
Most-Asked Questions About Oily Skin
Does humidity trigger oil production?
While the skin may appear oilier in humid conditions, no study has established the effect of weather on the activity of sebaceous glands. The feeling of excessive oil production may be due to an increase in the fluidity of the sebum, making it more discomforting.
Can pregnancy cause excessive oiliness in the skin?
An influx of hormones can cause many changes in your skin, such as the increased activity of the sebaceous glands. An increase in oil production, along with an increased blood flow, gives a shine to your face, known as a pregnancy glow.
Is a hormone responsible for oily skin?
Dihydrotestosterone (DHT), a metabolite of testosterone hormone, controls sebum production. An increase in the levels of DHT or sensitivity of the sebaceous glands to this androgenic hormone can cause excessive oil production.
Does oily skin slow aging?
Oily skin may make you prone to acne breakouts and clog up your skin pores, but it also has advantages. Excessive oil helps in preserving your skin, making it thicker and reducing the appearance of wrinkles.
Final Word
Excessive sebum production can give an oily look to your skin. However, a lack of oil can render your skin dry. Therefore, it is vital to balance the amount of oil to maintain natural moisture.
Try natural scrubs and packs to help control the oil production in your skin. If the condition doesn't subside, you may consult a dermatologist.

Continue ReadingPossible Reasons for Oily Skin and Treatment Options
Was this article helpful?