Impetigo is a bacterial skin infection that can affect anyone but is most common among young kids aged between 2 to 6 years old. (1)(2) It is generally mild and resolves on its own within two or three weeks, even faster if you take medication.
However, it is also highly contagious, so you have to be careful about not spreading it to other people or other parts of the body while you recover. The mode of transmission is through direct and indirect contact with the infected skin.
This article will share some useful remedies and tips to treat impetigo and control its spread.
Home Remedies to Treat Impetigo
Here are a few natural ingredients that can help treat mild impetigo, but more research is needed to determine just how effective they are in this regard. (1)
1. Add Manuka oil to bathwater
Manuka oil (MO), also known as manuka myrtle, is an essential oil that is credited with multiple therapeutic properties (3) and has long been used in herbal medicine, mainly in New Zealand and Australia.
It possesses strong antimicrobial activity that can help eliminate the impetigo-causing bacteria to clear the infection faster.
How to use:
Pour 3–5 drops of manuka oil into your bath water and soak in it for a while.
Note: You can also use manuka honey in place of manuka oil.
2. Apply grapefruit seed extract
Grapefruit seed extract exhibits strong antiseptic properties that can help disinfect the skin without causing irritation. Plus, it is full of antioxidants that help soothe and shrink the inflammatory lesions caused by this infection.
One research study tested the antibacterial activity of 12 plant components including grapeseed extract against bacterial infections and found it to be the most effective in this regard. (4)
How to use:
Take 2 tablespoons of water in a bowl and mix in a few drops of grapefruit seed extract.
Dip a cotton ball in this solution and then gently dab it all over the infected area, two or three times a day.
Note: You may experience a little itching after applying it, but it will subside after a while. Resist the urge to scratch.
3. Use aloe vera juice or gel
Aloe vera juice or gel is readily absorbed deep into the infected skin and works as an antiseptic/antimicrobial agent to curb the growth of impetigo-causing bacteria. (5)(6) This helps to control the spread of infection and shorten its duration.
Plus, this cooling juice or gel is enriched with antioxidants that give it strong anti-inflammatory properties. Thus, it helps reduce the redness, irritation, and swelling associated with impetigo blisters so that they heal faster.
How to use:
Take 1 tablespoon of aloe vera juice or gel in a bowl and mix in 10 drops of grapefruit seed extract.
Dip a cotton ball in this solution and then gently dab it all over the infected area, two or three times a day.
Note: The coolness of the aloe juice or gel will help counter the itching caused by grapefruit seed extract.
4. Apply some honey
Multiple scientific studies vouch for the potent antimicrobial activity exhibited by different varieties of honey from all over the world and have found it particularly effective against skin infections.
No wonder then that it works quite well in suppressing the growth of staph bacteria that are responsible for impetigo. (7) Plus, it is enriched with antioxidants that reduce inflammation and promote skin healing.
How to use:
Use a cotton swab to directly apply a small amount of raw honey to the infected area.
Throw away the used swab and let the honey sit on your skin for 20–30 minutes.
Wash it off with lukewarm water.
5. Apply virgin coconut oil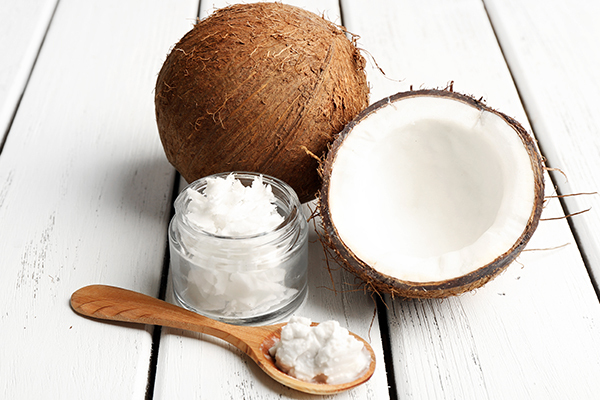 Coconut oil is known to possess anti-inflammatory and antibacterial properties that can help soothe impetigo lesions, clear the infection, and gently repair the skin. (8)
How to use:
Soak a cotton ball in pure coconut oil.
Gently dab it all over the blisters or infected skin.
6. Dab on some turmeric
Various studies have demonstrated the medicinal benefits of turmeric, particularly for healing skin problems. (9) One such study showed that turmeric was effective in fighting Staphylococcus aureus, which causes impetigo. (10)
How to use:
Mix a few drops of water in turmeric powder to make a thick paste, and apply it to the infected area. Wash it off with plain water once it dries.
You can also consume turmeric mixed in milk to help your skin heal from within.
Control and Prevention of Impetigo
Since impetigo is very contagious, you must exercise proper precautions to keep it from spreading to other parts of the body or to other people. Here are a few basic measures to do that:
Don't scratch the blisters.
Regularly sanitize the infected area by washing it with soap and water.
Gently remove the crusty dried scabs.
Always wash your hands with soap and water before and after touching the infected skin.
Causes of Impetigo
Staphylococcus (staph) refers to a collection of bacteria that live naturally on human skin but can trigger infections if allowed to overgrown.
Impetigo is also caused by specific staphylococcus bacteria that gain entry inside the skin through minor cuts, open wounds, scrapes, or bug bites and start to proliferate rapidly.
Impetigo can be of two types:
Nonbullous impetigo accounts for nearly 70% of all cases and is caused by the overgrowth of Staphylococcus aureus or Streptococcus pyogenes.
Bullous impetigo accounts for the remaining 30% of the cases and is caused by the overgrowth of Staphylococcus aureus alone.
Symptoms Associated With Impetigo
Impetigo is characterized by the appearance of fluid-filled blisters, usually around the nasal area and mouth and on the forearms. Diaper-wearing toddlers often get them on their buttocks or nether region.
Nonbullous impetigo starts off with crusty honey-colored scabs or small blisters on the infected area, usually the face. These blisters tend to pop after a while and leave behind a tiny patch of red exposed skin that may discharge fluid.
Bullous impetigo leads to the formation of relatively larger fluid-containing blisters that appear mostly in areas of the body that have skin folds. These blisters look clear at first but eventually turn cloudy and take longer to burst than bullous blisters.
If the infection spreads deep into the skin tissue, it gives rise to blisters that look like protruding ulcers with yellow crust and red borders. (11) This is called deep impetigo.  
Treatment Modalities for Impetigo
Most cases of impetigo are mild and tend to resolve without treatment within a few days or weeks. But medical treatment can speed up the recovery process and shorten the duration of the infection to just 7 to 10 days.
Your doctor will prescribe either oral or topical antibiotics, depending on the severity and type of infection. Mild cases of impetigo (especially nonbullous) wherein the infection is localized to a small area can easily be healed with an antibiotic ointment alone.
But if the infection is severe, has spread to other parts, or is not responding to topical antibiotics, you will most likely be put on a short course of antibiotic pills or syrup. These antibiotics curb the bacterial growth, which helps clear the skin and reduce the risk of transmission.
How Is Impetigo Diagnosed?
Doctors can generally diagnose impetigo by simply looking at the blisters. In some cases, they may take a sample of the fluid inside the blisters for additional testing.
When to See a Doctor
Impetigo warrants medical attention in the following cases:
If a child contracts the infection or has been exposed to an infected individual
If the symptoms don't improve even after 3–4 days of recommended treatment
If the symptoms become worse over time, which entails a growing number of blisters, increased pain, redness, and swelling, as well as fever
Can Apple Cider Vinegar Be Used to Treat Impetigo?
Apple cider vinegar (ACV) is widely circulated on the Internet and in magazine articles as a popular remedy for various skin ailments, including impetigo. However, dermatologists advise against using it topically for impetigo as it is quite harsh and can exacerbate the skin itching/irritation.
Final Word
Impetigo is fairly benign but can give rise to some serious complications if it festers too deep into the skin. Plus, its itchy, painful blisters can give you sleepless nights and, if handled poorly, can spread to other areas of the body.
So, it's best not to ignore this condition and treat it with the care and precaution it deserves. Given that impetigo largely affects children, it becomes the duty of the adult caretaker to ensure they are properly following the treatment and safety measures.
Antibiotic ointments are the first-line treatment for impetigo, but oral antibiotics may be prescribed if the case is severe. You can use the above-listed home remedies along with the doctor-prescribed treatment to speed up the recovery process.
Was this article helpful?