Herpes is a common viral infection that causes sores and blisters on the skin. It is caused by two viral strains of the herpes simplex virus – HSV-1 and HSV-2.
HSV can stay dormant in your nerve cells forever after the infection. Hence, treatment revolves around preventing the reactivation of the virus and future recurrence of the sores. (1)
Along with antiviral medicines, a few essential oils are known to provide quick relief from the painful sores.
Essential Oils to Deal With Herpes
Here are some essential oils you can try to shorten your healing time:
1. Use peppermint oil
Peppermint oil is another traditional remedy for skin infections. A recent study demonstrated the effects of peppermint oil on HSV. When used in high concentrations, it effectively helped reduce both HSV-1 and HSV-2 viral titers.
Peppermint oil also helps combat HSV-1 strains resistant to antiviral medicines such as acyclovir. It can be used as a topical treatment for herpes sores. (2)
How to use:
Mix ½ a teaspoon of peppermint oil and 3 tablespoons of carrier oil (coconut/olive oil).
Apply this mixture to your sores twice a day. (3)
2. Add chamomile oil to your bathwater
Chamomile oil is known for its potent anti-inflammatory properties. It contains phenolic compounds that help fight infections and has been shown to be effective against HSV-1 and HSV-2. (4)
How to use:
Add a few drops of chamomile oil to your bathwater.
Soak in it for 15–20 minutes every day. (5)
3. Give eucalyptus oil a try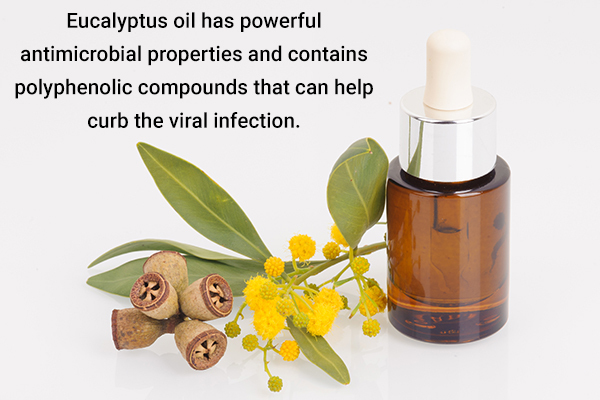 Eucalyptus oil has powerful antimicrobial properties and contains polyphenolic compounds that can help curb the viral infection. It has been demonstrated to display antiviral activity against HSV. (4)
How to use:
Add a few drops of eucalyptus oil to ½ cup of coconut or olive oil.
Apply this mixture to the affected area twice a day.
4. Use tea tree oil
Tea tree oil is also a traditional remedy for skin infections. It contains antimicrobial and anti-inflammatory properties that help treat the painful sores associated with HSV infections. (6)(7)
How to use:
Mix a few drops of tea tree oil with 1 tablespoon of any carrier oil.
Apply this mixture to the affected area twice a day. (8)
Preventative Tips Against Herpes
To prevent herpes infections:
Do not touch any blisters or sores on an affected individual.
Wash towels, plates, spoons, etc., well after other people have used them before using them.
Do not share personal care items such as toothbrushes or shaving razors with anyone else.
If you do get a herpes infection, avoid any factors that may lead to the recurrence of cold sores, including:
Most-Asked Questions About Herpes
Is an HSV infection dangerous?
Herpes is a highly contagious disease but can be managed symptomatically by a doctor in most cases. (1)
How long does it take to cure genital herpes?
Herpes sores should generally resolve in 2–3 weeks in healthy individuals. (11)
Is it possible to give yourself herpes by touching a cold sore and then touching your genitals?
Yes, the virus can easily be transmitted via touch. (9)
Does lysine treat herpes?
No. No significant evidence supports the use of lysine to treat a herpes infection. (12)
Final Word
Herpes can be a painful and embarrassing condition. However, it is extremely common, and a number of ways can prevent the recurrence of its sores and blisters.
If you suspect you have herpes, consult a doctor immediately for medical advice, and try the home remedies given above to speed up the healing process. (13)
Was this article helpful?