Genital herpes is a common sexually transmitted infection that affects thousands of people worldwide. It is a result of the infection by the herpes simplex virus (HSV) and can be painful and uncomfortable to deal with.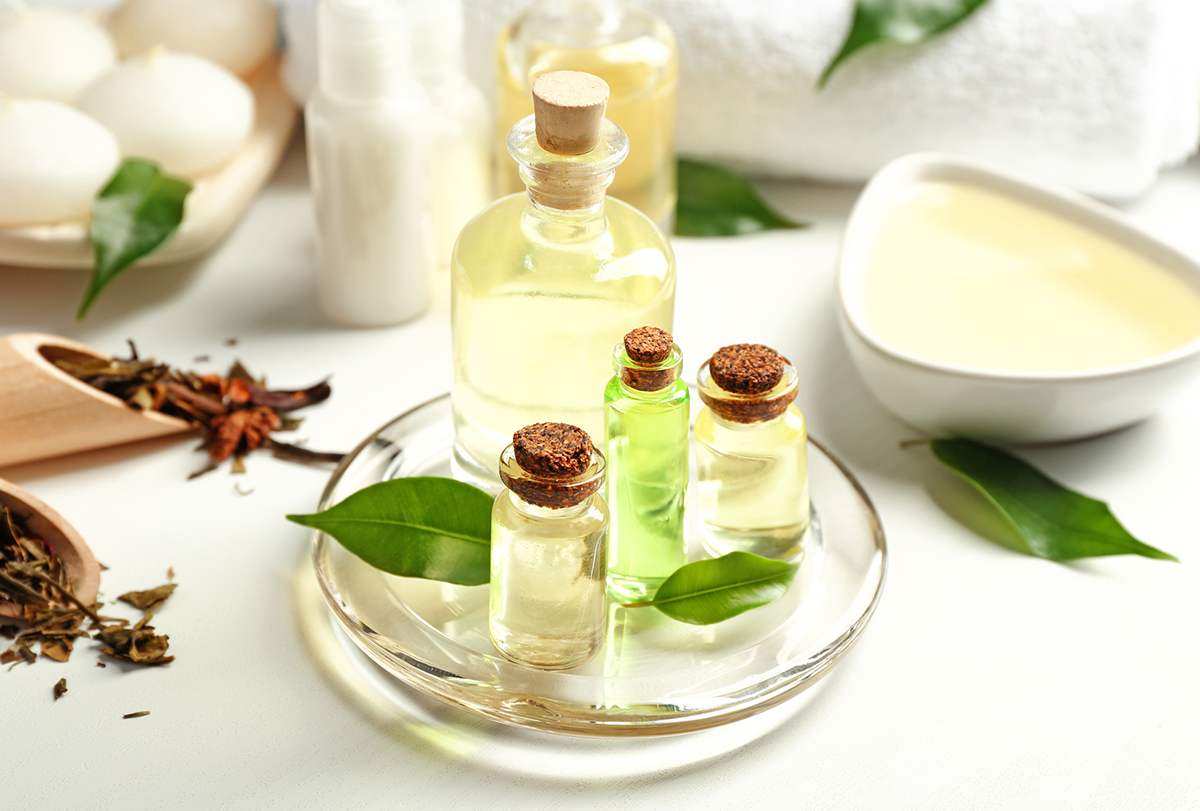 While there is no known cure for genital herpes, many home remedies can help improve the signs or symptoms and reduce the frequency of outbreaks.
This article will look into some effective home remedies for genital herpes that you can try for yourself.
Home Remedies for Genital Herpes
Here are some home remedies to help get rid of genital herpes.
1. Keep the affected area clean and dry
One of the best ways to manage genital herpes is to keep the affected area clean and dry. (1) This can help prevent secondary infections and reduce the risk of transmission. To clean the area, use a mild soap. (2)
Note: Professionals advise avoiding using harsh soaps or perfumes in the genital area, as these can irritate the skin and make the symptoms worse.
2. Apply tea tree oil
Tea tree oil is a natural antiviral agent that has been shown to be effective against HSV. (3) Applying a few drops of diluted tea tree oil to the affected area can help reduce the severity of outbreaks and speed up healing.
How to use:
Mix 3 drops of tea tree oil with 1 tablespoon of carrier oil.
Apply the mixture to the affected area using a clean cotton swab or Q-tip.
Leave it on for 1–2 hours and you can reapply the mixture 2–3 times a day.
Note: Undiluted tea tree oil can be irritating and, hence, should not be used.
3. Apply aloe vera gel
The extract of aloe vera leaves has antibacterial, anti-inflammatory, and antiviral activities. This means that aloe vera gel could be a helpful remedy for people who suffer from oral herpes caused by HSV-1.
A study even showed that aloe vera gel inhibited the growth of HSV-1 in a dose-dependent manner. It showed that higher concentrations of aloe vera were more effective at reducing the virus without any significant toxicity. (4)
Applying a small amount of aloe vera gel to the infected regions can help alleviate the pain and inflammation and promote healing.
Note: Choose a good-quality aloe vera gel that does not have added chemicals or preservatives.
4. Use lemon balm
Lemon balm (Melissa officinalis L.), is an herb that has been used in folk medicine for various ailments, including nervous complaints and lower abdominal disorders. More recently, it has been found to be effective in treating herpes simplex lesions caused by HSV-2. (5)
Note: Lemon balm does not prevent the entry of HSV-2 in the cells, but rather it acts after the virus has entered the cell.
Putting lemon balm cream or ointment on the affected area can help decrease the seriousness of outbreaks and speed up healing.
5. Eat foods rich in lysine
Lysine is an amino acid that has been shown to be effective against HSV. In a study, participants took lysine tablets (1,000 mg per dose) three times a day for 6 months and experienced a reduction in the severity of symptoms and time needed for healing. (5)
Therefore, eating foods that are rich in lysine can help lessen the number of outbreaks and promote healing. Some good sources of lysine include lean meats, fish, dairy products, and legumes.
6. Take a sitz bath
If you're experiencing severe pain due to genital herpes, taking painkillers can provide relief. Sitting in warm water can also help relieve the pain and discomfort.
A sitz bath is nothing but a shallow bath that you can take while sitting down. The warm water can help soothe the affected area and reduce the inflammation. Many women who experience pain while peeing due to genital herpes have found sitz baths to be helpful.
You can easily take a sitz bath at home by filling a bathtub or basin with warm water and sitting in it for 15–20 minutes. (6)
Note: It's important to keep the affected area clean and dry before and after taking a sitz bath to avoid any further irritation or infection.
7. Take an Epsom salt bath
Looking for a natural remedy for your genital herpes? Look no further than your bathtub! A warm Epsom salts bath can help cleanse and soothe those painful sores, reduce itchiness, and decrease tenderness. (1)
How to use:
Fill your tub with some warm water.
Add 1–2 cups of Epsom salt to the water.
Soak in the tub for 15–20 minutes.
Gently pat your skin dry after your bath.
8. Use ice packs to relieve the pain and swelling
Ice packs might prove to be an easy remedy for genital herpes. Applying a cold compress to the affected area can help reduce the pain, (1)(2) and some experts say it may provide temporary relief from itching and burning.
How to use:
Wrap a few ice cubes in a cloth.
Apply it to the infected regions for around 10 minutes at a time.
Note: Do not let ice make direct contact with your skin. Put it in a towel or cloth first.
9. Wear loose clothing
Tight clothing can result in friction and hence can be irritating for your private regions. This may trigger outbreaks.
Wearing loose-fitting clothing made from breathable fabrics can help to prevent outbreaks by reducing friction and irritation in the genital area. Opt for cotton underwear and avoid pantyhose or synthetic fabrics such as nylon. (1)(2)
10. Reduce stress to minimize outbreaks
Stress is a common trigger for genital herpes outbreaks. Finding ways to manage stress can help minimize the number and seriousness of outbreaks. (7)
Try relaxation techniques such as deep breathing, meditation, and yoga, and be sure to get plenty of rest and exercise regularly.
11. Leave the sores alone
Avoid picking at the sores, as this can lead to infection and can delay healing. Let the sores get some air by avoiding bandages and tight clothing. This can speed up the healing process. (2)
Preventing Genital Herpes
If you're sexually active, you can be infected with the herpes virus. But don't panic! Here are some ways to reduce the risk of infection: (6)
If you have genital herpes, avoid sex when you notice signs of an outbreak. This is when the risk of transmitting the virus is highest.
Condoms are your friends! They greatly reduce the possibility of infection during symptom-free periods and also protect against other sexually transmitted diseases.
Talk to your partner about herpes. If both of you have a blood test, you can find out if you have herpes viruses in your body, what type you have, and whether there's a risk of infection. Remember, even if only one of you has HSV-1, the other could still get infected with HSV-2.
Taking antiviral medication can lower the risk of infecting others, but it must be taken daily for the prescribed period. If you already use condoms, it's not clear if taking antivirals can lower the risk even more. (6)
Note: Remember, herpes is common and nothing to be ashamed of. By taking some simple precautions, you can reduce the risk of infection and still enjoy a fulfilling sex life.
Most-Asked Questions About Genital Herpes
How is genital herpes confirmed or tested?
Genital herpes is typically diagnosed through a physical exam and a swab of the affected area.
Can you get genital herpes from oral sex?
Yes, genital herpes can be transmitted through oral sex.
How can I control the transmission of genital herpes?
Using protection during sex and not indulging in sexual contact during outbreaks can help to reduce the risk of transmission.
Can I have a sex life with genital herpes?
Yes, it's possible to have a healthy sex life with genital herpes. With proper management, outbreaks can be controlled and transmission can be prevented.
Is it safe to have sex if I have genital herpes?
It is possible to transmit genital herpes even if there are no visible symptoms present. So, it's important to talk to your partner and practice safe sex.
Is it safe to use essential oils to treat genital herpes?
Essential oils can be effective at reducing the severity and frequency of outbreaks, but it's important to dilute them properly and avoid direct skin contact. Consult with a healthcare professional before using essential oils to treat genital herpes.
Are there any supplements for genital herpes?
While there are no supplements that can cure genital herpes, some experts suggest that certain supplements may help reduce the frequency and severity of outbreaks. These supplements include L-lysine.
Final Word
Genital herpes can be a difficult and often embarrassing condition to manage, but many home remedies can help to alleviate symptoms and prevent outbreaks.
From using essential oils and taking lysine supplements to managing stress and wearing loose clothing, these home remedies can be effective at reducing the frequency and severity of outbreaks.

Continue ReadingGenital Herpes: Causes, Symptoms, Transmission, and More
Was this article helpful?