Flat warts are small, pink bumps on the skin caused by the human papillomavirus (HPV) infection. They are common in children and teenagers.
Most cases of flat warts tend to resolve on their own, and only stubborn cases require medical treatment.
Nevertheless, there are some natural remedies you can try to help reduce healing time and also alleviate the inflammation.
Natural Remedies for Flat Warts
Here are some effective home remedies for flat warts.
1. Drink apple cider vinegar
Apple cider vinegar (ACV) contains acetic acid, a harsh chemical that can slow down accelerated tissue growth in warts. It also has anti-inflammatory and antiviral properties that can help reduce infection. (1)
How to use:
Add 1–2 tsp of ACV to a glass of lukewarm water.
Drink this on an empty stomach every morning.
2. Consume garlic
Garlic contains allicin, a powerful antioxidant that also has antimicrobial properties. It can help fight HPV infections and also help with skin conditions such as psoriasis and dermatitis.
Some studies have shown that 10% garlic extract used for a few months is as effective as cryotherapy in treating genital warts. (2)
How to use:
Take garlic extract supplements or consume 3 cloves of garlic every day.
Crush a few cloves of garlic and apply it to the warts. Allow it to be absorbed for 15–20 minutes before washing it off. Repeat twice a day for best results.
Caution:
Do not consume garlic if you are taking blood-thinning medication or have a clotting disorder as garlic is a natural blood thinner.
Applying garlic can cause burning on the skin.
3. Apply turmeric to the affected area
Turmeric has potent anti-inflammatory, antimicrobial, and healing properties. (3) Curcumin, the active ingredient in turmeric, has effective antiviral effects and is effective against HPV infections. (4)
How to use:
Make a turmeric paste by mixing 2 teaspoons of turmeric powder with a couple drops of coconut oil or olive oil.
Apply this paste to the warts.
Wash it off after 20–30 minutes.
4. Increase your vitamin A intake
Vitamin A is an essential nutrient for the growth of healthy skin cells. A recent study suggested that it may help combat the effects of HPV infections on skin cells and reduce warts.
In a study conducted on a 30-year-old woman with a long history of common warts, applying 25,000 IU of vitamin A extract (from fish liver oil) helped clear all warts within a few weeks. However, more research is needed to confirm these claims. (1)
5. Use banana peels
Banana peels contain potent phytocompounds known as phenolic compounds. They have significant antiviral activity and can help heal warts.
How to use:
Cut small pieces of banana peels and tape them to the warts.
Peel off after half an hour.
6. Apply a duct tape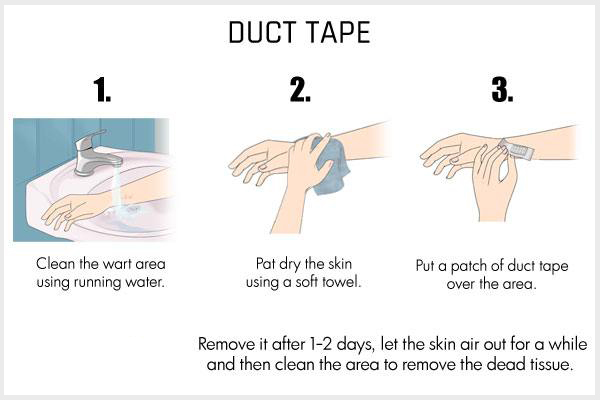 Flat warts may also shrink when you cover them with duct tape. This can cause the wart to form a blister or die.
Duct tape may also irritate the tissue around the wart and trigger the body's defense mechanism. This may also help reduce HPV infections. (5)
How to use:
Clean the skin around the wart using a clean cloth or tissue.
Cover it with duct tape, and leave it on for a couple of days.
Remove it, and you may notice the watt has formed a blister, which may come off with the tape or fall off later.
7. Try castor oil
Castor oil contains ricinoleic acid, a potent antimicrobial agent. It can help soothe the skin as well as help fight HPV infections. (6)
How to use:
Apply a couple of drops of castor oil to the area using a cotton ball.
Cover it with a Band-Aid.
Peel off the band-aid after a few hours, and clean the area using water.
Prevention of Warts
Here are some preventive methods you can use to reduce your risk of getting warts:
Avoid direct skin-to-skin contact with anyone's warts.
Never share personal care items such as towels, makeup brushes, shaving razors, and underwear with anyone.
Do not scratch the warts.
Keep the warts covered with a Band-Aid or duct tape.
Most-Asked Questions About Flat Warts
What are the types of facial warts?
Facial warts are warts on the face caused by HPV. There can be many different types of warts such as flat warts and common warts.
Are flat warts common?
Flat warts are common in children and adolescents.
How do flat warts differ from other warts?
Common warts have a rough surface and are grayish brown. They tend to occur more often on the hands.
Flat warts have a smooth surface, usually do not cause irritation, appear in clusters, and are pinkish brown. They tend to occur on the neck, back, face, arms, and legs.
Can lemon be used to treat flat warts?
Yes. Lemon contains citric acid, which can help fight HPV infections. It also has anti-inflammatory properties. You can try applying lemon juice to a small area of skin for a patch test to see if it works for you.
Can I use ice to treat flat warts?
No. Applying ice cubes to your warts may give you frostbite.
Final Word
Flat warts are generally common in children but can be confused with other skin conditions. Hence, get them checked by a doctor to ensure proper diagnosis and treatment.

Continue ReadingFlat Warts: Causes, Symptoms, Diagnosis, Treatment, and More
Was this article helpful?