Human skin contains thousands of tiny oil-producing glands called sebaceous glands in the mid-dermis, each of which is usually attached to a hair follicle.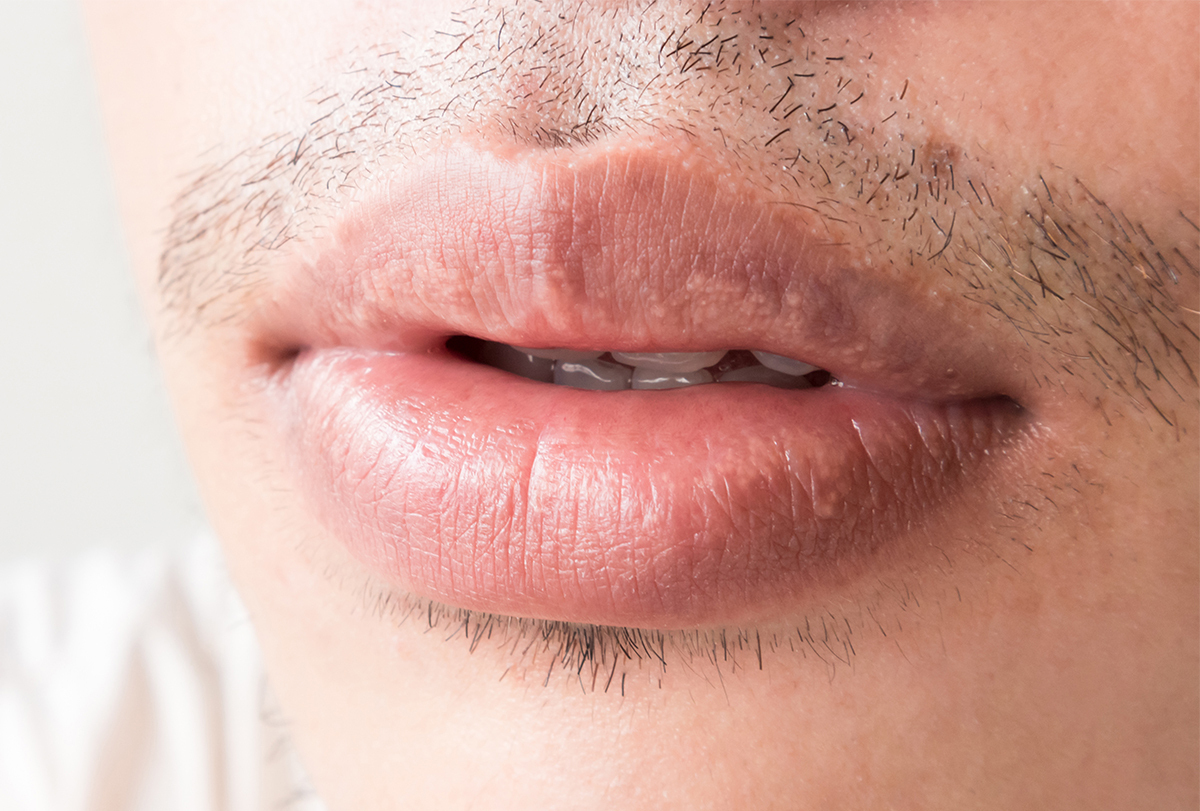 These glands secrete a fatty lipid called sebum into the follicular duct, which gets pushed upward through the action of the hair shaft and released onto the surface via the skin pore. Sebum is responsible for keeping your skin naturally moisturized and waterproof.
Some of the sebaceous glands are abnormally large and lie right beneath the epidermis, opening directly onto the skin rather than a hair follicle. These superficial and enlarged glands are visible through the skin as small white or yellow specks called Fordyce spots, Fordyce granules, or Fordyce glands.
Sites Fordyce Spots Develop
Fordyce spots are found in hairless areas of the skin, particularly the oral and genital mucosa, which includes:
Vermillion border (margins of the lip)   
Penile shaft (The shaft of your penis extends from the tip to where it connects to your lower belly.)
Vulva and vagina
Areola (the small circular pigmented area surrounding the nipple)
Causes of Fordyce Spots
Fordyce spots may seem odd but their occurrence is completely normal. They form due to the overgrowth of ectopic sebaceous glands, which has been attributed to a combination of biological and environmental factors, such as:
Hormonal changes 
Factors in embryo development
Post-pubertal age
Male sex at birth
Lipid disorder
Rheumatic disorders
Signs and Symptoms of Fordyce Spots on the Lips
Fordyce spots are completely benign and quite common, occurring in about 70%–80% of adults. They usually remain asymptomatic but can be described with the following characteristics:
1–3-mm-wide papules
Cause no pain, tenderness, itch, or irritation
Pale, white, or yellow in color
Become more visible when the skin is stretched or produces excessive oil such as during puberty (1)
Occur alone or in large clusters, which makes them look like patches on the skin
Treatment for Fordyce Spots on the Lips
Fordyce spots are noncancerous and do not require treatment, but if their appearance is bothering you, the following interventions can help make them less visible or can permanently remove them: (1)
Topical creams such as bichloracetic acid, tretinoin, and isotretinoin (2)
Microneedle punch therapy (5)
Diagnosing Fordyce Spots
Fordyce spots are commonly diagnosed by a healthcare professional upon visual inspection.
Individuals who find their Fordyce spots bothersome; are experiencing any signs or symptoms related to them, such as bleeding, depression, or anxiety; or are concerned about other diseases may seek diagnosis or treatment and medical advice from a healthcare professional.
It is important that Fordyce spots are accurately diagnosed as the differential diagnosis for Fordyce spots includes other conditions, such as genital warts, epidermoid cysts, sebaceous hyperplasia, and milia (Milia are small, white, firm papules mainly occurring on the face. Other locations include the upper trunk, extremities, and genital areas (prepuce)) (6)(7)
Swabs of the affected skin areas may also be taken and tested for the presence of bacteria or viruses. If the swabs yield a negative result, a diagnosis of Fordyce spots may be likely. If systemic involvement is suspected, blood and urine samples may also be taken.
A skin biopsy may be required in rare circumstances, where a sample of tissue is removed and examined under a microscope to rule out other conditions, such as skin cancer.
Removing Fordyce Spots From the Lips at Home: Safe or Not?
Fordyce spots do not qualify as a medical condition or health concern due to their benign nature. The majority of adults have these harmless papules on their genital and oral mucosa.
However, some may not like their appearance and try risky remedies and techniques to get rid of them at home, which can end up causing more damage. One must realize there are no home interventions to cure Fordyce spots, and the ones people usually try are more harmful than helpful.
Some common mistakes people make to get rid of Fordyce spots include:
Squeezing, scratching, or picking at them, which only damages the skin, irritates the underlying gland, and increases the risk of infection, which would ultimately land you in a dermatologist consultation. (8)(9)
Applying any oil, ointment, or soap in an attempt to make the spots disappear. These topical agents can clog your pores and further worsen your condition. So don't try any such product without consulting your doctor first.
The good thing is Fordyce spots are most visible when the oil glands are overactive or you are undergoing certain hormonal changes, most likely during puberty, but they tend to fade on their own as you grow older.
Can Fordyce Spots Increase in Number or Get Contagious?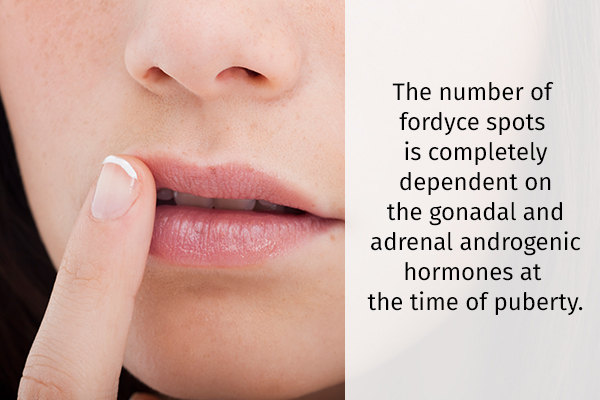 The number of Fordyce spots is completely dependent on the gonadal and adrenal androgenic hormones at the time of puberty. They tend to become more apparent when the skin is stretched thin or when it gets super oily, but they are rarely contagious. (10)
Final Word
Fordyce spots are a common skin variation that does not pose any danger to your health but can be a cosmetic concern for some. They may fade with time without any treatment, but you can also try topical medications to shrink their size or get them removed through laser or surgical procedures.
If you are bothered by the appearance of Fordyce spots on your lips, visit a dermatologist to seek proper diagnosis and treatment. Self-treatment often ends up exacerbating the problem rather than solving it, especially since no known home remedies or therapies have been proven safe or effective in this regard.
In most cases, the doctor will recommend topical medication, laser therapy, or minimally invasive surgery to reduce the size of the enlarged glands or remove them altogether.
Was this article helpful?