A rash on the foot is an area of skin that is irritated. It may be red, inflamed, itchy, and swollen. Blisters and bumps could develop, and the skin may be rough and patchy.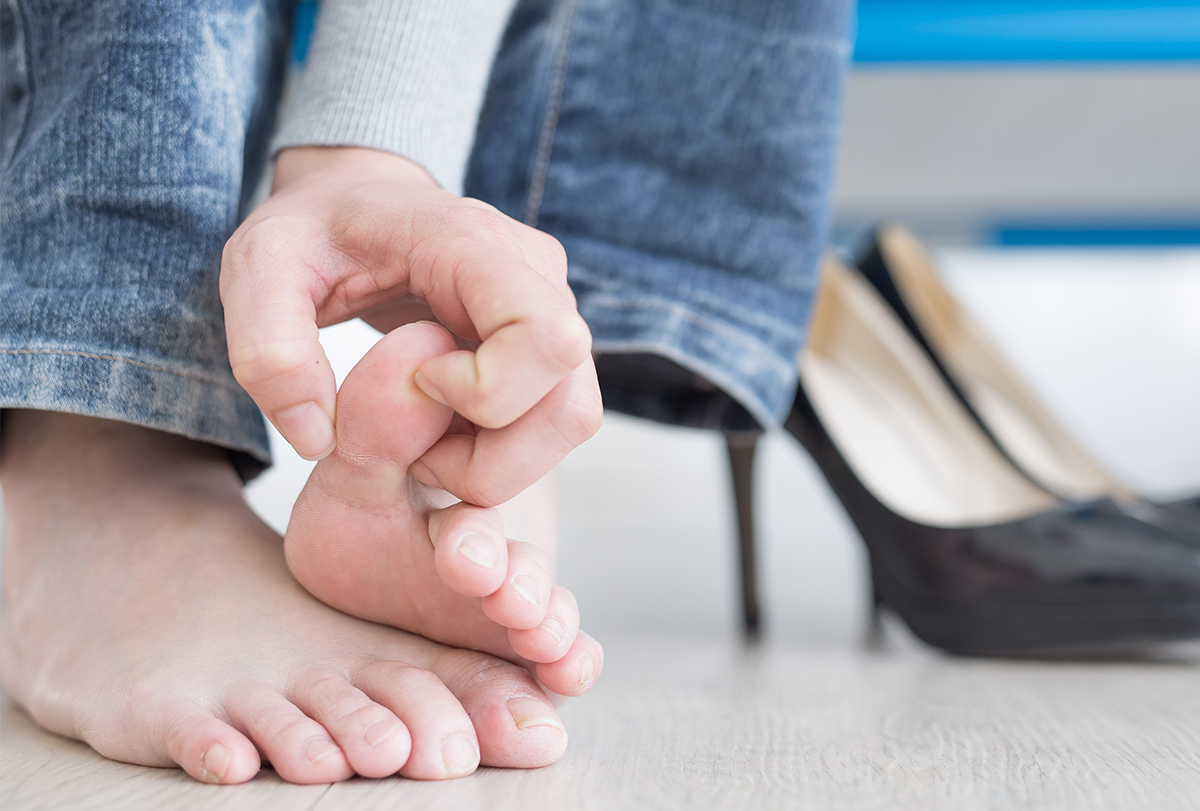 Common Causes of Foot Rashes
There are a variety of reasons why foot rashes form. The most common causes of rashes on the foot are dyshidrotic eczema, athlete's foot, hand-foot-mouth disease, cellulitis, and environmental causes such as poison ivy or jellyfish sting.
1. Dyshidrotic eczema
Dyshidrotic eczema is also known as pompholyx. It is more common in warm weather. Some people are attacked annually in the summer, and they have intensely itchy or burning vesicular eruptions on their palms and soles. (1)
Dyshidrotic eczema is characterized by deep itchy vesicles of sudden onset. It can be triggered by various causes, including, but not limited to, stress and excessive moisture on the feet from sweating or prolonged exposure to water.
2. Athlete's foot
Athlete's foot is caused by a fungus found on the skin of the feet. The fungus grows in warm, dark areas, and the condition most commonly affects athletes.
Athlete's foot can spread to other parts of the foot, such as the nails, or to others. Excessive moisture, such as sweating, creates an ideal environment for the fungus to thrive. You are more prone to athlete's foot if you keep your feet wet for long.
Closed-toe shoes that are not breathable or certain boots can trap moisture in your feet and can also trigger the fungal infection. This is why athlete's foot is also common among construction workers.
Swimming pool users and industrial workers may be at increased risk of this fungal foot infection as well. (2)
3. Hand, foot, and mouth disease
Hand, foot, and mouth disease is a viral infection that affects the pediatric population. It is caused by coxsackievirus A16. It is spread by coming into contact with the feces, saliva, infected air, and mucus of a person with hand, foot, and mouth disease. Contact with contaminated surfaces can also spread the virus.
4. Cellulitis
Cellulitis of the foot is a skin infection that occurs when bacteria gain entry through a break in the skin, which can be a crack or wound.
Surgical incisions, ulcers, athlete's foot, and even animal or insect bites can be infected with bacteria, leading to cellulitis. Cellulitis most commonly affects the feet and lower legs. (3)
5. Contact dermatitis
Contact dermatitis is a reaction of the skin after coming in contact with a foreign substance (allergen).
Redness, swelling, blisters, burning, itchiness, and pain in the foot may occur due to the inflammatory reaction. The most common allergens are topical antibiotics, fabrics, fragrances, cosmetics, moisturizers, and nickel.
6. Autoimmune disorders
Some chronic autoimmune disorders have periodic flare-ups that result in skin rashes. Psoriasis, lichen planus, and rheumatoid arthritis are a few that affect the lower extremities.
Psoriasis can cause red scaly patches around the ankles. Lichen planus manifests as irregularly thick, itchy, scaly patches. Rheumatoid arthritis is characterized by joint inflammation. Its rash may appear as red, painful, itchy patches on the feet.
7. Environmental causes
Exposure to the sap of poison ivy, a jellyfish sting, and insect bites are some of the environmental causes of rashes. Those who are active outdoors should be mindful of this and should use protective gear.
Long pants and proper socks must be worn when hiking. Applying insect repellent is useful, too. Swimmers in risky areas should use protective equipment. (4) Wearing a rash guard when in the ocean may offer protection from jellyfish.
Symptoms of Foot Rashes
Foot rashes are characterized by the following symptoms:
Redness: The rash could become red in the form of patches, blotches, flaking, or raised areas, and red streaking may occur.
Itching: The rash can be persistently itchy and bothersome. Scratching the area may cause wounds or abrasions, which could lead to infections.
Bumps: The affected area may develop small pimple-like lesions. The lesions may be raised and round or welt type.
Blisters: Foot rashes could form fluid-filled bubble-like lesions. These blisters may pop, creating an open wound that can become infected.
Vesicles: Small fluid-filled pimple-like sacs may appear in the skin. These vesicles are typically 5–10 mm in diameter.
Plaques: The affected area may have elevated lesions that are more than 1 cm in diameter and may appear as an area of thickened skin.
Scales: Scales are silvery-white flakes of skin and may appear as thickened areas.
Inflammation: The affected area may be swollen, tender, warm, and painful to touch.
Ulcer or wound: Excessive scratching or rubbing the area due to itching may lead to open lesions.
Medical Treatment for Foot Rashes
The treatment for foot rashes aims to address its root cause, which is why a proper diagnosis is necessary before any intervention. A variety of topical treatments and therapies may be used to repair the affected skin and relieve the annoying itch. These include the following:
Elevation of the legs can assist in resolving swelling in the feet or legs.
The doctor will prescribe antibiotics for an infection or steroidal creams for rashes due to dermatitis.
If an allergic reaction caused the rash on your foot, treatment would involve minimizing contact with the allergen.
For athlete's foot, oral or topical antifungal medications may be prescribed depending on the severity of the fungal infection.
If the rash is oozing, zinc oxide or calamine may be helpful to dry out the area.
The doctor may even recommend UV light therapy and blister drainage to accelerate skin healing.
Diagnosing a Foot Rash
The doctor will first examine the rash and then order a few general tests to determine the root cause. These include:
Blood tests
Skin biopsy by extracting a sample of the skin where the rash is
Skin culture
Allergy tests
What the doctor may ask you
To reach a proper diagnosis, your foot doctor will ask you several questions:
When did the rash start?
Has this happened before?
Are you taking any new medication?
Have you been outdoors recently, or have you been doing any outdoor activities?
Have you changed any home products, like soap or detergent?
Do you have any medical conditions?
Did you consume something that may have triggered this?
Is the rash itchy?
Where did the rash start?
Common Home Remedies to Soothe a Foot Rash
The following home remedies may help reduce the discomfort associated with a foot rash and promote skin healing:
A cold compress can reduce inflammation, itchiness, and pain.
Oat (Avena sativa) in colloidal form is a centuries-old topical treatment for a variety of skin conditions, including skin rashes. (5) Oatmeal baths provide anti-inflammatory effects.
Aloe vera gel can soothe an area of inflammation and redness. (6)
Tea tree oil is a powerful antimicrobial and anti-inflammatory agent that helps soothe rashes. (7)
Over-the-counter medications such as hydrocortisone cream and calamine lotion can provide comfort when suffering from rashes.
Baking soda baths help settle inflammation and itching.
Topical application of diluted apple cider vinegar is a popular anecdotal remedy for rashes in general, but its use is not backed by science.
Self-Care Measures to Prevent Foot Rashes
It is important to perform a self-evaluation of your feet daily.
Make sure to inspect the bottoms of your feet and in between your toes.
If your feet are dry, you can prevent rashes and infections by using a moisturizer. If your feet are too moist, you can avoid rashes by using foot powder daily to prevent excessive sweat.
Scratching or rubbing is strictly forbidden for any type of skin rash, as it can cause open wounds or blisters, which can get infected. Friction to the skin can also hinder the healing of the affected area.
Changing your socks twice daily also helps.
Wash your feet daily with soap and water, and do not forget to dry your feet well. Avoid sharing shoes or sandals to prevent spreading infections.
Be mindful of your allergies. To prevent an allergic reaction, pay attention to the types of material or ingredients that are used in your shoes, socks, soaps, and detergent.
What if the Rash Is Left Untreated?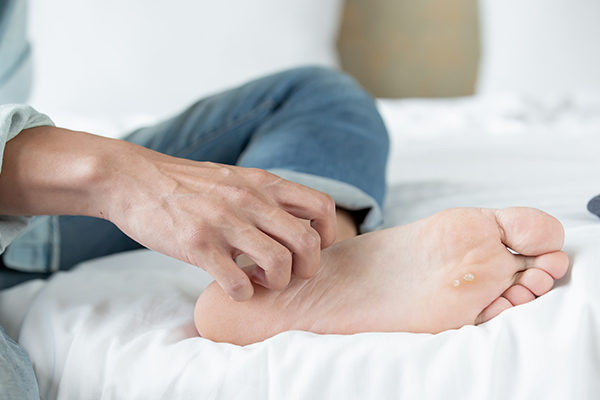 You must tend to a foot rash promptly to avoid the following complications:
If a rash is left untreated and itchiness is present, you may become miserable from the itching alone.
If an infection is the cause of the rash, the infection can spread to other areas of the body. The infection could also spread to the blood and affect the entire body.
Fungal infections can spread not only to other parts of your own body but also to others.
Viral infections that involve rashes of the feet can be contagious. An example is a hand, foot, and mouth disease.
You may develop fever, nausea, vomiting, and chills.
It is important to seek medical attention for proper diagnosis and treatment.
When to See a Doctor
Seek professional medical attention for your foot rash if:
You develop fever, nausea, vomiting, or chills.
Over-the-counter medications and home remedies have not resolved your problem.
The rash spread to other parts of your body.
A foot doctor may perform a full workup to diagnose your condition. They will determine the cause of your rash and provide the correct treatment.
Final Word
There are numerous causes for a rash to develop on the foot. It may be a form of eczema, an allergic reaction, or an athlete's foot. It may be a result of an autoimmune disease.
For your condition to be properly diagnosed, the rash should be examined by a foot doctor. They will determine the cause of your rash and provide proper treatment.
Was this article helpful?