Excessive pressure and friction on the foot can lead to the formation of a thickened patch of skin, known as a corn. It appears as a raised, hard, bump on the foot.
Foot corns are a common and mild problem that generally resolves on its own, once the foot is relieved of the sources of pressure and friction.
While treatment is generally not required, you can try home remedies and self-care measures to aid recovery, manage the pain, and prevent recurrence. However, always consult a doctor if you have diabetes, poor blood circulation, or any foot deformity.
Home Remedies for Foot Corns
The following home remedies may be useful in managing foot corns and aiding skin recovery:
Caution: Conduct a patch test to check for any allergic reactions or sensitivity before trying the remedies for foot corns. Consult your doctor before trying any home remedy if you are diabetic or have circulatory disorders or foot deformity to prevent complications such as ulcers and numeral problems. (1)
1. Soak your feet in warm water
Soaking your feet in warm water is the most common advice given by doctors for the treatment of foot corns and calluses. Warm water itself helps soften the skin, and you can add Epsom salt to it, too.
Epsom salts can help relieve the pain (2) and hydrate the dry, keratinized skin layers. (3)
How to use:
Mix 1 cup of Epsom salt in a gallon of warm water.
Soak your feet in it for around 15 minutes.
Also rub the callus in circular motions gently, while soaking, to help remove the dead skin.
2. Apply a baking soda paste
The use of baking soda for treating foot corns is a popular anecdotal remedy. It is an exfoliator that helps soften the callus, thus aiding its removal.
How to use:
Mix 1 tsp of baking soda with a few drops of lemon juice and water to form a paste.
Apply a thin layer of the paste to the corn and cover with a bandage.
Leave it overnight and rinse in the morning with lukewarm water.
Gently exfoliate using a pumice stone after.
3. Dab some vinegar
Vinegar can also help soften the callus and help reduce its size, although this remedy is not supported by scientific evidence. It is suggested that the acidity of vinegar acts on the keratin and breaks it down, thus loosening the dead skin cells.
How to use:
Dilute one part of vinegar with three parts warm water.
Apply the solution to the corn using a cotton ball. Dab it over the area for 10 minutes.
Use a pumice stone after.
Note: Refrain from soaking your feet in the diluted vinegar.
4. Use a banana peel
Banana peels are used as an anecdotal remedy for treating foot corns. Users report that rubbing the inside of a banana peel helps soften the corn and makes it smaller with time.
While there is no scientific evidence to it, the remedy is generally safe and may be worth a try.
5. Rub a potato
Potatoes can also be used in the treatment of a foot corn. Anecdotal evidence suggests that rubbing a potato on the foot corn helps soften it, turn it black, and ultimately cause it to fall off. However, no scientific study supports the use of potatoes in the treatment of foot corns.
6. Try over-the-counter products
Several over-the-counter products such as foot peels, adhesive pads, and exfoliating creams help remove foot corns. These products generally contain urea, potassium hydroxide, silicone, aluminum lactate, and trichloroacetic acid. (4)(5)
Additionally, you can apply adhesive pads on the foot corn to help prevent irritation and friction until the treatment shows results.
Self-Care Measures
It is vital to take some self-care measures to avoid further pressure and friction on the corn and avoid the associated complications. These include:
Refrain from removing the foot corn. It is essential that you avoid removing the foot corn at home using sharp objects or clippers as this increases the risk of infections.
Exfoliate using a pumice stone. Soak your foot in warm water and pat it dry. Gently rub a pumice stone over the softened callus in circular motions to remove the dead skin. You can also use foot files and emery boards. Repeat this for a few days until the corn is gradually removed. Avoid the use of sandpapers as they can cause skin injuries.
Use lamb's wool. Place some lamb's wool instead of cotton between your toes to manage the symptoms of soft corns.
Wear proper shoes. Do not wear tight-fitting shoes. Select shoes that are wider at the toes so that there is enough room between your toes.
Moisturize your feet. Always apply a moisturizer after a shower to prevent dryness. You can use moisturizers containing aluminum lactate, petrolatum jelly, or beeswax.
Use orthotics. Apply padding on your shoes if corns are a frequent problem. You can also use moleskin to cushion the callus. Simply cut it into two half-moon shapes and place them around the corn. Additionally, you may use toe separators, caps, and crest pads for lowering the pressure.
Preventive Measures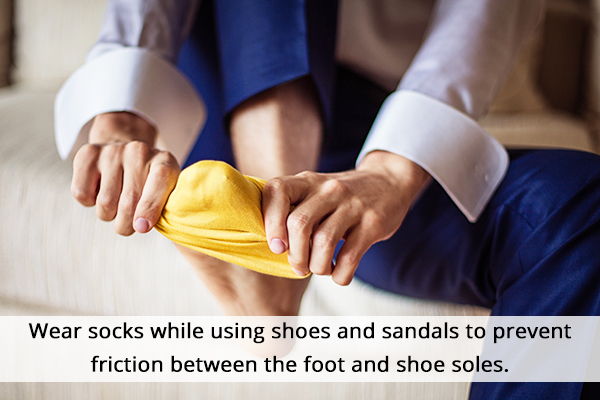 The following preventive measures are useful in preventing the formation of foot corns and their recurrence: 
1. Use comfortable footwear
High heels and shoes that are narrow at the front cause friction between the toes and increase pressure on the feet, often leading to the development of foot corns. (6)(7) Therefore, it is best to switch to low-heeled shoes with soft padding.
Moreover, select shoes that give your toes enough room to wiggle. It is advised to shop for shoes during midday, as your feet are swollen at this time due to constant use, thus ensuring the right fit.
You can also get your shoes widened at the toes. Use special, appropriate shoes if you have a foot deformity. Replace old shoes since worn-out soles cannot provide cushioning to your feet.
2. Always wear socks
It is essential to wear socks while using shoes and sandals to prevent friction between the foot and shoe soles.
3. Cut your toenails
Long toenails can cause increased pressure as they push against the front of your shoes.
4. Keep your pumice stone clean
Always wash the stone between uses and make sure it dries completely, to prevent the growth of bacteria and fungi.
5. Maintain foot hygiene
Wash your feet properly, especially between the toes, and pat them dry. Follow this with the application of moisturizing foot creams.
6. Massage
Massage your feet with oil to boost circulation and relieve the pressure every once in a while.
7. Consult your doctor
Visit your doctor if you experience foot pain at any point, whether you have corns or not.
Most-Asked Questions About Foot Corns
Can home remedies help in treating infected foot corns?
Different home remedies have been suggested for the treatment of infected foot corns, including garlic, honey, tea tree essential oil, lemon, licorice, and turmeric.
While these natural agents have antimicrobial properties, it is best to avoid their use on foot corns as the infection can easily spread. Instead, contact your doctor and get proper medical treatment at the earliest.
Are salicylic acid-containing creams and adhesive pads useful for the treatment of foot corns?
Over-the-counter salicylic acid-based products are a common treatment modality for foot corns. (5)
However, some doctors advise avoiding their use, as salicylic acid can be harmful to the surrounding skin. Moreover, such products should not be used by those who have diabetes or circulatory problems.
You may consult your doctor on the safety and efficacy of these products. In any case, make sure to apply the product to the corn only, avoiding the surrounding areas. (8)
Final Word
Foot corns are a common problem that generally resolves with minimal care and precautionary measures. These include the use of comfortable footwear, mild exfoliation, and the use of orthotics.
It is fairly easy to prevent the development of foot corns in the first place. However, if you have any medical problem such as diabetes, poor circulation, or foot deformity, it is essential to consult a doctor if you develop a foot corn.

Continue ReadingFoot Corns: Causes, Symptoms, Risk Factors, and Treatment
Was this article helpful?