Stretch marks can develop due to various reasons. They are such a common occurrence across generations and genders that people try different home treatments in the hopes of reducing their appearance.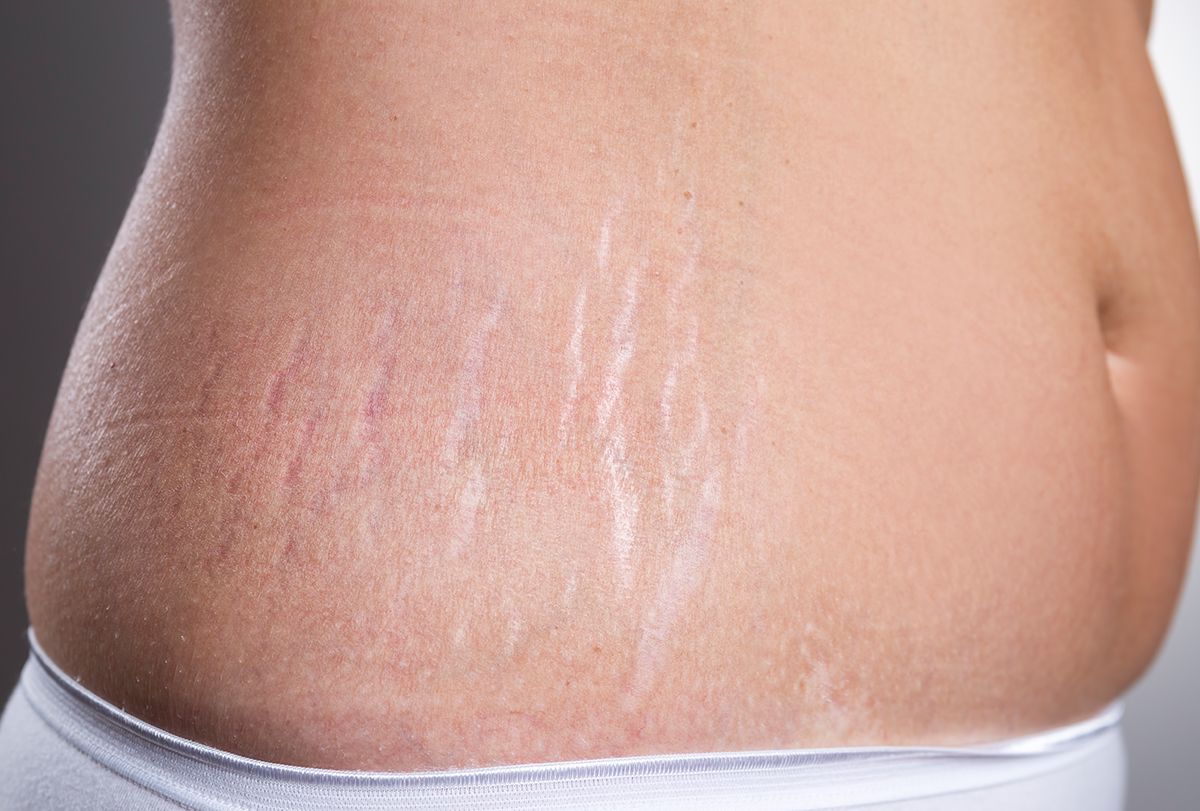 At-Home Management of Stretch Marks
Home remedies cannot completely treat stretch marks but they can help reduce their appearance via moisturization and healing.
Some of these home remedies are backed by scientific studies, whereas others are purely anecdotal. Therefore, it is best to exercise caution when using them and consult your doctor.
Note: Always perform a patch test before using any topical therapy to identify any allergies or actions.
1. Cocoa butter/body butter helps fade stretch marks
Cocoa butter is highly popular as an anti-stretch mark agent. (1) It helps improve the appearance of scars, promotes blood circulation, nourishes the skin, and also possesses antiaging properties.
Body butter is nothing but a moisturizer consisting of cocoa butter, shea butter, and oils.
How to use:
Gently massage cocoa butter on the affected skin two times a day.
Note: While cocoa butter is commonly used for healing stretch marks, some studies reject these claims. (2)(3)
Summary:
Considerable anecdotal evidence and a few clinical trials highlight the efficacy of cocoa butter in lightening stretch marks and nourishing the skin.
2. Aloe vera promotes skin healing
Aloe vera is popularly used in a range of cosmetics and skincare products. It has various dermatological applications, including moisturization, skin healing, and the reduction of stretch marks. (4)(5)
How to use:
Cut an aloe vera leaf and extract the pulp.
Rub the fresh aloe vera gel on your skin or use it as a mask.
Leave it on for 30 minutes.
Wash with lukewarm water and pat your skin dry.
3. Vitamin E oil boosts collagen production
Stretch marks generally result from the healing of damaged connective tissues. Vitamin E facilitates collagen production and thus promotes skin repair. (3)(6)
How to use:
Massage your skin with vitamin E rich oils, such as almond, sunflower, peanut, and olive oil. You can also consume foods containing vitamin E.
4. Coconut oil moisturizes the skin
Coconut oil is an excellent moisturizing agent that also supports skin healing, therefore aiding in the reduction of stretch marks. (1)
How to use:
Massage coconut oil on the affected areas daily.
5. Gentle scrubbing may help
Sugar is a natural exfoliating and nourishing agent that can be used for gentle scrubbing at home. You can also use a coffee scrub to help lighten stretch marks.
How to use:
Mix sugar with almond oil and lemon juice to form a scrub and use it as an exfoliator. Alternatively, make a coffee scrub by mixing half a cup of ground coffee in coconut oil, and scrub the affected area with the paste.
Ways to Manage Itchy Stretch Marks
Stretch marks are more common in dry skin, which is characteristically itchy. When the skin fiber breaks, the nerves in the area trigger an itchy response, which further aggravates the skin discomfort. The itchiness associated with stretch marks can also be brought on by the healing process of the damaged skin.
Here are some ways to manage the itching:
Resist the urge to scratch that itch to avoid further skin damage.
Apply a good-quality moisturizer to the affected skin to keep the itchiness under control.
Drink plenty of water to hydrate your skin from within.
Consider using some home ingredients to soothe the itch, such as coconut oil, vitamin E oil, and cocoa butter.
Bathe in room-temperature water. Taking hot or long showers can further dry out your skin and worsen the itch.
Tips to Prevent Stretch Marks
There are no sure-fire ways to prevent stretch marks from occurring.
Oral supplements that contain a herb called Centella or hyaluronic acid may be effective in preventing stretch marks. (7) However, this claim has to be substantiated by further large-scale studies.
Here are some of the things you can do to prevent getting stretch marks.
1. Stay hydrated
Drink plenty of fluids throughout the day to keep your body sufficiently hydrated.
Well-hydrated skin is likely to become supple and elastic, making it less susceptible to tearing when pulled apart by rapid weight gain. It is advised that you drink at least 8–10 glasses of water daily. (8)
2. Maintain a healthy weight
Sudden weight loss or gain, including muscle buildup, can trigger the formation of stretch marks. Thus, if you wish to keep your skin free of stretch marks, strive for progressive muscle formation and design your exercise routine accordingly.
3. Avoid tanning and direct sunlight
Sunlight contains UV rays that can damage the collagen fibers in your skin. To prevent this UV-induced skin damage, apply premium-quality sunscreen on your exposed skin whenever you step out.
It may also help to wear sun-protective clothing to cover bare skin. Avoid tanning beds if you are prone to stretch marks.
4. Consume a nutritious diet
Consuming a well-balanced diet that included vitamins C and E, zinc, and protein can help maintain skin health and integrity. It is advised to increase your intake of whole grains, nuts, dairy products, berries, chicken, eggs, fish, and beans.
Most-Asked Questions About Stretch Marks
Are stretch marks caused only by stretching of the skin?
It is true that your skin fibers usually rupture when they are extended beyond their elastic capacity. However, other factors can also make your skin tear without any physical strain.
An excess of glucocorticoids and certain other hormones in your body can diminish the elasticity of your skin. As a result, the collagen fibers may break at the slightest bit of exertion, making you more susceptible to stretch marks.
Can weight loss help get rid of stretch marks?
Because stretch marks are typically associated with drastic weight gain, it is often wrongly assumed that losing the extra weight will make the scars disappear or become less noticeable.
Is bio-oil good for treating stretch marks?
While some studies report the effectiveness of bio-oil in lightening stretch marks, (3) other studies conclude that bio-oil doesn't have any positive effect on the appearance of stretch marks.
Rather, its use was found to stimulate further development of stretch marks. (1) Therefore, the use of bio-oil in treating stretch marks is largely subjective.
Can witch hazel help treat stretch marks?
While witch hazel is a popular component of various cosmetic products, there is no evidence of its use for stretch marks. However, it is seen to be anecdotally used by women to help lighten post-pregnancy stretch marks.
Do derma rollers help in lightening stretch marks?
Derma rollers are highly similar to the microneedling procedures used for the treatment of stretch marks. It forms tiny scars that can help stimulate deep skin healing, especially when followed by an application of lotions, vitamin E, or coconut oil.
However, derma rollers are only recently being used for stretch marks, and thus, its effectiveness lacks evidence. It is best to consult your dermatologist regarding its use. (9)
Can argan and rosehip oil help fade stretch marks?
The use of rosehip oil for lightening stretch marks is supported by anecdotal evidence and a few studies. However, it is imperative to conduct more studies before concluding its efficacy. (6)
Argan oil, on the other hand, may help prevent and treat stretch marks when used as an adjunct therapy. You can consult your doctor regarding the use of organ oil-based emollients for the same. (10)
Final Word
Stretch marks are narrow, off-colored streaks that appear on the skin when it expands or contracts too quickly. Although commonly associated with pregnancy, these band-like striations can form due to regular body growth as well. This is particularly true of bodybuilders who develop these marks in areas where they form muscle.

Continue ReadingStretch Marks: Causes and Treatment Options
Was this article helpful?