Glucose is a type of sugar that is the body's main source of energy. It is derived from a variety of foods, particularly carbohydrates, which are broken down in the body to release glucose.
Insulin is a pancreatic hormone that transfers this glucose from the blood into the cells to be used as energy. The inability of the body to produce enough insulin or use it properly hinders the movement of glucose from the blood to the cells.
This causes a spike in your blood glucose or blood sugar levels, leading to the development of a metabolic condition referred to as diabetes.
Diabetes is classified into two types depending upon the root cause. Type 1 diabetes means your pancreas fails to make insulin, whereas type 2 diabetes means that the body fails to make and utilize insulin properly. (1)
Diabetes is a chronic condition that requires life-long management through medication, dietary control, and other lifestyle interventions.
If left untreated or poorly treated, it can lead to complications, including a range of skin conditions. Moreover, certain skin problems can serve as a warning sign of diabetes in undiagnosed people.
Skin Problems Caused by Diabetes
Here are some common diabetes-related skin problems:
1. Acanthosis nigricans
Acanthosis nigricans is characterized by the appearance of raised tan or brown patches on the neck, underarms, and groin and less commonly on the hands, elbows, and knees.
It usually affects overweight people, who are required to lose the extra pounds to resolve the condition. The doctor may even recommend certain ointments to fade the marks. (2)
2. Sclerosis
Sclerosis is a common complication of poorly controlled or severe diabetes. (3) It is an inflammatory skin condition characterized by hard, thick patches of swollen skin that feel tight and rough with a waxy appearance.
If these patches are limited to your fingers, toes, or both, the condition is referred to as digital sclerosis. It can make the affected fingers and toes quite stiff and difficult to move.
The skin thickening can spread to your forearms and upper arms. Some people develop such patches on their face, neck, chest, shoulders, and upper back.
In rare cases, the sclerosis patches form on the elbows, knees, and ankles, restricting the movement of the joint. As a result, you may find it hard to stretch out or straighten your leg, curve your arm, or point your foot.
3. Scleredema diabeticorum
Scleredema diabeticorum is a long-lasting inflammatory skin problem that falls under the category of sclerosis disorder.
Of all patients with diabetes, 2.5%–14% are diagnosed with scleredema, and more than half of patients with scleredema suffer from diabetes. This goes to show that there is a strong correlation between the two conditions.
Scleredema commonly affects long-time diabetes patients, but it is still unclear if the risk is greater in type 1 diabetes or type 2 diabetes.
Women are more prone to diabetes-induced scleredema than men. People of all ages can develop this condition, but it is more prevalent among those above the age of 20 years. (4)
4. Diabetic dermopathy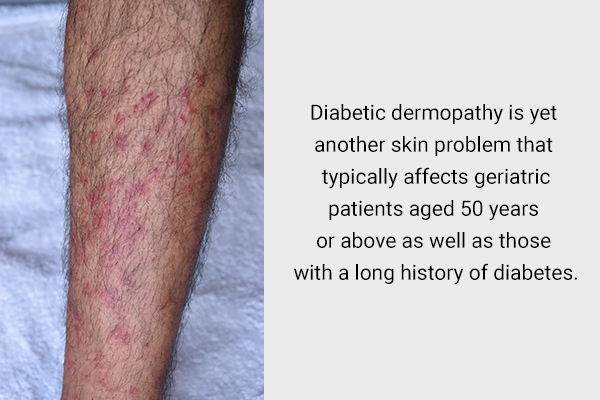 Diabetic dermopathy is yet another skin problem that typically affects geriatric patients aged 50 years or above as well as those with a long history of diabetes. (5) Nearly 0.2%–55% of all patients with diabetes suffer from it.
Diabetic dermopathy leads to the development of small, localized lesions made of dead, shriveled-up brown skin. These lesions do not exhibit any symptoms and do not spread by touching. You may get a single lesion or cluster of lesions, generally on the legs. (6)
5. Bullosis diabeticorum
Bullosis diabeticorum (BD), or diabetic bullae, is a self-resolving skin condition that specifically affects people with diabetes mellitus. It is marked by a sudden and spontaneous development of painless fluid-filled blisters that are non-inflammatory and non-infectious. (7)
In most cases, the lesions go away on their own within a few weeks. (8) The main aim of treatment, if any, is to keep the lesion from getting infected.
If the blister becomes too big or starts to hurt, you can go to a doctor to get its fluid drawn out while leaving the roof intact to preserve the skin barrier. You can also apply saline compresses to relieve the pain and inflammation, but there is rarely any need for topical antibiotics or steroids. (9)
6. Eruptive xanthomas
Eruptive xanthomas are characterized by the formation of multiple dome-shaped papules, plaques, or nodules with a reddish border and yellow center on the upper and lower extremities. These lesions are a result of the localized deposition of lipids under the skin, which could be a sign of severe cardiovascular risk. (10)
How to Protect the Skin in Diabetes
Keeping your blood sugar under control and keeping your skin clean, moisturized, and protected from injuries or infection are the best ways to avert such complications.
However, if you still develop any of the following symptoms, consult your doctor as they are characteristic of diabetes-related skin conditions:
Any noticeable changes or abnormality in the skin
Slow wound healing, with or without infection
Swelling or irritation in the area where you put the insulin injection
Tears or cracks in the skin (11)
Final Word
All in all, it serves you well to learn about the various diabetes-related skin disorders that could either alert you about the disease itself or about the need to manage it better.
Even though many of the above-listed conditions affect people without diabetes as well, they develop more easily in those with diabetes. However, some conditions exclusively affect patients with diabetes.
To avoid these diabetes-related complications, make sure to visit your doctor at least 2–4 times a year and keep them updated about any problems or new symptoms you are experiencing. Work with your doctor to come up with a proper diabetes management plan and stick to it. (12)
Was this article helpful?