Melanin is a pigment compound that gives your skin its color. It is produced by specialized cells called melanocytes that are found at the base of the epidermis (the outermost layer of the skin).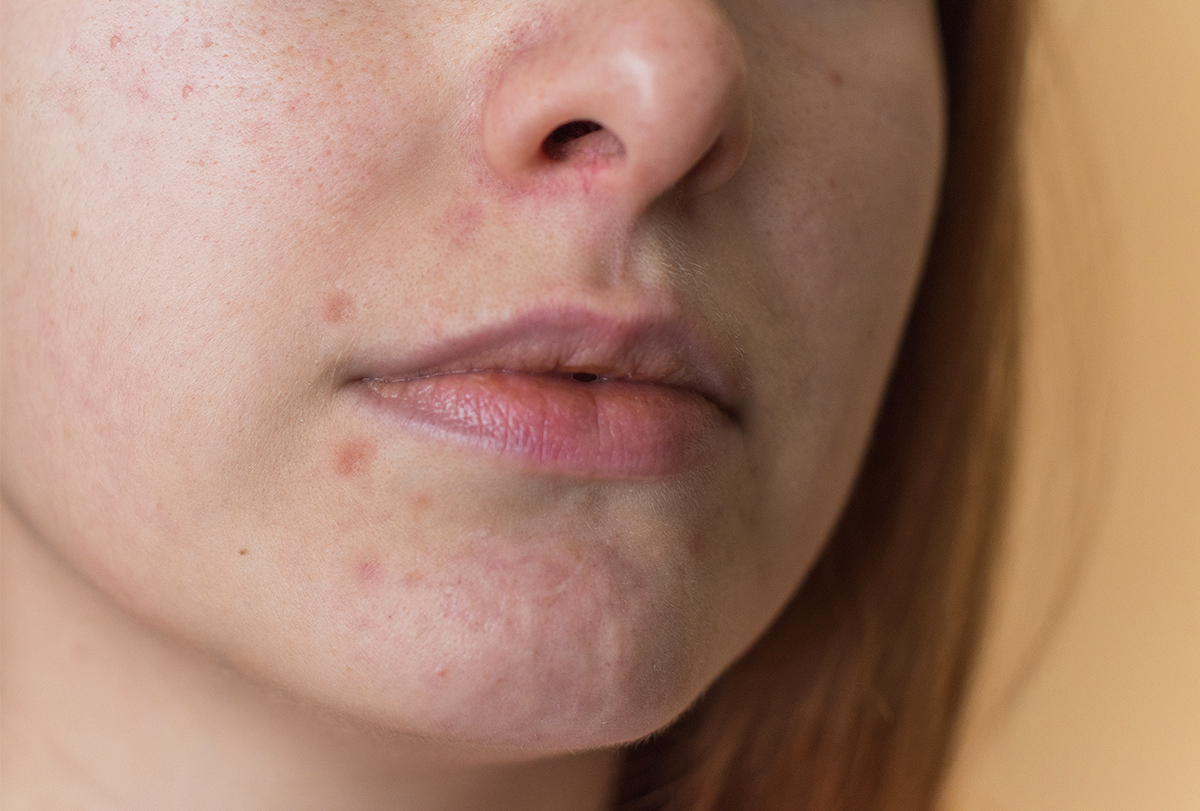 Your genes determine the basic level of melanin produced by the melanocytes, which, in turn, determines your natural complexion. However, certain factors can lead to the overproduction of melanin, which can accumulate in specific areas or be expressed sporadically to form dark spots on the skin.
Dark spots around the mouth can be quite unappealing and noticeable given their location. These blemishes can ruin the appearance of your face and make you extremely self-conscious. But in most cases, they are only a cosmetic concern with no major health implications.
This article will discuss what causes dark spots around the mouth and how to treat them.
Home Remedies to Fade Dark Spots Around the Mouth
A few natural ingredients can be used topically to fade dark spots around the mouth. Here are some remedies using such ingredients that you can try at home:
1. Use oatmeal as a gentle scrub
The granular texture of oatmeal makes it a good scrub for the delicate facial skin. Dampen your face and massage ground oatmeal all over it to gently exfoliate the dead skin and impurities settled on top of it. This will help reveal brighter skin underneath it.
Plus, the massaging motion will help stimulate blood circulation under the skin to increase nutrient delivery to the tissue.
2. Put aloe vera gel on your spots
Aloe vera gel contains numerous nutrients and antioxidants that can help repair, nourish, and soothe your skin. The antioxidants, in particular, help bring down skin inflammation, which often contributes to hyperpigmentation.
Simply cut open an aloe leaf and extract the gel from it. Apply this fresh gel all over your face or just to the dark spots and let it get absorbed. Wash your face with plain water once the gel has completely dried out. (1)
3. Exfoliate your skin with papaya peel
Papaya is rich in vitamins A and C, both of which are strong antioxidants that can help calm your inflamed skin. Plus, both vitamins help accelerate skin regeneration by stimulating collagen synthesis. (2)
Papaya peel also works as a gentle scrub to scrape off the dead, hyperpigmented skin on the surface.
4. Massage your skin with a potato slice
Potatoes exhibit bleaching properties that can help lighten your dark spots. Plus, gently massaging a slice of potato on your face helps scrub off the dead skin settled on top.
However, this remedy does not carry much scientific weight but has yielded good results for a lot of general users. (3)
5. Cleanse your skin with rose water
Rose water is replete with antioxidants that soothe skin inflammation and promote skin repair. Plus, this cool, rejuvenating liquid hydrates your damaged skin, which is in stark contrast to regular cleansers that contain harsh chemicals that dry out your skin. (2)
6. Apply honey
Honey has multiple healing properties that can help you get rid of hyperpigmentation faster. It is deeply hydrating and loaded with antioxidants, both of which can help repair your damaged skin. (4)
7. Use yogurt and milk paste for gentle exfoliation
Yogurt and milk contain lactic acid, which is a mild exfoliating agent that can help fade blemishes and improve your skin tone over time. The removal of dead, damaged, hyperpigmented skin allows new healthy, bright skin to rise to the surface, thereby diminishing the appearance of dark spots. (5)
8. Scrub your skin with orange peel
Orange peel is loaded with vitamin C, which helps in the synthesis of new skin cells while also acting as a potent antioxidant to fight skin inflammation. Both these properties can help reduce the appearance of dark spots.
Moreover, its granular texture helps exfoliate the dead skin settled on top of your face to expose the brighter skin underneath. (3)
9. Rinse your face with rice water
Rice water is traditionally used in Asian societies as a bathing or skin care ingredient and has now become globally popular for its dermatological benefits. However, there isn't much scientific evidence to determine its true efficacy.
According to a study published in 2018, rice water is credited with hydrating properties that can help improve skin texture. (2) Well-moisturized skin heals faster and is less prone to inflammation. Thus, topical use of rice water may help fade dark spots, but more studies are needed to confirm this claim.
Treatment for Dark Spots Around the Mouth
The first step is to treat underlying issues such as acne, folliculitis, impetigo, herpes, or any other ongoing inflammatory condition.
Then, the following treatment agents can be considered:
1. Kojic acid
Kojic acid is known to inhibit the activity of a particular enzyme called tyrosinase, which is essential for melanin production. Thus, by limiting tyrosinase, kojic acid helps decrease melanin production, resulting in skin brightening.
Kojic acid is a cost-effective product widely available in form of cream, serum, and toner. (6)
2. Arbutin
Like kojic acid, arbutin also curbs the release of tyrosinase enzyme, resulting in lower melanin synthesis. With regular application, this compound can help lighten your dark spots as well as brighten and even out your overall complexion. (7)
3. Niacinamide
Niacinamide is a form of vitamin B3 that is credited with multiple skin benefits. When used in the correct concentration, this compound may help reduce tyrosinase activity and thus limit melanin production.
Plus, niacinamide exhibit strong antioxidant properties that fight skin inflammation, which can contribute to spot formation and hyperpigmentation. It helps repair and moisturize the damaged skin so that it heals better and quicker. (8)
4. Vitamin C
The skin-brightening properties of vitamin C can help reduce the appearance of dark spots. Plus, it stimulates collagen synthesis, leading to the formation of new skin cells that can replace the damaged ones.
Vitamin C also works as a powerful antioxidant that protects your skin cells from free radicals. Free radicals are unstable reactive molecules that damage the skin cells, trigger inflammation, and thereby contribute to excess melanin production. (9)
5. Azelaic acid
Dead and damaged skin cells accumulate on the surface of the skin, making it look dull, dark, and tired.
Fortunately, the skin is a self-regenerating organ that sheds these dead cells over time to make room for new ones. It takes about a month for the skin to replace its entire outer layer.
Certain active ingredients can help speed up this process. These include azelaic acid, (10) lactic acid, (11) and glycolic acid, (12) all of which work as gentle exfoliating agents. These acids dissolve the bond between the dead skin cells so that they become loose and easier to shed.
As the damaged outer skin peels off, it is replaced by fresh skin that forms underneath it and rises to the surface. This new skin is bound to be clearer, brighter, and more even toned. Eventually, this skin-resurfacing process helps fade away dark spots.
6. Retinoid
Retinoid is a derivative compound of vitamin A that has been proven to increase collagen synthesis. Collagen is the main component for building new skin cells. Thus, retinoid helps promote new skin formation, resulting in faster skin regeneration.
As new skin replaces the damaged skin, the blemishes will inadvertently become lighter as time passes. (13)
7. Laser treatment
Laser treatment works by emitting a wavelength of high-energy light on hyperpigmented skin. This energy is converted into heat after being absorbed into the skin.
The targeted heat destroys the damaged cells and excess melanin underneath the skin while sparing the surrounding healthy tissue. The burnt cells are then gradually replaced by new cells for proper skin repair.
Ways to Prevent Dark Spots Around the Mouth
Here are a few skin care measures to prevent the formation of dark spots around the mouth:
Always apply broad-spectrum sunscreen to exposed skin during the day, especially when venturing out in the sun. Reapply every 2 hours as well as after washing your face or intense sweating.
Do not pop or squeeze your pimples; this may lead to scarring and hyperpigmentation.
Cover your face when visiting dusty and polluted areas, and properly cleanse and wash your face after coming back.
Wash your face regularly with normal water to avoid dirt from building up and blocking the oil glands of your face.
Maintain proper fluid intake and consume a healthy, well-balanced diet.
Always do a patch test before using a new product on your face to rule out allergic or adverse skin reactions.
Follow a stringent skin care regimen with products that suit your skin type and condition. The basic formula is to cleanse and moisturize your face in the morning, followed by applying sunscreen and then cleansing and moisturizing before going to bed. Exfoliate every 3–4 days, and incorporate other skin actives following your dermatologist's recommendation.
Common Causes of Dark Spots Around the Mouth
Some factors that can contribute to the formation of dark spots around the mouth include:
1. Melasma
Melasma is a skin condition characterized by hyperpigmented spots or patches that mainly appear on the face, specifically in areas that have sebaceous glands underneath such as the cheeks, forehead, nose, and chin. (14)
It is either caused by pregnancy-induced hormonal changes or excessive unprotected sun exposure. Both these factors stimulate the melanocytes to produce excess melanin, which may be expressed in localized areas to form spots on the skin.  
Melasma is much more common among women than in men and usually develops between the ages of 20 and 40 years. In some cases, it may have an early onset during adolescence. (15)
2. Post-inflammatory hyperpigmentation
Any injury, trauma, or irritation to the skin leads to inflammation.
Skin inflammation triggers the melanocytes to increase melanin production. The excess melanin is then trapped in the surrounding areas, forming dark spots on the skin. This type of hyperpigmentation can occur in inflammatory skin disorders as well, such as dermatitis and psoriasis. 
3. Age spots
Melanin is your skin's inherent weapon to fight sun damage. Sunlight contains harmful ultraviolet rays (UV) that penetrate deep into the skin, causing damage at the cellular level.
Melanin absorbs these UV rays at the superficial layers of the skin to keep them from breaching deeper. Thus, sun exposure automatically stimulates the melanocytes to produce more melanin to block out the UV rays. However, this buildup of melanin ends up making the exposed skin darker than its original complexion. This is known as hyperpigmentation. (16)
Sometimes, the excess melanin gets concentrated in localized areas to form flat, brown spots on the skin surface. These are known as age spots and usually occur on the sun-exposed parts of the body, including the face and the area around the mouth.
4. Dehydration
Dehydrated cells can easily be seen in a sunken face. A darkened complexion and cracked lips are some common signs.
5. Vitamin B12 deficiency
Vitamin B12 is essential for making new red blood cells that carry oxygen to the various body organs, including the skin. Not getting enough of this vitamin can lower your red blood count, thus depriving your skin of proper oxygen supply.
The lack of oxygen prompts the melanocytes to go into overdrive and produce too much melanin. The result is dull, darker skin. Moreover, the excess melanin may get stored in specific areas, forming dark spots on the skin. (17)
6. Excessive smoking or alcohol consumption
Tobacco smoke and alcohol constrict the blood vessels, reducing blood flow in the body. Thus, your skin does not get enough nutrients and oxygen via the blood, making your skin appear pale.
Plus, the toxins released by these products trigger melanin overproduction, which causes skin darkening and spot formation.
7. Emotional stress
Stress triggers the release of a hormone called cortisol in the body, which is known to aggravate acne and inflammatory skin conditions, both of which can cause dark spots around the mouth.
Additionally, stress is just bad for your overall skin health as it makes it age faster and leads to an uneven complexion. (18)
8. Certain medications
Oral contraceptives and various steroids trigger hormonal fluctuations in the body that affect melanocyte function and result in melanin overproduction, which contributes to dark spots around the mouth. (19)
9. Allergies
Skin allergies lead to inflammation, which stimulates the melanocytes to produce excess melanin.   
10. Estrogen effect on the skin
Estrogen is a female hormone that is said to influence melanocyte functioning. High estrogen secretion may overactivate the melanocytes to produce too much melanin, ultimately resulting in skin darkening and spot formation. This problem is usually observed during pregnancy. (20)
When to See a Dermatologist
Consult your dermatologist if the dark spots around your mouth:
Do not fade even after following the recommended skin care at home
Persist for a long time along with other concomitant symptoms such as burning and irritation or signs such as itching, blisters, redness, or thickening of the skin
Are Dark Spots Contagious?
Dark spots can be caused by various factors, so their transmissibility depends on the underlying cause. In most cases, these blemishes are not contagious to other people, but they may spread from around the mouth to other areas of the face, especially if they are caused by a fungal infection.
Final Word
Dark spots around the mouth are usually benign and can be treated with simple home remedies and skin care measures at home.
However, if they are stubborn, too prominent, or accompanied by other irritating symptoms, it's highly recommended to consult a skin doctor to detect any serious underlying condition and seek medical treatment if needed.
But whatever be the case, remember that skin healing is a gradual process, and it's futile to expect your dark spots to fade overnight. Just be consistent with your treatment procedure and healing will follow.
Was this article helpful?