Darks spots, also known as hyperpigmentation, refers to the formation of dark-colored spots and patches on the skin, typically as a result of skin aging, sun exposure, or acne, especially in people with medium to dark skin tone.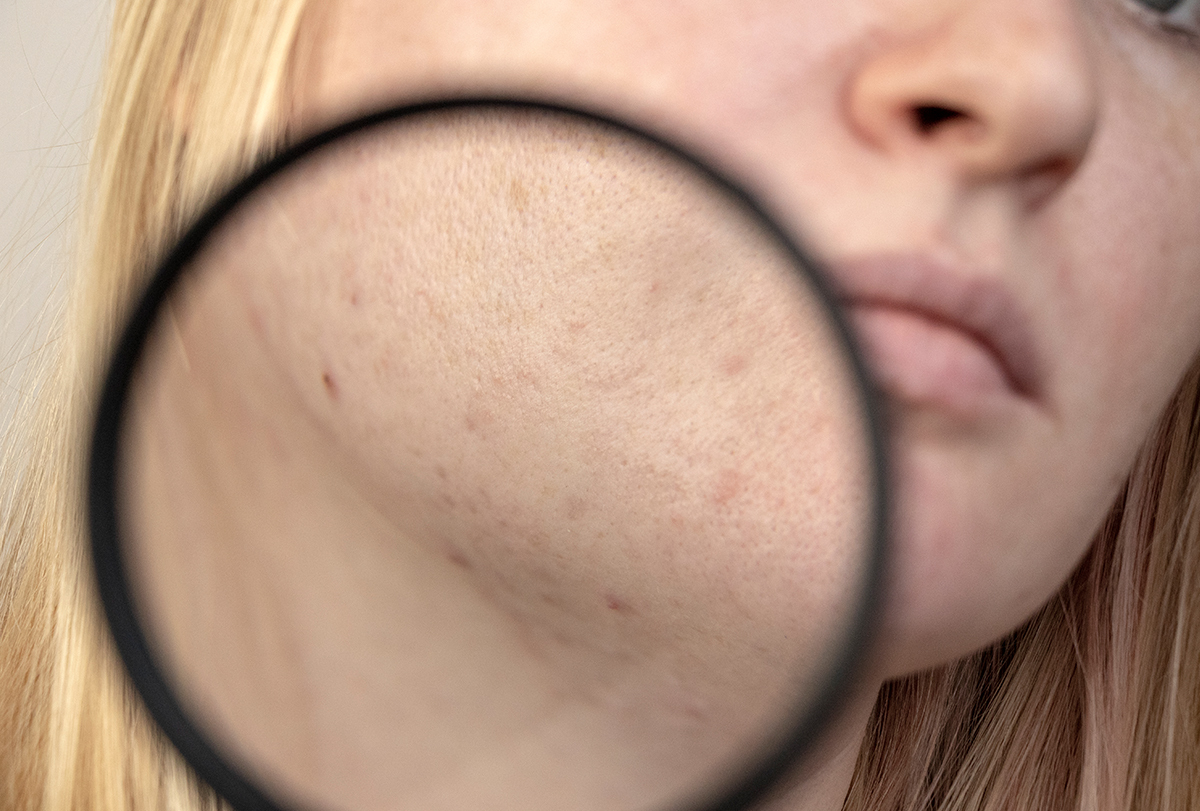 Various such factors can stimulate the melanocyte cells to increase the production of melanin, the pigment responsible for skin color. Therefore, it is vital to steer clear of these factors.
Who Gets Dark Spots?
Dark spots can occur in both women and men. In general, women and dark-skinned people, including Asians, Hispanics, and African Americans living in areas with intense sunlight, are found to have higher rates of melasma. (1)
Hyperpigmentation is the most frequently registered complaint in people aged 40–54 years, regardless of gender or skin color. (2)
Causes of Dark Spots
The different factors that can contribute to the development of dark spots include:
1. UV light exposure
Sun rays can both trigger the onset of melasma and aggravate the condition regardless of the cause.
Such dark spots, generally found on the face and hands, are also known as age spots, solar lentigines, and liver spots. Moreover, visible light and heat can also worsen melasma.
2. Hormonal imbalance
A change in the level of hormones due to stress, pregnancy, or use of hormonal pills can cause dark spots known as chloasma.
Pregnancy or the use of oral contraceptives is the underlying cause in 40%–50% of women with melasma. Additionally, 8%–34% of women who use combined hormonal oral contraceptives develop melasma. (3)
3. Wounds
These include external injuries caused by burns and dermatological procedures.
4. Soaps and cosmetic products
Any facial product that alters the pH of the skin due to their chemical composition can increase the sensitivity of the skin, which, when exposed to the sun or other environmental factors, may develop dark spots.
5. Irritation
Any irritation to the skin can turn into dark brown spots upon healing. Also, irritation caused by different factors can aggravate preexisting melasma. Waxing is one such example that irritates the skin.
6. Skin cancer
In some cases, dark spots may be caused by skin cancer.
7. Certain skin conditions
Multiple skin problems can produce dark spots as one of their symptoms. However, it is vital to note that these darkly colored patches of skin differ from age spots.
8. Post-inflammatory hyperpigmentation
This refers to the temporary pigmentation that develops as a result of injury or inflammatory disorders of the skin, such as dermatitis and infection. Acne is one of the common reasons for post-inflammatory hyperpigmentation and, therefore, dark spots.
9. Linea nigra
This refers to the dark line that develops on a woman's belly during pregnancy. Linea nigra may already exist and darkens and becomes more visible during pregnancy.
10. Periocular hyperpigmentation
This refers to the presence of light to dark brownish pigmentation around the eyelids, giving a tired appearance. This type of hyperpigmentation is also commonly known as dark circles.
11. Some medications
Certain medicines can contribute to the formation of dark spots by increasing skin sensitivity toward sunlight (photosensitivity). These include:
Nonsteroidal anti-inflammatory drugs (NSAIDs)
Antimalarials
Amiodarone
Phenytoin
Cytotoxic drugs
Tetracycline
Heavy metals
Antipsychotic drugs
Oral contraceptives
12. Health issues
Certain health problems can also lead to the development of dark spots, including:
Liver disease
Addison's disease
Thyroid disease
Symptoms Associated With Dark Spots
Dark spots appear as small patches on the skin that are darker than the surrounding skin. They are chiefly caused by an increase in the skin pigment melanin.
Dark spots can appear in various areas, such as:
Forehead
Cheeks
Bridge of the nose
Above the upper lip
Chin
Neck
Forearms
Depending on the underlying cause or other environmental factors, dark spots may be accompanied by:
Redness
Swelling
Blackheads and whiteheads
Pimples
Medical Treatment for Dark Spots
Various treatment options can help reduce the appearance of dark spots. A great deal of patience is needed, as it might take time for the dark spots to clear up.
1. Topical treatments
Topical treatments primarily include skin-lightening products that aim at fading the dark spots quickly. These products are more effective once the factors that trigger the dark spots are taken out of the equation.
When using skin-lightening products, protect your skin from sun exposure. This is very important. These products are available in the form of lotions, creams, gels, and liquids. The most effective ones contain the following ingredients:
Hydroquinone: This is the most common first-line treatment for dark spots. It has been used worldwide for over 60 years and is considered to be the most efficient skin-lightening agent. (4)
Retinoids: These are vitamin A derivatives, including tretinoin, retinol, tazarotene, and adapalene gel. Retinoids are useful for skin exfoliation. However, they can irritate the skin and should be used with caution. Retinoids possess antiwrinkle properties that promote the synthesis of keratinocytes, strengthen the epidermis and collagen, prevent transepidermal water loss, and inhibit metalloproteinases activity. (5) It is recommended to start using retinol twice a week only as it can cause irritation. Thereafter, the frequency of use can be increased gradually, followed by proper moisturization and sun protection.
Kojic acid: A study conducted in 2013 demonstrated the effectiveness of kojic acid and hydroquinone combination in reducing dark spots. (6)
Vitamin C: It has been shown that the transdermal administration of vitamin C can be used as a short-term treatment for post-inflammatory hyperpigmentation and melasma. (7)
Azelaic acid and glycolic acid
Most of these ingredients can help lighten existing spots and also help prevent the formation of dark patches by reducing melanin production.
2. Oral medications
Although topical therapies are the popular treatment for dark spots, a few oral options are also available. These include: (8)
Tranexamic acid (TA): This is an antiplasmin agent that helps reduce the production of melanin by inhibiting the generation of arachidonic acid, which in turn lowers the amount of melanocyte-stimulating hormone.
Polypodium leucotomos (PL) and glutathione
3. Cosmetic procedures
You can undergo various cosmetic procedures to help lighten the dark spots upon consultation with your dermatologist. These cosmetic procedures include:
Chemical peels: Are used for giving an instant glow to your skin, removing dead skin cells and evening out the skin tone. Superficial chemical peels are found to be effective in the treatment of melasma and post-inflammatory hyperpigmentation. (9)
Microdermabrasion: Aids in the removal of the outer, thicker layer of the skin with the use of mildly abrasive instruments to help improve discoloration, scars, stretch marks, and sun damage.
Laser resurfacing: Involves the use of intense pulsating light beams on your skin to remove damaged, unwanted skin, layer by layer. This helps reduce wrinkles, blemishes, acne scars, and age spots while evening out the skin tone and tightening the skin.
Cryosurgery: It is a noninvasive technique that uses a spray gun to shower liquid nitrogen on your dark spots, thus freezing and turning them white.
Skin camouflage: Employs the application of a dense, long-lasting cream matched to your skin color to hide the dark spots, therefore giving an even skin tone.
Diagnosing Dark Spots
It is vital to diagnose the cause behind your dark spots to identify or rule out serious problems. For this, the doctor will take a close examination of your skin.
He may use a Wood's lamp, which uses ultraviolet light for illumination, to examine your skin closely. He may also perform a biopsy to confirm the presence or type of melasma. Histology of the skin tissue will help determine the cause.
A KOH test and thyroid function test may need to be done to confirm the reason for the development of dark spots.
Risk Factors for Dark Spots
Melasma affects both genders, but it is more common in women during their reproductive age. Additionally, the following factors may increase the risk of melasma:
Family history of melasma
Dark skin tone
Use of medications such as hormone therapy or antiseizure drugs
When to See a Doctor
Most dark spots eventually fade when combined with protective measures. You may use home remedies to help lighten the spots. However, if the darkened patches on your skin bother you because of their appearance or are persistent, you may consult a dermatologist.
It is suggested to contact a doctor at the earliest if you suspect an infection, cancerous moles, or melanomas.
Final Word
Being a common manifestation of skin aging or sun exposure, dark spots are rarely a cause of health concern. Nevertheless, they may be a beauty issue for many, sometimes even affecting their self-esteem.
There are various treatments one can avail to lighten hyperpigmentation. However, if the condition is persistent you should visit a dermatologist for diagnosis and treatment.

Continue ReadingHow to Get Rid of Dark Spots
Was this article helpful?