Cracked heels, or heel fissures, are one of the most frequent problems of the feet. They are generally not problematic, except being odd-looking.
However, when left untreated, the fissures or cracks can deepen, causing pain when doing daily activities that put pressure on the heels, including while walking and standing.
Causes of Cracked Heels
Cracked heels are typically due to skin dryness (xerosis). Because the base of your feet has no oil glands, it is naturally drier than the rest of the body. The lack of moisture in the skin makes it prone to tearing or cracking.
Also, the constant application of pressure makes the dry heel skin expand and gives way to fissures, which may be superficial at first but can become deeper and larger over time. Deep cracks can bleed and hurt, especially when the rim of the heel is callused or thickened.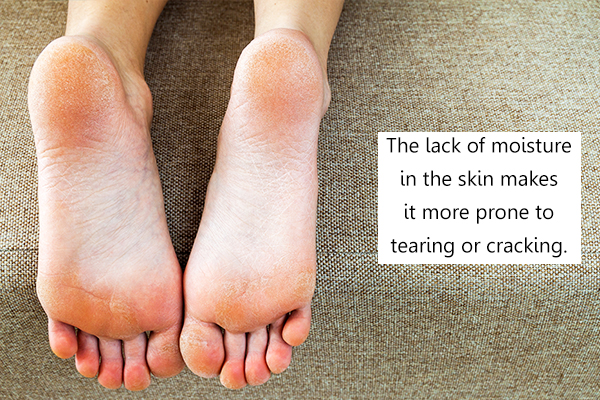 The various factors that can contribute to the development of cracked heels include:
Cold, dry weather
Dehydration
Standing for long periods
Use of open-back shoes
Central heating
Vitamin deficiency
Hot showers or baths
Flat feet or high-arched feet
Gait abnormalities
Medical conditions such as athlete's foot
Dry skin due to lack of moisturization
Use of harsh, drying soaps on feet
Heavy body weight, which puts pressure on heels, causing splits in the skin
Pregnancy and its associated hormonal changes
Improper foot care
Unhealthy diet
Aging
Improper footwear, including thin-soled shoes and open sandals
Symptoms of Cracked Heels
Cracked heels are visible as fissures in the skin on the heels. These might be accompanied by various other symptoms, such as:
Pain and discomfort that worsens when pressure is applied on the heel and subsides during rest
Bleeding
Dryness
Tenderness
Callus (dry, thick skin)
Yellow or brown skin
If not treated timely, deep fissures can become infected and may fester into ulceration or cellulitis, especially in those with existing health conditions such as diabetes.
The following symptoms point toward an infection:
Redness
Swelling
Warm to the touch
Pain on touching or applying pressure
Treatment of Cracked Heels
Cracked heels are typically treated with proper foot care at home, but you may have to visit a podiatrist if you develop painful, deep fissures. The doctor will most likely recommend the following medical interventions to repair your damaged skin:
1. First-line treatment
The doctor usually recommends an emollient with humectant and keratolytic properties to moisturize your dry and rough heels. This includes cream and lotions which contain urea, alpha-hydroxy acids, and salicylic acid.
A study highlighted the efficacy of one such formulation for reducing dryness and promoting open fissure healing without any reported significant side-effects in patients with diabetes. (1)
2. Liquid skin bandage
Liquid skin bandage is a plastic coating that seals wounds, promotes healing, and helps relieve pain.
As the crack heals from the sole to the inner layers, the plastic seal is pushed up, lasting for approximately one week. You can apply it in the following way:
Wash and dry the wound.
Use the accompanying brush or swab to apply a single layer of the liquid on your heel.
Let it dry for a minute.
Apply a second layer over it.
Diagnosing Cracked Heels
Cracked heels can be easily identified through visual symptoms. However, the doctor will also need to assess the severity of the condition and find the underlying cause.
The doctor will ask about your medical history and lifestyle to identify the cause of cracked heels. Furthermore, your medical history will provide details of any health conditions that can affect your treatment. Upon evaluating all these factors, the doctor will suggest a suitable course of treatment.
Risk Factors for Cracked Heels
Cracked heels are a common occurrence among many individuals. However, certain factors that can predispose you to cracked heels, include:
Atopic dermatitis
Dry skin
Psoriasis (especially palmoplantar psoriasis, which is a chronic condition) (2)
Hereditary or acquired palmoplantar keratoderma (skin thickening of the soles and palms)
Systemic diseases that cause dry skin, such as hypothyroidism and diabetes
Corn or callus formation (dry, thickened skin around the rim)
Complications Associated With Cracked Heels
Large or deep heel fissures can take time to heal and easily become infected. Although most of these infections are localized, they can sometimes spread to the deeper layers and can result in cellulitis.
People with diabetes are more likely to develop foot infections, which can lead to ulceration if they have impaired vascular supply or neuropathy.
When to See a Doctor
Visit your dermatologist or podiatrist if cracked heels persist despite preliminary treatment and care or if you notice additional symptoms such as:
Soreness
Swelling
Redness
People with diabetes and associated neuropathy need to be extra careful as they have a higher risk of infection and possible ulceration.
Final Word
Cracked heels are a common problem that causes pain and discomfort. The skin at the sole of the feet is sensitive and dries out easily, causing cracks or fissures due to the splitting of the skin.
Proper foot care and regular moisturization are vital in preventing the development of cracks in the heels. If the symptoms become severe or have no likely cause, visit a dermatologist or podiatrist right away.

Continue ReadingHome Remedies to Heal Cracked Heels
Was this article helpful?