Your skin contains pores that are exit points for sweat. They also enable the release of natural oils, which keep your skin moisturized. However, these pores can often get clogged up as dead skin cells, dirt, and excessive oil accumulate on the skin surface. (1)
Clogged skin pores are easily visible on the skin surface, appearing larger and darker and often leading to the development of blackheads and pimples. If your pores continue to be clogged, they may become dilated over time.
Therefore, it is essential to prevent clogging of pores to keep your skin healthy. For this, you need to know the common factors responsible for blocked skin pores, including hormones, pollution, and sun exposure, and to take steps to prevent such problems.
Habits That Cause Clogged Pores
Blockage of skin pores often results from poor skin care habits. Moreover, numerous daily-life factors can contribute to the buildup of dirt, dead skin cells, and oil in your skin pores, which increases the chances of clogged pores. Here are some of these factors.
1. Picking your skin pores or pimples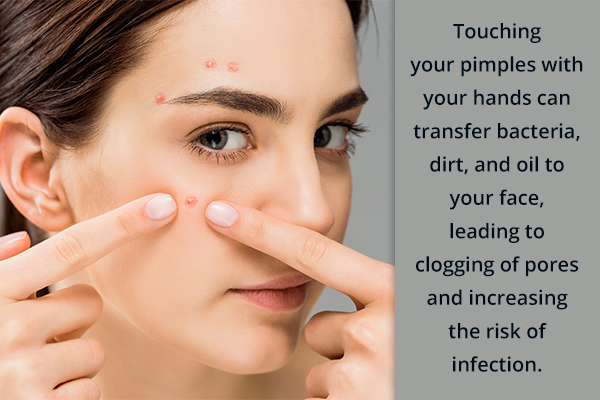 Many people pick or squeeze their pimples or large pores, stretching the skin. This habit can often lead to irritation and inflammation, along with the development of fine lines, thus further increasing the pore size.
Moreover, touching your pimples with your hands can transfer bacteria, dirt, and oil to your face, leading to clogging of pores and increasing the risk of infection.
What to do:
Do not touch your pimples at all, and avoid popping them.
Consult your dermatologist to determine the underlying cause of your acne and to receive proper treatment that suits your skin.
2. Touching your face repetitively
It is common to unconsciously touch your face several times throughout the day. However, this habit can largely affect your skin health, especially contributing to clogged skin pores.
Since your hands come in contact with various surfaces throughout the day, you transfer the dirt and bacteria present on your hands directly to your facial skin. This dirt can accumulate in your skin pores, leading to blocked pores and eventually acne breakouts.
What to do:
Make it a conscious habit to avoid touching your face.
Keep your hands clean by washing them or using a sanitizer frequently, especially before washing your face. (2)
Instead of touching your face with bare hands, use facial wipes or tissues. If you have oily skin, use facial wipes with tea tree oil to keep your skin clean.
3. Not exfoliating your skin properly
Skin exfoliation is a vital step of any skin care routine as it gets rid of the dirt and dead skin cells on the skin surface. This not only helps prevent clogging of pores but can also clear out the accumulated debris and oil inside the pores.
Not exfoliating your skin properly or skipping this step completely can increase the chances of clogged pores. However, it is also important not to overexfoliate your skin or use a harsh scrub as this can damage your skin barrier.
Overexfoliation can strip your skin of its natural oils, leading to dryness. To overcome this dryness, your skin ultimately increases sebum production, leading to clogged pores and acne.
What to do:
Exfoliate your skin not more than twice a week using a mild exfoliating scrub. The exfoliator you choose should not have a high acid percentage.
4. Lacking skin moisturization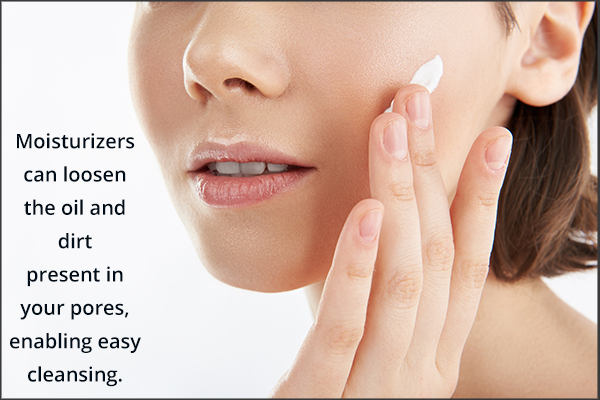 Another frequently encountered cause of blocked skin pores is a lack of moisturization. (3) Since moisturizing your skin is essential for its sebum production, barrier function, elasticity, and overall health, it is vital to pay attention to this skin care step.
If you do not moisturize your skin properly, its absorbing power decreases. As a result, the vital nutrients remain on the skin surface, eventually accumulating in skin pores. Moreover, poor skin hydration can make your pores dry and hard.
Conversely, when you moisturize your skin adequately, it absorbs the nutrients readily. Moisturizers can also loosen the oil and dirt present in your pores, enabling easy cleansing.
What to do:
Hydrate your skin using a suitable moisturizer every day, repeating application whenever you wash your face or when it feels dry.
5. Using a moisturizer not suitable for your skin
Moisturizing is essential to your skin health, but you must be mindful of the moisturizing product that you use. Moisturizers are usually classified into two broad categories: emollients and humectants.
Emollients are largely oil-based, forming a protective layer on the skin. Humectants help the skin in remaining hydrated by adding water to it. Since large or clogged pores are highly common with oily skin, using emollients adds to the oil content, thereby increasing the problem.
What to do:
If you have oily skin, choose water-based, noncomedogenic moisturizers.
If you have dry skin, select emollient products.
Many moisturizers are a combination of emollients and humectants, with different percentage compositions. You can try different products or consult your dermatologist to see what best suits your skin type.
6. Excessive sun exposure
The harmful UV rays of the sun can damage your skin collagen and tissues, contributing to large, clogged skin pores. (4) Moreover, long sun exposures can stimulate melanin production and aggravate skin hyperpigmentation.
What to do:
Apply sunscreen with at least 30 SPF before stepping outdoors. Choose lightweight, noncomedogenic sunscreens, which are, in fact, more effective. Your sunscreen should also contain zinc and titanium dioxide.
Avoid going out in the sun whenever possible and wear protective clothing.
ALSO READ: What Causes Sun Damage and How Can It Be Treated, According to a Skin Specialist
7. Sleeping with your makeup on
Makeup, which includes foundation, CC or BB cream, and powder, is a quick and easy way to conceal large pores. While these products fulfill their role of giving your skin an even look, they attract dirt and pollution.
Moreover, many cosmetic products are oil based, which can accumulate in the pores, leading to clogging and making it difficult for your skin to breathe. These effects of wearing makeup for long hours also contribute to premature skin aging.
What to do:
Remove your makeup at the end of the day using micellar water. Then wash your face with a mild cleanser, performing a double cleanse to get rid of all traces of makeup from your face. Doing so prevents settling of oil and dirt in the skin pores overnight and allows your skin to breathe. Removing makeup and cleansing your skin should be an essential part of your skincare routine. (5)
8. Wearing makeup while working out
While it is fine to wear makeup when you are going out, it should be avoided while exercising. Since you sweat during exercise, having makeup on can prevent the sweat from escaping easily, thus attracting bacterial and dirt buildup. This can often lead to blackheads, acne breakouts, and skin irritation.
What to do:
Always exercise with a clean face, devoid of moisturizers even, if possible. This allows the sweat to run freely and even cleanse your skin pores of dirt and toxins.
Always wash your face or take a shower after exercising to prevent the sweat from drying on the skin and inside the pores.
9. Not cleaning your makeup brushes
Similar to keeping your face clean, it is vital to wash your makeup brushes from time to time. If you avoid cleaning these makeup tools, grime and dirt can collect on them. This also makes the brush bristles hard, which can irritate your skin.
Moreover, unwashed brushes, being exposed to the environment, are suitable breeding grounds for bacteria. When you use these dirty brushes to do makeup, you transfer the dirt and bacteria into your pores.
What to do:
Clean your makeup brushes at least once a week. You can use soap and warm water to wash your eye makeup brushes two times a month.
Replace your makeup sponge with a new one every 3 months.
10. Using dirty towels
Cleansing your face every day is essential to prevent accumulation of dirt, dead skin cells, and oil in your skin pores. However, if you use a dirty towel to wipe your freshly cleansed face, you run the risk of transferring bacteria and dirt to your pores.
A towel hung in a bathroom with high humidity is a perfect breeding ground for bacteria. You can easily develop skin infections by using one.
What to do:
Wash your towels at least three times a week and dry them properly before use.
Keep a separate towel for your face and another one for the rest of your body.
11. Sleeping on unwashed sheets
It is essential to maintain hygiene to prevent clogged skin pores. This pertains not only to your skin but also to all items that your skin comes in contact with, including your bedsheets and pillow covers.
Not washing your bed linens allows the accumulation of sweat, oil, dirt, dead skin cells, and bacteria, which ultimately are transferred to your skin while you sleep, increasing the chances of clogged pores and blemishes.
What to do:
Wash your bedding every 3 days or at least weekly, and dry them properly if you have a problem of clogged pores.
12. Talking on the phone
As mentioned above, anything that comes in contact with your skin, if dirty, can increase the risk of clogged pores. Another item that you use frequently and touches your face is your phone.
It is common to place your phone on any dirty surface such as pockets, purses, tables, and other common areas. Dirt, oil, and bacteria can easily transfer from these surfaces to your phone.
When you touch the phone screen to your facial skin, the impurities stick to your skin surface, leading to clogging of pores.
What to do:
Use hands-free devices to avoid skin contact with your phone.
Make it a habit to wipe the exterior of your phone frequently, preferably using antibacterial wipes.
Avoid using your phones in grocery stores, toilets, hospitals, and other public places.
13. Using dirty spectacles
The skin pores on your cheeks and nose are usually the largest, and it is common to develop problems associated with clogged skin pores in these areas.
Since your spectacles or sunglasses rest on your nose and near the cheek, not cleaning them makes them sources of dirt and bacteria, which can lead to acne breakouts.
What to do:
Clean your glasses regularly while in the shower or by using cleansing wipes.
14. Poor shower routine
Long, hot showers are no doubt a great way to unwind and relax at the end of the day. However, hot water can strip your skin of its natural oils, which in turn stimulates the overproduction of sebum, leading to clogged skin pores.
At times, leave-in conditioners, while they soak your hair, can run down to your face and clog your pores.
What to do:
Avoid using hot water to shower. Instead, take short baths with lukewarm water to lock in moisture.
When using a conditioner, rinse it out properly, and wash your face afterward.
15. Smoking
Smoking, among its many perils, damages your skin, leading to loss of strength and elasticity and contributing to premature aging. (6) Moreover, as you smoke, the residues accumulate on your skin surface, clogging up the pores.
What to do:
Smoking cessation is essential to maintain your skin and overall health. You can consult a doctor on how to quit smoking successfully.
Important Points
Besides taking measures to avoid the skin-clogging factors mentioned above, the following tips may be useful in maintaining good skin health:
Manage your stress to prevent worsening of skin disorders such as acne.
Avoid stepping out in highly polluted areas, since environmental toxins can cause skin damage, especially in your pores.
Avoid dry shaving as it can irritate your skin.
Limit your alcohol and caffeine consumption.
Do not snack on foods high in fats or processed foods.
Final Word
Clogging of skin pores is a common problem, which, when not managed timely, can lead to acne, infection, irritation, and inflammation. Moreover, clogged pores prevent the skin from breathing, eventually leading to poor skin health.
It is vital to be aware of the factors that cause clogging of pores and to avoid them. Take proper care of your skin through exfoliation, moisturization, and maintaining proper hygiene to prevent the buildup of dirt, skin cells, oil, and bacteria on your skin.
Was this article helpful?