Bruises, known medically as contusions or ecchymosis, are characterized by skin discoloration, pain, and swelling.
They develop when the blood vessels that lie under your skin or deep in your tissues, organs, and bones become damaged and leak blood in the surrounding tissue.
Types of Bruises
Bruises can be classified into three different types based on the body parts they occur:
Subcutaneous: A bruise underneath the skin
Intramuscular: A bruise within the muscle
Periosteal: A bone bruise
What Does a Bruise Look Like?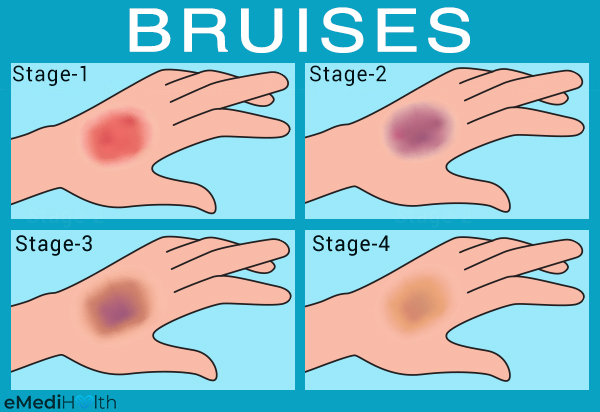 A contusion first appears as a pink or red splotch on the skin, which gradually acquires a bluish-purple hue as the injury matures.
As the bruise heals, it fades to a lighter shade of greenish-yellow before disappearing completely. Most bruises heal within 2 weeks but some can last for months if the injury is severe.
Small contusions that develop once in a while despite any physical trauma are rarely a cause for concern.
What Can Cause a Bruise?
Bruises can be an outcome of a direct injury inflicted on the body either by direct blows or by repeated hitting with a dull object. The jerk may crush the underlying connective tissue and muscle fibers without causing any tear or cuts on the skin surface.
Bruises on the skin are usually incurred from minor trauma or injury which includes:
Tripping or falling
Spraining your ankles
Bumping your body, typically the foot, against a hard surface
Getting your skin scraped
Dropping a heavy weight on your foot
Getting your toe stubbed
Walking, running, or jumping on coarse, concrete surfaces
Some people develop a swollen contusion at the site of an injection shot
Unexplained bruising
Bruised splotches on your skin without a definite cause or physical injury or a sudden increase in the frequency of bruising can point toward any of the following health concerns:
1. Sepsis
A potentially fatal condition that develops when a bacterial infection spills into your bloodstream.
2. Hemophilia
A bleeding disorder where the blood does not clot as properly as it should, leading to excessive bleeding.
3. Von Willebrand disease (VWD)
A bleeding disorder that can make one prone to easy bruising even from the slightest trauma.
4. Thrombocytopenia
A condition of abnormally low levels of blood platelets, the blood cells that clump together to coagulate the blood.
5. Vasculitis
An inflammation of the blood vessels which occurs due to autoimmune reactions. This reduces the blood flow and can trigger tissue damage, which becomes apparent in the form of skin bruising.
Other diseases can also compromise your blood clotting process and make you prone to bruising. These include:
Lupus
Liver cirrhosis
Cancer
Nutritional deficiencies such as a deficiency in vitamins B12, K, or C or low levels of folic acid
Symptoms of a Bruise
A bruised skin region may show the following symptoms:
Pain
Swelling
Skin discoloration
Tenderness
Difficulty using the muscle that has been deeply bruised
Leakage of blood from abdominal contusions
Medical Treatment for Bruises
The primary treatment for bruising aims at preventing or stopping bleeding and treating the causative factors. Along with this, you may require:
Pain relief drugs such as acetaminophen
Anti-inflammatory medications including NSAIDs such as ibuprofen, especially for older people (1)
A brace to limit movement
It is also suggested to give rest to the injured area for up to 2 days of injury, accompanied by icing, compression bandages, and elevating the injured area (RICE treatment).
Note: Avoid taking NSAIDs and blood thinners for contusions as they can interfere with blood clotting. (2)
Diagnosing a Bruise
A timely diagnosis of your bruises can help to determine the underlying reason. This involves:
Evaluation of family history
Physical examination of the bruised skin region
Preliminary blood tests
A peripheral blood smear
X-ray or MRI if your doctor suspects a bruised bone
Risk Factors for Bruising
Certain risk factors can render the capillaries under your skin increasingly fragile and prone to hemorrhaging, while other factors can prevent your blood from clotting fast enough:
Medications such as aspirin, ibuprofen, diclofenac, oral blood thinners, warfarin, heparin, and corticosteroids can lead to easy bruising. (2)
Some people inherit the tendency to bruise easily, as it runs in their family.
Women tend to get bruised more often than men, particularly from minor jerks on the buttocks, upper arms, or thighs.
Older individuals are more prone to injuries on the hands, feet, upper extremities, and lower extremities.
Alcohol may work as an anticoagulant, which can severely hamper your blood clotting process if consumed in excess. People who are extremely overweight or obese are more susceptible to bruising than those who figure within the healthy weight range.
Complications of Bruising
At times, the leaked blood may not form a bruise but instead accumulates underneath the skin or inside the surrounding muscle region. This may then get trapped and aggregate into a solid mass known as a hematoma.
The blood residing in the hematoma is in a liquid state and must be aspirated and drained before it completely solidifies. A contusion that is not cared for properly may give rise to compartment syndrome or myositis ossificans.
When to See a Doctor
Seek immediate medical attention if:
The affected skin gets swollen or numb or produces a tingling sensation.
You still experience pain after 3 days.
The affected site feels like a hard lump.
You experience difficulty moving due to the associated pain and injury.
The bruise formed is an outcome of a jerk or blow to your stomach or head.
Skin breakdown occurs.
You get frequent bruises.
Expert Answers (Q&A)
Answered by Dr. Firas Al-Niaimi, MRCP
What are the telltale signs of an infected bruise?
The signs of an infected bruise include ongoing pain, warmth, and tenderness around the area. A fluctuating abscess is also a sign of an infection.
Can anemia cause a person to bruise easily?
Certain types of anemia characterized by a low platelet count can lead to bruising.
Can high levels of stress lead to easy bruising?
This does not happen usually. But again, if the high stress level influences platelet function, then it can cause bruising.
Why does leukemia cause excessive bruising?
In leukemia, the platelet action and clot formation are abnormal and dysfunctional, making the affected individual prone to bruising.
How to get relief from a bruise?
Try to contain the bruise with ice packs and look for a cause. Avoid blood-thinning medications.
About Dr. Firas Al-Niaimi, MRCP: Dr. Al-Niaimi is a consultant dermatologist in the United Kingdom and has over 160 scientific publications.
Final Word
Even the slightest trauma to the skin can, at times, rupture the blood vessels that lie beneath it and cause pooling of blood at the site, which appears on the surface as a black-and-blue discoloration known as a bruise.
People often incur accidental injuries while performing their daily chores, which results in painful bruising that can easily be relieved through O-T-C analgesics, ice therapy and raising the affected part above heart level.
However, you may require a proper medical checkup and treatment if you get bruised frequently for no apparent reason, if your bruise becomes severely discomforting and long-lasting, or if you notice any signs of infection at the bruised site.

Continue ReadingHeal Bruises: Home Remedies and Self-Care
Was this article helpful?