The skin contains millions of tiny pores that are home to hair follicles and sebaceous glands. These skin pores often get clogged due to the accumulation of dirt, dead skin cells, and oil. Once clogged, the skin pores become visible as tiny spots on the skin surface, also known as comedones.
These spots may either form due to closing of the pores, resulting in the formation of white spots, or opening of pores, leading to blackhead formation. (1)
Comedones, especially blackheads, can form on any part of the skin but most commonly around the nose. They may also occur on the neck, back, chest, arms, and shoulders. While generally harmless, blackheads can be a source of pain and discomfort if they appear in hard-to-reach places such as the inner ears.
It is best to get such blackheads treated medically and practice self-care measures that can help remove and prevent blackheads in the ears. This article will talk about the different treatment methods for blackheads in the ears.
How to Extract Blackheads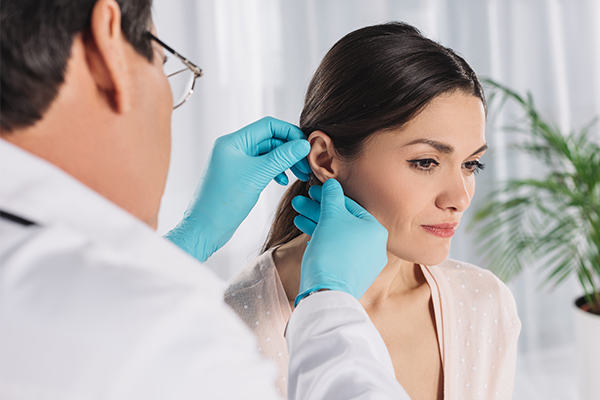 If you develop blackheads in your ears, it is best to get them removed by a dermatologist to avoid complications. The doctor may use the following techniques for blackhead extraction:
1. Use of a blackhead extractor tool (comedone extractor)
A metal loop is pressed onto the skin to help release the accumulated dirt and oil inside the skin pores. This procedure is followed by the application of an anti-inflammatory and antimicrobial agent to soothe the skin and prevent infections. (1)
2. Chemical peels
Mild acids are applied to the skin to help treat dryness, hyper- or hypopigmentation, acne, and scarring. The treatment may be given every 2–3 weeks until needed. The doctor may also recommend topical creams, exfoliators, retinoids, bleaching agents, and moisturizing creams to be used in between two sessions for better results. (2)
3. Microdermabrasion
Microdermabrasion is a noninvasive dermatological treatment that uses a crystal- or diamond-tipped wand that helps remove the upper layer of skin. This procedure treats age spots and blackheads and exfoliates the skin in general to reveal new, healthy skin. (3)
4. Photopneumatic therapy
An intense pulsed light laser along with a vacuum is employed to help unclog the skin pores. This treatment effectively clears pimples, blackheads, and whiteheads. (4)
How to Prevent Blackheads
The following self-care tips and home remedies help prevent the recurrence of blackheads once you get them removed:
1. Maintain good hygiene
Make sure to wash your towels, pillowcases, hats, headbands, and other accessories that come in touch with your ears to prevent the transfer of dirt and bacteria into your ears.
2. Cleanse your skin daily
Not keeping your skin clean can increase the chances of clogged pores and therefore blackheads. Cleansing your skin every day prevents the accumulation of dirt and increases the absorption of moisturizers and other skin care products by the skin.
3. Exfoliate
It is recommended to exfoliate your skin at least once a week to help clear the settled debris and oil from your pores. You can use beta hydroxy acid and salicylic acid for the same.
Exfoliation disintegrates the accumulated dirt and slows down the shedding of skin cells, therefore preventing your skin pores from getting clogged up. (5)
4. Use topical retinoids
These vitamin A derivatives help prevent clumping up of cells and treat skin inflammation. Topical retinoids also stimulate the generation of new skin cells. However, make sure to use retinoids in minimal quantity and gradually increase their use once your skin gets used to them.
Using a large amount of retinoids initially can cause dryness, stinging, itching, and even erythema. Consult your dermatologist on proper retinoid use. (6)
How Do Blackheads Form?
Blackheads occur when dirt and oil accumulate in skin pores and cause blockage; the pores remain open, exposing the oil to the air. The sebum, on contact with oxygen in the air, turns black, giving blackheads their characteristic appearance.
The following factors may contribute to the formation of blackheads in ears:
Excessive sweating: Heat or exercising may lead to profuse sweating, which causes the skin pores to overwork. The oil from the sebaceous glands, along with the dirt sticking to your sweat, may accumulate in the pores and clog them. If you do not cleanse your skin properly, especially after exercising, blackheads may easily form.
Oily or acne-prone skin: Blackheads in the ears are common in those who have excessively oily skin or are infected with acne-causing bacteria.
Hair products: Hair products can easily clog the skin pores on contact with the skin.  
Over-Exfoliation: Exfoliating or cleansing the skin too often can cause irritation and dryness. This can also trigger increased sebum production, leading to blackhead formation.
Hormonal fluctuations: Hormonal changes associated with puberty, menstruation, pregnancy, and menopause are the most common reasons behind blackhead development.
Certain medicines: The use of medications such as corticosteroids can also increase the risk of blackhead formation in the ears.
Genetic factors: Blackheads in the ears may also occur due to your genetic makeup and therefore run in your family. They can also indirectly form due to the genetic tendency of having oily skin.
Stress: Stress is a common trigger of blackhead formation as the sebaceous glands go into overdrive under stressful conditions.
Final Word
Blackheads or comedones are a common skin problem that affects the nose and back commonly. However, you may also develop blackheads in your ears due to a number of reasons. While these are not serious health issues, they may cause discomfort and can be a cosmetic concern for some.
There are various blackheads treatments that you can undergo upon consulting your dermatologist. However, simple measures such as keeping your skin clean and maintaining good hygiene can help prevent the formation of blackheads in the first place.
Was this article helpful?