The umbilicus, commonly known as the belly button, is a deep, narrow depression in the abdomen. Multiple commensal microorganisms live naturally in this cavity, but they can give rise to infections if allowed to overgrow.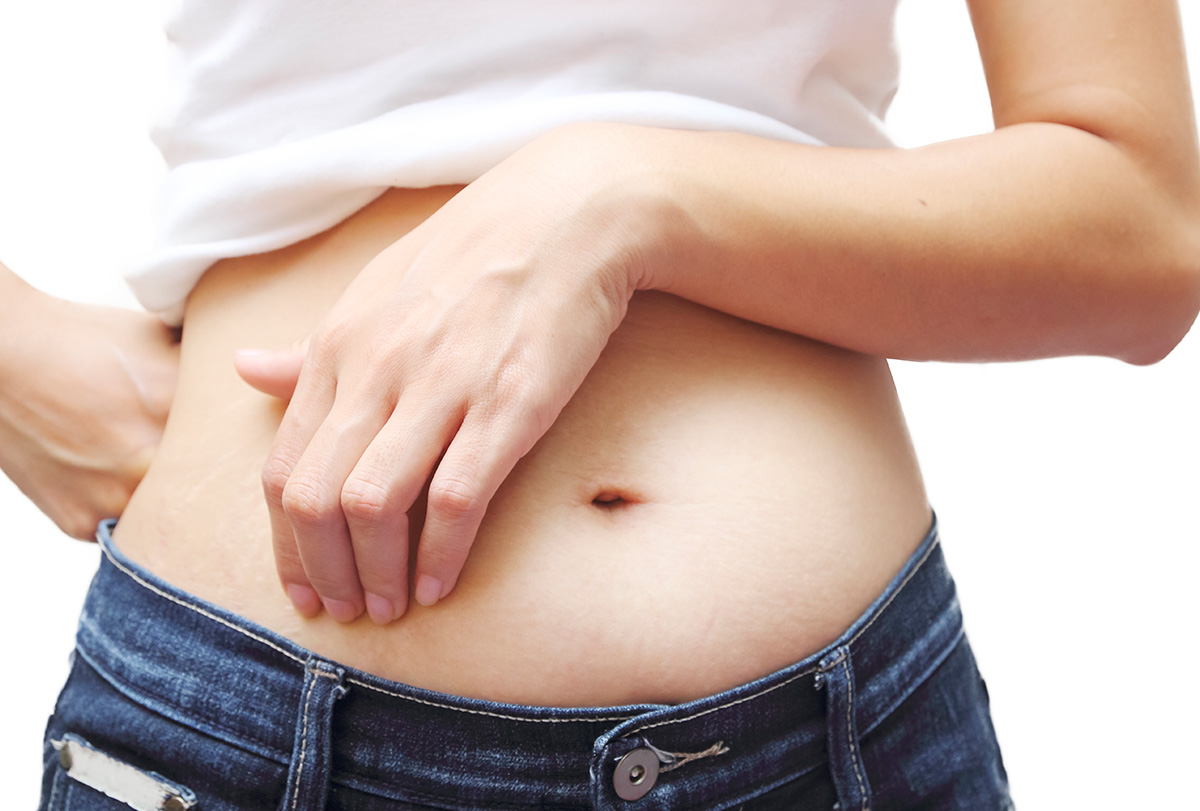 These microbes require warm and humid conditions to thrive, and your naval cavity offers just that. Plus, they feed on the soap and sweat to multiply rapidly and colonize the belly button.
Belly button infections are extremely common in people of all ages, including newborns. Belly button infections can be bacterial or fungal and localized or systemic. These infections can even lead to sepsis if the microorganisms enter the bloodstream. (1)
This article presents the causes and symptoms of a belly button infection and the various ways you can deal with it, both in the clinical setting and at home.
Causes of Belly Button Infections
Many factors can trigger the overgrowth of otherwise naturally occurring microbes inside your belly button.
1. Poor hygiene
The confined physical structure of your naval cavity makes it quite hard to clean. It has a tiny opening that leads to a narrow canal with multiple skin folds. Sweat, sebum, moisture, soap residue, dead skin flakes, and dirt on your skin make their way into the belly button and are trapped there.
The problem is that most people neglect cleaning their belly button when taking a bath, and this leads to the buildup of these impurities. The infection-causing microbes already present inside the naval cavity start feeding on these impurities, allowing them to grow rapidly and cause an infection.
2. Excessive sweating
People with increased blood sugar levels or excessive body weight are more prone to sweating and therefore are at an increased risk of such infections. Diabetics are especially susceptible to candida (yeast) overgrowth inside the belly button. (2)
ALSO READ: Possible Causes of Excessive Sweating and Its Medical Treatment
3. Other sources of contamination
There are several possible ways in which new strains of harmful pathogens can gain entry into your naval cavity to subsequently cause a belly button infection.
There is a high risk of this happening when your belly button has a wound or cyst that can potentially turn infectious, when you get a naval piercing without following proper hygiene measures, or during naval surgery.
4. Belly button infections in neonates
You may be wondering how a baby who is unexposed to environmental pathogens develops such an infection. There are mainly three sources of infection in babies:
Bacteria present in the mother's birth canal can transfer to the baby's naval cavity through the umbilical cord.
Airborne microbes in the delivery room can enter and build up inside the infant's belly button.
The doctor, nurse, or any person assisting with the childbirth may carry bacteria on their hands and contaminate the baby during the delivery process.
When the umbilical cord is cut off after childbirth, a small piece of it is left on the baby's navel. This umbilical stump gradually dries up and falls out on its own.
You have to take proper measures to keep the umbilical stump clean, or else it can start breeding infection-causing bacteria, such as streptococcus and staphylococcus. This can lead to a polymicrobial infection called omphalitis, and in worst-case scenarios, the bacteria might enter the bloodstream and cause sepsis, which can lead to death.
5. Omphalith or naval stones
Dead skin cells and sebum can sometimes come together and form tiny stone-like bodies within your umbilicus and may even bear hair. These are called omphaliths or trichompalith, which can cause recurrent belly button infections. (3)
Symptoms of Belly Button Infections
Some common symptoms of a belly button infection are:
Redness or rash
Mild pain
Swelling/edema
Green, gray, or bloody and smelly discharge leaking from the naval cavity
Collection of several naval stones
Scab around the belly button
Mild itching
As you present yourself to a clinic for a diagnosis, your doctor will conduct a physical examination and may order some lab cultures.
Ways to Treat Belly Button Infections
Here are some effective ways to treat your belly button infections.
Caution: It is important to note that a leaky discharge that characterizes a belly button infection can be a sign of other disorders of the umbilicus, such as umbilical hernia, umbilical endometriosis, (4) umbilical pilonidal sinus, (5) mature cystic teratomas (which develops infection rarely), (6) urachal cysts (which may develop infection), and lint ball omphalitis. (7)
You need to understand the root cause of the discharge before addressing it because each condition requires a specific treatment. Thus, you must go for a proper medical checkup to get a conclusive diagnosis and then pursue the appropriate treatment as recommended by the doctor. You may discuss with your doctor some natural treatments, such as essential oils, that can be taken along with the prescription drugs to speed up recovery.
1. Use an antibiotic/antifungal medication
Depending upon the nature of your infection, your doctor will prescribe either a broad-spectrum antibiotic or an antifungal agent. These medications may be topical or oral, and their strength and dosage will depend on the severity of the infection.
Topical antibiotics or antifungals usually come in the form of a cream, ointment, or powder. Infections that would require oral medication might also require a surgical incision and drainage of the cyst feeding the infection.
The common antifungal agents include miconazole nitrate and clotrimazole, and some common antibiotic agents include cephalosporin and doxycycline.
2. Rubbing alcohol
Different types of spirits, such as ethyl alcohol, isopropyl alcohol (rubbing alcohol), (8) and n-propanol, are widely used to disinfect the skin on account of their strong and rapid antimicrobial activity.
When applied topically, they kill the bacteria, viruses, and fungi residing on your skin to heal or prevent infections, but they are not so effective against spores. You can use these easily available solutions to clean and sanitize your belly button. This will help stop the spread of infection and accelerate the recovery process.
How to use:
Use an alcohol pad or a cotton swab/ball soaked in rubbing alcohol to gently wipe the drainage and gunk from inside and around the belly button.
Let the area air-dry or pat it dry with a clean, soft fabric.
If your belly button is oozing drainage, it's best to apply an antibiotic ointment after each cleaning.
3. Tea tree essential oil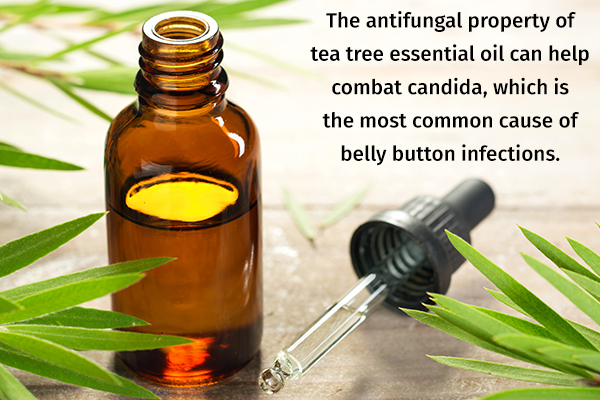 Tea tree essential oil is one of the most widely used acne remedies, thanks to its extraordinary antimicrobial properties, but it can also prove useful against other skin infections. This antiseptic solution can cleanse your skin of a range of pathogens, including the bacteria and fungi that trigger belly button infections.
Most of the studies attesting the antifungal property of tea tree essential oil have focused on the candida species, which is the most common cause of belly button infections. This oil is also known to inhibit the growth of stubborn bacterial species that show resistance to antibiotics. (9)
How to use:
Take 1 teaspoon of extra virgin olive oil or coconut oil in a clean bowl.
Mix in 4–5 drops of tea tree oil.
Use a clean cotton ball to gently apply the oil mix to the affected area.
Leave it on for about 10 minutes so that solution is absorbed into the skin.
Wipe off the excess oil with a tissue.
4. Turmeric
Turmeric is immensely popular when it comes to treating infections. Its antibacterial, antibiofilm, antiviral, and antifungal properties can be attributed to the bioactive curcuminoids present in it. The essential curcuminoid of turmeric is curcumin.
Turmeric, like tea tree oil, also shows antimicrobial activity against a wide range of bacterial and fungal strains. (10)
How to use:
Mix a few drops of water in a small amount of turmeric powder to form a thick paste. You can add a little bit of medical-grade honey to the mixture for added skin-healing benefits.
Apply this paste to the affected area using clean fingers.
Let it sit until it dries before wiping it off with a tissue.
Make sure to keep the area dry thereafter.
5. Marigold or chamomile
Marigold and chamomile are both medicinal plants that can help kill the microbes responsible for belly button infections, soothe the symptomatic discomfort, and repair the affected skin. Even though marigold is ineffective against several strains of infection-causing bacteria and fungi, it is still a great wound healer.
Chamomile, on the other hand, is credited with very strong antibacterial effects against gram-positive bacteria that are usually involved in belly button infections such as omphalitis. (11)
How to use:
Extract the juice from 2–3 calendula or chamomile flowers/leaves by crushing them, and then apply it all over the infected skin.
Purchase topical oils, lotions, or ointments containing calendula or chamomile extracts, and apply them to your belly button as directed.
6. Neem
For centuries, the pharmacological properties of neem or Indian lilac have been used in Ayurveda and other forms of folk medicine to treat a wide variety of ailments.
The leaves of this plant contain two polyphenolic flavonoids, namely, quercetin and beta-sitosterol, which produce strong antifungal and antibacterial effects that can help fight the root cause of the infection.
Neem also helps curb the underlying inflammation to ease the redness, pain, and itching associated with such skin infections. (12)
How to use:
Crush a handful of neem leaves to make a paste, and apply it to the infected skin. You can mix in a little turmeric powder and water to the paste for better healing and improved consistency, respectively. Let it sit for 20 minutes before rinsing it off with warm water. Pat your skin completely dry.
Mix a few drops of neem oil in 1 teaspoon of olive oil or any other carrier oil, and then apply this concoction all over the infected skin.
7. Aloe vera gel
Aloe vera is touted for its skin-healing properties that can be employed for treating belly button infections.
Aloin and emodin, two of the 12 anthraquinones (phenolic compounds) found in aloe vera, act as analgesics, antibacterial, and antiviral agents. Aloe vera also contains six antiseptic agents that can inhibit the growth of various infection-causing fungi and bacteria. (13)
Part of the anti-inflammatory and antibacterial effects of aloe vera can also be traced back to the salicylic acid present in it.
How to use:
Extract the gel from an aloe vera leaf.
Apply the aloe gel all over the affected area and leave it to dry.
Gently wipe it off with a wet tissue.
Pat it dry with a soft, clean towel.
Some Self-Care Measures
Follow these self-care measures along with the prescribed treatment and home remedies to help your skin heal better and faster and to stop the spread of infection:
Keep your belly button and the surrounding skin clean and dry.
Avoid touching, scratching, or picking the infected skin. The unnecessary friction can further damage the skin, which prolongs the healing process, induces scarring, and increases the risk of sepsis or secondary infections.
Always wash your hands before and after applying any topical treatment to the infected site. Touching the site with unclean hands can transfer more dirt and germs onto the infected skin. Your fingers also pick up the infection-causing microbes from the affected area, which can then be transferred to other surfaces or areas of the skin that you touch with your contaminated hands.
Do not try to remove naval stones by digging into your belly button.
Avoid swimming for a while especially in chlorinated water as the chlorine can worsen the infection. Ask your doctor about how long you must stay out of the pool.
Use cotton balls or swabs instead of a cloth when cleaning or applying treatments as a cloth can spread the infection or can lead to lint ball omphalitis.
Don't put any creams or moisturizers inside your belly button. Creams can clog up the hole and encourage bacteria or yeast to grow.
Sleep on your back as much as you can to avoid putting any undue pressure on the belly button.
Don't wear tight-fitting clothing and fabrics that are rough or cling to your body as they rub against the infected skin and induce excessive sweating. Instead, wear soft, free-flowing clothes that allow proper ventilation to keep your skin dry and comfortable.
Most-Asked Questions About Belly Button Infections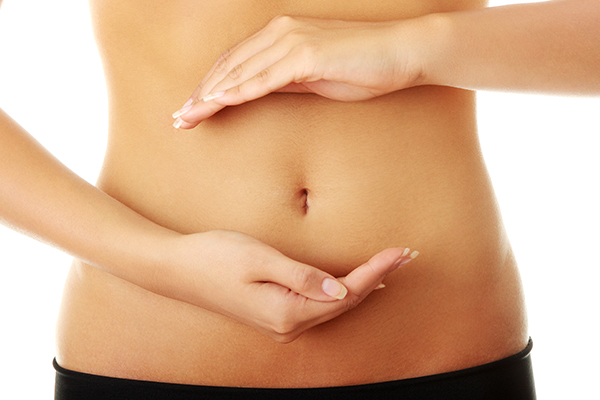 Can I use vinegar to treat my belly button infection?
Vinegar may have gained popularity online as a topical remedy for belly button infections, but it does not carry any scientific merit. On the contrary, there have been studies that discourage the use of vinegar as an antiseptic agent on your skin. (14)
Can I use hydrogen peroxide to treat my belly button infection at home?
Many studies have highlighted the broad-spectrum antibiotic activity and fungicidal effects of hydrogen peroxide, (15) making it a promising candidate for treating belly button infections. But before using this liquid as a topical antiseptic, there are certain considerations that you must be wary of.
First, it is an extremely corrosive compound that can irritate or damage the sensitive skin in and around your belly button if used excessively or in concentrated amounts.
Hydrogen peroxide must be diluted properly before applying it to the skin, but this can be very difficult for a layman to do at home, so you are advised to purchase over-the-counter hydrogen peroxide-based antiseptic solutions to clean your infected belly button.
Second, hydrogen peroxide as a topical antiseptic is largely ineffective against fungal spores (dormant fungi).
How long does it take for belly button infections to heal?
The healing time of a belly button infection depends upon how severe it is, when treatment was initiated, and what caused it. Usually, it can take between 3 and 9 months.
Final Word
Your belly button harbors more bacterial and fungal species than you can imagine, but they usually live in harmony with your body without causing any adverse effects.
However, sometimes, certain factors can cause them to overgrow, which is not so good for you. Other times, harmful bacteria can make their way into your umbilicus through ruptured skin or open wounds.
All of these give way to a belly button infection. Belly button infections are quite common and can be easily managed with doctor-recommended medication, some natural remedies, and appropriate self-care measures.
Was this article helpful?