One common site for the development of rashes is the armpit and there are many reasons for it. For one, the armpit collects a lot of heat and sweat due to its cramped, poorly ventilated location, which makes it an ideal breeding spot for infection-causing microbes.
The skin is naturally populated by different strains of bacteria and fungi that live in symbiotic harmony with the body but can induce infections if allowed to overgrow. The body responds to these infections by directing disease-fighting substances to the affected area, causing tissue inflammation. This inflammation appears on the skin in the form of a swollen, red, itchy, and irritated patch known as a rash.
Also, the skin covering the armpits is much thinner than that of the rest of the body and forms multiple folds that rub against each other. This constant friction can easily irritate or damage the delicate skin and can lead to the development of a rash.
What Causes Rashes in Armpit?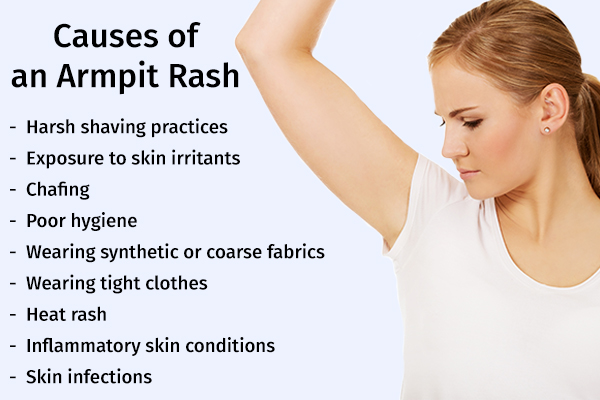 Armpit rash may occur due to various reasons, from certain unfavorable practices to medical conditions.
Harsh shaving practices: Shaving vigorously, shaving with an expired razor blade, or shaving dry without a cream causes excessive friction against the skin that can give rise to a rash.
Exposure to skin irritants: Detergents, perfumes, deodorants, and scented skin products contain harsh chemicals that give them their strong fragrance but can be really bad for your skin over repeated use, especially if you have atopy or are prone to allergies. These products can dry out and irritate your skin to give rise to a rash, especially in the underarm area where the skin is already quite thin and delicate.
Chafing: Your armpits are buried under skin folds that rub against each other to cause chafing, which is a major trigger for rashes.
Poor hygiene: Not bathing regularly leads to the buildup of sweat, dead cells, and other impurities on the skin, making it more susceptible to infections that can cause rashes. This is especially true for underarms, which do not get enough airflow due to their unfavorable location and therefore perspire more than the rest of the body. Wearing damp or sweaty clothes for long durations can also invite skin infections that lead to armpit rashes.
Wearing synthetic or coarse fabrics: Synthetic fibers, such as polyester, stick to the body and trap heat, triggering extra sweating. Plus, they do not allow proper passage of air, which means the sweat on your body does not evaporate and builds up over time in crevices such as the armpits, increasing the risk of rash-causing infections. Also, rough fabrics such as jute and wool rub against your armpit, causing rashes.
Wearing tight clothes: Clothes that are too tight don't allow your skin to breathe and make it sweat a lot.
Heat rash: Perspiration is your body's way of releasing extra heat in order to maintain a normal core temperature. Naturally, this mechanism goes into overdrive during the summer months, which can sometimes clog your sweat glands. This blockage causes the pooling of sweat under the skin's surface within the glands and the surrounding tissue, resulting in inflammation that takes the form of a heat rash.
Inflammatory skin conditions: Dermatitis (eczema) is a common dermatological ailment characterized by skin inflammation in different parts of the body, which physically manifests as rashes. There are many variants of this condition, but the ones most commonly associated with rashes include contact dermatitis, seborrheic dermatitis, and atopic dermatitis. (1)(2)(3)
Symptoms of Armpit Rashes
An armpit rash is generally characterized by the following symptoms:
Itching
Pain
Warmth or tenderness
Swelling
Mild to deep redness or hyperpigmentation
Abnormally strong body odor
Fluid-filled blisters that hurt, but only in severe cases
How to Treat an Armpit Rash
An armpit rash can stem from a variety of causes that may require different treatments. So, the culprit behind it must be determined before treatment. This is only possible through a proper medical assessment to arrive at a diagnosis.
Once your doctor knows what is causing your rash, they will recommend the best treatment along with the necessary interventions to manage your discomfort.
Here are some of the commonly used treatment options for armpit rashes:
Topical treatment
Low-strength corticosteroid creams are prescribed for a short duration to curb inflammation. Excessive or prolonged use can severely thin out your already fragile armpit. (6) So, it's best to stick to the doctor-recommended dosage and guidelines to avoid any complications.
Calamine lotions not only calm your irritated rash-ridden skin but also help it heal faster. These lotions help bring down the underlying inflammation to some extent, which in turn relieves the itching and other associated discomforting symptoms.
Antichafing and antifungal powders are used to minimize friction between the skin folds in your armpits to prevent further skin damage and irritation.
Absorbent medicated powders help reduce the production of sweat. These powders also soak up the sweat that is released from the pores to keep your skin moisture-free. Plus, the powder forms a protective layer over the skin that prevents chafing and also helps keep it cool.
Antifungal ointments are used to treat armpit rashes caused by a fungal infection. (7)
Injections
Botulinum toxin is injected into the subcutaneous underarm skin to inhibit the nerve signal that triggers sweating. This is known as chemodenervation of the sweat glands. (8)
Oral medications
Antihistamines are aimed at blocking the release of histamine, which is the chemical responsible for triggering skin inflammation that causes the rash.
Low-strength antihistamines are available over the counter to manage mild rashes, but severe cases may require stronger antihistamines that are not available without a prescription. (9)
Diagnosis of Armpit Rashes
Armpit rash can generally be diagnosed through a simple visual and physical examination of the affected skin. In some cases, the doctor may order additional tests such as scrape testing or a biopsy.
When to See a Doctor
You should see a doctor if:
Your rash shows no sign of improvement or becomes more severe despite following the recommended home treatment.
Your rash starts to form cracks or blisters.
Your rash becomes unbearably itchy or painful.
Your rash grows in size or spreads to other parts of the body.
Your rash becomes intensely dark.
You develop a high fever.
You experience vomiting, nausea, or dizziness along with the rash.
You experience adverse side effects from the therapies you've taken.
Final Word
Armpit rashes are quite common and nothing to be worked up about, but they can cause a lot of discomfort for as long as they last, which can range from a few hours to several weeks.
To hasten the healing process, avoid irritating the affected region. Regular friction and disruption can aggravate a red underarm rash. Over-the-counter lotions are expensive and include chemicals. The symptom of underarm rashes can be easily treated with home remedies.

Continue ReadingHow to Prevent Armpit Rash: 11 Do's and Don'ts to Follow
Was this article helpful?