The underarms create a warm and humid environment that is conducive for the growth of infection-causing microbes, particularly if you are negligent about personal hygiene.
Plus, the skin forms multiple folds that rub against each other. The infection and friction often lead to the development of rashes.
Armpit rashes affect people of all skin types, but certain factors can make you especially prone to them. These factors include poor personal hygiene as already mentioned, plus the tendency to sweat a lot and being overweight, among other risk factors.
Needless to say, armpit rash is common during the sweltering summer months.
How to Heal an Armpit Rash
Here are some dos and don'ts that can soothe armpit rash and promote skin healing:
Take frequent cool baths or showers to avoid sweat buildup under your arms. The cold water will also provide instant relief from the itch and irritation associated with such a heat rash, although only temporarily.
Always use a gentle, chemical-free body wash to clean your armpits, ideally containing natural and hydrating ingredients that clean your skin without adding to the irritation or dryness. Such products help maintain the pH balance of the skin and keep secondary infections at bay as well.
Skip underarm hair removal for as long as the rash persists.
Don't apply perfumes, deodorants, roll-ons, or any kind of fragrant skin products on your underarms as they can further exacerbate the rash. The added fragrances used in these products are harsh chemicals that strip the moisture from your skin and weaken its structural integrity.
Wear light, flowy clothes made with soft breathable fabrics that don't cling to the skin or rub against it, such as cotton, and keep your armpits properly ventilated. Tight clothes can rub and irritate a rash. Figure-hugging clothes made of synthetic or rough fabrics can exacerbate the rash by trapping more sweat and rubbing against the skin.
Make sure to dry out your armpits after a bath, or else the trapped moisture can prolong or worsen the infection. But don't do this by rubbing your towel against the skin as the friction can further irritate the rash. Instead, gently pat the area dry with a clean soft towel.
Drink plenty of fluids to hydrate and cool down your body from within. A dehydrated body leads to dehydrated skin, which only makes the rash worse. Dehydration can also suppress your body's ability to properly fight the infection responsible for your armpit rash.
Eat an overall nutritious and well-balanced diet with a heavy dose of vitamin C-rich foods such as oranges, lemon, tomatoes, and broccoli. Vitamin C is a powerful antioxidant that promotes faster healing of the rash while also bolstering your immunity to fight the underlying infection.
Sprinkle some antichafing powder on your armpits to minimize friction between skin folds, which can otherwise aggravate your discomfort.
Don't scratch the rash as it can further damage and contaminate your skin, resulting in greater discomfort, longer recovery time, and sometimes secondary infections.
Don't share your personal items, such as towels, razors, and loofahs, with others to avoid the spread of infection.
Most-Asked Questions About Armpit Rashes
Why do I get an armpit rash from my deodorant?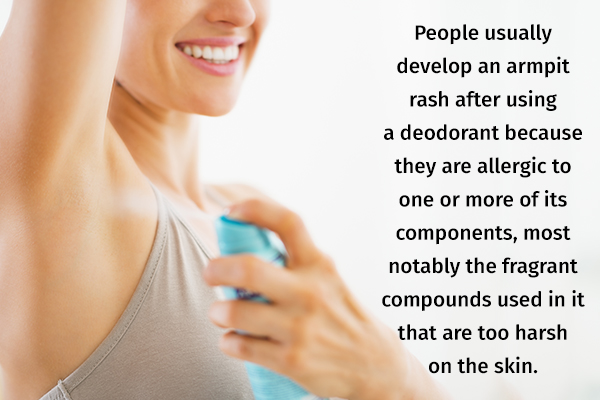 People usually develop an armpit rash after using a deodorant because they are allergic to one or more of its components, most notably the fragrant compounds used in it that are too harsh on the skin. Other irritant ingredients that can trigger a rash include propylene glycol, preservatives, and moisturizers.
If you have sensitive skin or preexisting skin allergies, it's best to go through the ingredient list before buying deodorants and other skin products to rule out potential allergens. (1)
Is it possible to have a yeast infection in the armpit?
Yes, the warm humid confines of your underarms are a perfect breeding ground for fungal strains that naturally reside on the skin without causing any harm but can give rise to an infection when allowed to overgrow.
These include the candida yeast, which is a type of fungus, and the infection caused by it is called candidiasis. Yeast infection in the armpit is characterized by itching, burning, and a pigmented rash. (2)
Final Word
Armpit rash can be itchy and uncomfortable. It can become severe in certain situations, resulting in discomfort and bleeding. To avoid problems, it is best to treat the rash right away.
If you have an armpit rash and aren't sure what's causing it, the best thing to do is contact your healthcare provider. They'll accurately determine the root cause and recommend the best treatment for it.

Continue ReadingArmpit Rash: Causes, Symptoms, and Treatment Options
Was this article helpful?