Angular cheilitis is a common skin infection that affects the area where the lips meet and form an angle. It is characterized by dryness, cracks, and painful lesions in one or both corners of the mouth. (1)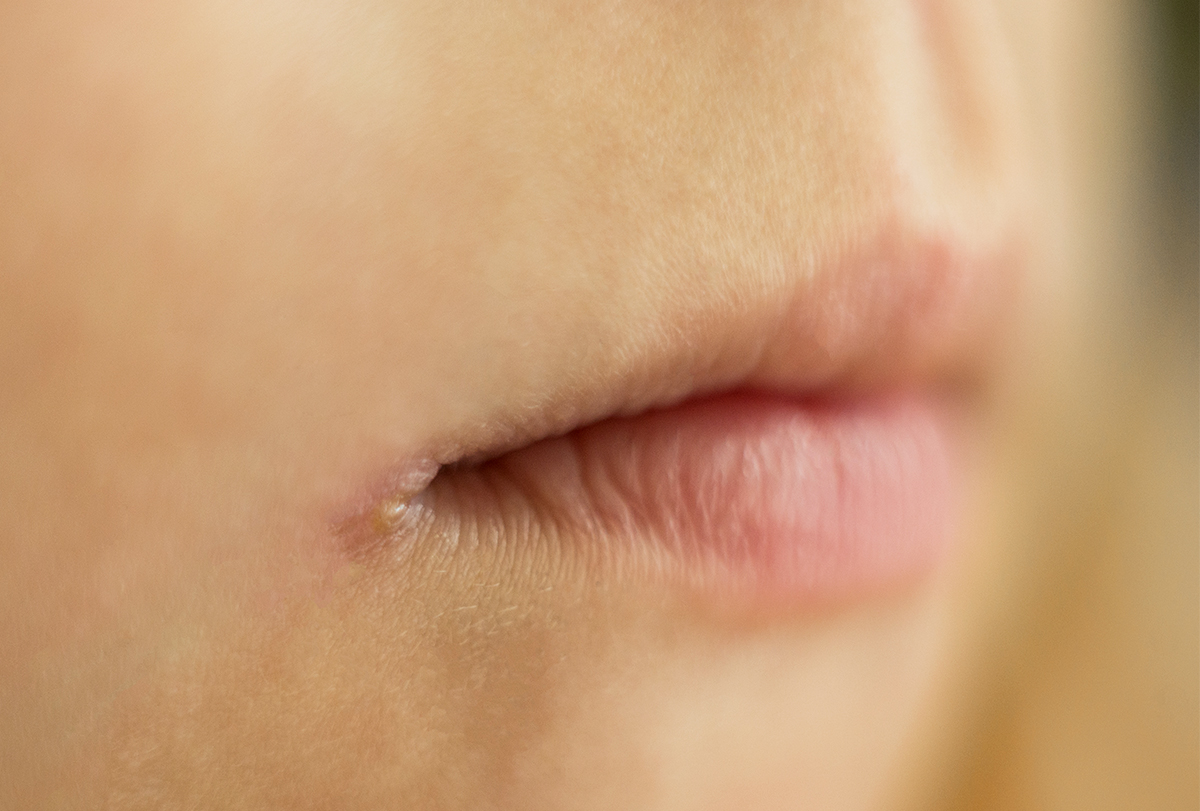 Also referred to as perleche or angular stomatitis, this condition affects millions of people every year. It is fairly easy to treat, but it does have a tendency to recur.
Causes of Angular Cheilitis
Saliva keeps your oral cavity lubricated but often gets trapped in the corners of the mouth, especially if there is an overproduction of it. The warmth and moisture in these confined spaces provide perfect breeding conditions for microbes.
The overgrowth of certain bacteria and fungi can take the form of an infection called angular cheilitis. (2) Here are some major factors that contribute to the development of angular cheilitis:
Smoking
Oral retinoid or antibiotic therapy
Habitual licking of the lips
Deficiency of vitamin B2 (riboflavin), vitamin B3 (niacin), vitamin B6 (pyridoxine)
Poor oral hygiene
Wearing dentures or braces, which triggers excessive saliva secretion, especially if they are poorly fitted
Chronic gastrointestinal inflammatory conditions such as Crohn's disease
Topical medications such as isotretinoin for acne and acitretin for psoriasis, which make your skin excessively dry and irritated
Signs and Symptoms of Angular Cheilitis
Angular cheilitis leads to the development of the following symptoms:
Scaly texture and flaky patches around the corners of the mouth
Itchiness and swelling
Dry and chapped lips
Cracks and sores where the lips meet
Burning, tingling sensation around the mouth
The irritated skin around the mouth can sting when it comes in contact with any food or beverage, making eating and drinking difficult.
Treatment for Angular Cheilitis
Topical treatment
Emollients provide intensive hydration to dry, rough, scaly skin to relieve the itchiness and irritation and prevent tearing or peeling.
Lip balms lubricate and soothe dry, chapped lips.
Lip sunscreens filter out dangerous UVB rays, provide much-needed sunburn protection, and protect against angular cheilitis.
Antifungal creams kill the underlying fungus that is responsible for the infection and thereby speed up recovery.
1% hydrocortisone creams curb the underlying inflammation that triggers the dryness, swelling, and itching.
Oral treatment
Antifungals: The most commonly used treatment for angular cheilitis is fluconazole, an antifungal medication that is taken by mouth. If it doesn't work, the doctor may prescribe a different antifungal.
Antibiotics: Systemic oral antibiotics may be needed, though rarely, if the infection does not subside with topical treatment.
Vitamin B complex: Taking these supplements is helpful in boosting your body's immune system and improving your oral health in general.
Injections
Fillers and injections: Cosmetic fillers are injected into the corners of the mouth to lift the drooping lips caused by recurrent angular cheilitis.
Diagnosing Angular Cheilitis
Doctors can usually diagnose angular cheilitis through a simple physical examination, but they may order a swab test to determine if it is fungal or bacterial in nature.
Risk Factors Associated With Angular Cheilitis
Some risk factors associated with this condition are:
Saggy skin around the mouth due to aging or weight loss
Immunodeficiency due to preexisting conditions such as diabetes, Down syndrome, and HIV/AIDS
Antiretroviral treatment
Atopic dermatitis, which makes the skin extra dry and sensitive to irritants, especially the corners of the mouth
Angular Cheilitis Versus Cold Sores
Angular cheilitis and cold sores are both infections that affect the skin around the mouth, but they are different in many aspects:
Angular cheilitis is either bacterial or fungal in nature, whereas cold sores are caused by the herpes simplex virus.
Angular cheilitis causes sores to form on one or both corners of the mouth, whereas cold sores can develop anywhere on the lips and even inside the oral cavity.
Angular cheilitis starts by making the corners of your mouth dry, cracked, and itchy before the appearance of any blisters. Cold sores are characterized by a burning or itching sensation all around the mouth day before the lesions emerge.
Angular cheilitis can take a few days to a month to clear up, whereas cold sores have a life cycle and generally subside in a matter of 7–10 days with proper treatment. 
Cold sores cause fever, chills, and enlarged lymph nodes, whereas angular cheilitis does not.
When to See a Doctor
See your health care provider or dermatologist if:
You have recurrent episodes of the infection.
The skin irritation is too much.
The fissures in the corners of the mouth start to ooze fluid or blood.
The condition does not improve despite following the recommended treatment for over a month.
Final Word
Angular cheilitis is a common lip infection that affects people around the world. Don't let angular cheilitis stop you from enjoying a full life. If you have any concerns or the crusty areas do not disappear within a month, visit a doctor.

Continue Reading4 Home Remedies for Angular Cheilitis and 6 Self-Care Tips
Was this article helpful?