Sensitive skin may age faster due to various factors such as UV radiation, menopause, and natural aging, according to experts.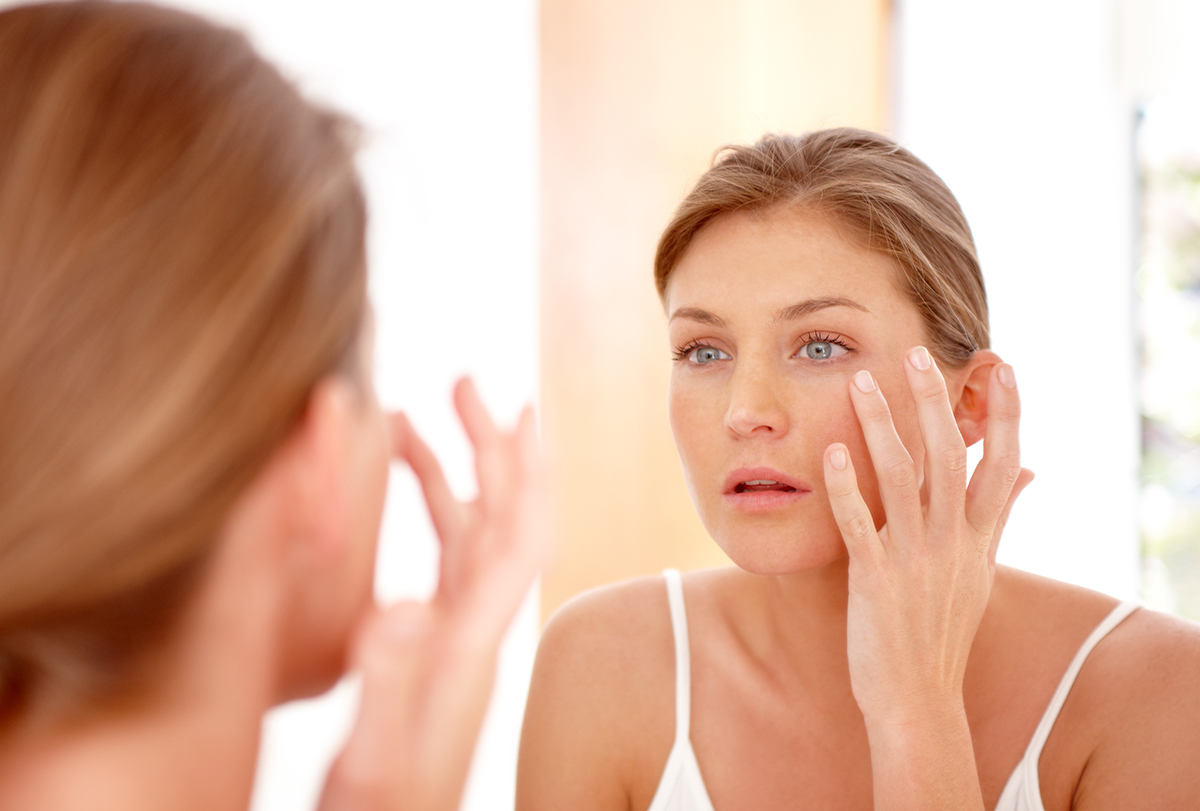 UV radiation is the most critical factor that causes skin damage, and people with sensitive skin are not able to protect themselves from the sun's rays for long durations.
Studies have also shown that older people and women after menopause are more likely to have sensitive skin, indicating a possible link between skin sensitivity and aging. Therefore, it can be concluded that sensitive skin tends to age faster. (1)(2)(3)(4)
If you have sensitive skin, you may be curious to know more about this. Take a look at why this happens and how to protect your skin from faster aging by reading on.
What Is Sensitive Skin?
According to the International Forum for the Study of Itch (IFSI), sensitive skin is a syndrome characterized by:
Abnormal stinging
Burning
Tingling
Pain
Pruritus
Facial erythema
Sensitive skin affects quality of life. These undesirable aspects of sensitive skin are in response to stimuli that generally should not stimulate such sensations. Furthermore, these unwelcome sensations cannot be justified by any skin disease either. (5)
What Makes Sensitive Skin Age Faster?
The following factors can lead to premature aging of sensitive skin.
1. Altered skin barrier
Sensitive skin is characterized by an altered skin barrier, which increases the permeability of the skin. This alteration leads to higher penetration of substances and water loss, which can make the skin more susceptible to damage and aging.
The skin barrier is crucial in safeguarding the skin against environmental factors, mechanical insults, microorganisms, chemicals, and allergens. (6)(7)
2. Thinning of the stratum corneum
The stratum corneum is the outermost layer of the skin, which plays a crucial role in the formation of the skin barrier.
Sensitive skin is associated with a decrease in the thickness of the stratum corneum, making it more susceptible to irritants that can stimulate inflammatory responses in the body, causing the effects of aging. (6)
3. Dry skin and low fat content
Sensitive skin is often associated with very dry skin with an overall low fat content. Experts say that this dryness can lead to a disturbance of the skin's protective barrier functioning, making it more vulnerable to damage and aging caused by environmental factors. (6)
4. Aging
Similar changes in the skin barrier are observed in aged people, further indicating how sensitive age can be linked with faster aging. This implies that sensitive skin may be more prone to damage from skin aging.
The skin may lose elasticity, firmness, and hydration due to dehydration and inflammation. (8)
5. Exposure to harsh environmental factors
Sensitive skin can age faster when exposed to harmful environmental factors such as increased UV exposure or harsh chemicals/soaps.
Such factors can trigger sensitive skin, causing inflammation and further dehydration, which can accelerate the aging process. (9)
6. High inflammatory response
Inflammation causes skin aging, and this is supported by the concept of inflammaging. This type of inflammation can gradually cause tissue damage and is considered a driving force for many age-related diseases, including skin aging.
Inflammation can cause oxidative stress and damage to cells, leading to the breakdown of collagen and elastin fibers in the skin, resulting in wrinkles, sagging skin, and other signs of aging. (10)
According to dermatologists, since sensitive skin exhibits increased inflammatory response, it may be linked to faster aging based upon inflammaging. Also, as skin ages, it becomes more sensitive to wool, fabrics, detergents, soaps, dyes, and other irritants.
How to Prevent Premature Skin Aging in Sensitive Skin?
These preventative measures can help delay premature skin aging in sensitive skin.
1. Use skin products with the right active ingredients
Cosmetic products are available specifically for sensitive skin and are formulated to minimize the symptoms associated with sensitive skin. Such products are often labeled as suitable for:
Sensitive skin
Reactive skin
Intolerant skin
There are certain active ingredients in certain cosmetic formulations that can be helpful for sensitive skin as per research. This understanding is significant for dermatologists and healthcare professionals so they can deliver tailored advice to patients based on their symptoms.
Ingredients that are used in these products can decrease skin inflammation and strengthen the skin barrier. Such ingredients include: (11)
Niacinamide
Avena sativa
Allantoin
Glycyrrhetinic acid and derivatives
Panthenol
2. Do not use products that may trigger skin sensitivity
If you have sensitive skin, carefully read the labels of the products you're buying to avoid specific types of ingredients that can be bad for your skin type.
Consider the following points when buying skin care products: (6)
Buy products with a fewer number of active ingredients.
Do not buy products that contain allergens and common irritants.
Avoid ingredients that enhance the penetration of other substances into the skin. These include ethanol and propylene glycol.
Choose powder cosmetics over creams or lotions.
Use cosmetics that can be easily removed with water.
Avoid the use of products with fragrance.
3. Protect your skin from the sun every day
The sun plays a major role in premature aging, especially in those with sensitive skin. Therefore, protect yourself from photoaging.
According to the American Academy of Dermatology Association, sun protection is a must to prevent premature aging. You can do so by:
4. Moisturize your skin daily
Sensitive skin often manifests as personal whines of distress without observable signs of irritation. Studies have shown that the daily use of moisturizer for 4 months leads to an improved skin barrier function with a decrease in skin sensitivity.
This is because proper skin hydration assists in the healing and maintenance of the skin protection barrier. Moisturizers with only a few ingredients and without perfume or irritating substances such as urea are suggested. (4)(6)
The novel components in moisturizers that are likely to have positive effects on skin aging include: (9)
Paraffinum liquidum
Sodium PCA
Panthenol
What Factors Contribute to Sensitive Skin?
Certain factors can make you more prone to having sensitive skin. (6)
1. Ethnicity
Racial distinctions in the structure of the skin may be linked with manifestations of sensitive skin.
Thin skin is more inclined to turn red due to skin barrier deterioration. Thus, the occurrence of erythema is more common in white people than in Blacks and Asians.
2. Age
Sensitive skin is more commonly seen in people over 18 years.
3. Presence of skin issues
Skin problems can cause you to have sensitive skin. These skin issues include:
Dermatitis (atopic, seborrheic, and contact)
Acne
Rosacea
Psoriasis
Physical urticaria
4. Environmental factors
Certain environmental factors can contribute to skin sensitivity. These include:
Low temperature
Humidity
Wind
Heat
Sun exposure
Pollution
5. Cosmetic products
Overuse or inappropriate use of cosmetics can trigger sensitive skin. Moreover, the presence of irritating ingredients in cosmetics can be bad for the skin. These include:
Alpha-hydroxy acids
Propylene glycol
Alcohol
Fragrances
Most-Asked Questions
Where is sensitive skin observed on the body?
Sensitive skin is more common on the face, surface of the forearms, hands, genital region, and scalp. (6)
Can sensitive skin ever become serious?
Dermatologists explain that, although it is very rare, there is a tiny possibility for a person to encounter a life-threatening allergic reaction to a product that irritates the skin.
Can I bathe daily if I have sensitive skin?
Yes, experts advise you to bathe daily even if you have sensitive skin. Just avoid very hot showers.
Final Word
It is important to manage sensitive skin with the right products and skin care steps to prevent the onset of premature signs of aging.
It can be a consistent battle to find skin care products that work well with such a skin type as skin care products usually contain artificial fragrances and other elements that may trigger sensitive skin.
But remember, if you learn to avoid triggers, choose your skin care products carefully, and perform other important steps such as proper sun protection, you can have glowing skin in no time.
Was this article helpful?