Walnuts are a powerhouse of energy and nutrients. Packed with antioxidants, vitamins, iron, and a distinct buttery taste, they can be a great addition to your daily diet.
Walnuts are exceptionally beneficial for your skin and hair as their high antioxidant content helps promote hair growth and gives you healthy, glowing skin. (1)
Benefits of Walnut for Hair
Walnuts can be a very helpful addition to your hair care routine. Rich in protein, essential fatty acids, (2) iron, vitamins B and E, antioxidants, and calcium, walnuts can be the solution to a lot of hair woes.
Here are some of the most common benefits of walnuts for your hair:
1. Fights dandruff
Walnut oil contains antioxidant and antimicrobial properties. It helps cleanse your scalp and get rid of fungal infections and dandruff. (3) It also contains anti-inflammatory qualities that can help relieve itching and scalp irritation. (4)
2. Promotes hair growth
Walnuts are loaded with antioxidants such as catechins, (5) beneficial fatty acids, and protein. They are also rich in zinc, iron, and copper. This rich composition of walnuts helps speed up hair growth and also significantly increases the quality of your hair.
3. Reduces hair loss
Walnuts contain many beneficial nutrients required for hair growth and strength, including iron, selenium, copper, and zinc. All of these help prevent hair loss and make your hair thick and strong. (6)
4. Strengthens and nourishes hair
The omega-3, omega-6, and omega-9 fatty acids found in walnuts help keep your hair strong. They also condition your hair by preventing water loss, thus giving you soft and smooth locks.
Essential fatty acids also help prevent dryness and hair damage caused by sun exposure or pollution.
5. Supports scalp health
Walnuts are an excellent source of protein, essential fatty acids, iron, and calcium. They also contain antioxidant and antibiotic properties. All of these help nourish your scalp and increase blood circulation to your hair. (7)
6. Makes hair shiny
Walnuts are rich in keratin, which is the substance that adds natural shine and strength to your hair. Regularly applying walnut oil or hair packs containing walnuts can make your hair strong, shiny, and soft.
7. Prevents premature graying of hair
Walnuts are a natural source of melatonin, (8) the hormone that helps add melanin or color to your hair. Regular use of walnut oil and consuming walnuts can help prevent graying of hair.
8. Averts hair thinning
Walnut oil contains iron, calcium, copper, omega-3 fatty acids, and zinc. All of these nutrients play a significant role in hair growth and strength. Thus, applying walnut oil regularly can help strengthen weak hair to prevent hair fall and also promote the growth of new hair.
DIY Walnut Preparations for Hair
Walnuts can promote hair growth and provide essential nutrients to your hair. Here are a few easy ways to incorporate walnuts into your hair care routine:
1. DIY walnut oil
Ingredients:
15 walnuts
½ liter water
1 cup coconut oil
How to use:
Boil the walnuts in the water for 10–15 minutes.
Remove the walnuts and let them cool.
Grind the walnuts to turn it into powder.
Add the coconut oil to this powder. The oil changes color and becomes a walnut-infused coconut oil.
Massage this walnut oil onto your scalp and hair. Leave it on for half an hour before washing it off.
Use at least twice a week for best results.
2. Walnut oil and hibiscus hair mask
Ingredients:
2–3 tbsp walnut oil
1 cup crushed hibiscus flowers
1 tbsp coconut oil
How to use:
Mix all the ingredients in a bowl.
Evenly apply this mixture to your scalp and hair.
Leave it on for half an hour before washing it off with a mild shampoo.
3. Walnut decoction for hair fall
Ingredients:
2–3 walnut twigs (with leaves)
½ liter water
How to use:
Boil the walnut twigs in the water for a few minutes.
After cooling, strain the solution and apply it directly to your hair roots.
Massage your scalp for a few minutes for better absorption and leave it to dry.
Apply this decoction regularly for best results.
4. Walnut and rosemary oil for hair growth
Ingredients:
¼ cup rosemary oil
¼ cup walnut oil
How to use:
Mix the two oils together and apply this oil mixture to your hair.
Massage your scalp and hair thoroughly and let it rest for half an hour.
Wash your hair with a mild shampoo.
Nutritional Value of Walnuts
Walnuts are loaded with several nutrients and provide an instant energy boost to the body. Around seven pieces of walnuts contain:
Energy: 183 kcal
Sugars: 4 g
Total fat: 18 g
Dietary fiber: 1.8 g
Carbohydrates: 3.8 g
Fatty acids: 1.7 g
Sodium: 0.5 mg
Magnesium: 44 mg
Calcium: 27.4 mg
Iron: 0.8 mg
Vitamin C: 0.36 mg
Vitamin B6: 0.15 mg
Most-Asked Questions
What is the best time to eat walnuts to gain hair benefits?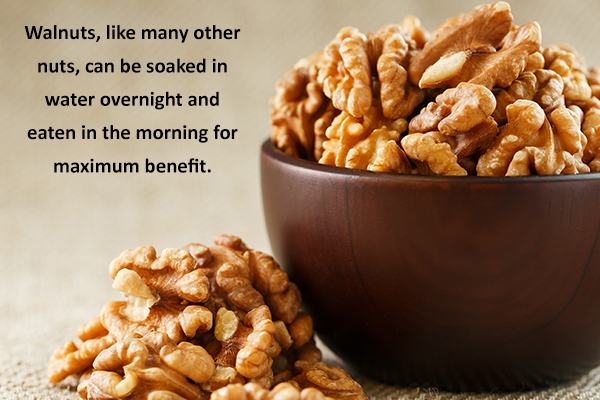 Walnuts, like many other dry fruits, can be soaked in water overnight and eaten in the morning for maximum benefit.
How many walnuts should be eaten per day for hair growth?
Walnuts are extremely beneficial for you but consuming too many can lead to gastrointestinal side effects such as diarrhea or stomach ache. You should ideally consume around four pieces of walnuts per day.
Final Word
Walnuts are rich in beneficial fatty acids that can condition your hair and give them a natural shine. They also contain antioxidant, antimicrobial, and anti-inflammatory properties that can help improve your scalp health.
Thus, regularly applying walnut oil to your scalp and hair can give you the beautiful locks you dream of. Make sure you do not have any nut allergies before using walnut for your hair. Consult a doctor immediately if an allergic reaction occurs.
Was this article helpful?