Smooth, shiny hair is often considered by society as symbolic of attractiveness and good health. Therefore, having dull hair can be undesirable and can even be a cause of low self-confidence in people.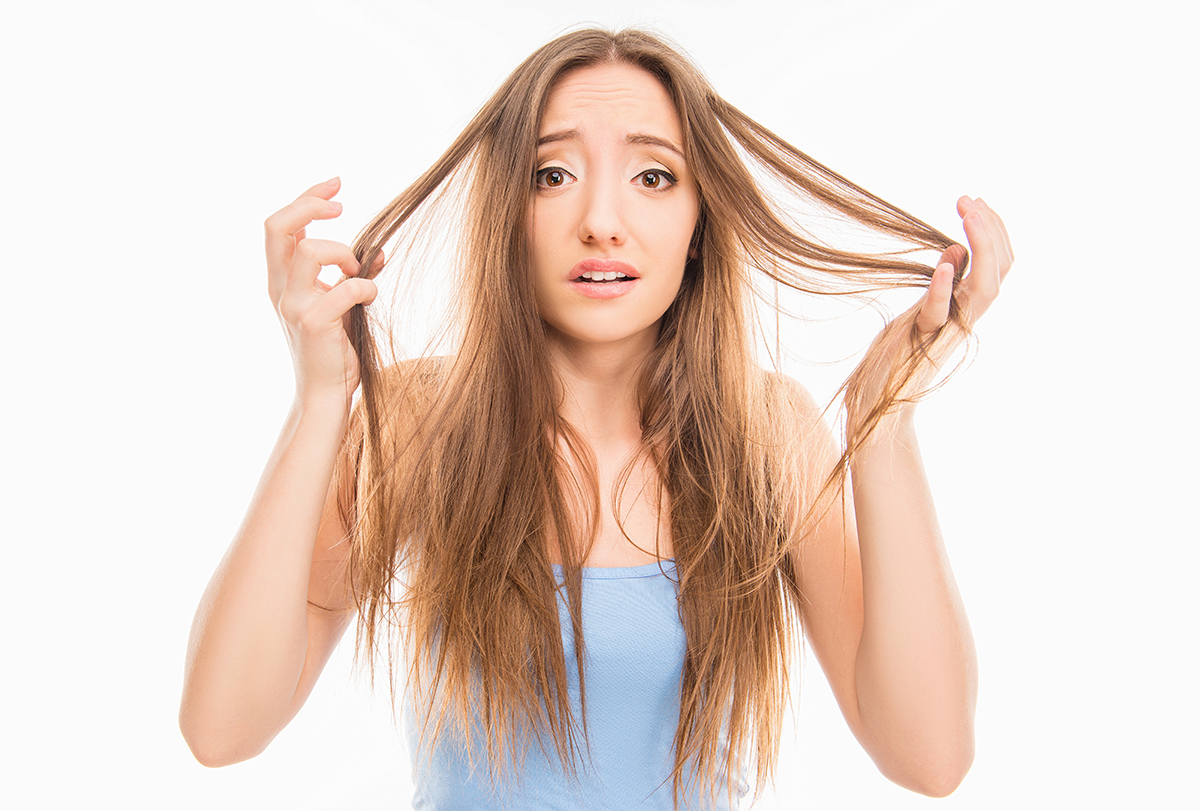 Hair appears shiny and moist due to the natural oils produced by the sebaceous glands in the hair follicles.
If the hair is stripped of these natural oils or the production of sebum is reduced, the hair becomes dry and dull. Also, the UV reflective property of the oil layer is missing in dull hair, making it prone to sun damage.
Causes of Dull Hair
The outer layer of the hair is coated with oil, giving it a shiny and lustrous appearance. However, various factors can affect the protective oil layer, including:
Malnutrition due to anorexia
Nutritional deficiencies such as those of zinc, copper, biotin, folate, or vitamins A, C, and E (1)(2)
Hypothyroidism (3)
Hypoparathyroidism
Excessive exposure to wind and the sun (1)
Genetic disorders such as Cushing syndrome and Menkes syndrome
Lack of blood flow to the scalp
Use of harmful products such as hair mousse, bleach, dyes, gels, (4) and products containing propyl, isopropyl, or propanol alcohol
Improper hair care, including excessive shampooing and lack of conditioning (4)
Psychological stress
Use of styling tools such as straighteners and curlers or regular use of hair dryers (5)
Rough handling of hair, including towel rubbing or combing when wet
Hormonal changes associated with pregnancy
Medical Treatment for Dull Hair
Most cases of dull hair result from exposure to the harsh environment and performing daily activities that are damaging to the hair such as the use of hair tools or hair products containing harmful chemicals.
Simple changes in your lifestyle and opting for a healthy hair care routine can help in regaining hair health.
Medical treatment is only required if dull hair is the effect of an underlying medical condition, such as Cushing syndrome. In such a case, the doctor will assess the underlying problem and prescribe the appropriate treatment accordingly.
Diagnosing the Cause of Dull Hair
Although dull hair is generally caused by improper care, the doctor may conduct a physical examination of your scalp and hair to identify an underlying medical problem, if any.
If the doctor suspects a problem, he may order the following tests:
Blood pressure test
Blood tests
Urine tests
Risk Factors for Dull Hair
The following factors can contribute to increased susceptibly to dull hair:
Old age
Frequent hair washing with hot water
Swimming in chlorine water
Hot, dry climate
Using high-mineral solutions for washing the hair
Smoking (1)
Complications of Dull Hair
Since dull hair results from a lack of natural oils, it lacks lubrication. Dryness of the hair, along with the improper functioning of sebaceous glands, can result in:
When to See a Doctor
It is advised to change your hair care routine and observe self-care measures, such as avoiding the use of styling tools, to help bring back the luster in your hair. However, if home-based interventions fail to work and you are bothered by the dull appearance of your hair, you must contact a doctor.
This is important as persistently dry hair that doesn't respond to self-care can indicate an underlying medical condition. Moreover, you must consult a doctor if you experience hair loss along with the dullness.
Final Word
Smooth, shiny, and lustrous hair is desired by all. However, various everyday factors can leave your hair dull and dry looking. If you have dull hair, try switching your hair care products and routine. Avoid the use of harsh chemicals and styling tools on the hair, and quit smoking.
If your hair stays dull even after proper care, consult a doctor as this may be indicative of an underlying medical condition.

Continue Reading8 Home Remedies for Shiny and Smooth Hair
Was this article helpful?