Hair can become frizzy or smooth depending on your genetic factors and how you take care of them. 
A common hair type is coarse hair. While it gives a good appearance, it can be quite difficult to manage. It is important to know the different factors that affect coarse hair to effectively manage it.
This article talks about different at-home methods to make your hair soft and silky.
Coarse Hair, Fine Hair, and Thin Hair
Hair types are classified according to thickness, texture, oiliness, moisture content, and color.
Coarse hair refers to thick hair with a large diameter and is commonly mistaken for rough hair, which is not the same. Coarse hair can easily turn dry, frizzy, and tangled. However, it is generally tolerant to styling tools and is voluminous in appearance.
Fine hair, on the other hand, has a small circumference. It is commonly mistaken for thin hair.
Thin hair actually refers to a low density of hair due to hair loss, whereas thick hair refers to a high density of hair. Hair density refers to the number of hair follicles per unit area of the scalp. Therefore, a person can have thick and coarse hair or thin and coarse hair.
Causes of Rough, Coarse Hair
The following factors can cause the hair to turn coarse by making them dry or interfering with the activity of the sebaceous glands:
Sun exposure and UV rays
Environmental pollution, including smoke, dust, and microbes
Chemical treatment of the hair
Hormonal imbalance
Nutritional deficiency
Excessive heat styling
Scalp infections
Stress
Aging
Smoking
Improper hair care
Homemade Hair Masks to Soften Coarse Hair
As mentioned above, coarse hair can easily turn frizzy, dry, and rough. Therefore, it is vital to keep your hair moisturized to make it more manageable.
The following homemade hair masks can help make your coarse hair silky and soft:
Oatmeal and milk: Mix ½ cup oatmeal (1) with 1 tbsp of almond milk, Moroccan argan oil, coconut milk, or coconut butter to make a thick paste.
Egg or mayonnaise: Mix one egg (2) or some egg-based mayonnaise with 1–2 tbsp of sesame oil, coconut oil, or vitamin E oil. Add in honey or avocado.
Aloe vera gel: Mix in aloe vera gel (3) with 2 tbsp of coconut oil.
Banana and honey: Mash half of a banana and mix in 1 tbsp of honey. You can also substitute avocado for the banana.
Avocado and oil: Mash an avocado and mix it with coconut oil or olive oil to form a fine paste.
Yogurt and papaya: Mix in ½ cup of yogurt with mashed papaya. You can also add bentonite clay to it. (4)
Fenugreek paste: Soak fenugreek seeds in water overnight, add a bit of oil or water, and grind. Apply the formed paste on your scalp and hair.
Apple cider vinegar: Dilute apple cider vinegar (ACV) with water in a 1:3 ratio, and use it to rinse your hair after shampooing. This rinse prevents calcium buildup in the hair.
Note: You can add a few drops of any fragrant essential oil, such as lavender, peppermint, and frankincense oil to the masks to cover the unpleasant odor of some of the ingredients. Moreover, these oils benefit your hair by boosting hair growth and strength.
How to use the hair masks
To use any of the homemade hair masks, follow these steps:
Apply the mask to your hair roots and strands.
Massage in the mask for 5–10 minutes.
Allow the mask to sit for around 20 minutes.
Wash your hair with cold or lukewarm water.
Apply conditioner as usual to lock in the moisture.
Pat your hair dry or air-dry it.
There is no need to shampoo your hair as these masks can clean your hair well. Use these masks one to two times a week for effective results.
Preventive Self-Care Measures for Coarse Hair
The following self-care measures can help soften coarse hair and even prevent dryness and roughness:
1. Shampoo and condition your hair properly
It is recommended to shampoo your hair two to three times a week, followed by the use of a leave-in conditioner. Apply the conditioner only on the hair strands, as applying it to the scalp can cause buildup.
Use cold water to wash your hair to give it shine. You can also try the co-washing method to manage curly, coarse hair.
2. Air-dry your hair
Gently pat your hair with a microfiber towel to remove the excess water after washing it and then allow it to air-dry. Avoid rubbing your hair with a regular towel. Apply a serum or moisturizing lotion once the hair is slightly dry.
3. Oil your hair
Since coarse hair is prone to dryness, it is essential to oil it. (5)(6) Slightly warm the hair oil and massage it onto your hair and scalp.
You can use argan oil, castor oil, olive oil, sunflower seed oil, or black seed oil for this purpose. Add in essential oils such as rosemary oil, sage oil, clove oil, geranium oil, eucalyptus oil, or lavender oil to the carrier oil for added benefits.
4. Prevent sun exposure
The harmful UV rays of the sun can cause roughness in coarse hair. Therefore, it is recommended to use conditioners and shampoos that contain sunscreens.
Moreover, cover your hair with a scarf or hat before stepping outside. This also prevents exposure to harmful environmental pollutants. However, make sure not to wrap it tightly as it can cause microbial buildup or sweating.
5. Use silk pillow covers
Sleeping on satin or silk sheets and pillow covers prevents friction on the hair, thus helping manage coarse hair better.
6. Brush your hair properly
It is best to comb coarse, curly hair while it is slightly damp, using a wide-toothed hairbrush with boar or silicone bristles. Brushing curly, coarse hair when dry can cause breakage. 
7. Improve your diet
Make sure to consume a well-balanced diet to correct any nutritional deficiencies. Also, drink ample amounts of water to maintain optimum hydration levels.
8. Avoid frequent hair washing
Do not shampoo every day as it can strip your hair of the natural oils.
9. Do not use hot water
Always use cold or lukewarm water while washing your hair. Moreover, avoid the use of high-mineral water that contains fluorides and chlorides. (7)
10. Trim your hair
Get your split ends cut periodically to ensure healthy growth of your hair.
11. Avoid heat styling
Tools such as blow dryers, curling irons, and straighteners can dry out your hair. If you have to use such tools, make sure to apply a heat protectant first. When using a blow dryer, keep it at an angle, 6 inches away from the hair. Do not focus it on a single area for more than 15–20 seconds at a time. (8)
12. Do not pull on your hair
Select hairstyles that are not stressful to your hair or scalp. Also, avoid tugging at your hair while combing.
13. Refrain from chemical use
Hair treatments such as bleaching, dyes, and keratin treatment use a lot of chemicals that can dry your hair in the long run.
What to Look for in a Hair Product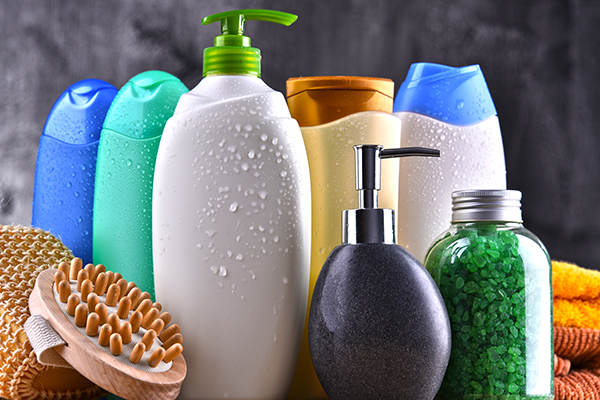 Besides home treatments, you can also use commercially available hair products to soften your hair, (5) such as:
Shampoos with conditioners
Leave-in conditioners
Cream shampoos
Conditioning creams
Serums
Blow dry hair sprays
Antifrizz hair sheets
Shampoos and conditioner with sunscreens
Since there are multiple variants of these products, it is important to choose what is suitable for your hair. Avoid hair products that contain formaldehyde, isopropyl, silicone, parabens, sulfates, and propanol alcohol, as these can be harmful to the hair in the long run.
Instead, search for products that contain:
Oils, such as camelina oil, avocado oil, Moroccan argan oil, jojoba oil, babassu oil, and coconut oil, and fats, including shea butter, mango butter, and cocoa butter
Protein sources, including silk protein, wheat protein, beer hop, malt, amino cells, and keratin damage blockers.
Herbs, such as sesame seeds, henna, soap nuts, Indian gooseberry, jatamansi, aloe vera gel
Fuller's earth
Fruit and flower extracts of acai berry, kelp, tsubaki flower, rose, macadamia, coffee, hibiscus, grape seed, vanilla, fermented rice water, and blueberry
Nutrients such as vitamin B5, hyaluronic acid, and pantothenic acid
Jellies such as petroleum jelly, beeswax, and glycerine
Final Word
Coarse hair refers to hair with a wide shaft, rather than hair with a rough texture. While coarse hair can be difficult to manage at times, it appears voluminous and is frequently desired.
Knowing the factors that affect coarse hair can assist in its easy management. Moreover, you can try different homemade hair masks to soften and smoothen coarse hair. Also, follow self-care and preventive measures to keep your hair moisturized and prevent roughness and dryness.
Was this article helpful?